Quick Big Brother Spoilers
Head of Household: Jasmine
Nominees: POOCH and Taylor
POV Players: POOCH, Jasmine, Taylor, Ameerah, Terrance, Michael (Host Daniel)
POV Winner: Michael
Veto Ceremony:
Evicted:
Havenots: Terrance, Nicole, Pooch, Daniel
Lock your ranks in before midnight

4:08pm Outside the HOH room. Monte, Turner and Pooch.
Pooch – we might be in trouble boys. Monte – why? What do you think Michael is going to do? Pooch – Ameerah is running this HOH and I've always felt pretty good with Ameerah but in the last 10 mintues.. Turner – its gotten a little weird! Monte – really!? How so? Turner – I tried talking to her first just because we were both in the storage room. And I go how are you feeling and she goes about what? And I go about this whole thing. And she goes we never talk game .. and I go OKAY! Well we're here! Even though we do. And then she goes I don't know … I don't know it was just weird. Pooch – I never see Nicole, Ameerah and Michael all in the same room together. Turner – She gave me like a two minute run around. And then she is like yeah, we're 100% good. Taylor is the objective. And so I am like okay, then why do the whole thing!? Monte – yeah! Pooch – Ameerah, Michael, Indy, Brittany, Nicole, and then we need one more to tie … and Jasmine would break the tie. Monte – I can't see Terrance.. Pooch – yeah but if Nicole gets in his ear. Pooch – I have five, I need two more definite (Votes). Monte – have you talked to Jasmine? Pooch – If they wanted to do it, it would be a smart move .. they could save Taylor and be like you're on our side to go after the guys. Then Taylor owes them. Monte – yeah, yeah. Pooch – they could do it. Monte – there would be a lot of blood spilled. Pooch – it would draw the line. Monte – I don't think Michael is going to take Taylor off.. Pooch – Ameerah hasn't looked at me. Monte – and you think Ameerah is running sh*t!?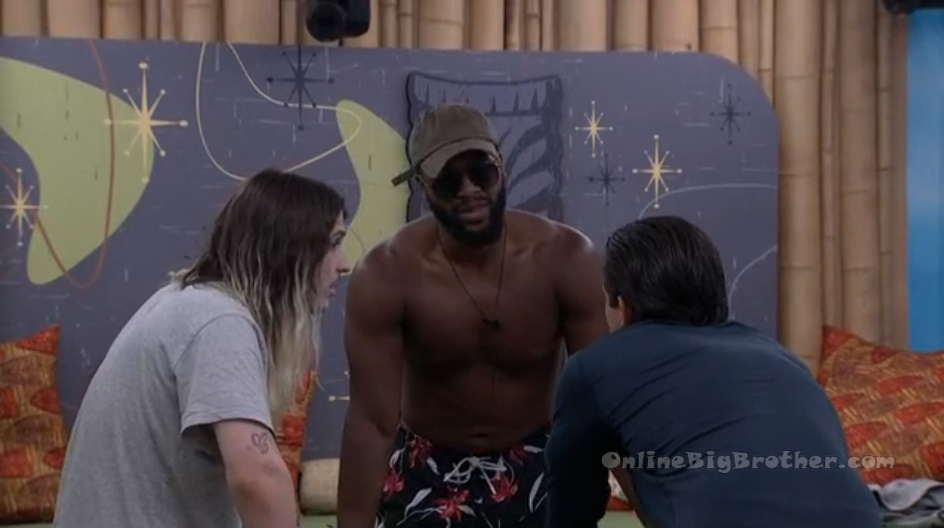 4:23pm Bedroom. Alyssa and Taylor.
Taylor – if you guys need to ice me out till Thursday or whatever to make me look like I should be scared.. Alyssa – we're still friends. You have nothing to worry about. Taylor – thank you.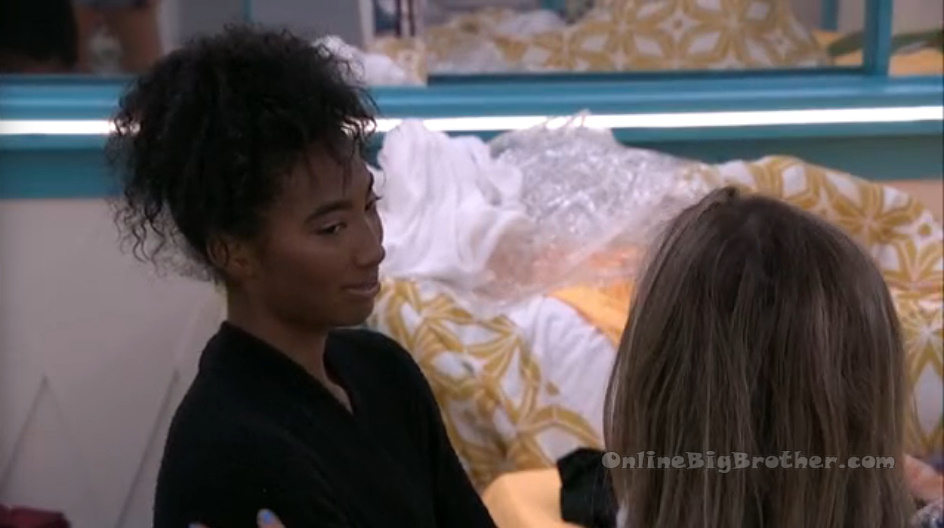 4:25pm Bathroom. Monte and Ameerah.
Ameerah – Turner is scaring me. He is like are you 1000% sure? And I am like YES! Oh my gosh! I am going to need to talk to Jasmine because he may need to get my sympathy vote. He might be coming for my a$$. I think I am going to be next if Turner gets HOH. Monte – I don't know. Even worst case scenario he isn't going to put you up with another girl though. Ameerah – I may need to talk to Jasmine to then talk to Turner the day of so that its a little softer. Monte – yeah. I haven't talked to Michael, is not going to use it? Ameerah – he is not going to use it. And then he cornered Alyssa too because apparently he thinks he's in an alliance with me and Alyssa. Monte – good lord.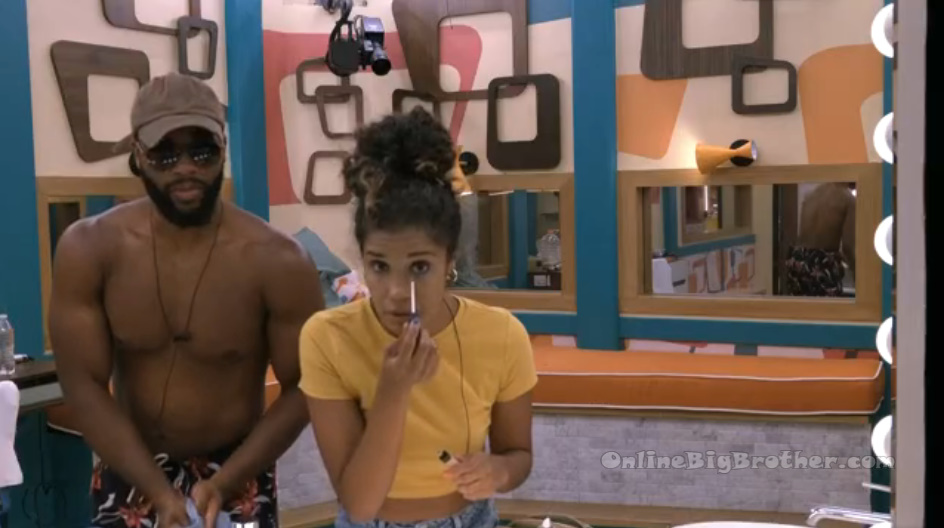 4:35pm Bathroom. Pooch and Ameerah.
Ameerah – your boy Turner cornered me like I was a f**king.. You're good. Pooch – I think I'm good right!? Ameerah – I'm not freaking out and neither is Alyssa. Pooch – should I? Ameerah – no you're good. Pooch – I feel pretty good. Are you telling me I should go speak to people? Ameerah – I think you should speak to people. Pooch – of course. If its not Taylor and Michael uses it and puts up someone else. Ameerah – I don't think .. Is Michael using the veto? Pooch – I don't think so. I hope everyone knows that I did this to help so no one else would have to go on the block. The reason I did this is because I feel good but I don't want people to flip flop. Its 7 to stay? Ameerah – yeah. Pooch – 7 is a lot of votes. Ameerah – yeah, that's why I am saying you should talk to people. Pooch – Unless people are like he's there .. f**K him. Who would want Taylor in the house? Ameerah – she can go out any time. Pooch – yeah until she gets power! Ameerah – yeah for sure!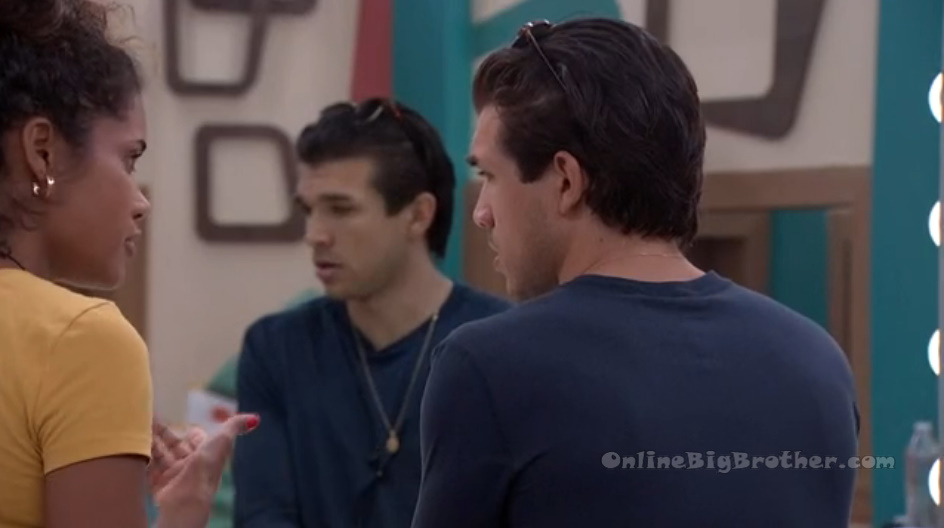 4:52pm – 5:05pm HOH room. Indy, Jasmine, Ameerah, Michael, Nicole.
Ameerah – I feel bad but I am voting him (Pooch) out 100%. I am going to look like a douche bag. Jasmine – what do you think?? Michael – I am not going to tell him. Putting myself in his position, yeah I would be so embarrassed but I would never be in that position because I would never go up. Jasmine – that's right, you would never put yourself in that position because who volunteers the second week. I still don't get the concept. It would be one thing if we were working together but I don't talk to you about anything like that. This does not make sense.. like who are you trying to prove yourself to? If I had that information it would probably make sense but it does not make sense. And I am not going to look stupid to America! And then when you separate the head from the tail .. then Turner is out next because ..he is just going to be moving around this house like a dead tail snake… the snake can't move without the head. Michael – yeah. Jasmine – Turner can't win next week. Indy – he won't, he will be too messed up. Jasmine – should I act surprised on that night? They agree she should act surprised. Ameerah – its going to be hard because I've been friends with him. Jasmine – you can just say that you were one of the votes to keep him. Indy – I cannot wait till Thursday. I wish it was today. Jasmine – Indy is savage!
5:05pm Kitchen / Bathroom. Daniel, Pooch and Joe.
Pooch – I think I'm in trouble. Daniel – you are? Pooch – All the girls plus Michael are in her room. Daniel – in who's room. Pooch – the HOH. Joe just went in but they didn't open the door right away. Joe comes back down and Pooch gets him to go into the bathroom to talk. Pooch – how did it seem when you went in there? Joe – all the girls in there right? Pooch – and Michael. We're f**ked bro! Joe – f**k! I did notice that. And they definitely stopped whatever conversation when I went in.. when I went in it was dead quiet. Pooch – they're smarter than I f**king thought! Joe – dude I told you we're not chopping off enough heads in that squad. We keep trimming the fat, we need to get to the meat. Pooch – I have 6 votes, I still need one more. Me (he counts himself lol), you, Daniel, Monte, Kyle, Terrance .. and I need one more. All of the people I thought I had are all up in that HOH room right now.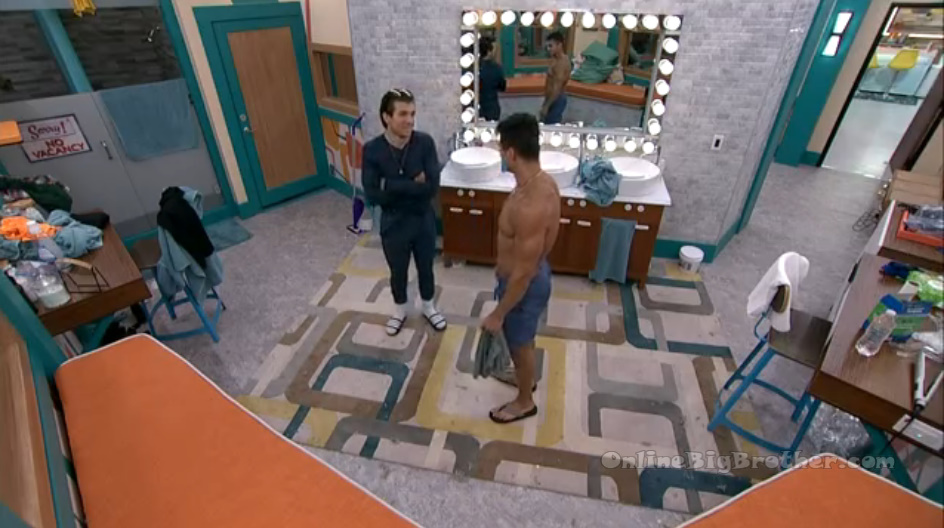 5:24pm – 5:45pm HOH room. Micheal, Jasmine, Indy, Brittany, Alyssa (sleeping).
Jasmine – She (Taylor) almost beat Michael today. She almost won the other comps. She literally said that if she won HOH she would put Monte up and a girl. I was like what?! You literally just said that you were trying to get in with the girls… it just doesn't make sense to me. I don't trust her to be completely honest.. so I think that she should be the next target. But its someone elses HOH .. they can do what they want to do as long as its Turner or her (Taylor). Michael – yeah. Pooch told me to leave it the same. Jasmine – he told you to keep it the same?! Michael nods yes. Brittany – if I had to guess I think he is starting to crumble a bit more now. You can't volunteer to be on the block and then be nervous about being up there. We are so golden. We are the majority of the house. That's big brother gold. Joe joins them. Jasmine comments on how they're just chilling. Joe leaves. Michael – I fully expect Ameerah to vote him (Pooch) out. I just think she is a little uncomfortable about voting him out because she's friends with him. Jasmine – she can act surprised and I might too. Joe comes back.
5:45pm – 5:50pm Kitchen. Daniel, Pooch and Nicole.
Pooch – 6 and 6 you get a tie so obviously I would feel better about a tie. Daniel – six/six Jasmine splits. Pooch – I would hope that she sends Taylor home but you never know. I feel good about it. I mean that is what she told me and the reason why I said I would go up to help send Taylor home .. so I hope isn't what f**ks me or not. That's who everyone wanted out .. and she would have left last week. So I figured it would at least earn some trust .. building trust with Jasmine and building trust with you .. to make sure no one came after you after your tough HOH. Making sure it wasn't an excuse to put up Michael and Terrance just because they were on the block so I figured why not put myself up and earn some trust with people. Daniel – and to help fight for the veto. Pooch – and just hope that Taylor goes home. Nicole – I think you have a good argument. Pooch – I'm just worried because they're all in there with Michael. Nicole – Alyssa is sleeping. Daniel – don't over think it. Nicole – don't mind f**k yourself. He (Michael) has been up there for awhile .. they're all just hanging out.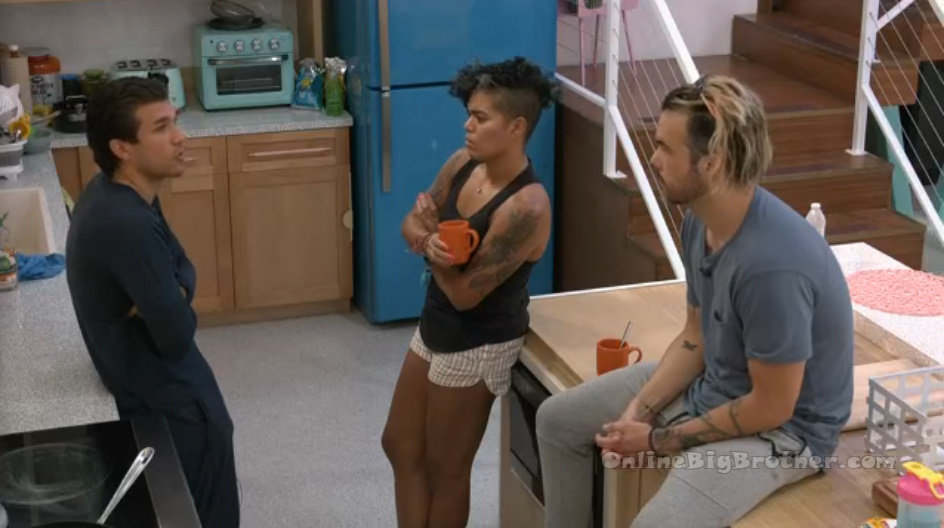 6:10pm – 6:20pm Storage room. Poochie and Daniel.
Pooch – The only other option could be Monte. Daniel – exactly. Pooch – If that's what's going to happen.. then F**K! And if that happens .. do we play it cool now and then gun for them (girls) next week if they want to gun down guys?! Daniel – that's whats scary .. unless we win and then we can switch numbers. Pooch – the fact that they changed that plan is f**ked and I will feel partially responsible for Monte going home. I don't want to keep giving them the numbers after this. Daniel – yes, exactly. Pooch – if they're drawing the line now… we play it cool this week .. like if Monte goes home next week.. what do we do? Daniel – if Monte goes then its equal guys to girls. Michael joins him. Daniel leaves. Pooch – How are you feeling? I don't care what the plan is but I hope its not me? Michael – no its Taylor. Its still Taylor. Pooch – if you use the veto on Taylor.. Michael – Oh I am not using the veto on Taylor. Pooch – no? Michael – why would I use it on Taylor? Pooch – Nicole was like just make sure you're good .. because if you use it on Taylor to put up someone bigger. I was hoping me going up buys me goodwill with Jasmine and Daniel. Michael – Jasmine and I haven't had a chance to talk one on one but I think she is still keeping it the same of wanting Taylor gone. Pooch – if its something that Jasmine wants or something the house wants to get out someone Im close to I am good with it if they keep me.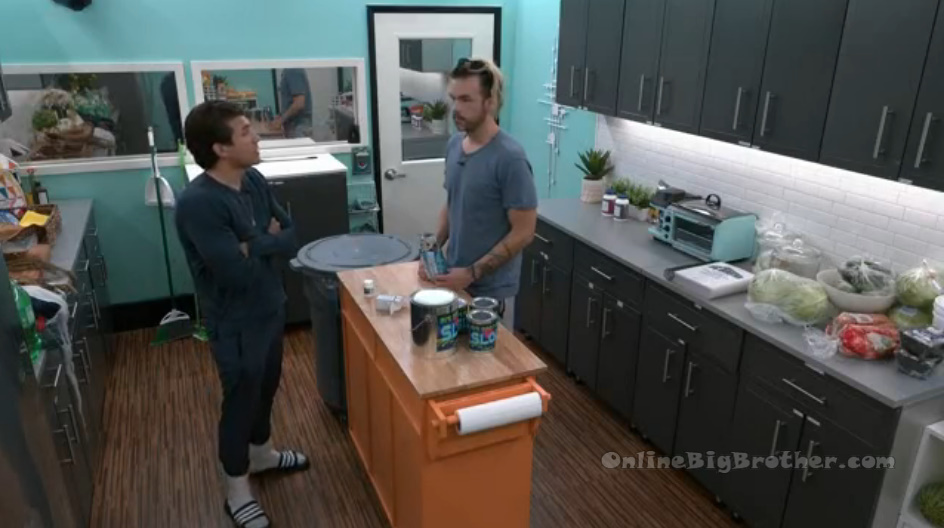 6:37pm Bedroom. Kyle and Joe.
Kyle – Dude I have no idea where Taylor's head is at.. Taylor is going to come after a big target for sure. I said it to her face I was going to send her home the first week. The first week she asked me are you going to vote for me or Terrance? Then she said are you going to vote for me or Pooch? I said I don't know like I am kind of up in the air. I didn't want to say either way. Joe – she said the same thing to me. Kyle – did you say you're going to keep Pooch? Joe – no. Kyle – that's what I did the first week because I thought she was leaving. I was like bye bye… and then she stayed. I think it will flip if we can get HOH.. then we can get out someone big like Nicole or something .. I don't know. Hopefully we can just stick around and then the girls will just implode. Joe – its literally Taylor representing the girls and Pooch representing the guys. Whoever loses their player is going to lose. Kyle – can't we just agree to send them both home and start fresh next week? Joe laughs. Kyle – Pooch dude! Why couldn't he have just won the veto. Joe – we're acting like we have the numbers and Michael is taking out our whole alliance. Kyle – Pooch has got to be freaking out right now. Joe – I tried to talk to Jasmine and Nicole shut it down. Michael said that he is probably not going to use it. I would never underestimate any of these girls. They definitely would take this chance.. as in like we'll take out Pooch now and get Taylor next week. Kyle – or another big target next week.. like why would they get rid of Taylor at this point. We need to get together with Monte and just chat.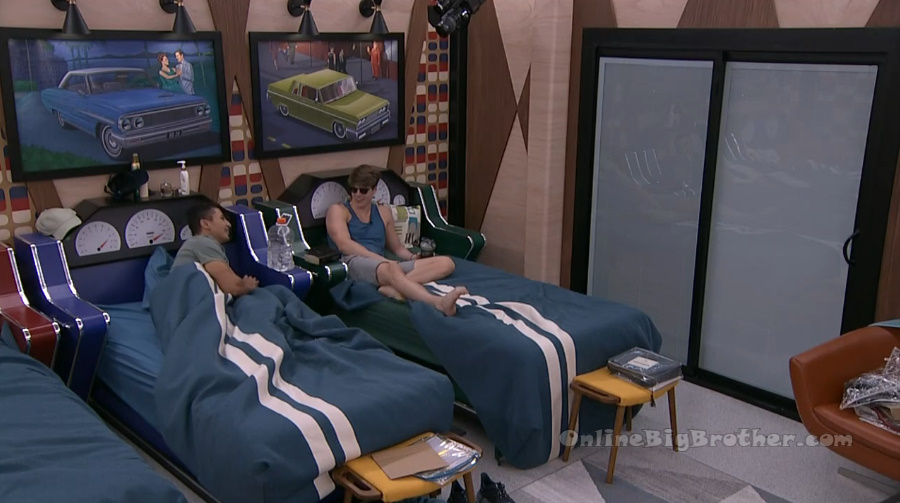 7:30pm Bathroom. Turner and Michael.
Michael – part of my thing is especially being up last week I don't want people to look at me as expendable. Turner – I think maybe you were put up the first week not because you were expendable but maybe because you didn't talk as much game. Because you usually see someone who goes up week one, it almost usually means they go up week two but because you're not up week two I think people are going to forget that you were up week 1.. and you took yourself off so that is huge. People aren't going to want to put someone who's as good at comps as you are up on the block again. If I ever won HOH, there is not a chance you would touch the block. Michael – thank you. Turner – yeah absolutely. And then just so we know as far as Brittany .. it sounds like I am trying to extract info like I am trying to torture you.. but just before you, me and Brittany are going to work together I asked her and then I will tell you. Is there anyone you wouldn't want to see on the block? Michael – I don't know I feel like I am still in catchup mode. Like people didn't really want to talk game with people that might not be here next week. Turner – yeah. Michael – Brittany was the person that even though I was on the block she was still talking to me so I am open to working with her. I definitely don't want to do anything to screw her over. And obviously if we do have us 3 we're going to need some other people that we work with in some capacity whether or not is official or not. Turner – that would be good so that we can pull info from slightly different groups. In the next like few days it would be good to get together with you and Brittany.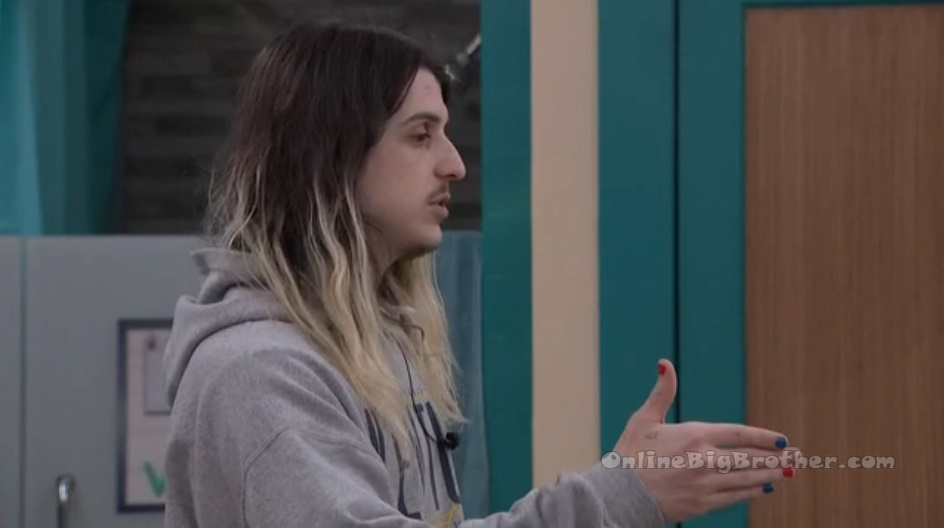 7:55pm Living room. Turner and Jasmine.
Turner – just between us .. is the plan still the same or did it change? Jasmine – Mmmhmmm. Turner – I didn't know and obviously she (Taylor) is going to be campaigning. Jasmine – I don't know how everyone is going to vote. Turner – I'm sure everyone wants to be on the same page as you. I meant I don't want to f**k over the house but also I don't want to f**k over my boy. Jasmine – I don't know if she is campaigning. Turner – I feel like it is a double edged sword.. If she campaigns and convinces people how good of a competitor she is then people will want to get her out of the house. Jasmine – I hope that doesn't happen. Turner – I hope to god it doesn't happen. Jasmine – Like I want her gone. If she doesn't, I will be mad. Like people better not f**k it up. Turner – people will be honest with you. Jasmine – but there are like 4 days. Turner – I don't remember if I've said this or not but if I ever win, there isn't a chance you would go up there. Jasmine – well thank you. Turner – of course, you're my homie.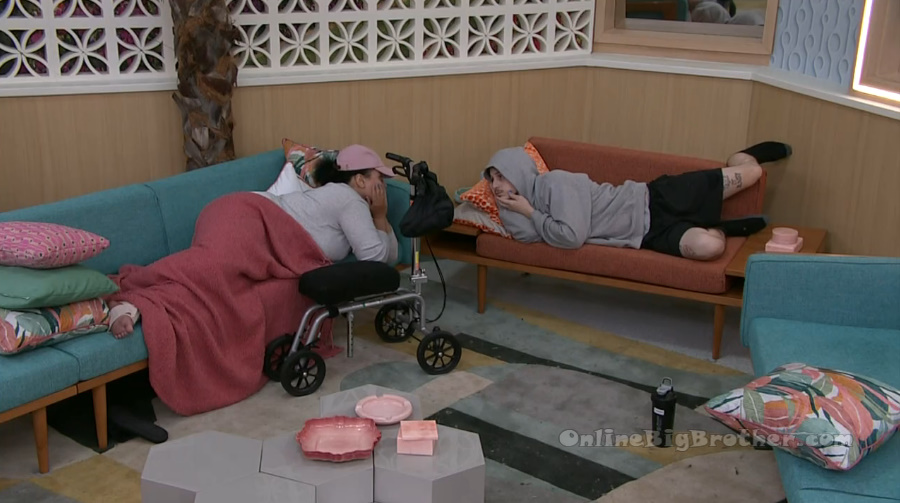 7:50pm – 8:20pm Kitchen. Indy is cooking dinner with help from others. Monte is cutting up the onions. Terrance – AHHHh… look at the boy (Monte) chef-ing! Boyar-dn'! Daniel – Chef Boyar-N*gro (WTF?!) (No one even reacted to this)