Quick Big Brother Spoilers
Head of Household:  Monte
Nominees: Brittany Taylor & Alyssa
POV Players: Monte, Brittany, Alyssa, Turner, Taylor
POV Winner: Brittany
Veto Ceremony: Brittany use the power of veto on herself. Taylor nominated
Lock your ranks in before midnight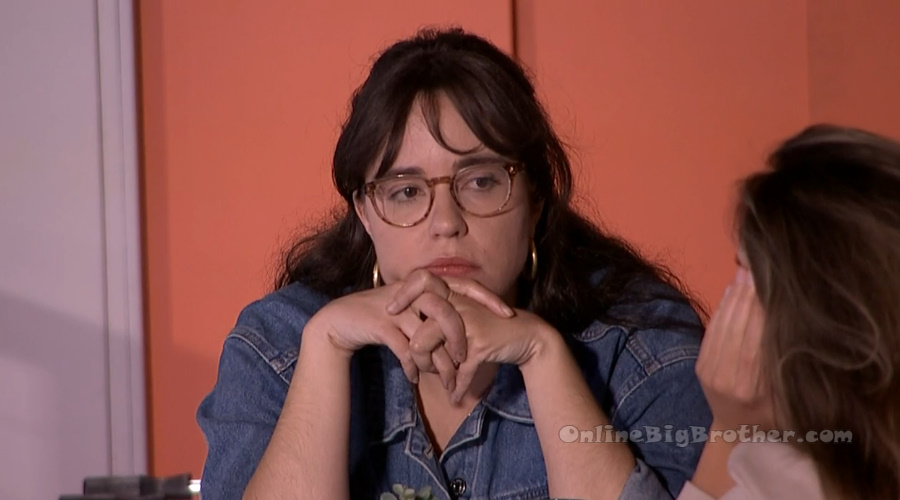 Backyard Upper Level – Alyssa and Brittany
Alyssa – If there is something that you give me like a second chance I would really genuinely owe you my game and I would be able to be here and help somehow. Brittany – yeah. Alyssa – I want to be here so bad. Brittany – Yeah. Alyssa – you know how much this means to me. Brittany – I know. Alyssa – From all the tears and everything. Brittany – I know. yeah. Alyssa – no pressure at all. I am not going to pressure anybody or try and influence anything but please just be open to asking me questions and seeing if there is anything that I could say or do and if there is not just be honest with me. Brittany – yeah. Alyssa – because I won't be like damn you.. I will be like okay, thank you for telling me so I am not blindsided. There is a lot to think about because Taylor has a great connection with you. She has a great connection with Monte. She has a good connection with Turner. It is a 750K every decision that is made. Taylor is one bada$$ powerful woman but that is also like.. Brittany – its hard too because you're always thinking about jury management too.. if you've been working with people and you turn on that is that costing you the game.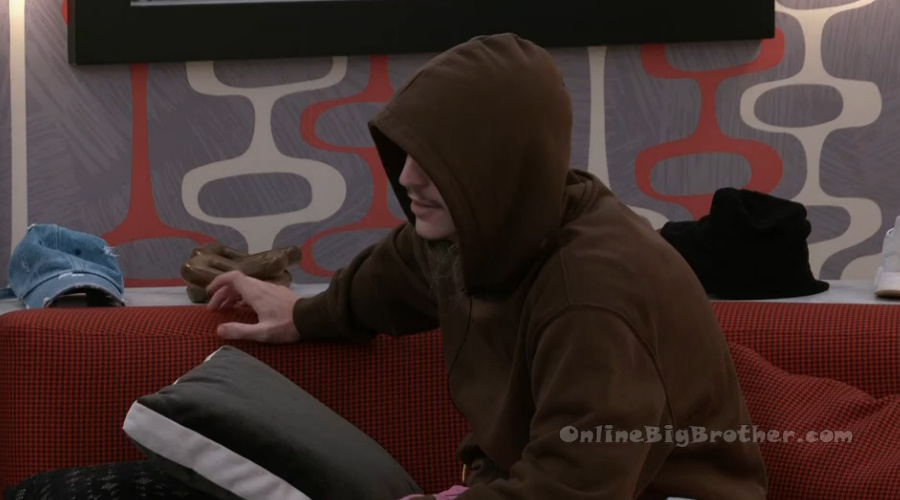 7:35pm HOH room – Monte and Turner.
Turner – I just figured it would be easier for me to divulge my actual conversation with Brittany rather than with Taylor there because sometimes I don't know what to share but I tell you everything so I was like I will just wait. Monte – yeah, what's happening? What was the real shake down. Turner – so it was for the most part like that but I did learn some interesting things so I was just like but honestly I did pull her into the corner because I just didn't want it to be all weird .. so I just wanted to talk it out because I knew she knew and I was just lie having a conversation about it .. but the interesting things I pulled from the conversation .. like I don't know this is probably best not to say in front of Taylor but for no reason maybe it doesn't matter. She was just like .. first she asked why I told people the information and I was like going to say well I have a final two with Monte and I tell Monte everything. So I was like I knew you were targeting me and she was like but how? And I was like Michael filled me in on the hammock conversation. I was like that makes sense ..that is the only plausible deniability I have. And she said well I highly doubt that. And I was like oh? Why? And she said because that talk we had in the bathroom was because Michael wanted me to talk to you and see where your head was at. And I was like that gave me some insight .. I don't know if you knew that? Monte – I had no idea. Turner – And I don't know if she is just trying to save her a$$… that is a very likely possibility. Because Michael was very specifically gung ho about targeting Brittany so I don't think he would have just let that on if that was actually manufactured by Michael.. right?! Her trying to start the final two with me and tell me all that info was really something Michael wanted .. but I was like I don't believe that at all. I am just going to let you tell me that because that doesn't … Michael was way too on board with getting you (Brittany) out of this house.. and I didn't even say that. I just said oh wow. She asked me where my vote was going to be this week. And I honestly .. I didn't even know where the right place to be so I was like I am probably going to vote Alyssa out.. but don't f**king tell Alyssa that. And I am definitely going to know if she tells Alyssa. I really wish she didn't ask me that. Monte – I think it is fine. What is the benefit of Brittany going back to Alyssa and telling that. Turner – exactly.
8:15pm Brittany, Taylor and Alyssa chatting. Turner playing pool by himself. Monte is in the kitchen.

8:17pm Taylor and Brittany.
Taylor – did you talk to Turner about the vote? Brittany – yeah. Taylor – Everyone is on the same page? Brittany – yeah. (Voting out Alyssa) Taylor – page being keeping me? Brittany – yeah. He's talked to you. Taylor nods. Taylor – its going to be tough for her to be 2 – 0 … but thank you. Even when it gets hard and scary I will always make the decision to protect us. Brittany – there is a route. Taylor – HOH and Veto. Brittany – if you or I win it .. we are both good. And I feel like we are the most solid pair out of any pairing in the house. Do you feel that way too? Taylor – yes, yes! They tried to tear us a part! Brittany – I need somebody that can win something .. it funny that her (Alyssa) pitch is the exact opposite of what I need. AND you would pick me if it came to the two of us right?! Taylor – yes! Brittany – I know you would but I just need to hear it. Even over Monte, you would pick me right? Taylor – yes.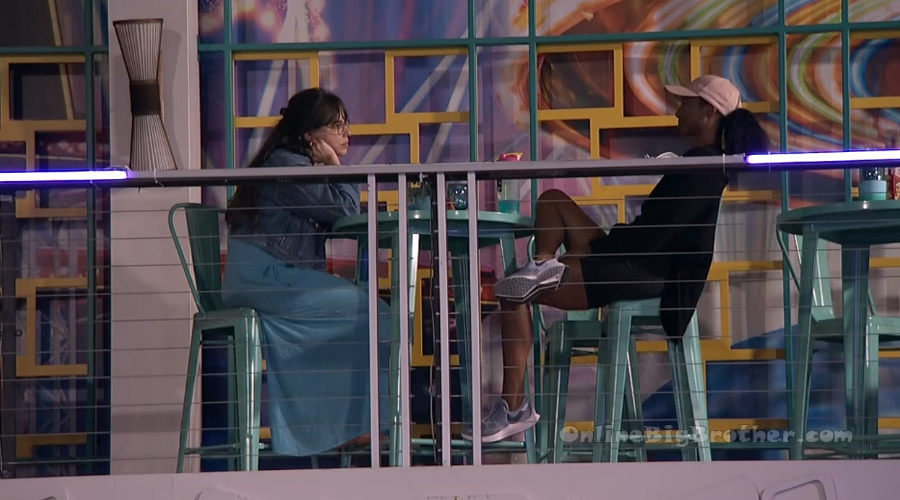 8:42pm Storage room – Monte and Taylor.
Taylor – oh here we f**king go! Monte – big brother! BIG BROTHER! OH! They gave us two decks of cards!!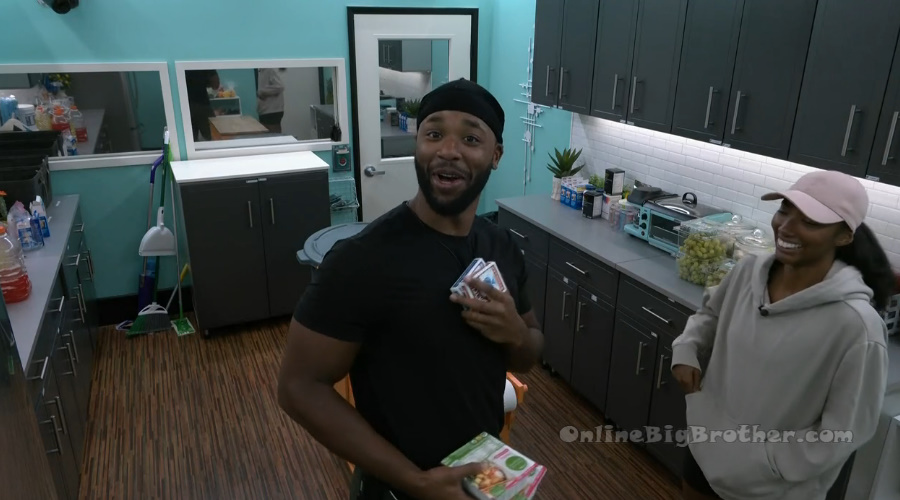 8:50pm – 10:30pmTaylor and Monte making dinner. Brittany offers to clean up everything if she doesn't have to help cook.
10:50pm Backyard – Monte, Turner, Taylor and Alyssa
Monte – if you kids are up for it… could be another sleepover? Taylor – I'm down. Turner – I am down! I loved that! Taylor – It was great! Big fan! Big fan of the sleepover. Alyssa – do we invite Brittany .. but there's no room. Taylor – no. Alyssa – but we have to extend the invitation somehow. Turner – she goes to sleep before us anyway. Taylor – she does.. its true.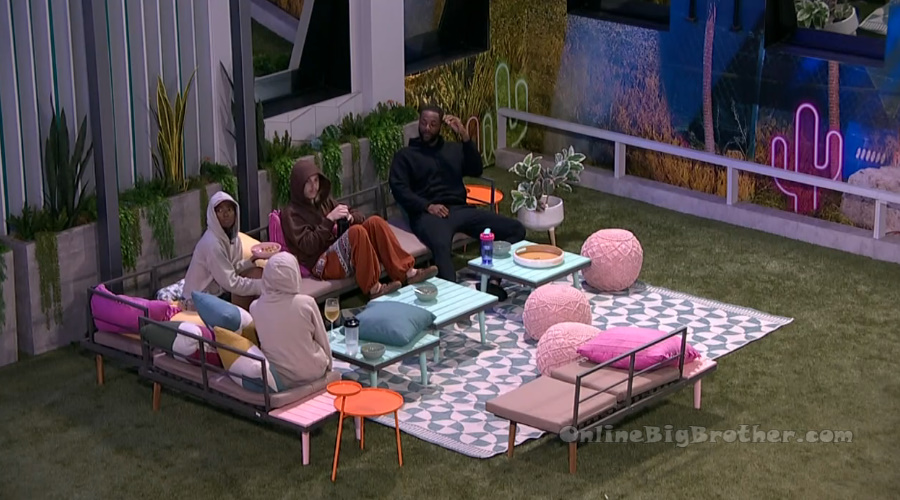 11:30pm – 12am Backyard – Turner, Brittany, Monte, Alyssa and Taylor
They reminisce about past events of the season. Turner to Alyssa – there was this intense moment and I only want to say this going into jury that you know .. is that okay that I say this? Rather than you go into the jury house … like Kyle.. just so you know there was this moment that Kyle said after her talked about Old School where he was like that whole other side is going to be pissed with Alyssa when they realize the downfall of that side is all because of her. I am only saying this just so you know. Monte – which I can confirm he said all this. Turner – excitedly saying this to us. Instead of watching it and being like I wish someone would have told me. Alyssa – yeah I appreciate that. Monte – and to know now that it wasn't actually a thing. Taylor – it was literally Kyle reading into something and interpreting it the wrong way .. taking the information and trying to protect himself. Alyssa – Ask me more questions. I have nothing to hide. I will share anything with you. Everyone keeps saying when I go into the jury house like I am not going to be able to make it through this week but hopefully I still have some fight left in me. And everyone is saying in the comp on Thursday like she (Taylor) is just staying. I hope you will still hear me out. Turner – whenever you make it, I wasn't meaning this week.. That is not at all how I meant it. This week or next week or the week after. Alyssa – thank you. Maybe I am just over thinking it. Turner – I should have said "IF" you make it to jury. I wasn't even thinking about you being on the block. Alyssa – okay.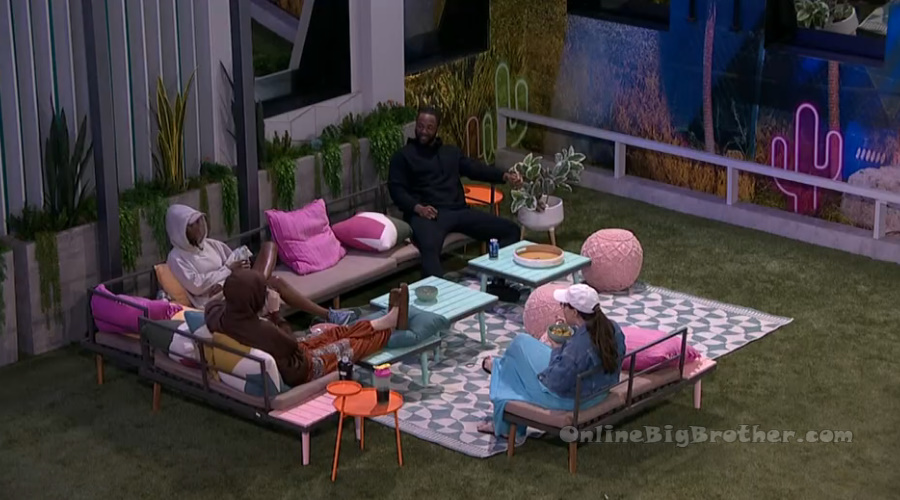 12:15am Turner and Alyssa playing cards.
1:38pm – 1:50am Hot Tub and chatting about social media, pet peeves, dating, etc.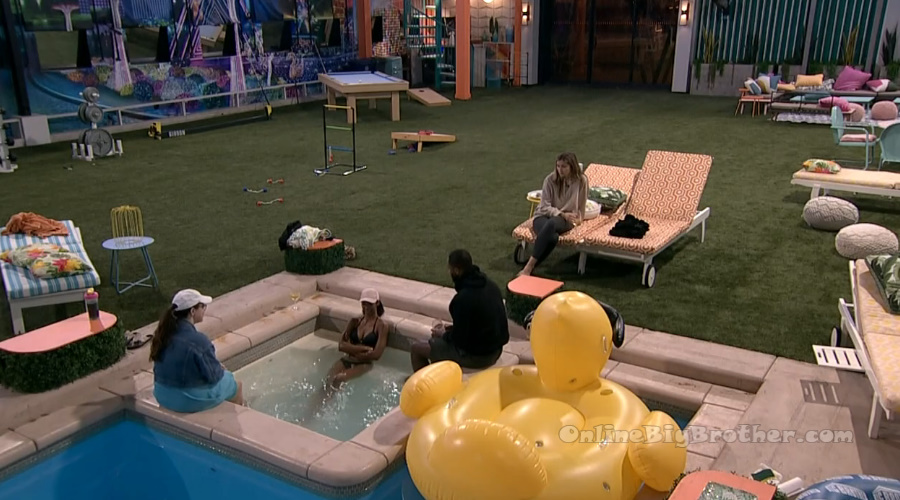 8:04am So this happened this morning.. To quote Taylor from earlier in the evening regarding the sleepover from the night before: "It was great! Big fan! Big fan of the sleepover."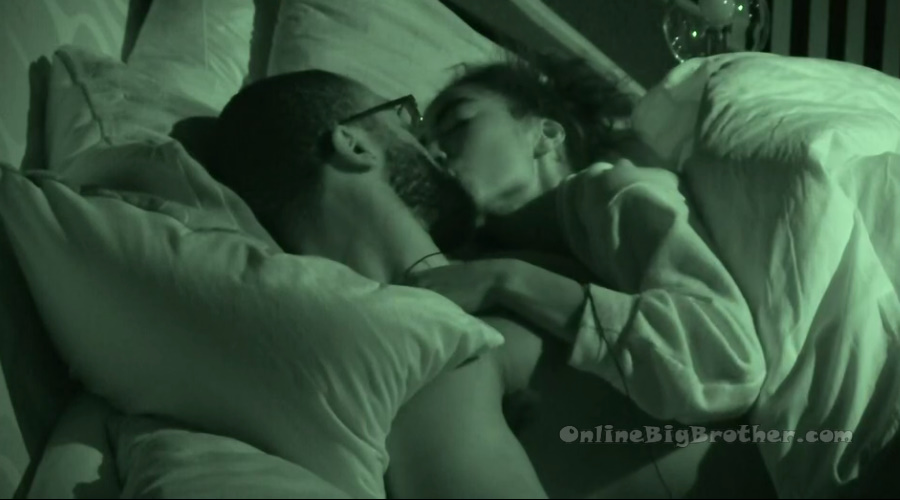 Without reader support this site and these spoilers wouldn't be possible.
Please consider a donation to keep the madness going.
Any amount is greatly appreciated!