Quick Big Brother Spoilers
Head of Household:  Monte
Nominees: Brittany Taylor & Alyssa
POV Players: Monte, Brittany, Alyssa, Turner, Taylor
POV Winner: Brittany
Veto Ceremony: Brittany use the power of veto on herself. Taylor nominated
Lock your ranks in before midnight
9:37 am Houseguests waking up.
Taylor talking to herself. Saying if her or Britt don't win it'll be a guys alliance that steam rolls them.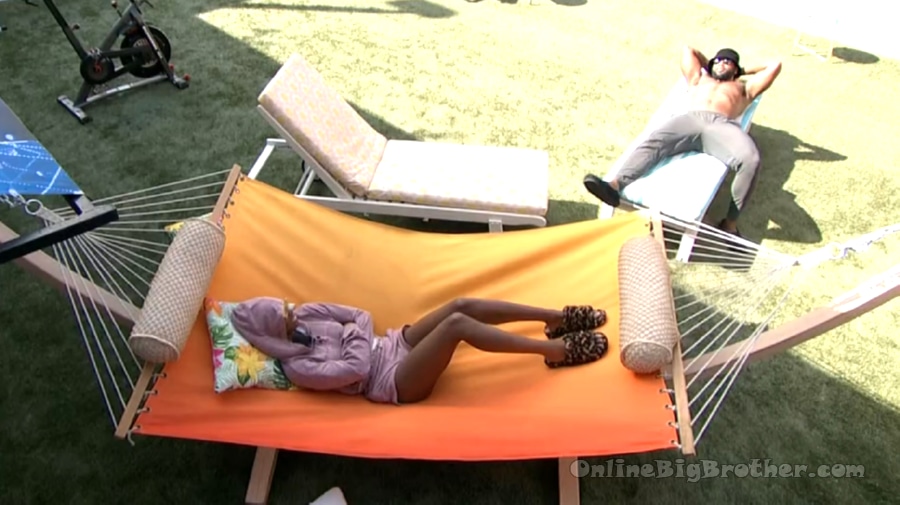 10:10 am Monte and Taylor
Monte how are you doing?
Taylor been there before second time on the block by your hands Monte…
Monte- And Nicole.. it was her fault you can't blame me .. I think you wanted to be on the block. (to get Nicole out)
Taylor I was like End THIS (Nicole)
Monte – As much as it sucks this option. I do feel good about next week though for you and me specifically. I don't think there is a way we don't come out of that situation.
Taylor – I don't think there is a world where Brittany doesn't take the both of us and there's not a world where Turner Doesn't take both of us.
Monte says if she wins her second HOH he's sure she would want to use it to evict Turner to put that on her resume. "That would look pretty good and make up for the fact that you know you couldn't take your shot the week of your HOH"
Monte – I'm rooting for you to get that damn HOH to be honest.
Monte – Argh Brittany it just…
Taylor – I know.. I'm at the point where for my game to make it to the end I have to do the things that make sense for me to be at the end.
Monte – 100%
Taylor – I can manage that relationship in two weeks.
Taylor – Turner knows I will pick you over him if it comes to it. He said so last night. I was like well.. depends if I'm the one taking making the choice.
Taylor – for myself I would never want to be dragged through the game. Ohh the guys just took her along the way she got carried by the guys. I came here to NOT be that.
Monte – yeah .. Next week you have that chance to fight for the HOH. Win the Veto to why not?
Taylor – just a matter of showing up and doing it.
They talk about how Terrance tried to get Taylor out for 2 weeks in a row. Taylor says Terrance is a vote for Monte 100%
Monte – it's hard for me to believe a word that man says.
Taylor – he throws stones at a Rubber wall everything he accuses people of he's guilty himself
Monte – 100%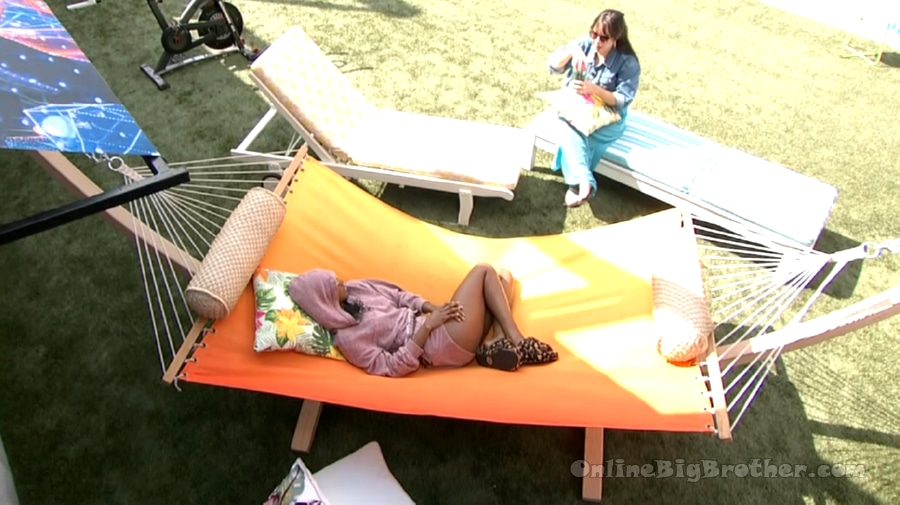 10:30 am Brittany and Taylor
Brittany – how are yo u
Taylor – I'm okay.. As long as I have your vote I am confident. I May look stupid to America putting all my trust in Monte and You and I'm choosing Turner to follow through with the rod he gave to Me and Monte
Taylor – I'm being put in a vulnerable position for the 5th time while Turner hasn't been up on eviction night that is a testament to the strength of his game.
They're talking about forming a 3 with Monte and how Brittany isn't the one preventing the triangle it's Monte.
Taylor says Monte remains flexible it really depends on how next week works out.
Brittany says Monte told her the trust is irreparable.
Brittany says when Michael was gone she was bummed she lost a friend. She found peace knowing she still had Monte and Taylor. Now she's finding out she doesn't have Monte either.
Brittany – he's really good and making me feel good.. I thought we were good
11:00 am Feeds down for Veto Ceremony
11:52 am Feeds return Brittany used the veto Taylor nominated.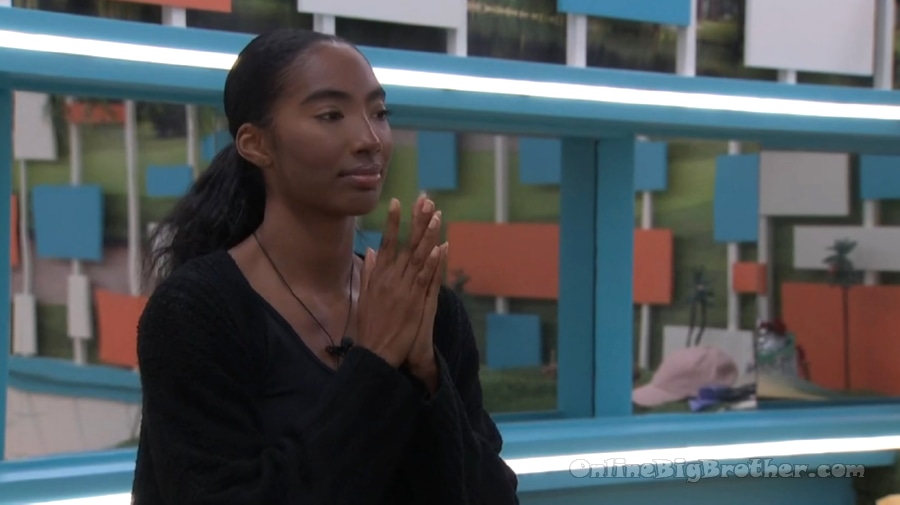 11:52 am Taylor and Brittany
They hug "I love you"
Britt – A girl has to win.
Taylor – the people that were against have to choose between us
Britt – how poetic would it be the girl who wasn't invited to Girls girls and the girl who broke out are the final 2 girls.
Taylor – we just have to get there
Britt – it's just winning. Did you hear they are shutting down the yard tomorrow morning?
Taylor – yes

12:04 pm Taylor and Monte
Taylor – have you decided when or if you'll tell her
Monte – The day before or the night before. Just so she's not all worked up especially her how she deals with things emotionally I don't want her to be ruined for a week. Give her a chance to make a pitch and go from there.
Taylor – I trust my people
Monte – as you should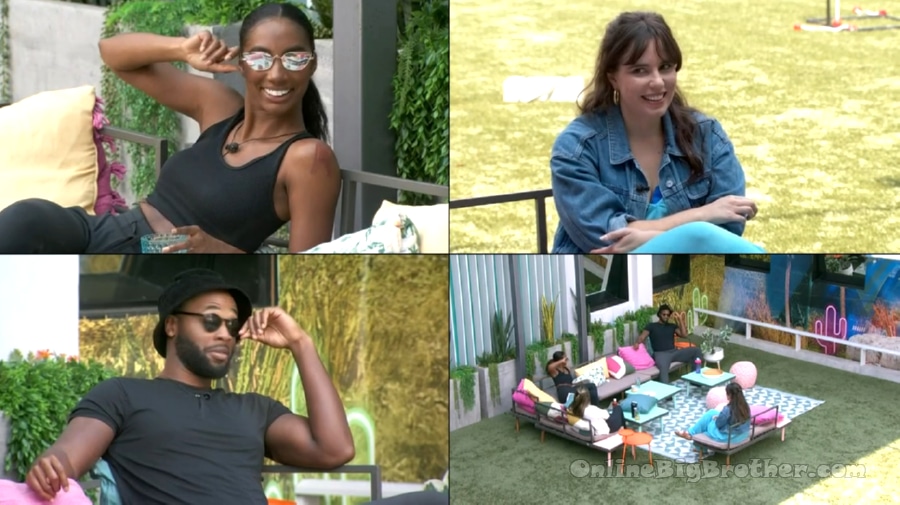 1:00 pm Chit chat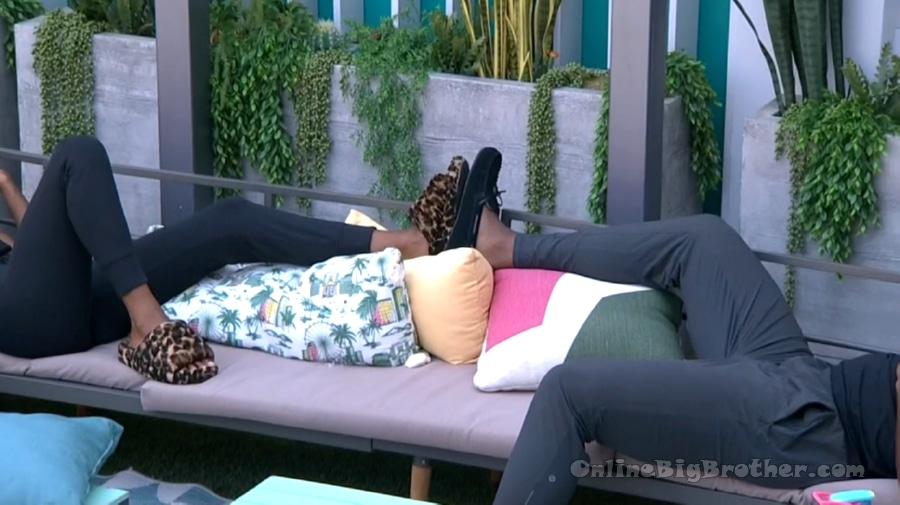 1:20 pm Monte and Taylor
Monte – you think you will ever be able to fully trust a man?
Taylor – yeah it takes time
Monte – have you ever trusted a man?
Taylor – yeah
Taylor – I was 23 dating a 31 year old and all my friends said I was more emotionally mature than him.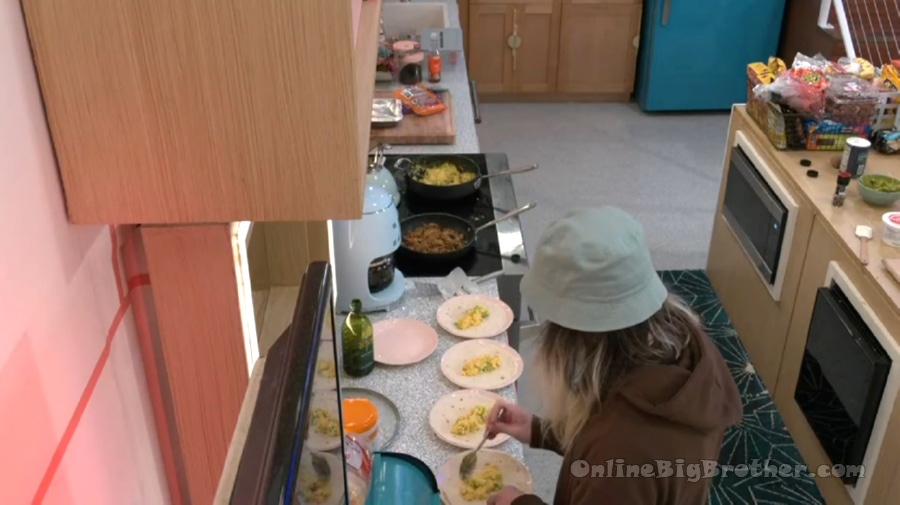 1:35 pm Turner has turned into the house chef. Right now it's Breakfast Burritos.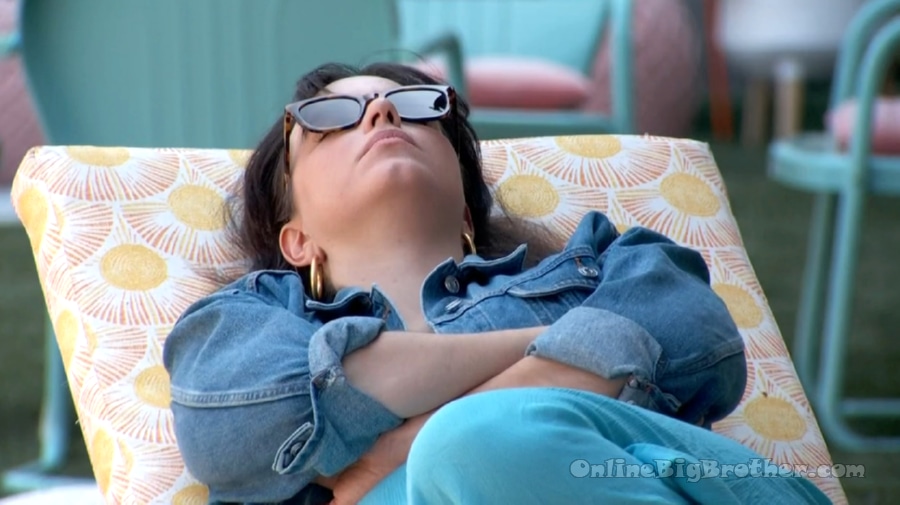 2:07 pm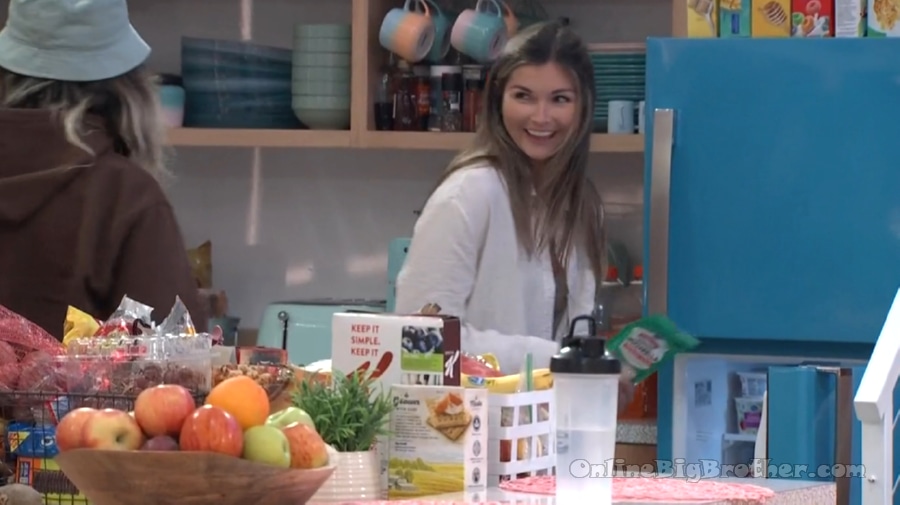 2:15 pm Alyssa and Turner chit chat
Turner – remember when Terrance said that thing about Ameerah?
Alyssa – when he said his secret was..
Turner – I think Ameerah is a very pretty woman
Alyssa laughs
Turner – like Okay
Alyssa- I said I feel like my Muscle turned to fat and Terrance started calling me Slim thing
They laugh
Turner – what the f*** that is scary.. I guess I understand why him and Daniel are friends.
Turner – Also Nicole what a chaotic three person thing..
Alyssa – I can't believe Terrance was in with them
Turner – I can .. It's just the worst three people in Big Brother
Alyssa – that is who you viewed me with.
Turner – we viewed you with Jasmine, Terrance, Nicole, Daniel, Ameerah and Indy
Turner talks about the week 2 HOH where they were all camped in the HOH for the entire week. He walked up there to use the bathroom and it was the weirdest vibe.
Alyssa – I'm sorry that happened to you.
Turner – I kicked some of them out.. good riddance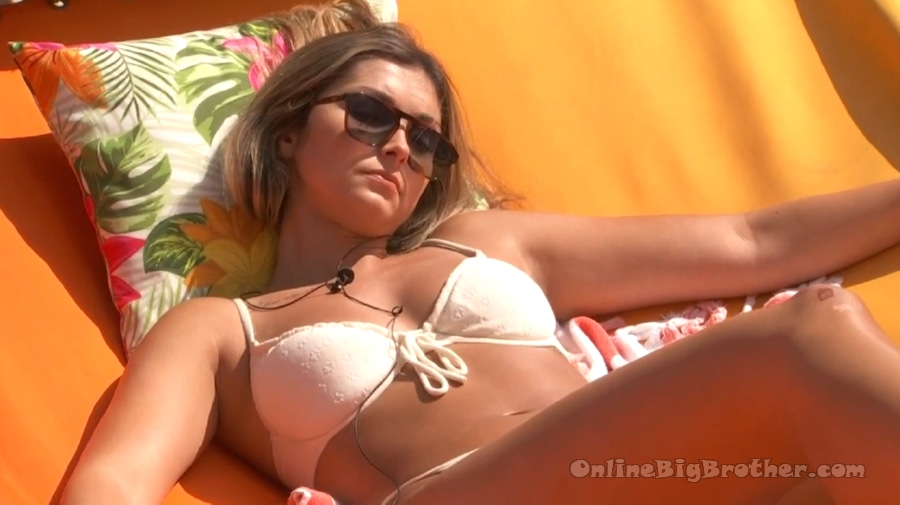 2:33 pm Sun time..
Turner nails a perfect landing.
3:00 pm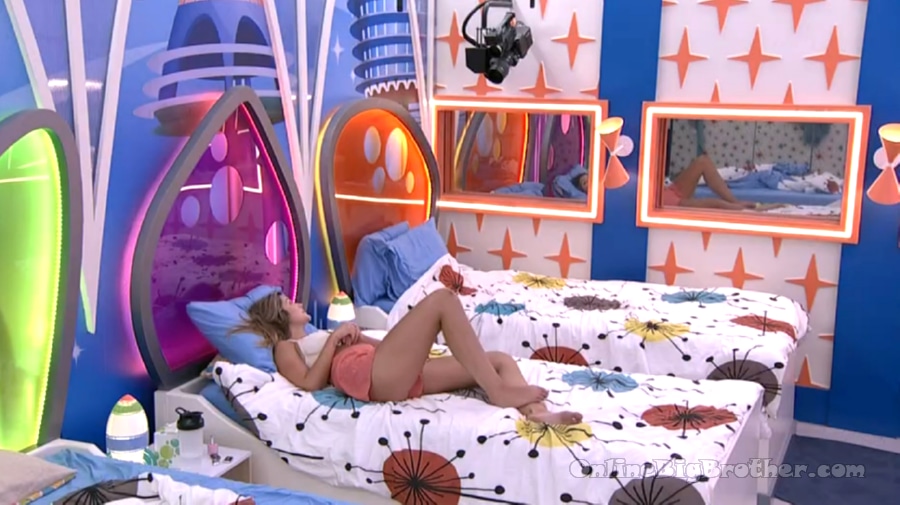 3:35 pm Alyssa
Alyssa – I just want to be in the ocean and see the sunsets. I'm going to write I'm going to be the best writer ever I'm going to go to the beach. I'm going to be in the ocean and lay on the sand and I'm going to write entire heart and soul out. I cannot wait. I will share my poetry with you guys. My Poetry is a direct reflection of my vulnerability it's my everything. It's hard for me to share.. I am sure you saw my intro I shared one poem it was a small one. I'm going to continue to write and fall in love with people with life with animals with everything and just be the best version of myself and I am so excited for that. If this all ends this week I am at peace because I have been Alyssa this entire game and I am so freaking proud of myself for that.
4:12 pm Feeds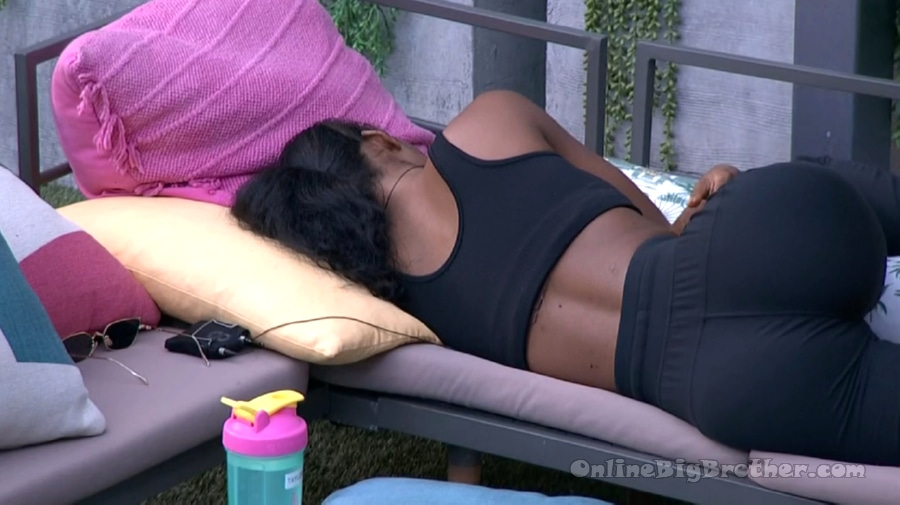 5:18 pm Feeds!

6:05 pm Brittany and Turner
Britt – I can say that and I apologize for this our conversation at that time in the bathroom was to get more information than solid. Like Michael was very well aware of that information
Turner – Wow
Britt – it was to help him
Turner – WOW that is interesting
Turner – I guess when Michael was acting like we were closer it was also to help him.
(LOL)
Turner – we are the only ones voting this week
Britt – I get the impression my vote does not matter this week
Turner – why is that?
Britt – you have a deal with Monte to vote..
Turner – where do you think I am voting>
Britt – Alyssa out
Turner – is that where you are voting?
Britt – yeah
Turner- Which sucks because I am close to Alyssa but like I mean..
Britt – I think that Just cause Monte doesn't trust me. He's afraid I'll do something rogue so..
Turner – I am new to this what do you mean?
Britt – He needs you to vote Alyssa out so I vote ALyssa out too then it's done. If I vote Taylor out then he decides.
Turner – I would never imagine a world where you vote Taylor out.
Britt -yeah but..
Turner says he's very good friends with Alyssa and he'll have a very emotional day on Thursday so he would like this conversation to be kept secret. "I'm going to cry talking about it"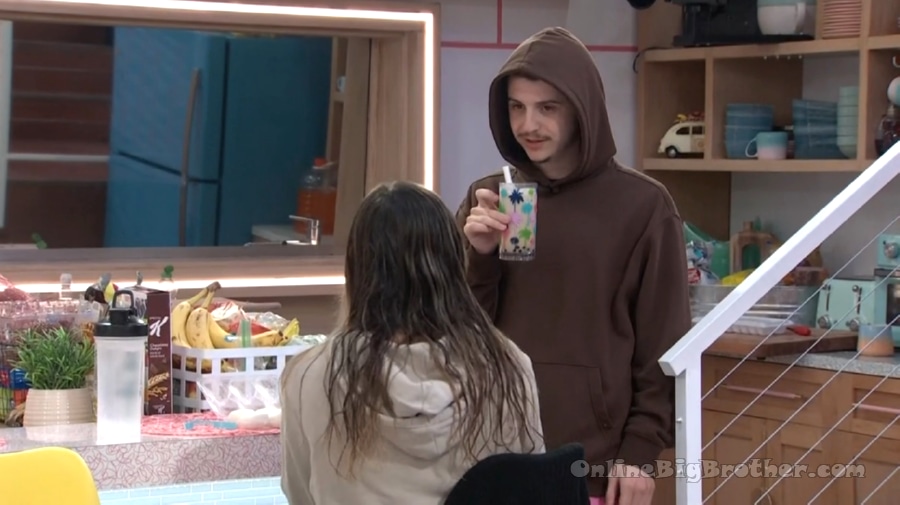 6:33 pm Alyssa and Turner
Alyssa – If I don't win this game I hope you don't win this game
Turner – thank you and if you happen to leave this week and walk out without any goodbyes I would be SO annoyed.
Alyssa – I would never do that.. what the f***
Alyssa says she has a good argument for people to keep her because they would have a better chance to win against her but shes also aware that Taylor has closer connections with the other people in the house.
Without reader support this site and these spoilers wouldn't be possible.
Please consider a donation to keep the madness going.
Any amount is greatly appreciated!