Quick Big Brother Spoilers
Head of Household:  Monte
Nominees: Brittany Taylor & Alyssa
POV Players: Monte, Brittany, Alyssa, Turner, Taylor
POV Winner: Brittany
Veto Ceremony: Brittany use the power of veto on herself. Taylor nominated
Lock your ranks in before midnight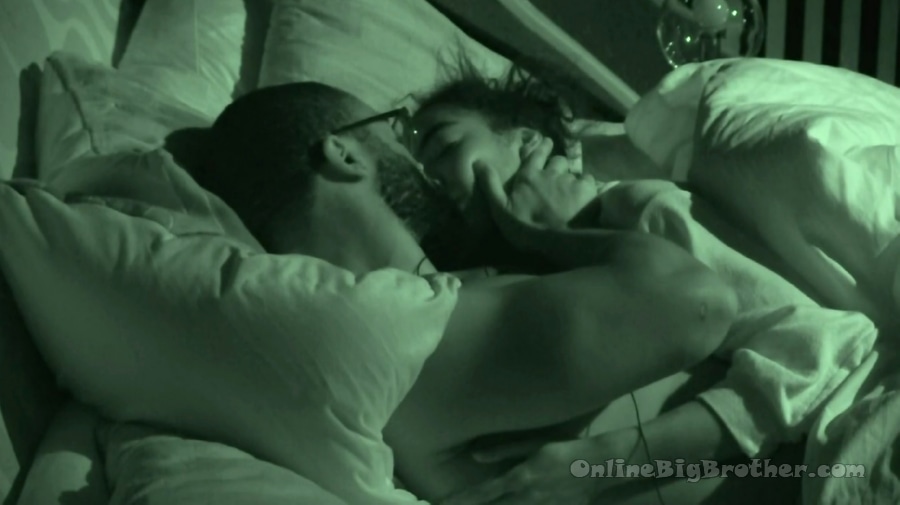 8:05 am Taylor secures her vote with Monte
8:00 am to 2:00 pm Zzzzz
2:00 pm Houseguests are starting to get up and ready for the day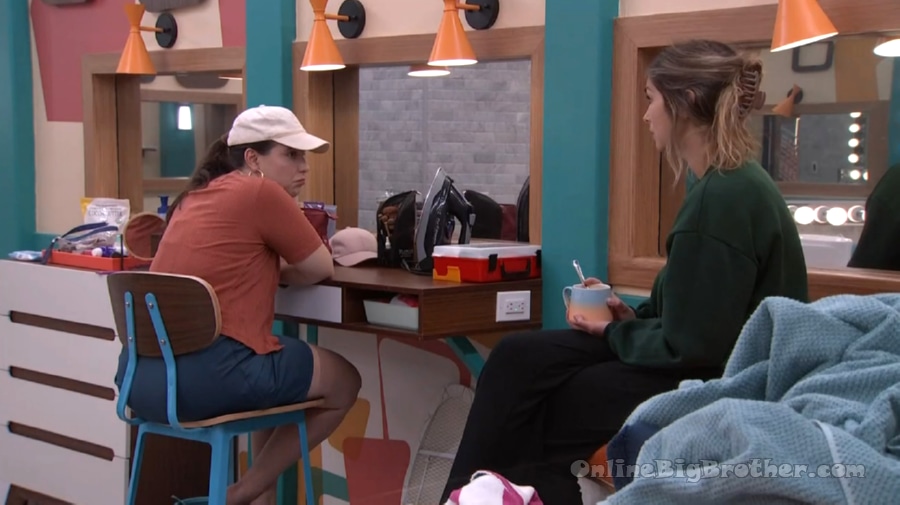 3:00 am Brittany and Alyssa
Brittany is crying "I have no fucking clue what is happening in this house"
Brittany – I know what my game is win till the end
Alyssa – it doesn't have to be that way. Me and you are both disposable to everybody else and it was me or you this week. Whichever one wins the veto the other goes.
Alyssa – I feel like a dead man walking at this point
Brittany – they made it impossible for me to help you this week. Yup I tried.. I tried for 2 and a half f***ing hours and was berated the entire time so my vote does not count this week.
Alyssa – I talked to Turner last night and I feel I was getting somewhere. Is it just fluff?
Brittany – it's up to Turner and Monte this week it's not up to me.
Brittany says every time she opens her mouth it comes back to her. "It's not up to me this week"
Brittany continues to cry "I want you here"
Alyssa tells her if Monte or Turner win HOH she's going home "How can I help you.. if I stayed this week I would owe you my game"
Alyssa – I have been manipulated and twisted
Brittany says Monte will vote her out.
Brittany – Turner made deals to stay here this week.
Alyssa says she will be "SO Blindsided" if Turner voted her out.
Brittany – do you think there is any shot if Taylor won HOH next week that she would protect me.
Alyssa – I have no ide a
B – that is what she is saying but I don't know if I believe it.
Alyssa says it all depends on the veto winner.
Brittany says Monte has a deal with Turner.
Brittany – I tried so hard so hard to not have Taylor on the block. You would be here next week, Taylor would be here next week and Monte would have no competition.
B – NO but I was being a MOB boss by suggesting. I'm not to be trusted and now Turner knows that was my pitch (Someone called Britt a mob boss.. lol)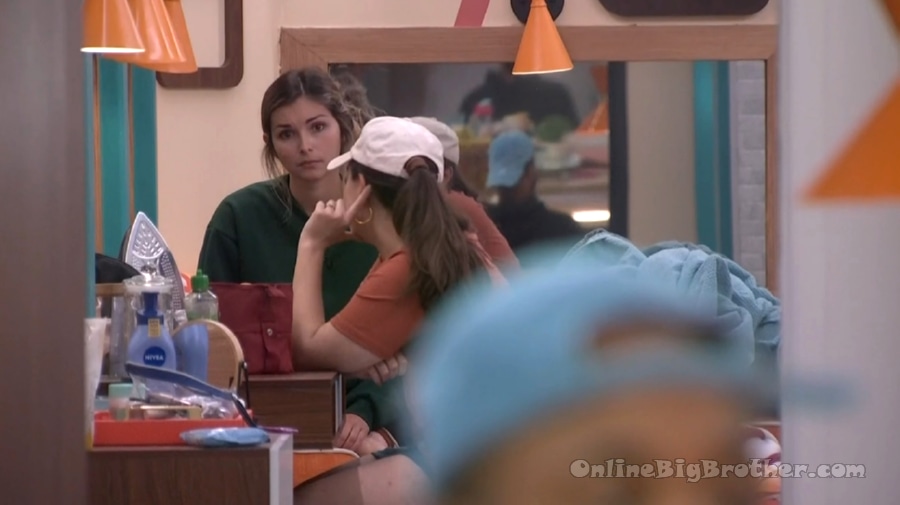 B – If Taylor is really with me I would have her against them..
Brittany says Monte made her feel like Sh1t. "he's keeping me in this house because having me in Jury would be bad for his game"
A – me too
B – they are just banking on the fact I wouldn't win
A – which is stupid..
Alyssa says this is the week she goes out and she's done nothing in the game other than be nice to people so they kept her around.
Alyssa says sometimes Turner brings up that it's a good week to take out Taylor. Other times he tells her she better hug him before she leaves.
Brittany says the agreement Turner made with Monte to stay was he would vote Alyssa out.
B – I'm the target next week if it goes off plan he's the target.
B – If he had just followed the plan then he's here next week. I'm the target they just hope I don't win.
A – if I'm here where do I fall in?

3:35 pm Taylor, Alyssa and Brittany
Alyssa – I'm hearing more shit about Kyle.. Ohh now Alyssa is going to blow up their game HA HA HA. Like I came to you because I trusted you and that was not my game and that's my narrative in this house and I look like a f***ing idiot
Taylor – Like I said out there we have an opportunity to learn this now. I think if we got out of the house and were just learning it we would be like DAMN and it would be 10 time smore difficult. Kyle's in seasons past don't get the opportunity to make amends the way that he did.
Alyssa – joe said there's a group that was formed because of you Alyssa..
Taylor – Kyle told Terrance the second you got into Dyre fest and from what Terrance told me Joe went in trying to get you up and protect Kyle. Terrance was confused because Kyle was trying to get JOe up immediately and Terrance was like why are you defending Kyle so much when he wants you up on the block.
Alyssa – I know that as Kyle and mine relationship moved forward he cared about me more so you don't care about someone until you care about them. He probably didn't care for me when I came to with this OLD SKOOL information. He probably thought ohh this cute girl in the house I'm going to take this and run with it. IF he gave a sh1t about me he would not have done that and said Alyssa is blowing up their game HA HA.
Taylor – it was really early in the game..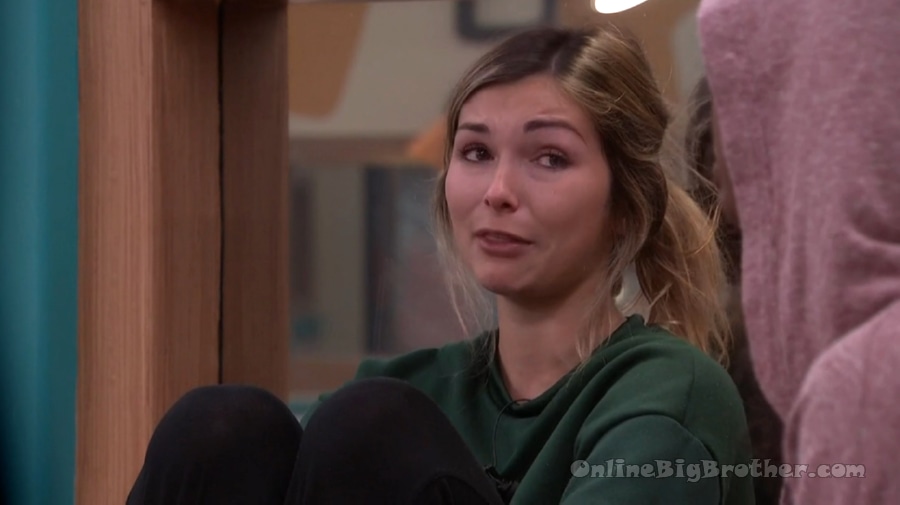 Alyssa – I had someone essentially back home and I had a life back home and now I gave all of that up for Him and he made me look so stupid (Alyssa cries)
Alyssa – there so many times he made be look so stupid I'm in my room writing him a poem in my head and I can't find him anywhere and I'm having panic attacks. He was upstairs talking about voting me out that is just my life in this game. I was in the DR and said I met my soulmate. I said those words on TV. I look so dumb and I feel so bad.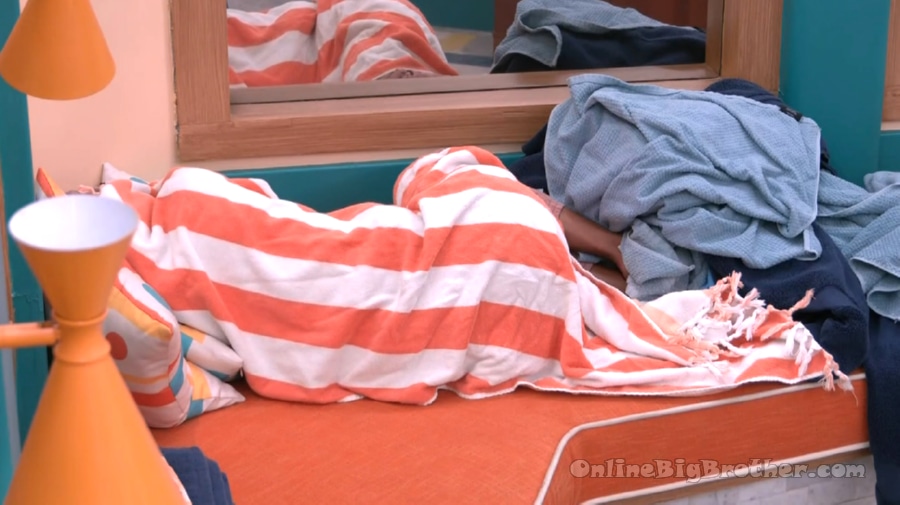 5:00 pm Taylor is sleeping
5:47 pm Alyssa and Monte in the kitchen chit chat.
Alyssa talking about the type of Girlfriend she is. "I would go skiing, hiking, I would literally do whatever you want me to do. I'm flexible, Pretty chill Like I drink I smoke I just do things that people.. you know if you want to chill sure I'll do it. I feel like I'm a pretty good girlfriend"
Hand dinosaurs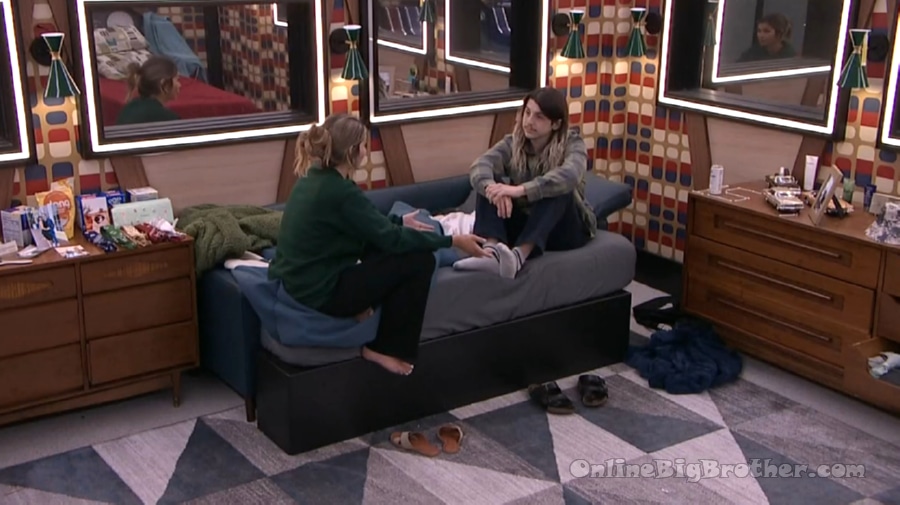 6:37 pm Turner and ALyssa
Turner – you have me on your side you don't need to convert me yo have to convert one of 2 other people.
Turner – all you need is to get one vote.
Alyssa says she'll talk to Brittany more today. "I think I have a better shot with her. I think Monte and Taylor have an agreement"
Turner – I honestly don't know but I could see it
Feeds block for a bit when we are back Turner is reading his HOH letters.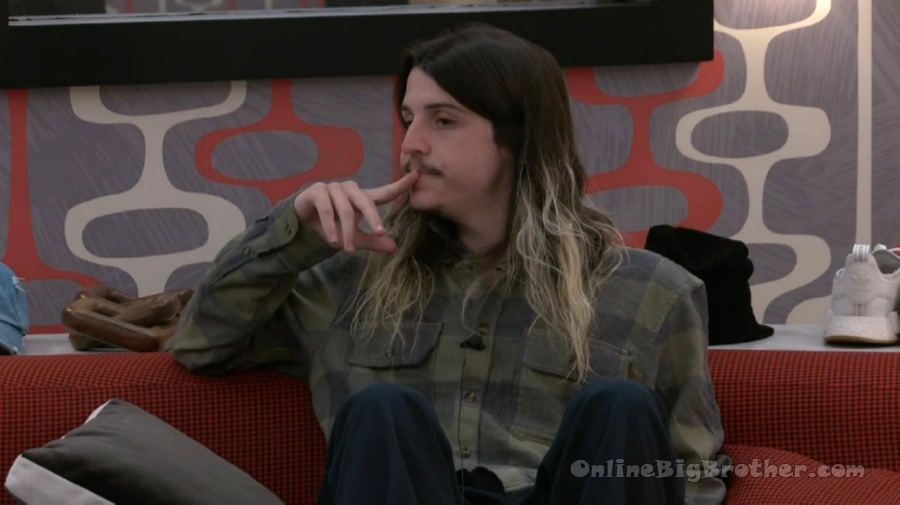 6:48 pm Turner and Monte
Turner – I just had a really emotional conversation with Alyssa. It sucked a lot. I feel like shit righ tnow
Turner – she told me if I vote her out we're not friends outside of this house..
Turner – Which sucks a lot
Monte – what prompted that
Turner – her talking to other houseguests and then thinking I am lying to her and saying if you're lying to me then we are not friends.
Turner – she says she knows you and Taylor have a final 2 and you wouldn't in a million years take me to the end. In my mind that's not true but apparently she was told by a reliable person you and Taylor have a final 2.
Monte says if he had a final 2 with Taylor he wouldn't have put her up.
Turner – these are the worst things I've heard in this game. Daniel Keep me in because I need the money, Brittany the 40K thing, Alyssa, Super close and we're not friends if you vote me out. Don't like any of it.
Monte – yeah.. you have the right to feel the way you feel bro. You've gone to bat vouching for her 100%.
Turner – for 5 weeks straight.
Without reader support this site and these spoilers wouldn't be possible.
Please consider a donation to keep the madness going.
Any amount is greatly appreciated!