Quick Big Brother Spoilers
Head of Household:  Turner
Nominees: Taylor and Brittany Kyle
POV Players: Turner, Taylor, Brittany, Alyssa, Monte, Michael
POV Winner: Michael
Veto Ceremony: Micheal used the veto on Brittany. Turner nominated Kyle.
Havenots: 
Lock your ranks in before midnight
The Situation – Kyle has been making the rounds apologizing and crying. Kyle staying hinges on Monte's vote and that is not happening right now.
6:40pm HOH room.
Monte listening to Turners HOH music.
6:50pm
Bedroom – Michael and Brittany.
Michael – if we can get through next week winning one competition one week in a row is doable. Brittany – yeah. Basically in my mind its Monte if we think he is going to turn on us. I think he is the biggest competitor in the way of us being able to increase our chances of winning. Or Terrance because we know he is after you, he is after Taylor and me too by association. Only thing that I noticed this morning are that people are keeping the channels of communication open.. they know if you were to leave .. I'm a free agent. Michael – yeah. Brittany – I think a lot of people think they could win against me and my whole game is going to be well Michael saved me. I told Alyssa.. I told her I am only going to tell her things that I can promise her. And I think at this point, if I won HOH I could promise her that she would not be my target. I think that is a fair enough promise. I didn't promise her that she wouldn't go up on the block but I told her you would not leave on my HOH and she said the same to me in return. We can't do Turner.. Michael – unless he gives us a reason to go back on it. Brittany – that is true. I really think it would come down to Monte or Terrance. Michael – yeah. Brittany – because I don't think Alyssa.. like Alyssa hasn't said anything about specifically targeting you only that she was in on the plan ..and we know she's been lying to us. She finally did come clean to me that she did know more about Kyle. She knew more about Leftovers from Kyle. Michael – which we knew. Brittany – she wants me to promise her something more long term .. and be like lets strategize. She wants to play but sorry there is no more playing at this point. We just have to make sure Monte and Turner don't make a final two. Michael – yeah, Monte can't really believe that Terrance would want to go far with him.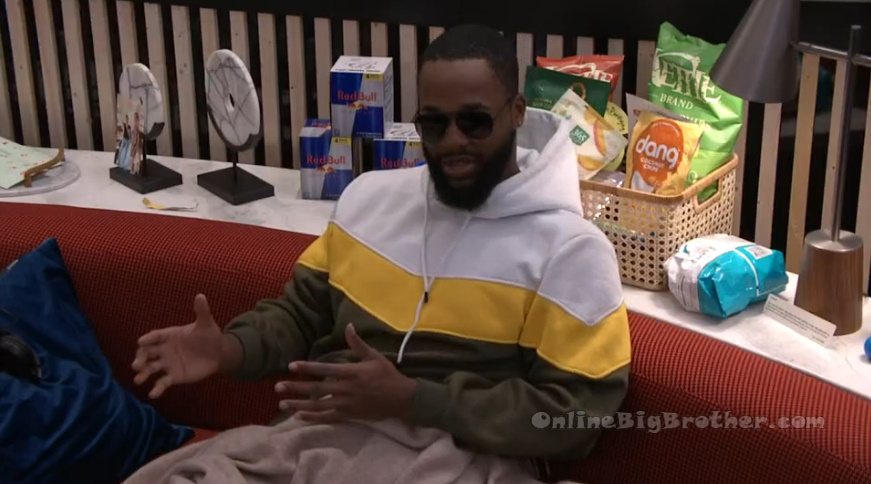 7:05pm HOH room. Turner and Monte.
Monte – this constant issue that I have as a man of color in the world is like wanting to feel free. Free to trust anybody. Feeling as though I could do that and stick around in the show and then to realize that wasn't reciprocated. I have people at home that unfortunately have a jaded mindset towards white people because of experiences where they've been wronged. Just because of the color of their skin. Having to go back home and try to say again.. give white people as a whole some grace .. this was an isolated incident. That sort of sh*t is going to be tough for me. You know!? Turner – yeah. Monte – but I told him (Kyle) I will vouch for you 100% after we get out of here regardless of what happens. He asked for advice from me and I said just try to learn more about us. Like people who don't look like you. I think he feels very comfortable seeing a white face and having that relationship established to try and trust them. I don't think he felt that comfortable with anyone outside of his own race and maybe hasn't had that experience before. I have just been a little bit to myself today because of all that. I had a conversation with Terrance and then a conversation with Kyle .. and we balled our eyes out together. Its deep stuff. I think right now he feels like sh*t because I thought this way. Turner – a good flower can still grow bad petals. Monte – wow, wow man. That is pretty good. Monte – I think his speech could be.. Turner – I think he should use that opportunity show what he has learned. It will be his last big platform. Monte – and what we had said in our conversation is that a lot of people get out and then get bashed. But he has had the opportunity to be aware of what he did that he could be bashed for. This whole thing being uncovered attaches me to a wound of do I trust white people.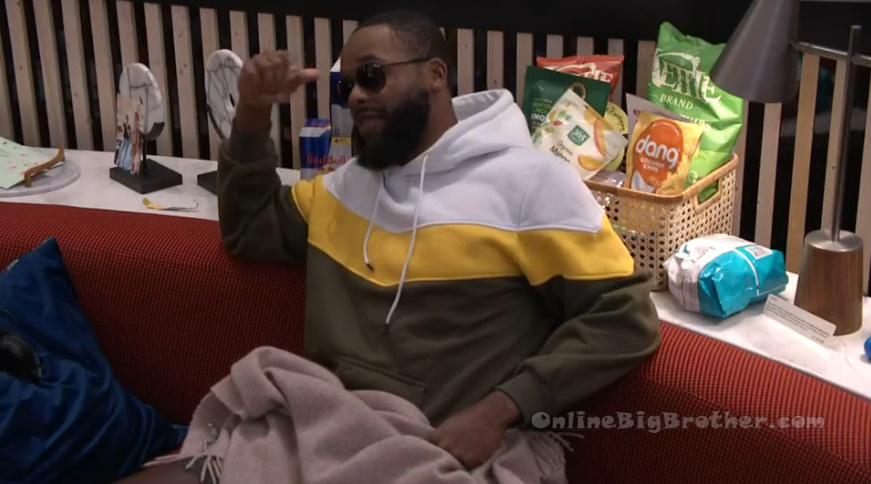 7:25pm – 7:50pm Backyard. Alyssa and Kyle.
Alyssa – how did your conversations go? Kyle – it was great honestly. It went really well. Everyone was so understanding and so kind. Like everyone has been amazing. Alyssa – good. I just wanted to check in and make sure you were good. Kyle – its been better than I ever could have expected. Alyssa – I am happy to hear that. They talk about relationship red flags and what they want to do for work. Kyle says he has no idea what he wants to do when he gets out. That's probably a huge red flag isn't it? Alyssa – no.
7:55pm HOH room – Monte and Turner
Monte – I think you have already been spending some good time with Michael and Brittany ..maybe just staying in their good graces. Turner – I am trying to hang with them more. Monte – I think just staying in their good graces is helpful and I think it is going to help us both stay safe. I am hoping.. hoping by virtue of this final four which could be nothingness. Whatever they're saying with this final four and I am safe and then you coming in to good terms with them by doing this with Kyle (renom) and staying in good graces with them. And if in the following week they win HOH over you, you're still at least solid and whoever is still remaining Alyssa or Terrance is the true target.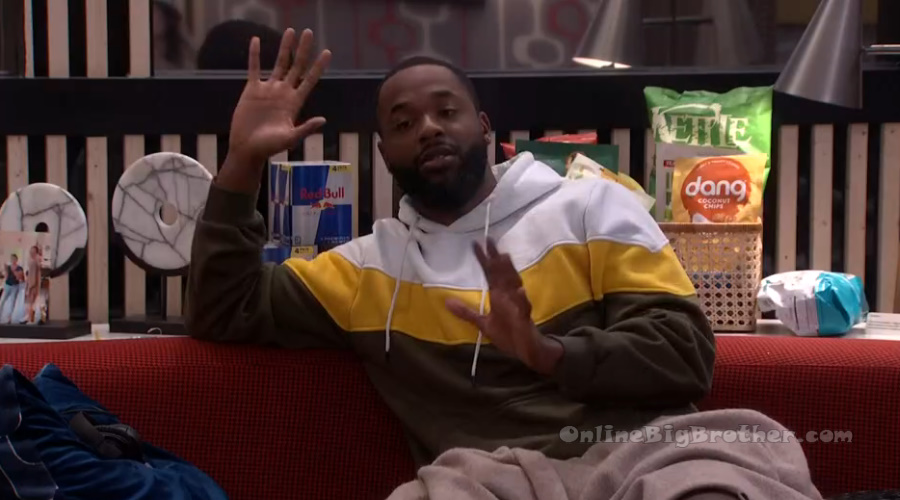 Terrance figured out how to be the last one standing.. #bb24 @bigbspoilers pic.twitter.com/BY03BW9kWH

— Dawg (@DawgsBigBrother) August 31, 2022


8:35pm – 8:50pm Bathroom – Monte and Taylor talk about the Kyle situation and the conversations he had today.
Taylor – I am sure there are people that want me to be mad. I know there are people that want me to be angry and mad and F**k this guy .. or crying or more reactive but maybe if it was explicit and intentional. Monte – yeah, overt. Taylor – an overt intention to harm.. racism. I hate people saying there are levels of racism .. but there are. And I would much rather him acknowledge and learn from his progress so that he doesn't become the poster child of Hitlers dream or something. Kyle is not Hitlers poster child for his utopia. Monte – he will be okay if he does the right things from here on out. If he learns and takes some initiative in supporting initiatives for diversity and inclusion afterwards. There are plenty of people that have made up for some really foul sh*t that they've said. Taylor – and I can see him doing it in real tangible ways. We need more examples like this. Monte – and I don't think we went backwards from The Cookout… Taylor – no, yeah it was just a different lesson.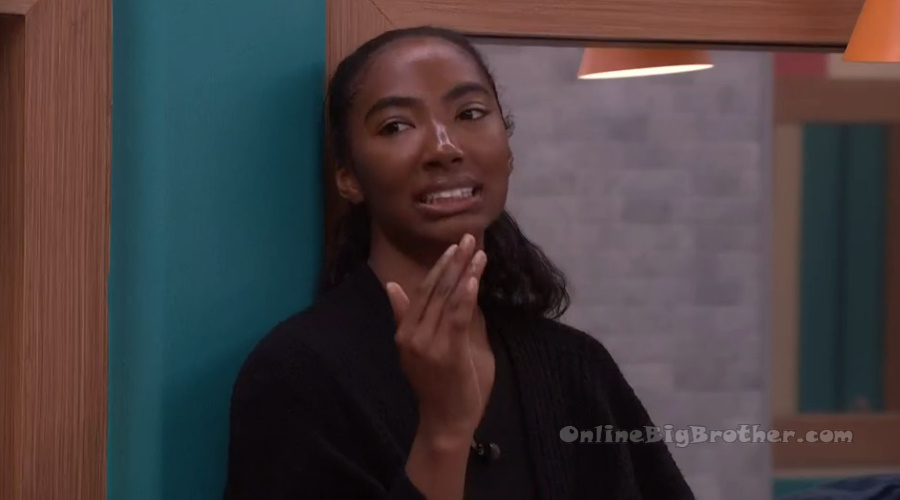 9pm HOH room. Turner and Kyle.
Turner has wanted to shower alone in his HOH room all day and is trying to kick Kyle out so he can use his HOH room alone. Kyle – when Michael and Brittany were laying out all the information to you.. Turner – when they told me alone? Kyle – yeah. I am curious how connected my comments about The Cookout when that alliance of five was presented. How connected was that comment to me… Big Brother switches the feeds. When the feeds switch back. Turner – I think it was more of wanting us to work together and then .. and it is interesting because I know they mentioned it and I don't want to misinterpret what they were saying. Kyle – I am just curious because I felt like I always wanted to work with Alyssa and I am just scared that it is like hey I am afraid of this alliance forming so lets go make this alliance.. Turner – oh yeah it didn't seem like that at all. Kyle – okay. Turner – yeah they didn't present it like that. Kyle leaves the HOH so that Turner can shower.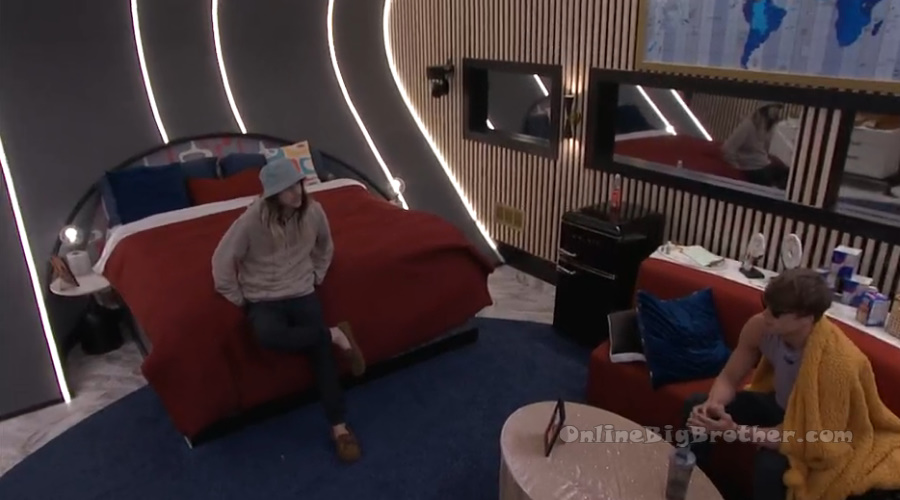 9:20pm Bathroom – Taylor and Michael.
They talk about all the drama that will be on the episodes this week. Taylor – the blow up that Kyle, Monte and Terrance had in that room while we watched the movie. Michael – I didn't know it was a blow up. Taylor – well Kyle was deny, deny, deny… and Terrance and Monte were like this is some bullsh*t. Like we can't have this conversation until you.. Michael – he denied everything!? Taylor – He was trying to explain it all away. It wasn't racism, it wasn't racism, it wasn't racism.. And they were like we cannot have this conversation until you acknowledge that. And all that happened while we were watching the movie. And then Kyle went downstairs and blew up on Brittany.. all of that has got to be in there (the episode). Michael – I wonder if the house meeting will be in there .. I haven't been talked about it. Taylor – I have.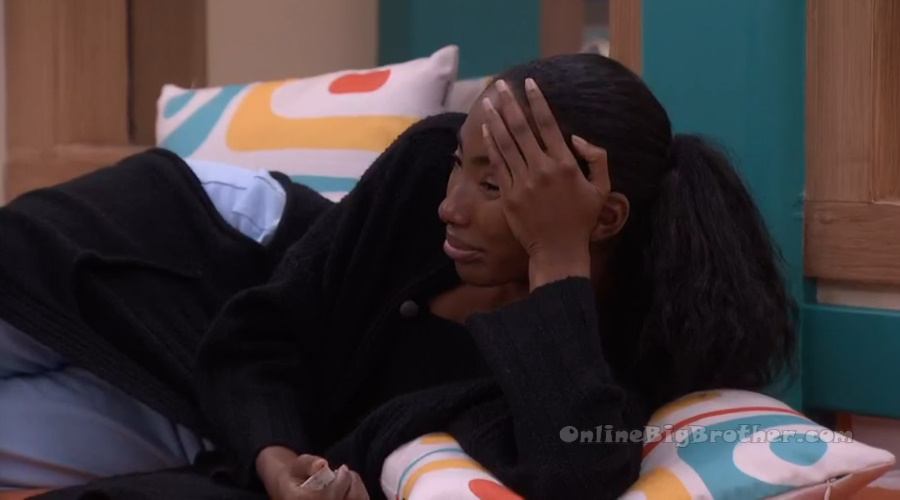 9:40pm – 10:55pm Backyard – Monte and Kyle.
Monte – when I think about their (Michael and Brittany) gameplay I can't help but be just a tad bit.. Kyle – yeah, you don't even have to say it. Monte – Granted I am never going to make any excuses for how things went down but you weren't bring up invalid points about their… how they've responded to things and then also like the timing of all of this is what keeps driving me F**king nuts. Kyle – yeah. Monte – what I am trying to say is Michael is going to win the game if no one takes that shot. I've talked to Taylor about it. I've talked to Brittany about it and they're pretty aware that they're going to get second place, or third. But neither one of them seem to be active about thinking about what is next. So that is a bit concerning. They seem like a very strategic .. I don't think there is anything he does that is not calculated. Taylor joins them and plays Monte next.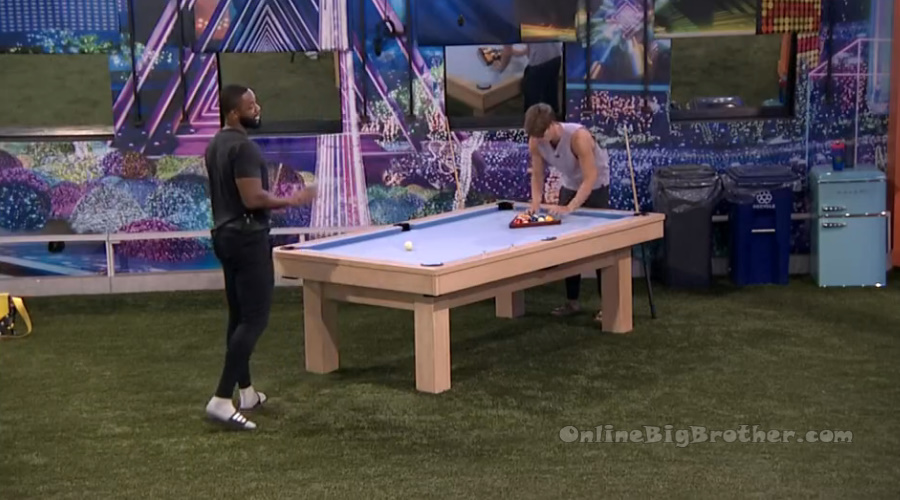 12:30am Backyard – Playing Chinese Checkers – Taylor, Turner, Brittany, Monte and Michael.
12:35am – 1:08am Bedroom – Kyle and Alyssa.
Kyle – when we go back home we can binge watch the season. Alyssa – Am I going to hurt myself? Kyle – I don't think so. Alyssa – do you think this is the first time ever that we made Big Brother history? That we were in a big brother showmance and .. Kyle – me basically lying to you. Alyssa – and be in separate alliances I guess? Kyle – yes for sure! And for me never to tell you about anything for sure. I don't want to talk about it. Alyssa – wow, that's cool. Kyle – I don't want to talk about it. Alyssa – we don't have to talk about it. Kyle – based on conversations I've had the narrative has been my entire game is tied to you .. and I don't know maybe I could be completely wrong when we get home and watch it. Alyssa – I don't even know if I want to watch it. Kyle – and if its like screw Kyle. I don't know either. Alyssa – do I binge watch it or do I get home and ask friends, hey what did you think about Kyle? Kyle – ask your friends.
1:15am Alyssa and Kyle.
Kyle – I can't believe… ah too many people know that we had S-E-X. Alyssa – in this house or America? Kyle – America. Alyssa -for sure! Kyle – you think?! Alyssa – at least we could be famous. Kyle – the shortest stamina of all time.. Kyle gets gold metal. Oh my gosh! Its whatever .. it was worth it. How many times did we have sex .. three? Alyssa – more. Kyle – no I think it was three. Twice in there (the other bedroom).. Alyssa – twice in the havenot room. Kyle – yeah so four I think. At least I didn't cry.. I think. Alyssa – what?! Has that happened to you before? Kyle – no .. I just think people do that. Alyssa – I cried the next day. Kyle – you did? Alyssa – yeah to Turner. Alyssa tries to kiss him. Kyle – no don't do that because I wont stop till the end of eternity.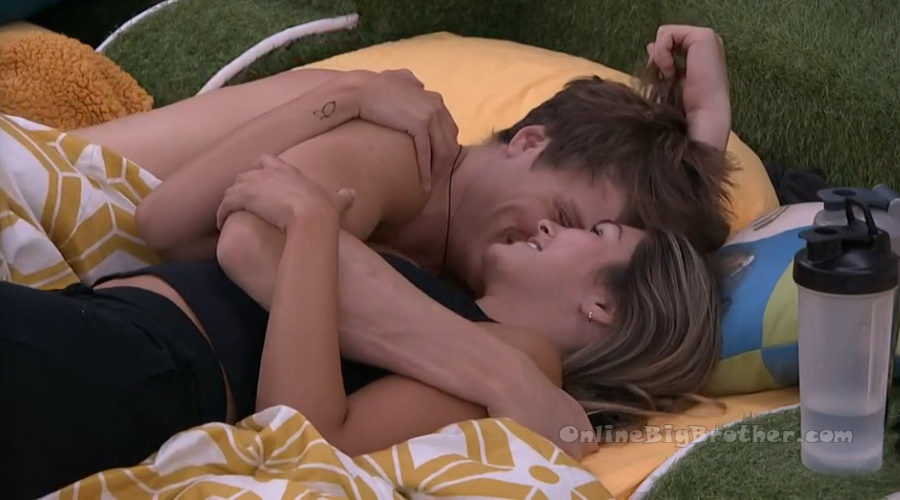 1:20pm Backyard – Turner, Michael, Monte, Taylor and Brittany.
Turner – well not me. In the havenot room. This season. Monte – there are camera's in the havenot room. Turner – I am not saying I agree or disagree but the peoples decision. Taylor – are you suggesting or do you know?! Turner – we were all there and we all saw… I wouldn't just say this. Taylor – I didn't think it was sex! Michael – people had sex in the havenot room. Turner – no wait .. this wasn't the goal!! I have gone to far. Michael – you can't un-ring the bell Turner. Taylor – are you speculating or do you know? Turner – alright .. listen yes I know. I did not mean to OUT this! Taylor – its fine. Turner – under a pink blanket first. Under a comforter second. I don't ever want to know the details of the rest. I didn't even want to know those. Michael – like FULL on?! Turner – yes. Michael – ahhhhhh!? Oh my gosh. Taylor – its not a sex-less a$$ house! Taylor – there are an uneven amount of box of condoms. Turner – I said this because I thought we all knew. Michael – no I thought something was going on but I didn't know the full extent. Monte – floatie? Michael – it had to have been the butterfly.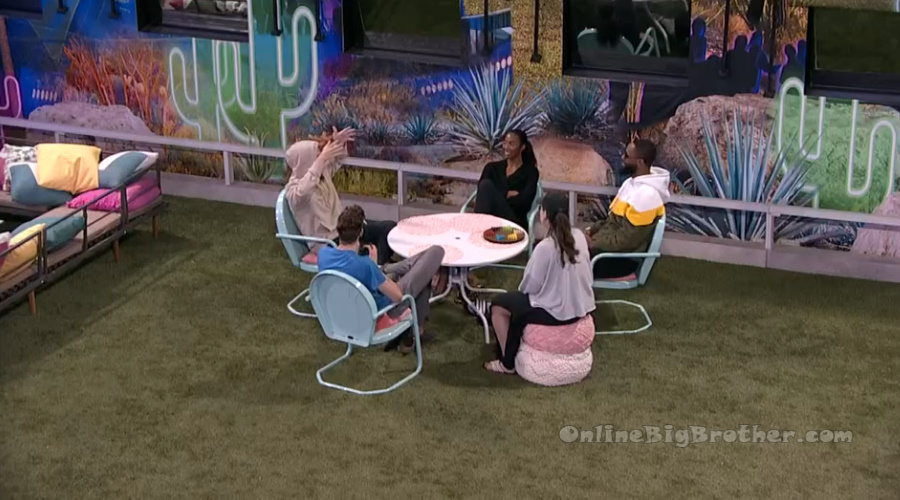 1:35pm Things start heating up and Big Brother switches the feeds..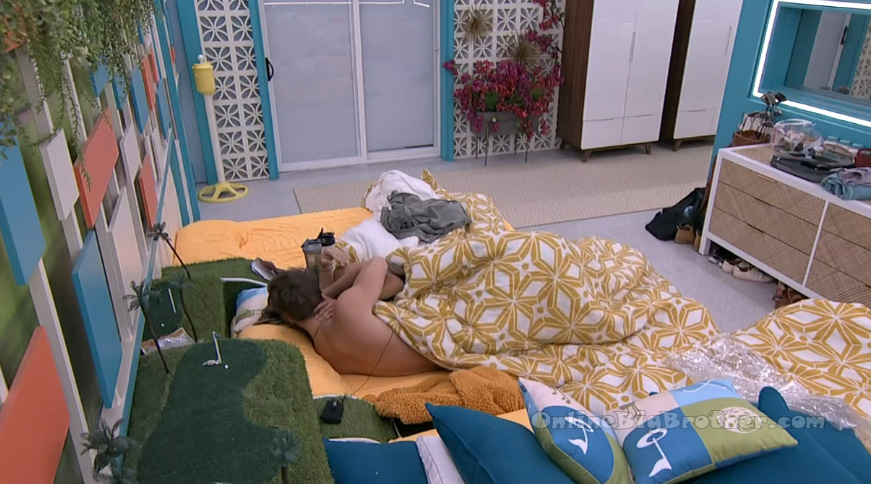 1:45am Bedroom – Kyle and Alyssa.
Alyssa – I want some privacy from the cameras. Kyle – this is going to get so hot so fast.. we have about 20 seconds in here. Alyssa – 20 seconds is enough for you babe. Kyle – I am out. Big Brother blocks the feeds.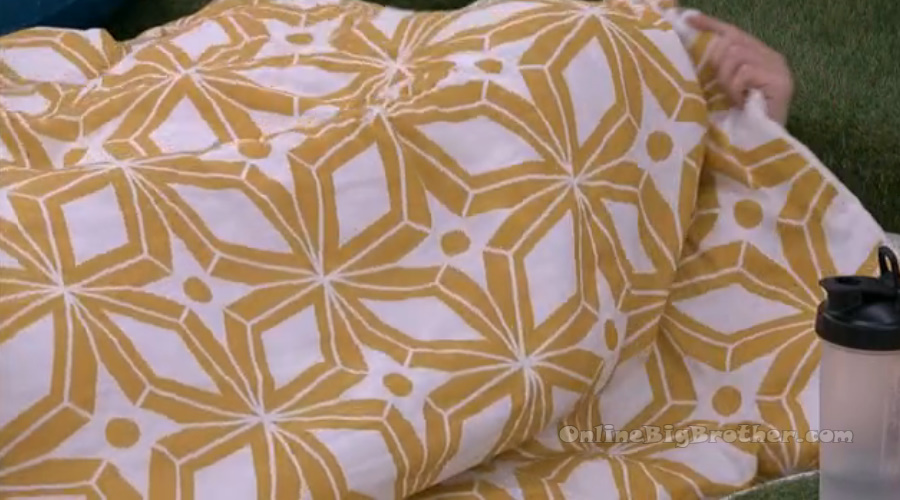 1:52am Kyle and Alyssa
Kyle – was that okay?! Are we okay? Alyssa – of course. Kyle – okay. Alyssa – thanks for asking. Kyle – yeah, after the fact. Like was that good?! (Kyle jokingly asks) I don't know what has been shown. They talk about the cameras being on them or not. Alyssa – Sorry grandma Pat. We just can't talk about it after the fact. Kyle – she was doing CPR to me. You made my day a lot better. Thanks for that.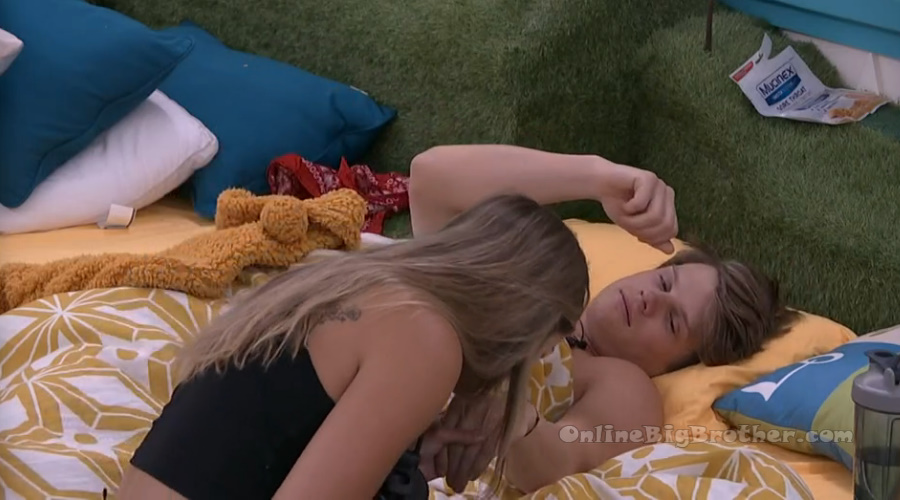 2:13am Backyard – Alyssa, Taylor, Brittany, Michael and Turner talking about past seasons / past house guests. Taylor and Alyssa head inside. Turner, Michael and Brittany are talking about Jasmine. Michael – She was mad or upset if she got picked for veto competitions. Brittany – you should want to play and save yourself. Michael – that pissed me off Taylors HOH week. She literally jumped off the wall without trying. She got annoyed that she got picked for the veto and then ended up with a trip to London and didn't have to worry about having to go up at all. I was so over her that week! I think I would like Jasmine outside the house but inside she was not my favourite person. She is obviously not a bad person.
2:23am – 2:35am Kitchen – Alyssa getting ice cream. Alyssa to Taylor – I had some cheese and crackers. I am like ravenous at night! Plus I'm getting my period so that doesn't help. Alyssa – You're not going home this week. Taylor – I appreciate that. I know an argument has been made not by Kyle to keep him. Alyssa – My mind is obviously pretty made up. Its definitely not an easy decision. And its not because I am a big brother savage who wants to do that. Let me make that clear.. because I am a human and I can make my own decisions. I know right from wrong. I told him that. He knows that. He respects that decision. Taylor – he has been really good about .. I am very proud of him. He is doing what you would hope someone would do. Alyssa – which makes me think that maybe outside of this house we could handle maybe later on.. but for now just put things on pause (what that putting things on pause half an hour ago?) Taylor – that makes me happy to hear. Alyssa – because I really do like him a lot. Taylor – for him to grow in the way that he needs to .. a relationship or other would be distracting. Alyssa – I have spent my entire life raising grown men and I cannot do that anymore. I think I could help him a lot. I grew up in very integrated schools. Like I could help your but that is not my job to do. Taylor – lovingly ..figure it out. Alyssa – I know right from wrong and what I support and don't support. I am so sorry for because this is not easy. Taylor – I would have a different reaction if he acted or reacted differently. If you're willing to respond and react responsibly then I am not going to ostracise someone who is asking to be brought in.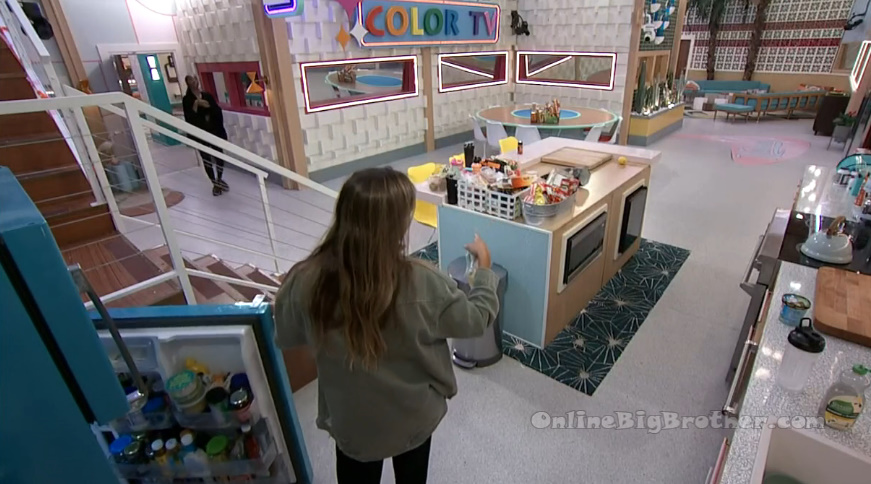 Without reader support this site and these spoilers wouldn't be possible.
Please consider a donation to keep the madness going.
Any amount is greatly appreciated!