Quick Big Brother Spoilers
Head of Household:  Turner
Nominees: Taylor and Brittany Kyle
POV Players: Turner, Taylor, Brittany, Alyssa, Monte, Michael
POV Winner: Michael
Veto Ceremony: Micheal used the veto on Brittany. Turner nominated Kyle.
Havenots: 
Lock your ranks in before midnight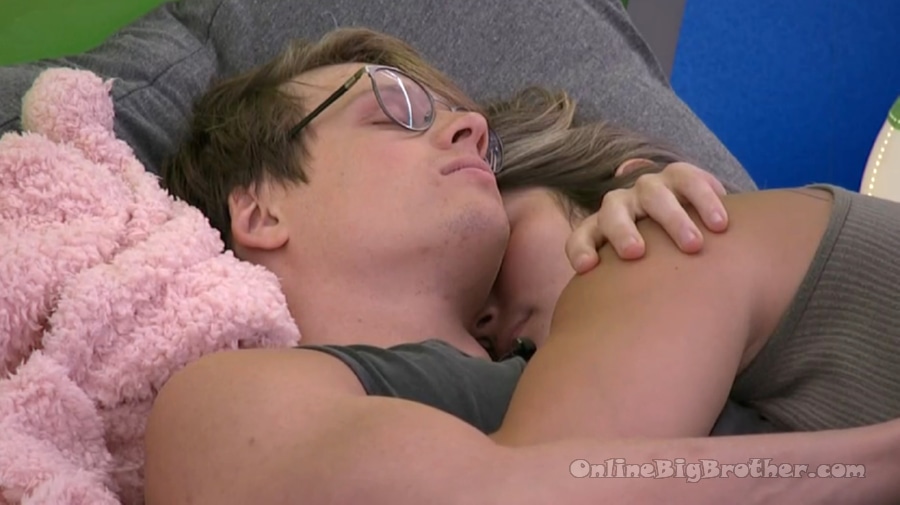 3:20 pm A broken up showmance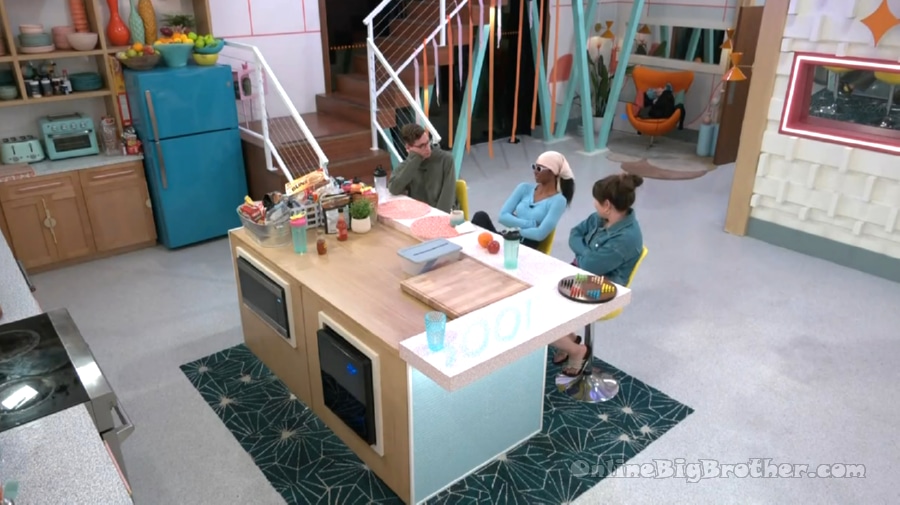 3:22 pm Brittany, Taylor and Michael
Taylor – we have 25 days to go
They start talking about Turner not wanting to send any leftovers home until the final 5.
Michael – it would have to be Terrance or Alyssa.. I don't see him doing hat
Taylor says Terrance and Alyssa are both equally beatable
Michael – I'm fine if Terrance goes first
Taylor – he told the whole house this week that he wants me out.. OKAY
Michael – I want to fast forward a couple of weeks so it's just us a fun summer house
They giggle. "Summer house"
Britt – we can do it.
Michael – Alyssa will do well at mental comps
Michael adds that Alyssa isn't talking much game with people she's just sitting in the back room going over the days.
Taylor – all the time
Brittany – she has jury votes galore.. Turner thinks he can win against her in the final two I think it will be a toss-up
Michael – against Turner Alyssa would have Indy, Jasmine, Kyle, and Terrance. All she needs is one more.
They agree Alyssa not being in the leftovers and making it to final 2 would be a big deal.
Brittany – Turner has won two comps but he hasn't played a good game.
Michael – A big move doesn't matter if it's not smart.
Britt – that is why he's freaking out outside he realizes he screwed up. Sounds like Dyre fest really screwed him over.
Taylor says Alyssa would have more votes than any of them.
Michael – Turner would vote for Alyssa, Turner would, those girls are really tight that's five. I can't win against Alyssa
Brittany – we're the deciding vote (next week)
Michael – if Turner wins the veto and pulls one down then he decides.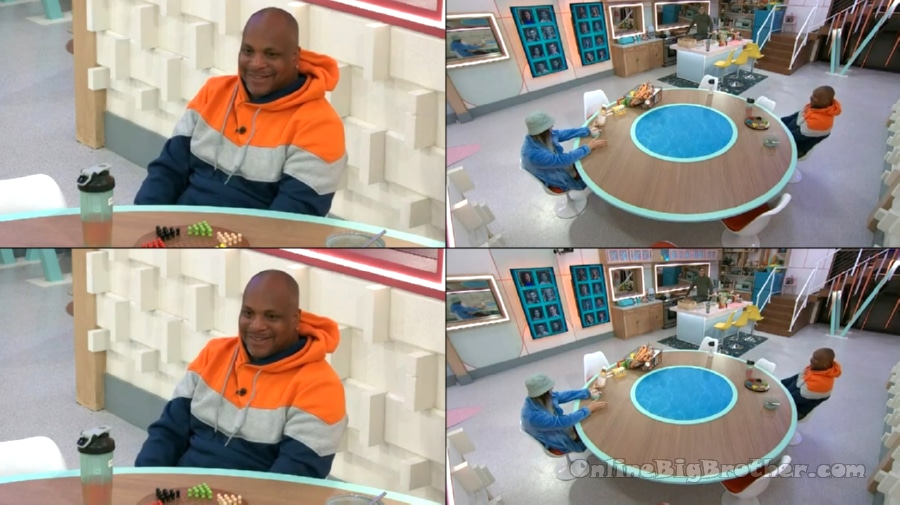 4:41 pm Chit chat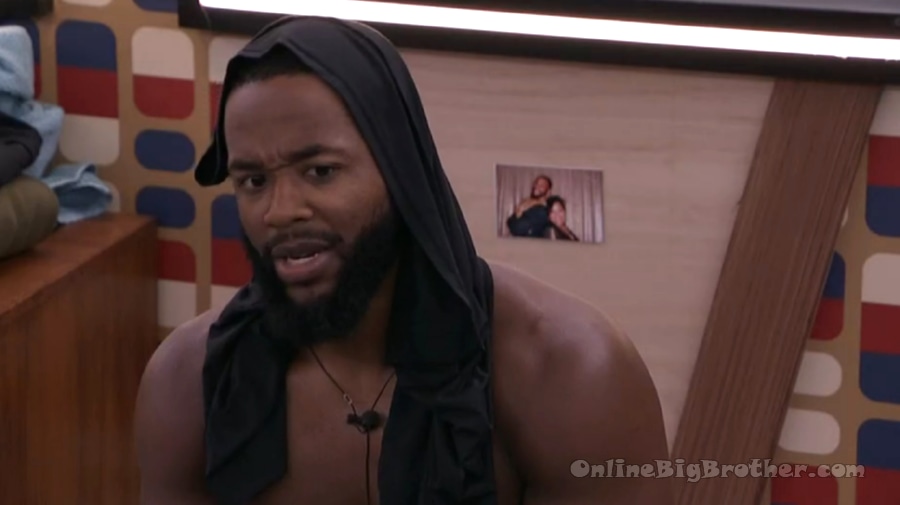 4:43 pm Monte and Taylor
Monte – this could have also been an opportunity for Brittany to own up to her mistakes and Michael's Mistakes in holding this information from the house and trying to do an honorable thing by waiting two weeks after they knew about it. They had all the opportunity to share it with us they even said it if Kyle was gone after Dyre fest they didn't see a reason to bring it up. They said it would have probably been mentioned at some later point.
Monte – when? why would they have a reason to bring it up? Why would we be even able to believe them at that point? Kyle wouldn't be here to defend himself.
Monte – they would have never told us Michael and Brittnay are smart people. When we've been in this alliance they've always been so calculated and so thought out in what they are doing and why they are doing it. This is not to me.. this doesn't feel like Ohh this was heavy on our hearts and we had to share it right before replacement nominees were named.
Monte – I can't sit here and tell myself that it makes sense for those two. Evidence has shown they are both very smart people. Decisions were made for reasons everything plays out just fine with them. Next week Michael can play for HOH, Brittany can play for HOH they know how tight you are with them you are playing HOH. They feel very tight with me I'm playing for HOH. We can target the other side of the house. Turner we all said we wouldn't put him up so the assumption is Terrance and Alyssa. If I win HOH those are the people that are going up on the block. All I'm saying it if there is an opportunity and I hope you can trust me in this conversation. If Michael doesn't win the damn veto adn somebody else does or if I do we would be guaranteeing ourselves second place in this game.
Monte – I don't know what you came here for..
Taylor – 750 thousand dollars.
Monte – I know what the pecking order will be Michael, Brittany in their ideal world it'll be Alyssa/Terrance then Turner/Me.
Monte – if there is a chance to take a shot and we don't take it there's no way we are winning. Jury will look at us like what the f** you saved him
Taylor – yup
Taylor says she would rather Alyssa get to final 5 over Alyssa. Turner will be harder to beat.
Taylor – so my priority will be to be getting Turner .. I go personal shit against this one. It will be so easy to get rid of him this week.
Monte – Turner up to this point has been manipulated by Kyle .. like when he trusted POOCH blindly.
Monte – I truly believe that Turner doesn't have any interest in taking you or Brittany out.
Taylor – whoever takes out Michael wins the game. Everyone knows that.
Monte says they stand a fighting chance against him but not Michael. "I don't know the game nearly as well and I don't perform anywhere close"
Taylor – I've only won when he wasn't playing.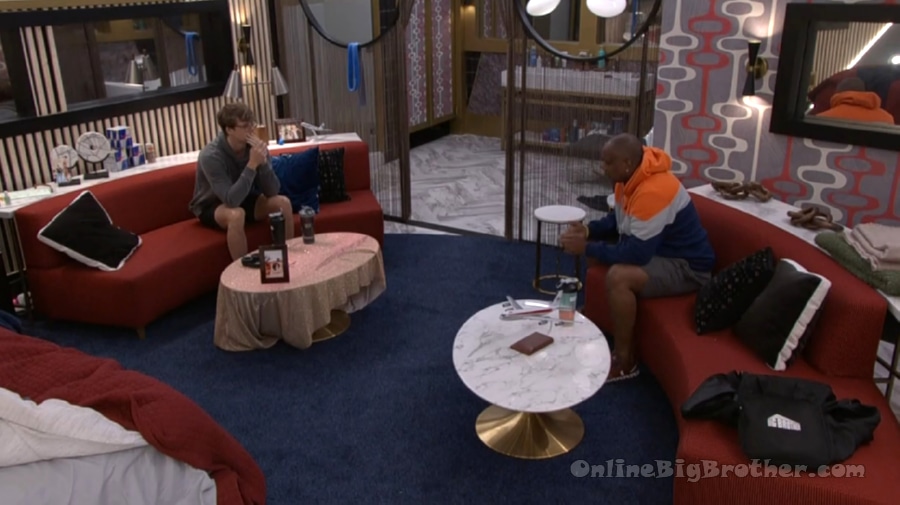 5:04 pm Kyle and Terrance
Terrance tells him to talk to Jasmine first and say Terrance told him to. "He told me to talk to you when I got here (Jury)"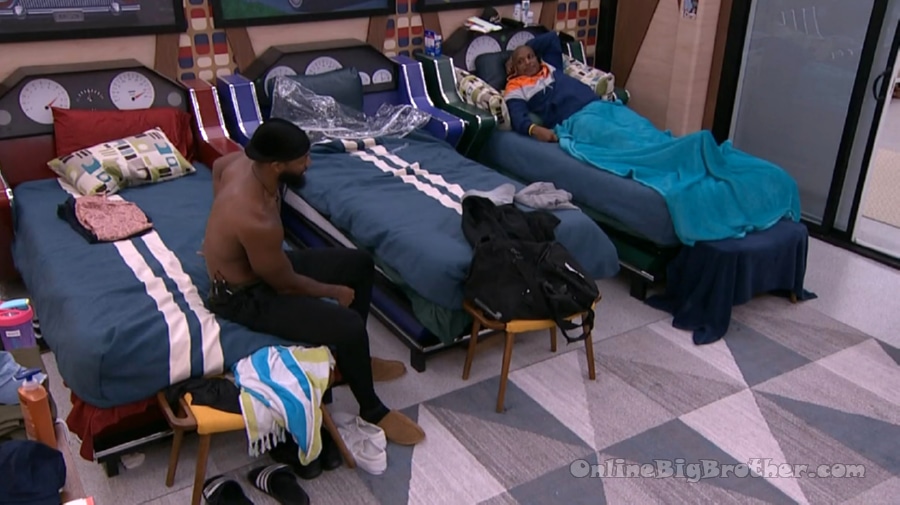 5:51 pm Terrance and Monte
Terrance talking about the weight he's lost so far this season. He's on track to reach his goal weight 230. They go into a long conversation about fitness and how much Terrance has lost.
Monte says he doesn't drink pre-workout anymore. etc etc..
They talk about Kyle and what advice they're giving him when he goes into Jury.
Terrance – I told him to be ahead of it and your best bet is pull Jasmine in first. Technically I'm sure she's the mom of the house.
Turner joins them. THey talk about Dyre Fest week when Terrance put Turner up for saying facts. When Terrance talked to him about something he shouldn't have known.
Turner – I was not listening and I said Facts.. I do that all the time
They all laugh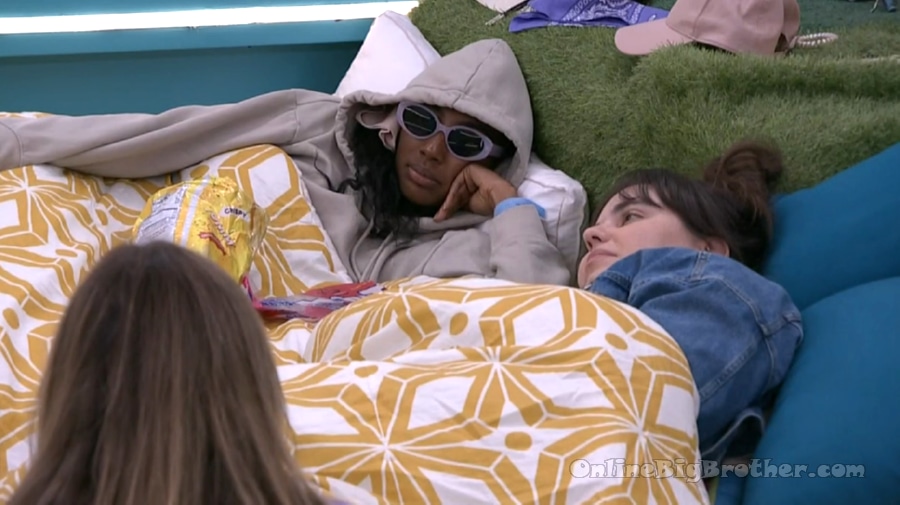 6:57 pm Chit chat or sleeping
6:58 pm Snacks
Without reader support this site and these spoilers wouldn't be possible.
Please consider a donation to keep the madness going.
Any amount is greatly appreciated!