Quick Big Brother Spoilers
Head of Household:  Turner
Nominees: Taylor and Brittany Kyle
POV Players: Turner, Taylor, Brittany, Alyssa, Monte, Michael
POV Winner: Michael
Veto Ceremony: Micheal used the veto on Brittany. Turner nominated Kyle.
Havenots: 
Lock your ranks in before midnight
The Situation – Kyle has been making the rounds apologizing and crying. Kyle staying hinges on Monte's vote and that is not happening right now.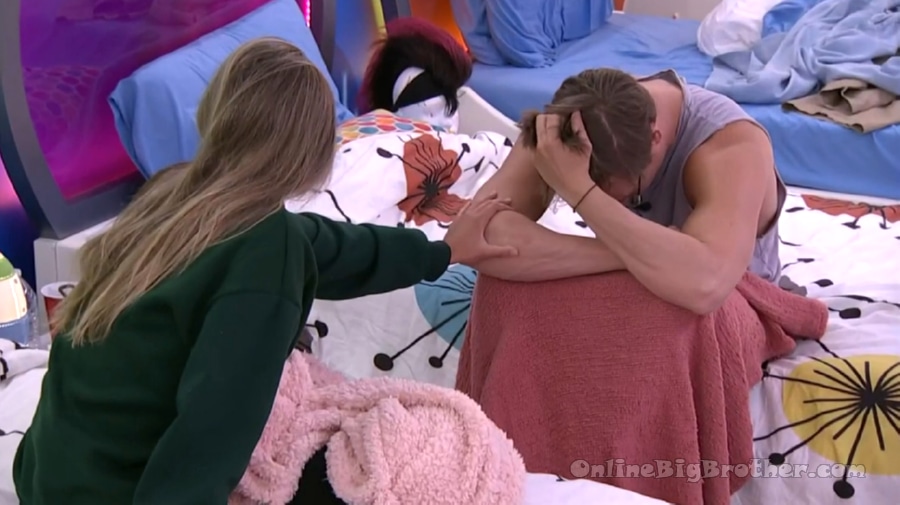 2:45 pm Kyle and Alyssa
K – I've never been good at expressing myself.. I am sorry
Kyle cries "I've cried so much I'm so sick of it honestly"
Kyle – I am so sorry Alyssa.
Alyssa says she's been talking to the therapist as well she's helped her organize her thoughts.
Alyssa – I need to watch the show and see what has happened. what was said.. I need to decide if this is a relationship I want to be in. When I tell you I love you I don't say it lightly I'm a very intense person outside of this house. I know sometimes you speak without knowing what you are saying.
Alyssa – I love you a lot and I am happy I met you want. No matter what happened in this game doesn't have to do with things it has to do with like.. YOu never fought for me. I know you didn't use the veto but at the end of the day you would have picked yourself over me for sure. That is not somebody I want to have babies with. I deserve someone better than that. It's really really hard for me and will be hard for me for a really really long time.
Alyssa starts to cry "I'm not okay.. like I'm not okay at all I won't be okay for a long time. I really thought I like finally met my person" Maybe I did maybe I didn't
Alyssa – Everything I said to you I meant. I don't want to lose you as a person.
Alyssa – I Don't think I can stand behind someone that won't stand by me.
Alyssa – I am sad and disappointed how does that make you feel?
Kyle – I don't know
Alyssa – was our relationship real to you?
K – yes. That is why I wanted to hold out until after to say I love you. The things I said were 100% true.. I've lied so much in this game but my feelings for you and what I think of you as a person were genuine. I hope there's a chance outside of the game where we can explore something.
Alyssa – I hope so too
Alyssa – I don't think we should leave this game in a relationship.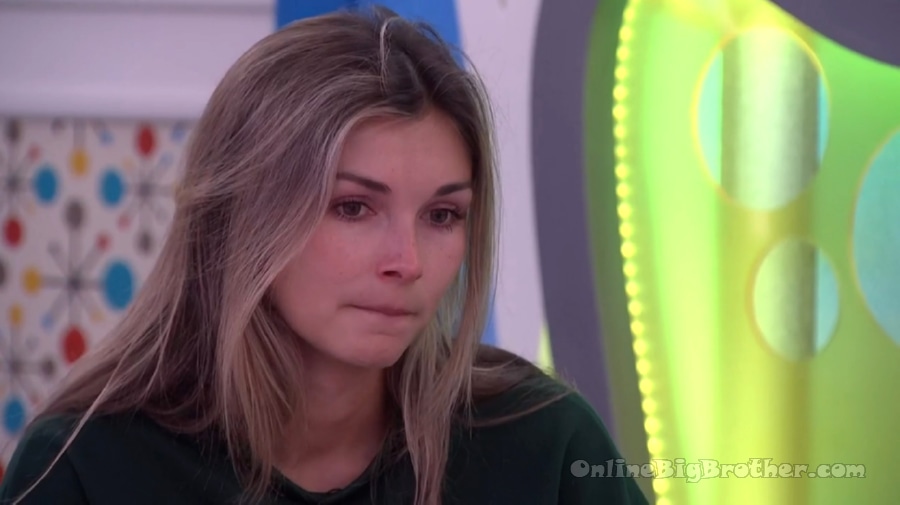 A – I've spent my life trying to fix grown men
K – I'm a broken 29 year old
Alyssa – if you can do anything for me game-wise.. tell Michael and Brittany I didn't know about the leftovers. They are so fixated on this. Terrance told Brittany that you told him about it.
Kyle – Ohh shit I'm not even thinking game right now.
Kyle – I can't keep lying .. I can't lie. What do I say?
Alyssa – just say you did say every detail keep it at that.
Kyle – I'm out I'm done with the game I can't. I completely forget there's a game going on. I'm not going to talk any game.
Kyle says he's going to avoid it "why would I tell Terrance who I have no relationship with over the girl I'm with"
Kyle – I'm sorry game wise Turner and Terrance are not in a good game position
Kyle says for her to do something with Terrance, Turner, and Monte.
Alyssa – I am glad I met you I would have preferred you didn't lie to me. The month we had was the best month of my life.
Kyle – it was pretty fun.. wish we could have just gone to Jury.
Alyssa – I feel like I should be loved one day I will find someone that loves me back. You started this alliance and you could have chosen me. You gave speeches ..
Kyle – do you want to know? I remember during Jasmine's HOH. I asked you about the girls and everyone in the house assumed there was a very tight group of girls. GIRLS GIRLS or whatever I mean I could have been wrong I thought there was a group of girls and you mentioned Old Skool forming. You told me about Old Skool when I asked about Girls girls.. you said yeah it's no big deal it was something Paloma started. I thought there was something more than what you were telling me. That is when I had hesitation.
Kyle – it was a mix of Joe telling me how bad our relationship was for the game that drove a wedge in. I prolonged anything physical as long as possible because I thought eventually I would have to vote you out.
Alyssa – and you would you have?
Kyle – at the time I would have.
Feeds flip for a couple of seconds. when we're back Kyle is saying the best week was Dyre week and the first couple of days because they were able to actively work together.
Kyle – I'm sorry I played a very selfish game.
Alyssa – I accept your apology but I don't forgive you. We can talk in a month and a half.
Alyssa – I will always care about you but I'm still freaking angry at you. So.. Even though I am feeling so many feelings I will still be there to comfort you I will sit with you in silence I'm more than happy to do that. I actually enjoy doing that.
Kyle – really?
Alyssa – it makes me feel good.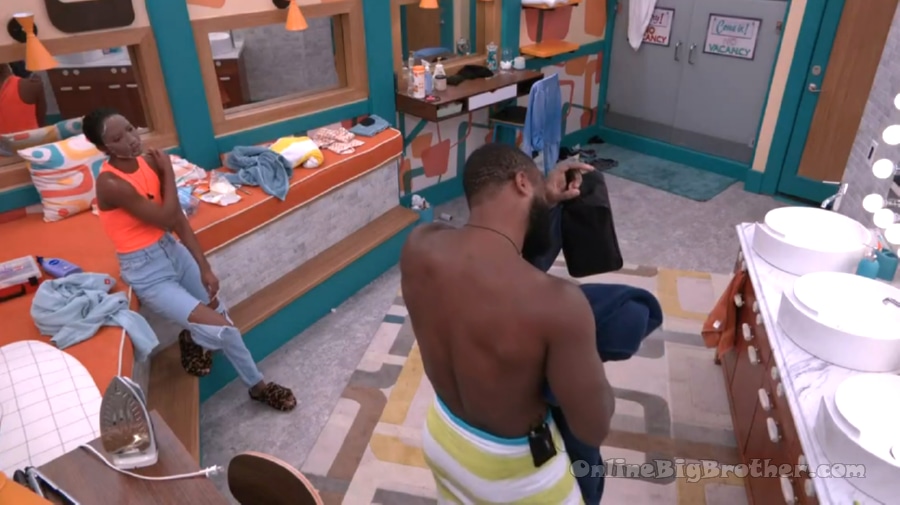 3:08 pm Monte and Taylor
Monte crying "My little brother he's umm.. Damn, I miss that kid"
Monte – we've been talking about this shit with Kyle.. My little brother when he was serving in the coast guard he was deployed and he had so many bad experiences with racist folks on the boat that never got addressed. For me it was tough to hear that I can't do sh1t about it I can't.. you know there's is nothing I can do there was nothing he can do. He just had to deal with it by himself.
Feeds flip ..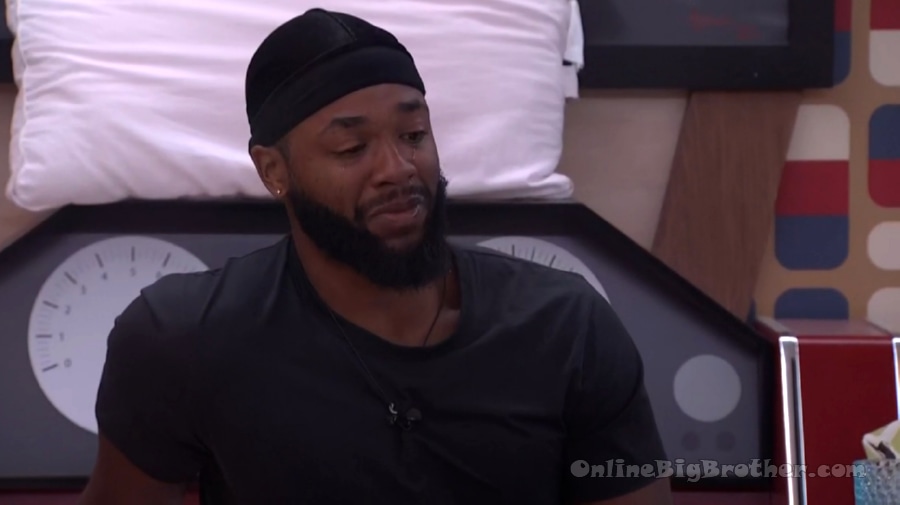 4:55 pm Monte and Kyle
Monte brings up going to a prep school and everyone there assumed he was playing sports. "I wasn't doing as well as I was in school beforehand.. it's a college prep school so I have to do homework beforehand now.. "
Monte – as I progressed I figured out ways to learn more about them and their culture. Never felt like my culture was appreciated or anybody was curious about me. A lot of the friends that I had from Highschool I don't really have the same relationship with them. There was always something said or done that ended the trust. It always sadly had something to do with my race. I never really looked too deep into it.. I just thought those there were THOSE kids.
Monte – Even in my college experience I tended to hang out with people that looked more like me it was more comfortable. As you could imagine, right?
monte says when he did internships he was one of the few African Americans in the corporate setting.
Monte says it was hard to get to the point where he would have a white friend whom he completely trusted. "Like a true friend"
Monte starts to cry "you know about my little brother umm.. the f***er means the world to me. when he joined the coast guard.. he was deployed a couple of times.. when he's deployed he's on a boat with no contact with me outside of emails.
Monte – he said there was so much racist stuff on those boats man.. he was by himself.. AS A older brother that wants to protect him.. that sh1t it f***ed me up all the way..
Feeds flip when we're back. Monte is saying coming into the house he didn't want to base anything off gender he just wanted to play with people that were true and honest.
Monte says he would never want to do what was done last year because everyone would suspect it.
Monte thought they were the mirror version of each other "we both came from a sales background we know how to read people"
Monte – I know we never had an official final 2 lets's shake on this to me it was always when me and Kyle talk we can be very strategic
Monte – it hurt a lot man to hear the reason why you wanted to work with … for it to be attached to my race that's the part I … I now have to like..
Monte – I don't care about Twitter it's my little brother I really got to try and figure out how to explain that. This was a unique situation. I know us being in this game and how paranoid we can get can factor in. That is the hardest part for me man I got to convince him that this was a one-off thing not everyone thinks that way.
Monte says that based on last year with the cookout he can see how Kyle would have been lent to the thoughts he has. "It was the follow-through that hurt me the most"
monte – I don't hate you It's not even that I dislike you.. I dislike your thought process in going into that. as a person and a human, I love you. You are a solid dude you are fun to be around. You had relationships with everyone on this house because of who you are. it had nothing to do with Skin colour or whatever. Maybe some people were more interested because you were handsome.
Monte is going to stick up for Kyle out side "I'd be damn if someone will bash you"
Kyle asks for advice on how he can move forward and make amends and continue to learn "Is there anything I can do? I don't have much time. In the next few days if there is anything you can think of or share. I just don't know what to do. I feel like it's this dark cloud weighing over me."
Kyle – I appreciate you 100% man..
Monte – I think what I shared, Taylor has her own version Terrance has his own version and you know for the folks in Jury they have their own stories.
Monte – I know this stuff is weighing on you about POST SHOW the biggest thing I think that will help you is not only what you do here but what is seen by the people outside. They will have a lot more respect for you for coming to terms with it (You haven't met BB twitter)
Monte – try to find ways.. sadly man there will be people that offer you opportunities that give you support who are in that line of thinking that you were in at that time. There are people still out there that vouch to that line of thinking. I would love to see you to do as much as you can to step into these conversations and support diverse groups of people"
Monte – it will be a testament that white America can come into this space we can do so much damage together as opposed to as apart.
Kyle – cool.. I appreciate it man.
Monte – well cool man.. Lets hug it up man.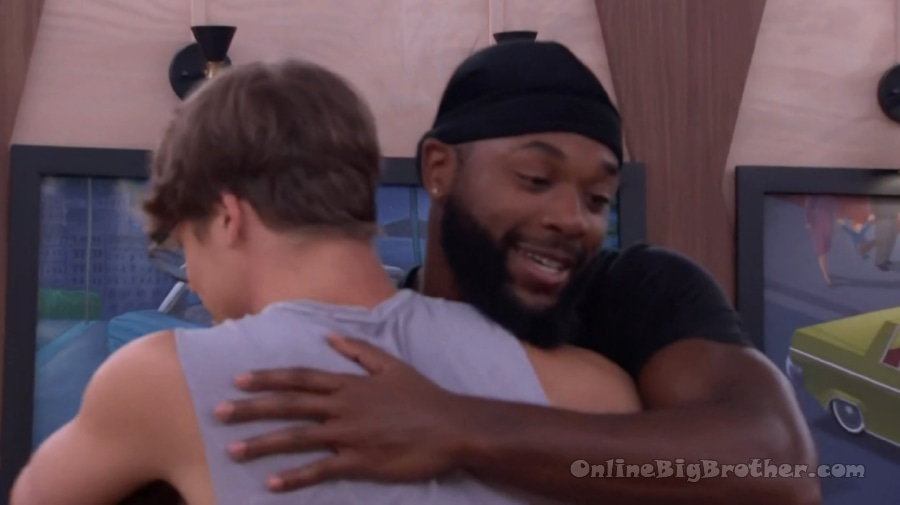 They hug it up.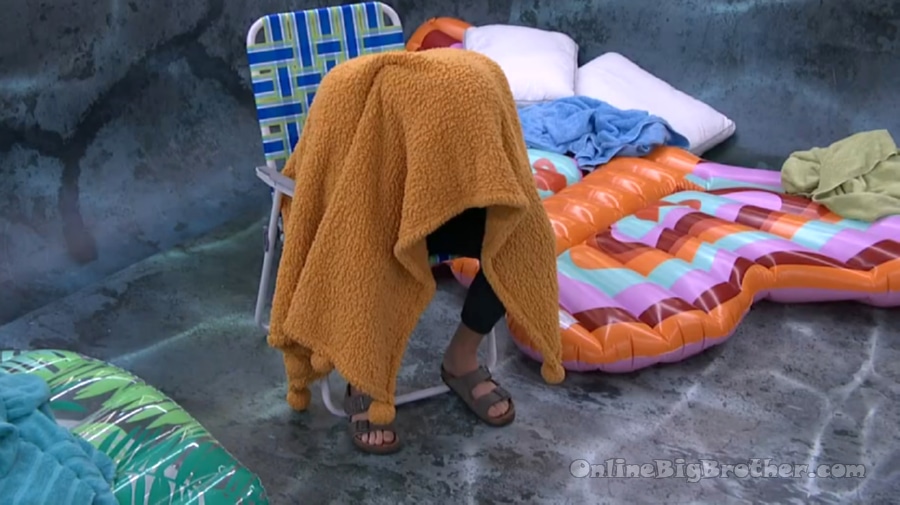 5:12 pm Kyle taking a break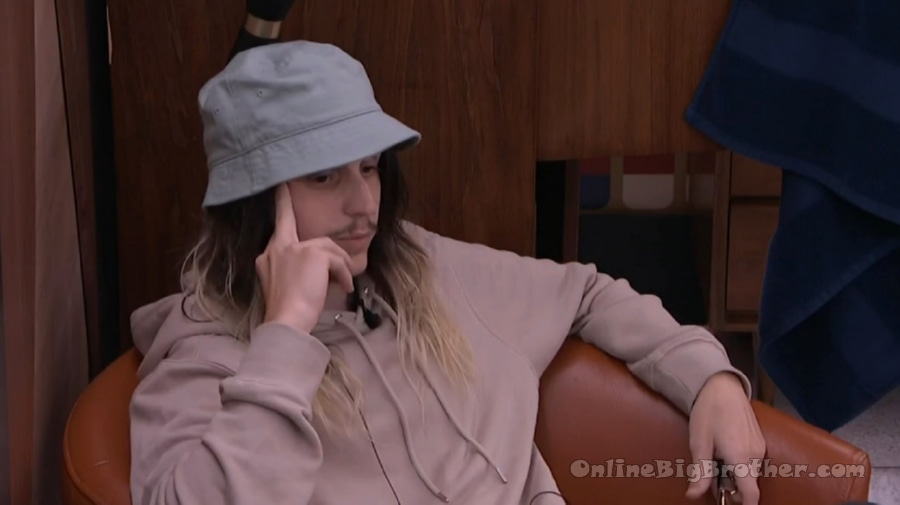 5:50 pm Turner and Terrance
Terrance – I've been preaching about what we've talked about.. what I came to you with seeing how to navigate .. he's in a better situation if he walks.
Turner brings up his conversation with Kyle "I let him talk I said You have a friend in me as well as everyone else in the house"
Terran ce- I don't want him to feel any way that he doesn't have anybody. With me it upset me and it did bother me but a lot of it is.. I see it on a normal basis with driving the bus like you know when you drive up a black neighborhood or a white neighborhood the people are different. You expect certain things. He hasn't had that experience being in other rooms. That's all it is..
Turner – yeah. it was good to hear him out. I was telling him however this week works out like just know I don't feel any different of you as a person all that.. This week I had no other option I could not put you up but me sending you home is not personal at least for me. I was taken aback by the whole thing. our relationship took a hit.. but relationships do that.
Terrance – it's easy to love somebody and care with somebody when they win and doing good. when you struggle with loving someone is when they hurt you or disappoint you. That is when I feel the most love is needed in that situation.
Turner – I had not option this week it felt like. I don't think I would have done any differently if I had people say we don't care let the market speak for itself
Turner says going into next week he feels he's good no matter who wins because he did "The houses dirty work"
turner – it's going to hurt if Kyle leaves.. it'll hurt if anybody leaves but I felt very close to Kyle this entire summer. It'll be an emotional day when he walks out the door.
Terrance says he felt the same way when Daniel left.
Alyssa joins them.
Turner brings up that he talked to Kyle for 40 minutes. "he told me how he was feeling explained everything from his childhood and how he got here and the situation and I just told him. You're my buddy and I don't judge you although I wouldn't have done what he did. As long as you take this time it's okay.
Alyssa – I Broke up with him essentially
Turner – are you okay?
Alyssa – I'm fine.. no I'm not but I will be.
Terrance says Turner and Alyssa have been consistent with him. "You three are the only people I truly have been able to depend on in this house and that I feel that hasn't really done anything against me ever since I walked through this f**ing door that is why I feel so protective of you guys. "
Alyssa – I appreciate that.. I don't know about his conversation with Monte but I assume he won't stay this weke
Turner – yeah.
Terrance- Nawh I don't think so. A lot of things have happened to different people. There was things that happened to Monte's little brother. When you

6:25 pm Brittany and Kyle
They are saying they trust each other. Brittany says Taylor thinks Monte might take a shot at Michael before final 4. She thinks once he wins Hoh he'll take the shot.
They agree it's come down to winning competitions.
Michael – after Kyle leaves you will have the second most comp wins in the house.
Brittany – Technically more than Turner.
Michael – Terrance is one and a half..
Brittany – I have two. we can do it.
Britt – I thought at least we would have Monte till four.
Britt says it's tough to hear the entire outdoor plan including Alyssa and Terrance was to get Michael out. "we know you were the plan with turner.. now to hear that Monte recognizes. According to Taylor Monte wants to go final three with me and her"
Britt – I don't think Taylor would put you up she's set on us final 3 more sod than her, me and Monte.
Without reader support this site and these spoilers wouldn't be possible.
Please consider a donation to keep the madness going.
Any amount is greatly appreciated!