POV Holder:
Elissa
Next POV
Aug 24th
POV Used
POV Ceremony
Aug 19th
HOH Winner:
Aaryn
Next HOH:
Aug 22nd
Original Nominations:
Elissa and Helen
Current Nominations:
Last Evicted Houseguest
David, Nick, Jeremy, Kaitlin, Howard, Candice, JUDD, Jessie
Have Nots (head cheese and habaneros)
GM, Amanda, Helen and Elissa
6:28pm Cockpit Elissa and Helen
They are agreeing that McCrae and Amanda's vote's are out of reach for them right now.
Elissa: "I think Aaryn is the most dangerous for my Game" Elissa says she knows they want Amanda out but for her she wants Aaryn out first.
Helen: "I agree we have to get her out to.. " Helen adds that Amanda is the more dangerous player. Helen keeps repeating that Aaryn is happy if Spencer goes home. In order for Helen to stay they need to convince Aaryn they will work with her and spencer is the biggest threat.
Helen says she made an alliance with Amanda and McCrae to try and get JUDD out. Ever since JUDD has gone she really doesn't talk much to Amanda.
Elissa: "Do you have loyalty to Aaryn"
Helen: "well if she keeps me safe this week.. You're always more important to me"
Helen says it's going to drive Amanda and MCcrae crazy when she stays and GM, Her and Aaryn start working together.
Helen: "Amanda was hoping if I go she will get you on her side.. you have to be careful to not get manipulated"
Elissa: "i have my own mind.. I might play into it for my own game but I can see through it"
Helen: "Now i'm starting to worry about Andy.. I love him to death I hope I still have him"
Elissa says she likes Amanda personally but thinks she is supper manipulative. Elissa: "Amanda would deserve it over Aaryn"
helen:' Well if she makes it to the end without winning a single competition that's an amazing game"
Elissa: "She is a master manipulator.. She's super smart.. like really really quick"
Elissa more or less tells Helen they whould have taken out Amanda when they had the chance back when they had the numbers. Helen says Jessie was targeting her.
Elissa: "She hated Amanda"
Elissa explains that Jessie only started targeting Helen because it was her only chance at the time she knew she didn't have Helen's vote.
Helen: "If I leave I want you to know.. you have to see through.. I think you can trust Andy.. "
Helen: "If I leave I want you to fight to stay in this house.. fight your butt off.. "
Helen: 'I want you to be there at the end"
Elissa says she doesn't want to see a Spencer or GM making it to the end because she doesn't think they played the game.
Elissa: "I got three huge players out and I have set up this game"
Helen: "MVP was so effective.. amazing how we got them out BAm bam bam.. it was used so well"
Helen: "I just need to lay low until after the Veto ceremony.. If Aaryn wants Spencer out they might just vote Spencer out"
Helen: "Ginamarie might be my ticket to staying in this house.. which is crazy.. I have a really good relationship with her"
Helen compliments Elissa on her yoga pants
Elissa says they are lu lu wunder under pants, "I have like 10.. you can never have enough"
6:51pm HOH bathroom GM and Aaryn
they find Clownie in the tub with a hairdryer wrapped around him.
6:58pm HOH Bathroom Aaryn and GM
Talking about scenarios where Spencer wins the HOH and puts them both up on the block. Aaryn says if the Veto is used Elissa will go up and Elissa will got home. Aaryn stresses if Spencer wins the HOH they must win the veto.
Aaryn says if Elissa wins HOH she will put up GM/Spencer or Aaryn/GM and Spencer would be the replacement and Spencer would go home.
Aaryn: 'The scary thing is Elissa wins HOH the following week. the scenario she explains has Spencer going home next week and Elissa winning the HOH. Elissa would put up her and GM. If POV is played a pawn would go up and either Aaryn of GM would go home.
Aaryn tells her the next isn't as important as the one following as long as Spencer and Elissa don't win it they don't want it either.
Amanda joins them
Amanda: "Elissa and Helen are being shady f*** in the cockpit"
Aaryn says they came up to them and told them they are going blindside Amanda and MC they want to flip the house. aryn adds that they think they have Andy, GM and Elissa's vote. Aaryn adds that GM and Andy are not voting to keep Helen.
Aaryn: "that is what they want to do.. Helen made me swear not to tell anyone so please don't say a thing"
Amanda: "is Elissa in on it"
Aaryn: "Yeah.. she just came to us and said the plan was to blindside McCrae and Amanda and vote out Spencer"
Amanda:' I want a fight around here… maybe i'll tell them i overheard it.."
Aaryn explains how Elissa and Helen are going around telling people they need to flip the house she's come up to GM, Andy and Aaryn today. They are campaigning hard.
Amanda: "How stupid are they.. they are nasty to you and you (GM/Aaryn) and they think you are going to save them.. how stupid do you think we are.. "
Amanda: "Keeping Spencer and Helen together is the stupidest move"
Gm: "Ya"
Aaryn: "Did you hear that Helen is going around saying she liked GM more than me"
Gm: "Ya.. i never thought anything of it.."
7:10pm Backyard Amanda, Andy, Spencer and MC
Amanda: "OMG.. Elissa and Helen are trying to flip the hose on use right now"
Andy: "Just let them think that"
Amanda: "It makes me mad they are saying that"
Amanda: "How many different alliance is she going to try to make to save themselves."
Amanda: "I want to start something.. "
Andy: "I think if you get in a fight with Helen she won't be like Jessie.. she will cry and you'll feel bad"
Amanda says she just wants to sit Helen down and tell her look Helen I was on the fence but now that you are telling everyone I am da threat I feel that you need to be evicted.
Andy: "Don't that will f*** me"
MC: "Don't say anything"
Amanda: "UGH I want to"
MC: "You say something it'll be mad
Andy: "Me to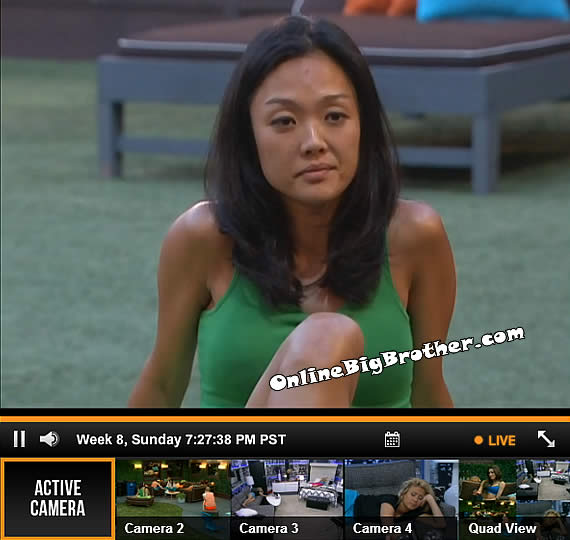 7:20pm Backyard Amanda, Elissa and Amdan
Helen: "I heard from Aaryn Spencer is the target.. should I believe that"
Amanda: "I don't know now.. I heard everything when jessie was up why don't you think I would hear everything when the tables are turned"
A: "My target was always Spencer"
H: "We've been loyal since the beginning.. we've kept you safe"
H: 'Each week when you were the MVP nominee Jessie would come up to us telling us to target you and I kept telling her lets do it next week.. to be honest that is why you stayed"
A": The reason why I stayed is Andy.. he is the reason I stayed.. and I think if you stay this week the entire house would be targeting me and McCrae am I wrong"
H: "No " She wants to stick to their Final 5 plan.
H: "I am worried you are getting close to Aaryn.. we can stick to the five or we can go after each other and cause chaos"
H: "You and I have been together this entire game.. Jessie was coming to me"
Amanda:' I think you found out you didn't have the numbers that is why I wasn't targeted"
Andy, MaCrae join them. Helen:" "Great all 5 are here"
Helen says if she lobbied hard she could have gotten the votes to evict Amanda, "A lot of people wanted to send you out… I never had any intentions of getting you out until final 5"
Amanda: "Right"
Amanda: "What does Gm want to do what has she been telling you"
Helen: "GM says she support me I've been trying to get her vote.. it's up to you guys you know.. if you want to keep me here awesome.. we can come together like last week when we stayed true to the 5"
Elissa: 'I feel that as far as the big brother game goes we have fought to be here.. " Elissa points out that GM and Spencer do not deserve to be in the game. Elissa: "Wouldn't that suck if Ginamarie goes out before you"
Helen: "Amanda together we are unbeatable.. it's up to you.. if you keep me it returns the loyalty from when you were the MVP nomination"
Amanda: 'I'm going to do what the house wants to do"
Helen: "Lets just do it.. we can do it.. I mean.. we can just stop the BS.. you know"
Helen: "we have a way it's worked really well so far.. "
Amanda: 'if you win HOH who do we go after"
Helen: 'Whoever we as a group goes after"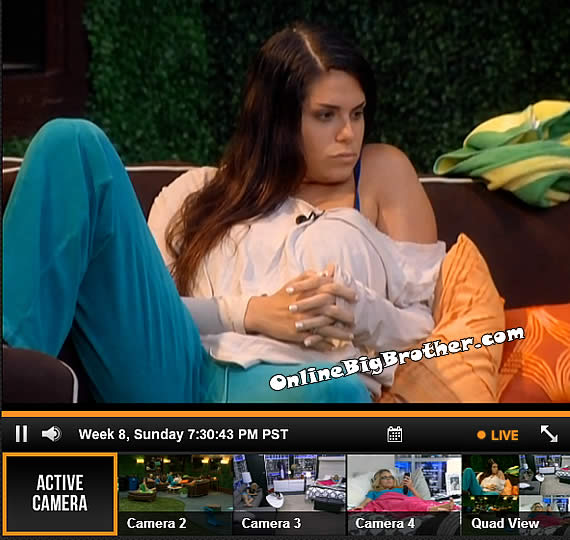 Helen: "people are trying to pin us against each other"
Amanda: "you are trying to get the house against McCrae and I"
Helen: "I'm not"
Amanda: 'So you are not trying to ally with GM and Aaryn to come after me. c'mon i'm not stupid i've heard everything"
Helen: "I'm trying to stay in the game i thought you were coming after me"
Amanda says she knows Helen was targeting her and didn't go through with it because she never had the votes. Now Amanda is hearing she's trying to flip the house.
Helen: "I thought you and Macra were targeting me"
Amanda: "Why did you think that"
Helen: "You stopped talking to me:"
Helen says she will not go against Amanda and MCcrae if they stay loyal to their final 5 deal.
Amanda: "Why would you think I was turning on you"
Helen: "I don't know why I did I felt like you were distant to me.. I was wrong"
Amanda: "It's alright it's just a game"
H:" I was worried you were getting close to Aaryn and Aaryn was targeting Elissa and I"
A: "You were never Aaryn's target"
Helen: "I was wrong i'm, sorry"
Amanda: "Don't be sorry you make choices in this game.. "
Amanda: "I don't think Jessie was lying"
Helen: "You'll see the tapes.. I think if I really wanted to do it I could get the votes"
Amanda: "Put yourself in my position.. what if it was Spencer and me were on the block.. what would you do"
Helen claims she would vote to keep Amanda.
Heleen calls Spencer over asks him if she ever talks about getting Amanda out. Spencer : "To be honest up in the HOH room you and elissa both said you wanted her out before Jury and there was one more time you said you wanted her out then a third time when you said you wanted her out once we got to Jury" Spencer sums up there was 3 times.
Helen: "Ok thanks Spencer"
Amanda says the GM, Aaryn, Elissa and Helen alliance will not happen. Amanda: "That was a slap in the face"
Helen: "Again I thought you were coming after me.. they didn't make me think you were not"
Amanda: "I wasn't coming after you.. I am now"
Amanda tells her was on the fence but is now voting Helen out. Reminds her that there is still a lot off time .
Amanda: "I feel like I can trust Elissa more without you here.. it is not a personal thing it's game"
You can re-watch ever second on the feeds using the flashback feature.. It's just like a DVR and is super easy to use. click this link for a Free Trial —> Subscribe to the Big Brother Live Feeds
7:38pm HOH MC, GM, and Andy
MC telling them that Helen and Amanda are talking downstairs he says Helen is trying to get the final 5 solidified. He explains the them the final 5 includes, Elissa, Amanda, Andy, McCrae and Helen. Aaryn and GM laugh they say a hour ago they were telling Aryan and GM to flip the house on Amanda and MCcrea.
7:50pm Spencer joins them
Spencer: "Helen was like did I ever want Amanda out.. I was like Yes.. "
Spencer explains that he told the truth says Helen had brought up 3 times that she wanted Amanda out.
Aaryn:' She's trying to flip the house on Amanda and McCrea so everyone is Team Helen"
MC: "The way she talks is so degrading.. "
They agree every two hours Helen makes up a new lie and Alliance.
Aaryn says getting Helen out is HUGE .. bigger than getting out Jeremy.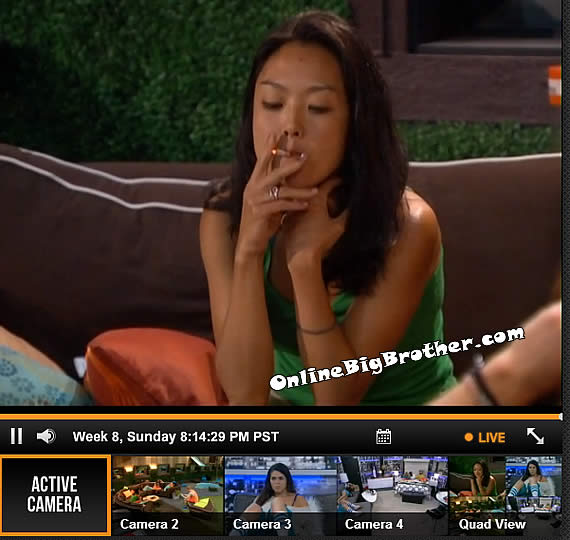 8:11pm Backyard Andy, Elissa and Helen
Helen says Amanda isn't voting for her. Helen: "Andy if Amanda and McCrea want you to vote me out will you" Andy: "all you need is 3 votes don't worry about us" (Elissa and Him) Helen says she needs to work on McCrae.
Helen tells him he's not going to lie to her it's going to be tough to get McCrae's vote. Helen says it sucks that she cannot trust GM and Aaryn anymore. Elissa:' So they ran up to Amanda and MCcrae.. which one first" Helen: "Probably Aaryn"
Helen says she's going to talk to McCrae wants Andy to join them. helen leaves. Andy tell Elissa if Helen goes home they have to stick together there is only so much they can do to save her but regardless they need to have each other's back. Elissa agrees.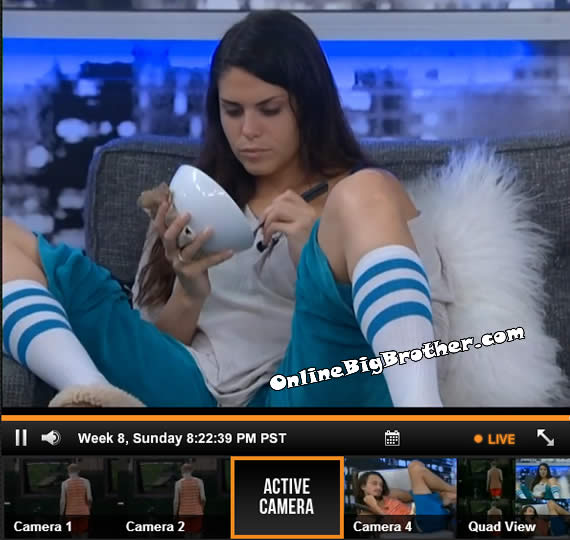 8:23pm HOH Amanda, McCrae, Spencer, GM
Comparing notes.
Amanda:" I'm not believeing a f*** word they are saying"
Aaryn says Elissa is saying that Amanda and MCcrae are trying to get Elissa and Aaryn fighting..
Amanda:" They are trying really hard"
GM: "Helen I liked her but game wise.. she a walks around with a big head.. you know.. walking around like she the queen of Sheba.. "
Amanda: "She's a flip flopper"
[polldaddy poll=7329443]