POV Holder:
Elissa
Next POV
Aug 24th
POV Used
POV Ceremony
Aug 19th
HOH Winner:
Aaryn
Next HOH:
Aug 22nd
Original Nominations:
Elissa and Helen
Current Nominations:
Last Evicted Houseguest
David, Nick, Jeremy, Kaitlin, Howard, Candice, JUDD, Jessie
Have Nots (head cheese and habaneros)
GM, Amanda, Helen and Elissa
8:33pm hot tub Helen, Andy and McCrae
Helen says she never was targeting McCrae. MC says he understands.
Helen says the only votes she has are MCrae, Andy and Elissa. She says that is enough to stay she double checks with McCrea if she has his vote.
McCrae says of course but what has him worried is Elissa.
Helen: "I can control Elissa.. Elissa wants Amanda out to.. I will not have her going after you"
MC: "ELissa is a loose canon"
Helen says she'll make a deal with Elissa to not target McCrae if Helen stays in the game, "She is not coming after you.. she doesn't know about the three of us"
Helen: "Nobody knows what we have.. McCrae you keep me you are playing your own game"
MC: "Amanda will be pissed if I don't vote her way"
Helen: "Ultimately you need me to get to her (Amanda)… If I leave who is going to go after her.. I will control Elissa'
MC: "Ya.. . yup.. "
You can re-watch ever second on the feeds using the flashback feature.. It's just like a DVR and is super easy to use. click this link for a Free Trial —> Subscribe to the Big Brother Live Feeds
8:45pm HOH Amanda, Aaryn and McCrae
MC relaying his conversation with Helen, he says Helen is claiming she controls Elissa as long as she stays this week. He say's he's working on getting her to tell him who the MVP really was.
Amanda: "You're cute I am very sexually attracted to you"
Amanda: "Why do you care it was them"
MC: "I dunno I Want to know.. them saying it was me drives me nuts.
Aaryn leaves.
McCrae is worried Elissa is going to put them up if she gets the power next week. Amanda says they just need to get the power. McCrae asks if they can get closer to Elissa to influence her nominations.
Amanda says she is getting close and so is Andy she thinks Elissa will put up Aaryn and Spencer or GM.
MC:" I'm super worried about Elissa.. "
MC: "If I get taken out by Elissa i'll go Ballistic"
A:" you are not going to be taken out by Elissa"
Andy and Aaryn roll in
Andy says Helen is taking Amanda and her conversation well she knows she needs Andy And MCcrae's vote.
Andy points out she's doing a lot of back peddling.
Amanda tells them Elissa hates Aaryn she going to want to take Aaryn out.
Andy: "the only way one of us goes up is if Elissa win's HOH"
Aaryn: "And backdoor me"
They tell Aaryn as long as Elissa doesn't put up two of them they are safe. Andy says he's working on Elissa hard now he has her trust right now.
9:31pm Hammock McCrae and Amanda
MC is worried about Elissa wining the wall HOH Endurance challenge. He thinks it would be a good idea for him to get into a fake fight with Aaryn and tell Elissa he is targeting her.
Amanda: "Elissa still won't come off"
MC: "She will if it's this cold out"
9:34pm HOH Gm and Aaryn
Andy saying that Helen has been playing her since the beginning, "Three out of the four b!tches are gone. (The B1tches are elissa, Helen, Jessie and Candice)
GM points out that Now that they need the votes Helen and Elissa want to be their best friends.
Aaryn: "Amanda pissed me off a lot to .. but she talks game to us.. and the game she talks to us is real.. "
Aaryn says Spencer is a shady f*** She wants him gone after they get rid of ELissa.
Aaryn says she will vote for Amanda and GM if they make it to the final 2. She would not vote for Mccrae because he's been playing everyone in the house. He's lied to Aaryn many times, he may be telling the truth now but in the beginning he lied adn continues to lie to everyone in the house.
Aaryn: " I have watched McCrae lie to people.. I've watched him say the same lies to other people that he said to me"
Aaryn says Andy is sitting in a very good spot and the only reason he's still in the game is because he's such a good social game. She comments that being gay is an advantage in this game because the girls aren't worried about him stealing their guys and the guys aren't worried about him stealing the girls.
Aaryn explains that during her first couple of HOH's Andy would sit up stairs with them eat all her food and act close to her. All he was doing was running downstairs and telling Amanda and MCcrae everything.
Aaryn: 'Do you know why everyone knew all their moves.. Andy told them all our moves"
Aaryn tells her how close she is to GM.
GM: "I swear to god if I marry Nick you will be my maid of honour"
Aaryn: "I feel like I have a sister for the first time. "
Aaryn adds that Jessie lives 20 minutes from her in texas. She really wants to be her friend but she's legitimately worried that Jessie will try and steal her boyfriends whoever that may be at the time.
Aaryn jokes that Jessie will greet her future finance with her vag!na .
9:54pm Hot tub Helen and elissa
Elissa saying that everything is going according to Amanda's plan. She's trying to keep Elissa/Helen against Aaryn and GM. Helen was going to confront Aaryn about telling Amanda her plan but she doesn't think that will solve anything.
Helen says Amanda and Aaryn are working together Helen thinks Amanda will target Elissa next week not Aaryn.
Amanda joins them.. they talk about how bored they are.
10:03pm Storage room Specner and McCrae They get a bit of Alcohol for the night. Spencer and McCrae slam a beer each.
10:13pm Kitchen everyone but Helen and Elissa Andy asks them where the mom squad is. Amanda says they are out in the hot tub plotting to back door me.
10:20pm Hot tub Helen and Elissa Helen says if she stays this week they will have to win HOH next week or they will both go up again. Elissa says she's grossed out by the thought of staying in the house with Amanda and GM. Helen:' This is the moment for McCrae if he doesn't go after Amanda now he never will"
Elissa says that McCrae is Amanda's little puppet.
Helen: "I don't think we could have taken her out.. Howard had to go.. Candice had to go.. "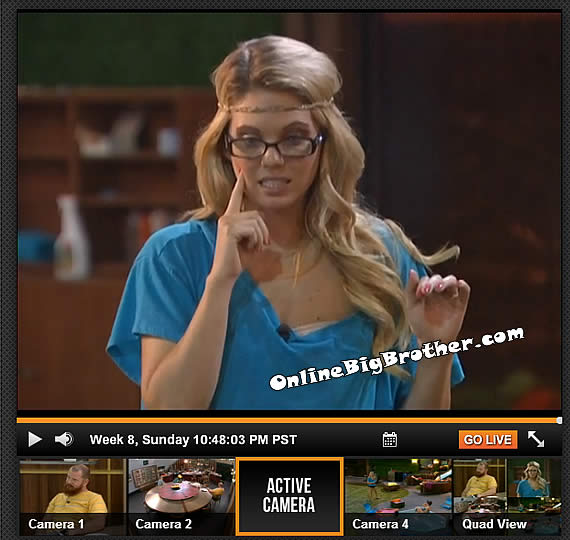 10:25pm Backyard Aaryn, Elissa and Helen
Aaryn joins them tells them about Jessie making David rub lotion on her back.
Helen: "Which guy was Jessie not into… seriously David was only here for 13 days"
Aaryn thinks Jessie will try to hook up with David at the finale. She wonders who else he would hook up with. Helen: "I don't know a producers'
Aaryn tells them about the "Dirt Clot" thing with David. Apparently in High School he was messing around and threw s clump of dirt at a kid and the kid went blind.
Aaryn:' They sued his family and bankrupt them"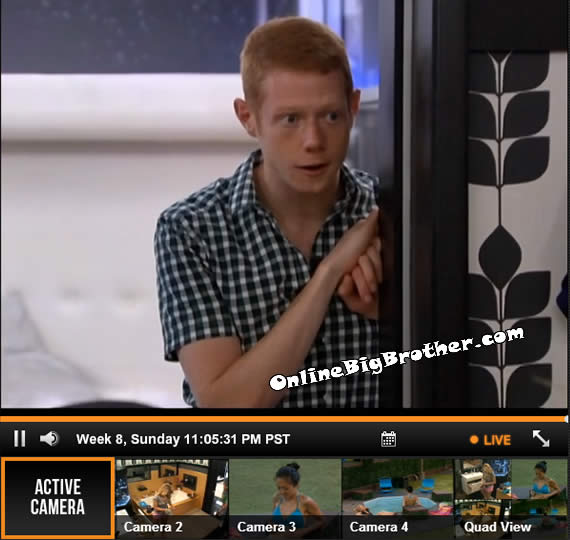 11:06pm HOH Andy and Aaryn
Andy:" I think Amanda and MCcrae will want to be gunning for GM to go.. and I want GM to stay.. that will be our next challenge"
Aaryn: "Don't tell Amanda and McCrae this.. I would rather take you and GM to the end than them" Aaryn explains that almost anyone would win if they are up against GM in the finals.
Aaryn says GM will be receptive to a final 3 deal
Andy: "OK perfect we need to figure out a time to talk to her "
Aaryn: "They want elissa because she is coming after us and not them"
ANdy: "I know I know.. my main goal is you.. I Will take you to final 2 instead of GM because that is a bigger game move"
Andy: "Amanda and McCrae have been with me since night 5.. this is real" He explains to her that they all have their own selfish goals in this game but what they have going right now is good they have to stick with it.
Amanda comes in 'Are you mad right now"
Aaryn: "No.. I came up here to take a pee and I have a buzz and started talking"
They start clearing the air.. (Aaryn and Amanda are having a little mini fight… Aaryn is a bit tipsy and Amanda is being as sassy as ever)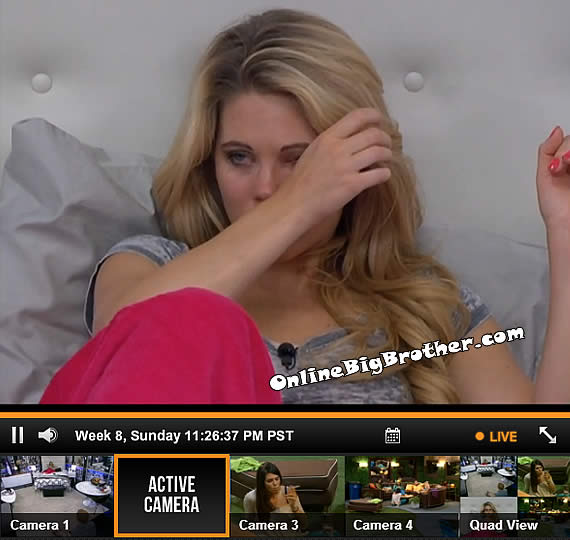 11:21pm HOH Aaryn and Andy
Aaryn is pissed that Amanda is making her the pawn and telling everyone to target her. Aaryn is questioning Amanda's loyalty in the game.
Andy says he really thinks sticking with Amanda and McCrae is their best play at least for the next 2 weeks.
Aaryn points out all the things she's done in this game for Amanda and McCrae, all the evictions to get the people out that they wanted out. Aaryn doesn't want to be used as a pawn and knows if she goes up against Amanda she will go home.
Andy: "no you won't Hell no you won't.. do you know having me in your corner I can sway people.. if you go up against Amanda she will go home"
Aaryn: "Not with Spencer here"
Andy: "Believe me Spencer is listening to me.. i'm telling you every single week what I've wanted to happen has happened.."
Andy says that Amanda and McCrae will not win this game.
Andy: "As long as you me and Ginamarie are still in the game theres no chance"
Andy says Amanda and McCrae are the most trust worthy people in the house he knows amanda can be a pain sometimes but they are loyal to the group.
Aaryn mention how much MC lies, she points out how he lies to other people in front of her using the same lies he used on her.
Andy knows they lie but they know about all Amanda/MCrae's side deals so they cannot pull the wool over their eyes. Andy adds they will take out Amanda and McCrae but not until the time is right. Right now working with them is benefiting their game. Andy swear to her that he has gotten even the slightest hint that Amanda and McCrae are thinking of taking Aaryn out before final 4. (It's andy they want to take out before final 4)
Aaryn goes to the bathroom
GM: "comes in.. "
Helen comes in.."
Andy: "Aaryn might need a little second.. it's fine"
Helen nodes and leaves the room.
Aaryn comes back from the bathroom.. crying up a storm saying that she has done everything in this game for Amanda and Amanda is treating her like sh!t.
Aaryn lists off all the things she's done for Amanda.
Aaryn mentions how JUDD wanted to work for her for real and she got him out because Amanda wanted it.
Andy you can't be mad with what happened because we've made it very far. Andy says JUDD was setting up the game to take him to the final 2. Andy knew JUDD wasn't good for the group so he cut JUDD loose. Andy: "Getting rid of Helen this week is going to be the hardest thing in this game"
Andy: "I would very much like to offer you a deal to go to final 3"
GM: "Fu-** ya right on.. I like the both of you"
Aaryn says Amanda shouldn't be acting like she is because Aaryn has the power to put her up tomorrow and get the votes to evict her.
Andy heads to use the bathroom. Aaryn tells GM that Amanda and McCrae want to separate them because they are so powerful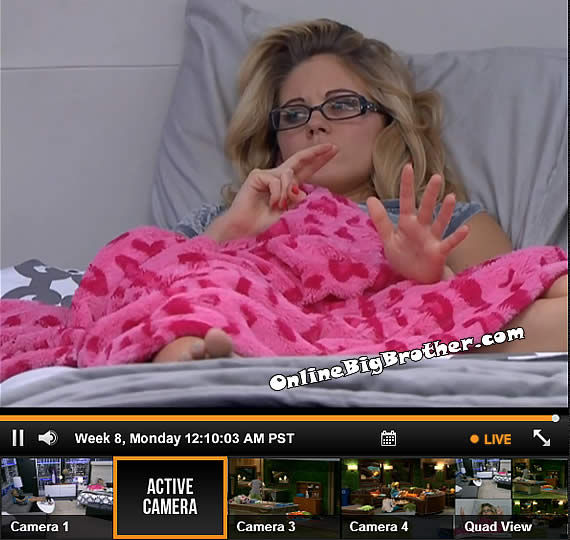 11:59pm HOH Aaryn and GM
Aaryn says that Amanda was trying to influence her to build up her and GM during her nomination speech. She never noticed it before until she got a buzz..
Aaryn: "Andy told me that they are targeting you"
GM: "Who Amanda McCrae .. ok… "
Aaryn: "The fact that he brought up you name doesn't sit well.."
GM: "They are fu**ng scared.. Amanda doesn't win anything she b!tches all day"
GM thought Amanda and MCcrae were serious about the final 5
Aaryn did too until Andy told her they are targeting GM.. "He shouldn't have let that slip"
Aaryn: "If I put Amanda up"
GM: "Do you think they will vote out Helen"
They run through scenarios. Aaryn says right now she doesn't have McCrae coming after her if she put Amanda up then she'll still have Elissa against her and now would have McCrae.
GM is very much wanting to get Amanda out this week. She thinks they guarantee a power couple gets split up this week. GM says if Aaryn goes to Helen with a legit deal she would take it. GM: "She will kiss your f*** a$$ hole and lick it dry"
Aaryn counts out a new five person alliance, "Me, you, Helen, Andy and Spencer.. the only other people are Elissa and McCrae."
Aaryn is pretty sure they can cut a deal with Spencer and have the votes to get out Amanda. She suggests maybe putting up McCrae but doubts Spencer would will vote him out. GM says Amanda and Helen up either way you are getting out a queen.
GM says she likes Helen but doesn't want her near the end of the game. GM is nervous about how smart helen is "She can definitely over power me with those smart minds in the end"
12:19AM HOH Aaryn and Helen
Aaryn: "This has got to be full on between us"
Helen says she's not mad at Aaryn this is a game she's talked to Amanda.
(Cut to fish for a bit)
Aaryn says that Amanda has been trying to get the house to go against Helen.
Aaryn: "They are playing the house"
Aaryn says Amanda and McCrae are trying to break up her and GM.
Aaryn: "Just so you know they have Andy.. just so you know they have Andy and you don't"
Helen says that is tough for her to hear..
Aaryn: "If that gets back i'm so f***"
Helen:" This is you and me.. you and me…"
Aaryn: "I think they have Spencer to.. they have four and if he goes up tomorrow you are going home"
Aaryn says she's seen McCrae and Amanda lie to everyone in the house "The deals we have with them are all fake"
Aaryn: "If I put Amanda up tomorrow would Elissa even vote her out.." (LOL no she'll vote out helen)
Aaryn: "I know I can get GM.. but I'm afraid I can't get spencer.. so how do I do that"
Helen: "Oh my god I will have your back to the end of the game. I will give you my vote"
Helen says Spencer needs a lifeline and Andy will flip once he hears the house is.
Helen: "He will vote any way you want to keep him safe"
Andy joins them.
Aaryn: "If I say something to you If i put someone else on the block like would you do what I want you to do"
Andy: "ya who would you put up"
Aaryn: "i'm afraid to say anything.. "
Helen: "listen who in this house.. you have had my back all this game if you had my back I need you to vote that person out"
Andy: "Ya.. what are you thinking"
Helen: "How much do you love me (helen starts to cry see image above) if you want me to stay I know where you are from.. I'm going home andy if you don't vote out that person "
Aaryn who is stronger Helen/Elissa or Amanda/McCrae
Anady: "I know what you are saying"
Aaryn if I put Amanda up on the block i have Elissa, Gm and..
Andy: "And me"
Aaryn: "I feel Helen and Elissa have your back more that amanda and McCrae":
Andy: "I know this woman has my back more than anyone in this house"
Helen: "I do"
Andy: 'If Amanda goes up i'll vote out Amanda"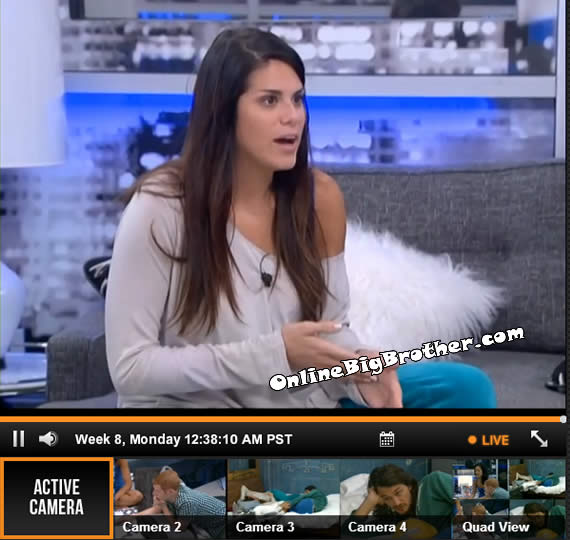 12:38Am Amanda storms into the HOH
Amanda: "lets just squash this shit.. right now.. I love you.. I wasn't pissed off at you I was pissed off at McCrae"
Helen and Andy scamper off.
Amanda doesn't want Elissa and Helen to use the opportunity to try and get her nominated, "as if that would ever happen"
Aaryn: "I know you are targeting GM.."
Amdana: "RIGHT THERE.. I am the one trying to keep you in the final 4.. I've known I could trust you"
Amanda: "No I don't want GM before Specner "
Aaryn: "Between you and I don't tell Andy.. he told me that ya'll are targeting Gm before Elissa"
Amanda: "absolutely not I don't trust Elissa I want her gone next week"
Amanda says she's shaken that Andy would even say that.
Aaryn: "Everything Andy does shakes me.. because I see him with other people and he lies"
Amanda: "Doesn't make any sense.. I am the one that wants Spencer gone.. McCrae and Andy want him around because they have a fake alliance with them."
Amanda says she cannot read Spencer and Elissa at all but she knows that Aaryn can control GM so that is why she wants GM to the final 5.
Aaryn: "I feel that McCrae and Andy has spencer's back over me"
Amanda: "Nope"
[polldaddy poll=7329443]