POV Holder:
Elissa
Next POV
Aug 24th
POV Used
POV Ceremony
Aug 19th
HOH Winner:
Aaryn
Next HOH:
Aug 22nd
Original Nominations:
Elissa and Helen
Current Nominations:
Last Evicted Houseguest
David, Nick, Jeremy, Kaitlin, Howard, Candice, JUDD, Jessie
Have Nots (head cheese and habaneros)
GM, Amanda, Helen and Elissa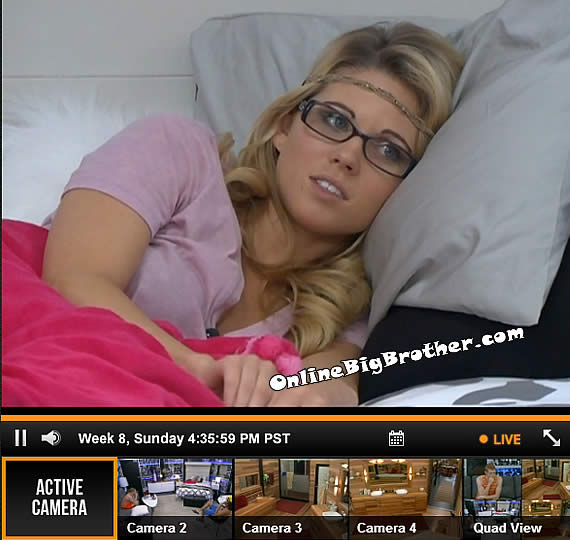 4:35pm HOH Aaryn, Andy and MC
Andy:' This week is showing you how committed I am to 3am because Helen will take me to the end
MCrae this has to be a unanimous vote
Aaryn about Helen: " she thinks GM will keep her.. she's been telling GM all these weeks that she likes GM more than me".
Andy tells them how hard this week is going to be because Helen honestly thinks she is staying.
Amanda rolls in.
They tells Amanda their biggest concern that Elissa wins the HOH and puts up Amanda and Aaryn.
Amanda thinks it's going to be Specner and GM or Spencer and Aaryn. They worry about the 3am getting exposed after this vote. Amanda says this week they can still hide it as long as they stay unanimous.
Amanda: "If Elissa gets HOH they need to talk Elissa into backdooring Aaryn" They will tells ELissa they promise to all use the Veto. Amanda says they will get her to put up GM and Spencer. With GM and Specner up it doesn't matter who goes up as the 3am controls the vote.
Andy: "The only person that Elissa will listen to is you and me"
Aaryn leaves
MC: "Spencer wants Elissa out then Aaryn.. and he wants Final 5 with us and Gm"
Andy :"We'll we'll just let him think of that"
MC: "He wants me to take him to the final 2 and he wants us to go to final 4"
Andy: "I still think we have our hooks in people that we can make it work"
Amanda: "Who to get out.. Spencer or Elissa"
MC: "Spencer is more loyal "
Aaryn comes in says no way Spencer is loyal.
Amanda: "Lets look at his track record.. he's a really good liar and he's not stupid"
MC:"Elissa is a wild card and he knows there is nothing else he can do i this game"
Aaryn leaves
MC explains that Spencer has accepted the type of game he's in. He has to stick to a strong group and hope they take him along to the end. MC adds that the fact Spencer isn't winning competitions or making any plays is making him look like a great person to drag to the end.
Amanda says she wants to keep Aaryn until the final three. Andy agrees. Amanda explains why she is nervous about Spencer because he knows Aaryn is a strong comp player and will take them to the end. MC: "he knows she can win everything from here on in"
Andy says the OTEV didn't require a lot of Skill he thinks it was a crapshoot , "Sorry Elissa"
MC: "I agree.. "
MC: "Either way GM and Aaryn will have to be broken up soon"
MC: "Aaryn wants GM here for a long time" MC says he wants GM gone after Elissa.
Andy: "The thing is I trust GM more than I trust Spencer and Elissa.. to be honest"
Aaryn rolls back in
MC: 'Elissa has to go next week then spencer"
Aaryn: 'Elissa is more likely to put me up against MC"
MC: "I Agree she doesn't trust me at all"
Amanda: "And if Aaryn comes down I go up"
Andy: "Not next week'
Aaryn: "next week I really think she would put me and GM up or spencer.. "
4:53pm Helen GM Kitchen making slop balls
Helen: "You me, Aaryn and Elissa need to Talk"
Helen saying that Amanda and MCcrae are going to get them to kill each other off. They have been doing it all season. Gm and her need to flip the house and vote out Spencer then get the HOH and split up McCrae and Amanda. Helen says it's up to her and GM because Elissa and Aaryn do not get along. THey need to come together and get Spencer out.
Helen: "They've been with me the whole game and now that we're low on people i non the outs.. they will use Aaryn to do the dirty work"
Helen says Aaryn and McCrae talked Aaryn into putting them up together so the one surviving person would target Aaryn and GM.
Helen going on and on about how she's worked so hard to keep Amanda in the game and now that Helen needs Amanda the most Amanda wants nothing to do with her. Helen says they need to show Aaryn that MC and Elissa are lying to her and using her since the beginning.
Helen: "She's manipulated me Elissa and Aaryn this whole time.. I want Aaryn to see that"
GM:' I don't know why aaryn listens to her all the time if bother me.. she's a f*** rat Amanda"
Helen: "If I won HOH next week who do you think Amanda will hang out with"
GM: "You"
Helen: "Exactly"
(Helen is doing the same thing that Candice and Jessie tried to do the only difference is Helen doesn't have the numbers anymore)
You can re-watch ever second on the feeds using the flashback feature.. It's just like a DVR and is super easy to use. click this link for a Free Trial —> Subscribe to the Big Brother Live Feeds
5:20pm Photobooth time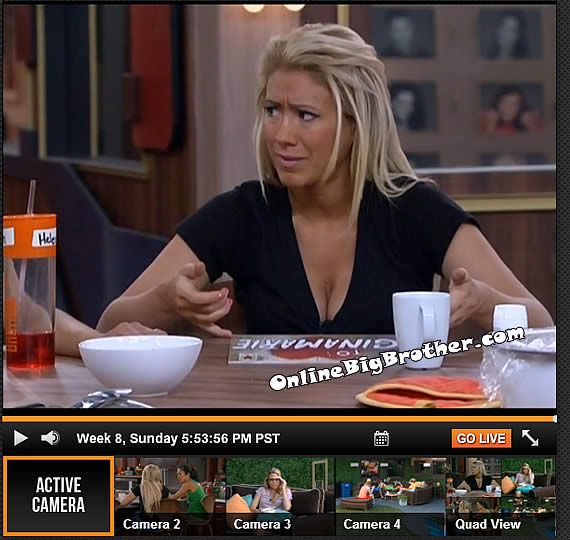 5:52pm Kitchen GM and Helen
Gm is afraid whatever she tells Aaryn will get back to Amanda. GM brings up how Amanda was telling her that Aaryn is saying the GM doesn't like her. GM: "Do I find her annoying YA but I never said I didn't like her"
Helen: 'She wants Aaryn for for her self"
Gm agrees says Amanda isn't like them she's not blonde and she's double the size of them, "Go Away"
Helen: "She doesn't want you and me and ELissa to be friends and unfortunately because Elissa and Aaryn have been at odds for so long.. You and I have to do it for them.. "
Helen and GM talking about Gm and Nick's wedding. Helen says they should make the invitation a Big Brother Key.
GM: "Om my god I'm totally going to marry him.. "
GM: "Howard is going to be there because I need a token black guy.." She laughs Says she's joking she has a girlfriend back home she will pair him up with. She's going to invite all the production people, all the cast will be part of the wedding party
GM is counting who is in the wedding party.. She quickly corrects herself says she's jumping the gun a bit she needs to count in Nick's family.. Feeds flip to the backyard.
(LOL OMG too funny)
Big Brother 15 N*de flashback times here
6:06pm CHit chat in the backyard Elissa doing her elissa yoga
6:16pm Elissa, Aaryn and Gm
Elissa smiling says they need to beat Amanda at her own game. They need to all vote out Spencer but make sure Amanda doesn't know about it. Elissa adds that Amanda wants them all to be fighting with each other that is why it's so perfect that they work together nobody will suspect them.
Aaryyn just smiles and agrees.. she heads up to the HOH.
[polldaddy poll=7329443]