POV Holder:
Alec
Next POV
March 23rd
POV Used
No
POV Ceremony
March 25th
HOH Winner:
Gary
Next HOH:
March 21th
Original Nominations:
Tom & Liza
Current Nominations:
Tom & Liza
Last Evicted Houseguest
Aneal
Have Nots
Jillian, Emmett, Talla and Alec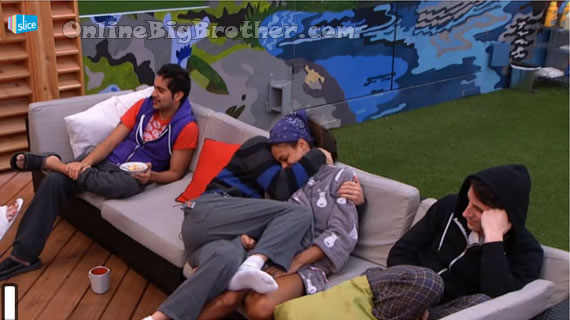 9:40AM backyard Random Chit Chat
Lots of gambling talk.. Andrew about gambling with rich guys "I'm not going to get a boner.. I'm not going to do anything with your boner"
Talla mentions that they were given a stern warning from Big Brother about not waking up on time, "THE ALARM WILL GO OFF UNTIL EVERYONE IS UP"
There's a lot of joking going around between Andrew and AJ. Andrew jokes that Aj has never been with a girl. AJ says he has the receipts it's proof.
Andrew adds that AJ is the most shallow person in the house "What is the most important quality you see in a women .. Aj said ASS "
Talla: "I don't have a big butt so I'm Gooood"
Andrew references mean girls, "Frenemies"
Aj: "Oh 38 years old man referencing a movie for 17 year old girls"
Talla laughs says the banter between Aj and Andrew is hilarious
Alec: "They are engaged in a battle of wits and AJ comes unarmed"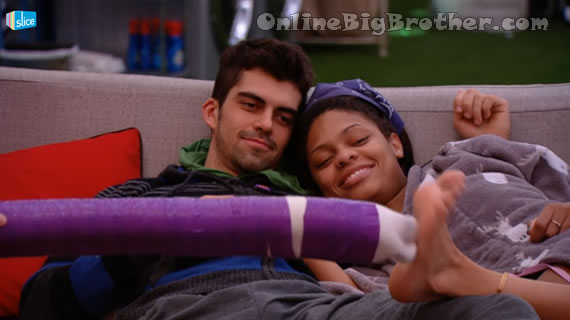 Andrew takes the pool noodle and starts playing with Talla's foot.. she pretends to have a "Foot Orgasm"
Andrew see a bird in the backyard. Talla starts to scream. Talla: "Wheres the bird… You guys there's a Bird or a Bat in here.. you think that is what I felt when I was sleeping?"
Talla is screaming like a fool.. Alec asks her to please be quiet. Talla grabs the pooll noodle to go scare the bird away. She says she is too scared and decides to leave it alone.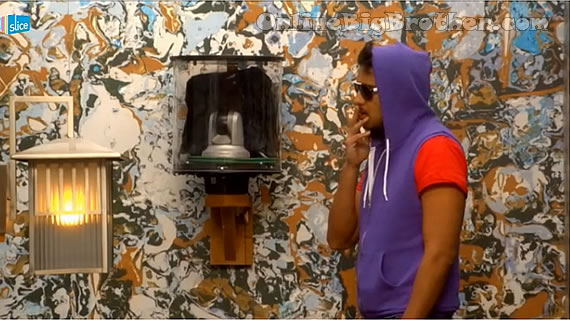 10:30AM Aj and Talla Smoke hole
Talla says if it's endurance HOH she's going to throw the comp to Jillian again. AJ: "Thats the smart thing to do make a deal and let Jillian get the blood on her hands"
Aj is thinking that the HOH is going to be quick. AJ: "They want the HOH to end during the Live Show" (What the hell what live show.. you mean production is still telling people this lie) Talla doesn't think so.
Aj and talla start talking about todays competition and whether it'll be endurance or a quiz. Aj mentions it could be double eviction but it's a bit early for that. Aj adds that all his speculation about the show is going by Big Brother US not Big Brother UK.
AJ: "As much as people think this is like the UK it's more like the US.. Almost nobody in Canada watches the UK.. Peter and Alec are the exception"
AJ believes Big Brother Canada is modelled much more after Big Big Brother US, "There are a slight UK resembles because of how the Fans are involved they have never had a power play for example"
Talla agrees says she never watched Big Brother UK but she says more people in the house think this season is modelled after Big Brother UK.
Talla: 'I think Liza is going home"
AJ: "SHe's definitely going.. she's not campaigning. she even said herself"
Talla: "I asked Gary if he was going to cry and he said yes"
AJ says In all fairness she's not the person I wanted to see go this week but she played poorly. (WOW didn't know Talla and Aj still thought LIza was going home,..,,)
Aj and talla finish their smokes, Talkla says she now has to go to the bathroom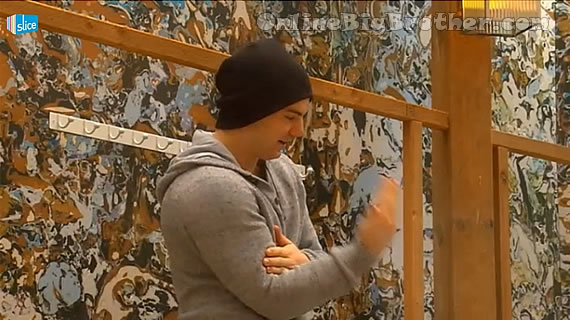 11:00AM Hot tub Emmett, Tom, Andrew
Tom talks about Andrew's knees and how freaking they are. He's glad to see they are getting better.
Tom jokes that he's had that before (The Zombbie rot knees) "Around my penile area but that was crabs.. Kidding"
Andrew: 'And the cameras zoom in on Toms Dong"
Tom: "I've never had anything a little pill can't cure"
Tom starts pretending his "Dong" is his arm (See screencapture above)
Andrew mentions Willie during Big Brother 14 who got removed from the game. Tom jokes that he should get Talla mad at him and slap him.
They start joking about Emmett and Tom fighting in the house. Tom says he would kick Emmett in the balls and run.
Tom: "I'm going to go Osama Bin Laden on his A$$"
Andrew: "Into the cave… Into the Cave "
Tom says he was warned about getting involved with girls prior to coming into the Big Brother house. Andrew notes that it's weird there is so many people "Hooking Up" in this season because normally there isn't more than 1 couple.
Andrew: "AJ and Talla.. it's going to happen"
Tom and Emmett: "REALLY?"
Andrew: "MR sarcasm.. remember me"
Emmett thinks Talla likes Peter.
Tom: "I don't think he knows what to do with her.. Bless his heart but we'll need to give him pointers"
Andrew about Aj "he's my buddy and everything.. he says she's (Talla) so pretty.. He's as shallow as a mouth full of spit" .. Andrew says they all know each other now and it's a totally different "Ball of Wax". Andrew implies that Talla may be attractive but isn't really a interesting to talk to.
Tom leaves on his way out he "wishes there was secret door containing a Diamond Power of Veto"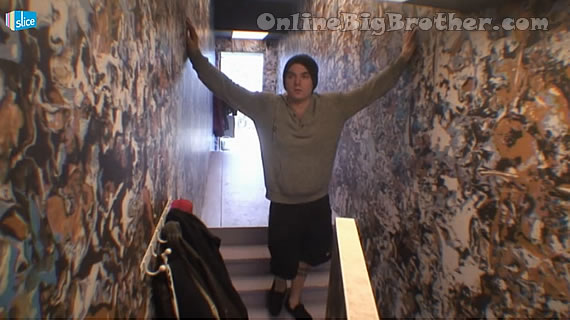 11:50AM HUSH HUSH
12:20PM HUSH HUSH
12:57PM HUSH HUSH
1:31PM HUSH HUSH
2:05PM HUSH HUSH
2:30PM HUSH HUSH
3:00PM HUSH HUSH
4:00PM HUSH HUSH The live feeds will most likely be down until at least the middle of the "live" episode if not after it. With the double eviction there is a lot going on inside the Big Brother Canada house.
5:30pm HUSH HUSH
[polldaddy poll=6980080]
Share it YO!!
Tweet