POV Holder:
Alec
Next POV
March 23rd
POV Used
No
POV Ceremony
March 25th
HOH Winner:
Gary
Next HOH:
March 21th
Original Nominations:
Tom & Liza
Current Nominations:
Tom & Liza
Last Evicted Houseguest
Aneal
Have Nots
Jillian, Emmett, Talla and Alec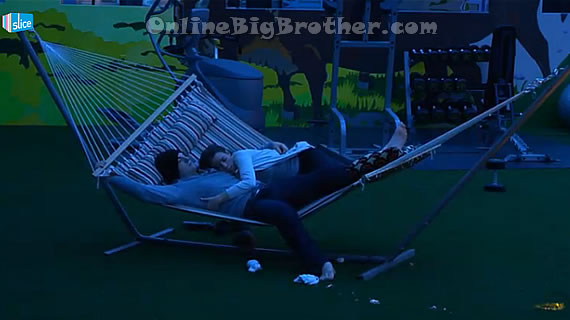 12:15AM Tom and Liza in the hammock
Tom is feeling sorry for himself. He says that his mom knows that he's unhappy with his life and she wants the best for me. One reason why he came on the show was to change how things were. Tom brings up that his mother had Breast cancer. The Doctors say there is a 70% chance of it coming back.
Tom: "Thats why it hurt me so bad that Suzette thought I was such a horrible person.. i'm not.. everyone thinks I'm this hard a$$ prick .. "
Tom: "I was fighting forest fires when I got the call from home that my mom got diagnosed with breast cancer. I never told anyone and couldn't make it home for 3 weeks"
Tom: "I promise that right after the show I will not leave Toronto without getting that Power Of Veto Tattoo with liza on it"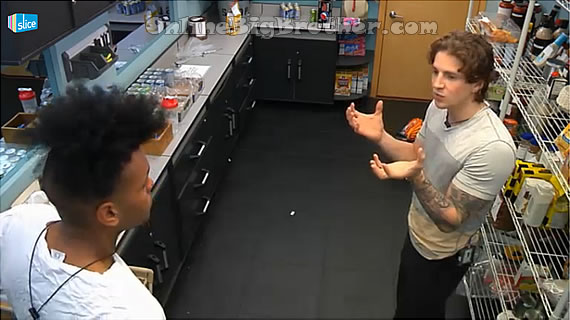 12:35pm Storage room Emmett and Garry
Emmett is trying to talk Gary into Getting rid of Liza he's pretty worried about what happens with Tom gone.
Emmett: "I you would change it you would have Me, Jil, Talla, and Aj.. if you told Suzette..
Gary: 'Suzette wants him gone"
Emmett: "When he's gone people are looking at me..
Gary: "I know we have to win the competitions"
Emmett: "Gary as much as i want to say i'm a confident person we cannot go week to week.. "
Gary pretty much saying it's too late to save Tom. Emmett says that Tom is his shield they need to keep him in the house to protect Emmett, "Tom will always go before me"
Gary: "And he's going before you"
Emmett: "What does that mean"
Emmett warns Gary not to go tell Topaz too much because she goes off on rants.
Emmett tells him that Liza is pretty confident that she is staying. Gary: "I'm really worried that people are OK that she could stay"
Emmett: "She's pretty and she's nice.. and if she doesn't talk shit for 2 weeks everyone will forget about it"
Gary: "She's evil"
Emmett asks him who will Sue put up, Gary says Alec. Gary: 'I dunno she's crazy.. she thinks she's smarter than she really is.. she thinks Alec is the mastermind.. she thinks people are throwing competitions. and that the guys are working together… she thinks competitions are fixed "
Emmett: "She thinks it's fixed… she was the one almost out the door if anything it's the people up there that are fixing things"
Big Brother gives them a warning to not talk about production
Topaz joins them and Emmett leaves.. Gary: "Liza knows she's staying.. "
Topaz: "How does she know that"
Gary: "I don't know.. he's worried that people will forget about LIza and she'll stick around.. He's a little bit upset with you cause you blew up"
Gary and Topaz are both worried that Liza is going to get in good with the house again. Topaz: "I will never put her up against Gary, Peter or Alec"
Alec joins them.
Gary: "Emmett thinks he's the target now that Tom is going.. Like c'mon it's time to play the game and stop hiding behind Tom"
Alec: "Who does he think is targeting him"
Gary: "the house"
Alec: "We are the house"
They agree to start pulling the players into the HOH before the vote to lock in their votes against Tom.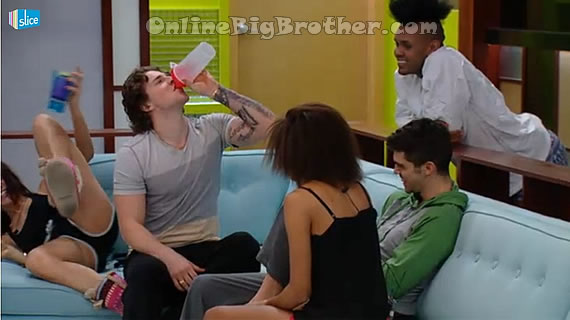 1:04AM Couch Emmett, GAry, Topaz, Alec and Jillian
Emmett tells him that Liza is closer to Peter than they think. He says that Liza will flirt with him and get him to protect her and further her game like she did with Tom.
Emmett: "Pete really likes her"
Emmett: "Personally I do not find her attractive"
Alec: "me either"
Emmett: "She fuc*** evil man"
Alec thinks peter will just throw the HOH because he doesn't want to win it and have to put Liza up. Alec says as long as Liza doesn't win HOH she's going up.
You can hear Gary in the background "You just have to make sure people don't forget about Liza talking"
Emmett explains to them the problem with Liza is she will lay low and not talk game and everyone will forget about what she was doing.
Alec points out that Liza hasn't talked any game since she was exposed.
Emmett: 'I Kinda wish she hadn't stopped"
Emmett is also worried that she'll be put up against Andrew and will end up staying then build more relationships. Alec: "She's not going up against Andrew"
Emmett is positive that pete likes Liza and somehow LIza knows that she is staying.
Emmett: "your Petes best friend you can talk to Pete and explain to him how dangerous Liza is"
Alec swears that Pete talks to him about Liza says that they are just friends. Emmett says that is how it started with Tom she gets into your head.
Both Alec and Emmett think that Peter is in danger around Liza. Alec says Pete claims he can control her but they are more worried about her controlling him.
Emmett: "She's (Liza) playing him (Peter)"
Topaz and Alec say that Peter seriously is interested in Liza, Topaz: "That's because she touched him"
They all laugh Topaz says she didn't mean like that meant touched him with her words
Emmett: "She will she will touch him to get what she wants"
Topaz: "She'll l!ck and sw@llow "
Gary: "She'll suck.. she'll f**k to stay here "
Gary: "She's a $scort.. She's a s$x worker that's the twists"
Gary: "Peter is hypnotized by the t!ties"
Emmett: "What t!tties"
Gary: "She has a big a$$"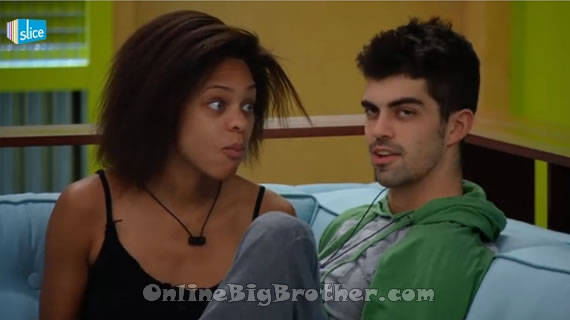 1:30AM Alec and Topaz Comparing notes
Topaz is worried that Tom is going to stay. She's seen Big Brother before where people flip their votes or give sympathy votes and the wrong person goes home. Alec doesn't see that happening at the most Tom will get Talla, Emmett, Aj and Jillian. Topaz: Suzette and Tom are getting close" Alec: No Way"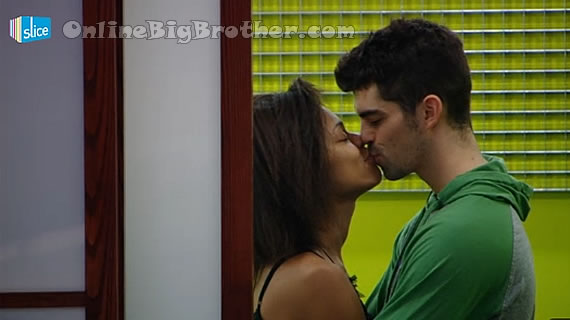 2:00AM Everyone is sleeping
[polldaddy poll=6980080]
Share it YO!!
Tweet