POV Holder:
?
Next POV
March 19th
POV Used
?
POV Ceremony
March 21th
HOH Winner:
JOEL
Next HOH:
March 24th
Original Nominations:
Kelsey and Raul
Current Nominations:
?
Last Evicted Houseguest
Paige, Sharry, Christine
Have Nots
Tim, Raul, Kelsey, Jared
Want to watch the Big Brother Canada 4 live feeds but live outside of Canada?
Bypass the geoblocking with HideMyAss VPN and be Canadian Anywhere: VPN Help Guide
ALLIANCES IN THE HOUSE
There will likely be a lot of alliances during the season – keep track with our alliance help guide.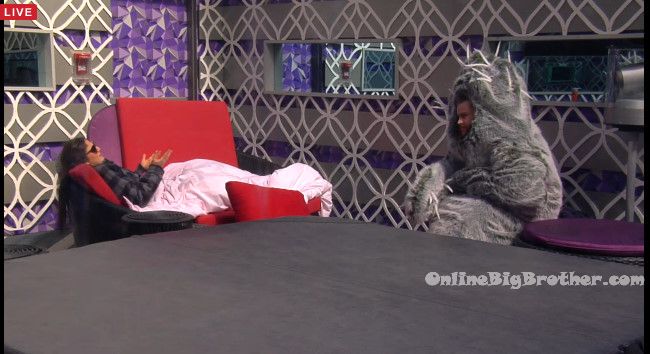 12:35pm Hot Tub room – Cassandra asks Dallas who he would rather stay Kelsey or Raul? Kelsey's my home girl. Dallas says to be honest I don't know. Cassandra asks I wonder what Joel would want? Dallas says he don't care. Cassandra says I figure you're closer to Kelsey. But you're going after Jared. Dallas says it doesn't matter, its a win, win for me. Raul's a better competitor. Cassandra says Raul wants to be here so bad. I feel like Kelsey is ready to throw in the towel. Dallas says I don't know who I like more. It might just come down to that. I laugh at Raul more. He's funny. Kelsey is better to look at. I thought about this last night … nominations are going to stay the same, unless someone tells me something out of this world. I would like it to be a majority vote. I want people to tell me what the house wants. Cassandra says I like both of them. Dallas says there's speculation going around that … Cassandra says they made a deal and left me out of it. That's why I was on the block and they weren't. Dallas says you're on that team and because you're so close to Tim its almost like he's on that team too. Cassandra says I feel safe with you and Maddy.. like if you or her won HOH you wouldn't put me up. Dallas says and that's 100%. Don't let anyone tell you different. Dallas says if I vote out Kelsey and Raul wins then I have to worry about Raul and Jared gunning for me. Cassandra says Kelsey would do whatever Jared wants .. its like they're one person. Dallas says with two votes. Dallas says I think Jared might be a more reckless player if Kelsey walks out the door… I don't know. Cassandra says that Kelsey was about to tell everyone to vote her out and throw in the towel. Why would you do that?!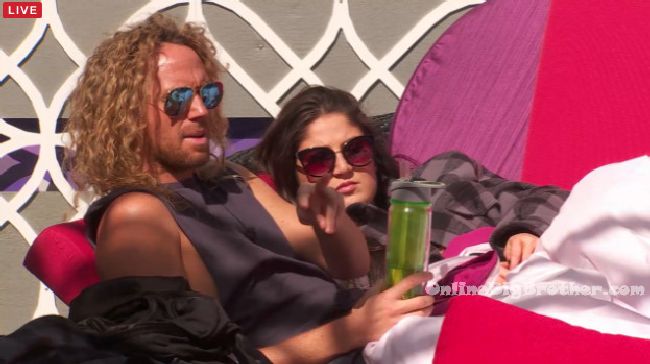 Dallas asks what do you think of the brothers? Cassandra says I don't know where they stand. Dallas says They are playing everybody. They take, take, take and never give any information. Cassandra says she thinks Loveita has a deal with them. Tim joins them. Dallas tells him he is keeping the nominations the same. Tim says if Jared is a threat.. Kelsey is his biggest weakness. He is going to balance him out. Dallas agrees and says he'll become reckless without her. That's why I'm thinking of keeping her. Tim says with Jared and Kelsey you know their two votes will be the same. Dallas gets called to the diary room. Cassandra says that Loveita is going to fall under the radar. Tim- She has managed to get to that point where she has become the Sabrina. Tim reveals to Cassandra that he watched the entire Season 2 of Big Brother Canada before coming into the house. Tim says I haven't decided yet if I want to win. If I get to a final six and they're a bunch of jerks, I will fight to win. You haven't even seen me in full power yet in terms of thinking strategically. And pulling a crazy move. That will get people thinking what the hell. I want to do that. If there is someone that we want gone I am more than happy to volunteer myself as a prawn… pawn I mean.


High Roller Room – Maddy, Ramsey, Loveita and Nick are hanging out chatting about random things.
In the backyard – Raul continues to rope the bull.
1:10pm In the kitchen – Joel tells Mitch that he isn't sure if Dallas isn't going to use the veto or not. I won't be 100% sure until the veto ceremony is over. Joel telling Mitch that he wants to warn Tim that he might go up as a pawn if Dallas for some reason uses the veto. Mitch says I think that Kelsey is the person to go for. I think its better if she goes. Mitch says Kelsey going is better for us but other people may realize that and keep her because of it.
1:10pm – 1:40pm In the high roller room – Loveita and Maddy are talking. They talk about forming an alliance later tonight with Joel, Dallas, Ramsey and Nikki. Maddy says I personally want Kelsey gone. Loveita says I really do think she is bad for my game and your game. Maddy says if Kelsey wins HOH, it is me and you on the block. Loveita says I know that. Maddy says I would rather be final two with Cassandra than be Final 2 with Kelsey. Loveita agrees. Loveita says the first week everyone wanted Kelsey up and now this week everyone who wanted her to go wants her to stay. I think we just need to lock in our votes and have a good rest of the week. Ramsey joins them. Loveita tells him about forming an alliance tonight. Loveita says Nikki has already told me she's voting for Kelsey to go. They agree they have five votes (Maddy, Dallas, Ramsey, Loveita, Nikki) with Joel as the tie breaker.
2pm Loveita and Maddy are talking to Joel. Maddy tells Joel that she has come to the conclusion about the brothers. When they're in a room they're like sponges. They're the ones not on a side. Maddy explains how Phil hangs with Jared, Kelsey and Raul. And Nick hangs out with our side getting all the information. Loveita says that Nikki, Ramsey and Dallas are locked in to vote out Kelsey. Joel says and us.

2:10pm All the house guests gather in the backyard for Rual to finish completing the 1000 lasso's of the bull.

Dallas "I'm the luckiest cactus in the world!" @bigbspoilers #BBCAN4 pic.twitter.com/REDEaJnjC3

— Dawg (@DawgsBigBrother) March 20, 2016
In the storage room – Phil tells Tim that Raul and Kelsey are going to decide what who stays and who goes between themselves. Tim says then people would do the opposite. Tim says that Nikki wants Raul to stay. I think its best if Kelsey stays. Phil agrees. Jared joins them. Tim leaves. Phil tells Jared he's in a sh*tty situation. Jared says what I want might not be what's best for the group. We basically have to do what's best in the group.
In the HOH room – Loveita tells Joel that she doesn't know if Mitch is truly with us. Joel says if Mitch had won the rock, paper, scissors I don't think he would have taken a shot at Jared/Kelsey/Raul. I think he would have gone the other way. Loveita talks to Joel about making an alliance with Maddy, Dallas, Ramsey and Nikki. Joel says he wants to. Loveita says we need to warn Mitch that he needs to lay low with his game play cause other people are starting to get suspicious.
In the high roller room – Jared talks to Mitch. Mitch says the reason people might not want to keep Kelsey is because you and her are more of a threat. Jared asks who Mitch would vote out right now? Mitch says probably Kelsey. Jared says I honestly think it would be better for my game if she goes. Jared tells Mitch that Sharry told Kelsey their (Loveita/Sharry) game plan was to leach on to a floater and then when they get to the end say this person is just a floater I made all the decisions. Its just kind of funny that that's what's happening (Loveita & Joel). Mitch says that he feels so alone in the house. Jared heads to the havenot room with Kelsey. Jared tells Kelsey logically you leaving the house is best for my game.

3:15pm – 3:30pm
Phil says that Loveita and Joel are acting so weird in the HOH. Loveita is so poisonous. Nick agrees. Phil says that Nikki said she would vote with us. Nick says we just have to stay off everyone's radar. Phil tells Nick to not just talk with Maddy. Divide your time. Phil says don't kiss her (Maddy). Nick says yeah. Phil asks have you ever? Nick says yeah. Phil says she will sewer our game if anyone else gets in power.