POV Holder:
Jared
Next POV
April 9th
POV Used
No
POV Ceremony
April 4th
HOH Winner:
Raul
Next HOH:
April 6th
Original Nominations:
Joel and Mitch
Current Nominations:
Joel and Mitch
Last Evicted Houseguest
Paige, Sharry, Christine, Kelsey, Loveita, Dallas
Have Nots
Joel, Ramsey, Brothers and Maddy
Want to watch the Big Brother Canada 4 live feeds but live outside of Canada?
Bypass the geoblocking with HideMyAss VPN and be Canadian Anywhere: VPN Help Guide
ALLIANCES IN THE HOUSE
There will likely be a lot of alliances during the season – keep track, read our alliance help guide.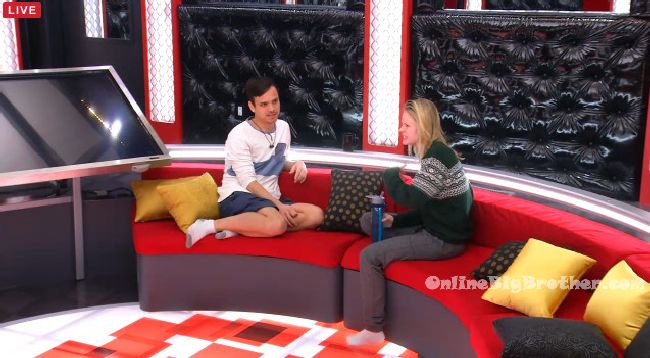 9:30am In the high roller room –
Maddy says that yesterday she was talking to Tim and asked if Kelsey ever told you in the audience right before she came on stage? It has to do with the brothers. (Loveita told Kelsey she heard someone in the audience scream not to trust the brothers.) Why do you think the brothers are so close and feel protected with Kelsey. Mitch asks but why would she want to help them, unless they split and she is waiting until they do. Maddy asks are they dating? Is Kelsey dating Phil? Are they cousins? Mitch says it had to be something in one sentence. Like Phil I love you. We have to find out. I'll ask him. Mitch says that he patched things up with Kelsey knowing I'm probably going. This is a game. Maddy says I just want to know what it was. Mitch says I'll ask him. Ramsey joins them and says he's
9:45am – 10:15am
Phil asks to talk to Tim, its nothing game related. He says last night the monster in me came out and it scared me and I rejected it. If I stay or go, its something I would like you to help me with. Tim says how you make sense of it in your mind is how you deal with it. Like I make up fairy tales. Mitch says I went half way down a path and then decided I couldn't do it. Tim says my perspective is totally different than everyone else's because I won. If I hadn't it would have been different. I kind of made a deal with the devil. Near the end my friends could tells I wasn't okay. I was starting to lose it. One of my friends tried to kill himself. Mitch asks from the show? Tim says yeah because he didn't win. I don't even know what to say that will relate to your life, just don't take it out on family and friends. After I fled from the bad and focused on the good. Mitch says okay good I just wanted to talk to someone who would understand because you've been through this before. I'm a good person and I just don't want other people to question that. Tim says you're legacy will be known as a strategist not a manipulator. Mitch says okay good. Hopefully I get something else out of it since I won't win. Tim says this experience is really amazing for character building. Mitch says that he kind of regrets a word choice in his speech that he could have replaced for another. Tim says cancer? No, don't worry about that. Mitch says I had to make them angry. My use of the word was a scientific use not a personal use of the word. I guess I just had a moment of shame. Tim says people are different in here, than out there. Their reaction might have been acting as well. Tim says Canada will see your game as strategy and her as the dumb mean girl. We voted her in, not Canada.
10:30am – 11am In the bedroom – Tim says this week I am making a strategic decision. To keep Mitch would have been a high risk chaos decision. I want to be a part of the team that takes down the 3 and not give that to Mitch. Cass says I want Ramsey gone and then Rual. I might put up Ramsey and Nikki and if Ramsey wins veto then I put up Rual and get him out.
11:10am Big Brother blocks the feeds.
12:30pm In the bathroom – Joel tells Cassandra that he doesn't understand why Ramsey associates himself with Maddy. Joel and Cassandra discuss the possibility of getting out Ramsey next week and one of the 3 (Jared/Kelsey/Raul) the following week.
Mitch asks Raul what does Kelsey know about the brothers. Raul says don't f**k me over if I tell you. Raul then tells Mitch when Kelsey and Loveita got out of here people started screaming don't trust the brothers.
1pm – 1:40pm In the bedroom –
Ramsey talks to Mitch about how he thinks it would be better for his game if Maddy left. He says he doesn't always agree with what she says and how she handles things. Mitch says if I were to stay I have to go after those three (Jared, Kelsey, Raul). Mitch says there are so many people I would love to go next week except for you, Maddy and Tim. I would just love to laugh in their face if any of the others left next week.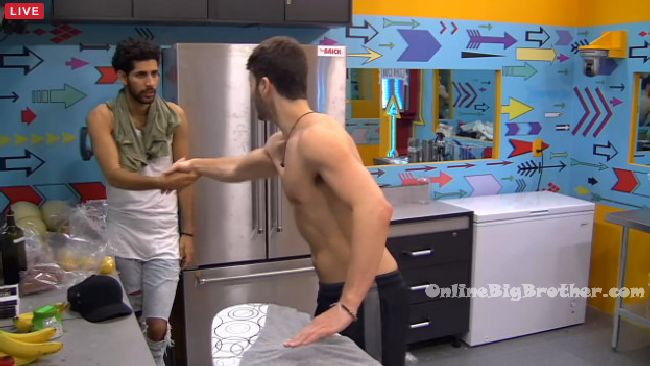 1:50pm – 2pm In the storage room – Phil tells Ramsey that he is good in his books. Ramsey tells Phil that if he wins HOH Phil will not be put up. I know it doesn't need to be said because I've said it a million times. They shake hands. Ramsey tells Phil that it doesn't matter who you hang out with your talk to. It doesn't bother me. Ramsey says I'm telling you right now .. we're treading on thin ice… we need to get HOH. I don't feel safe at all. I only feel safe with two people … Maddy and you. Phil says and if you guys put me up for game, I would understand that. Ramsey says dude that won't happen.. not until at least final four. Phil leaves. Ramsey says to himself .. real connections, real connections, none of this fake sh*t.
Big Brother blocks the live feeds.. The feeds will likely be down until after tonight's Eviction / HOH episode.
Watch the Big Brother Canada 4 Live Feeds anywhere in the world with HideMyAss VPN.
If you find value in our live feed updates, please consider showing your support by giving a tip! Any amount is greatly appreciated!
Share it YO!!
Tweet