POV Holder:
Dallas
Next POV
March 24th
POV Used
No
POV Ceremony
March 24th
HOH Winner:
JOEL
Next HOH:
March 24th
Original Nominations:
Kelsey and Raul
Current Nominations:
Kelsey and Raul
Last Evicted Houseguest
Paige, Sharry, Christine
Have Nots
Tim, Raul, Kelsey, Jared
Want to watch the Big Brother Canada 4 live feeds but live outside of Canada?
Bypass the geoblocking with HideMyAss VPN and be Canadian Anywhere: VPN Help Guide
ALLIANCES IN THE HOUSE
There will likely be a lot of alliances during the season – keep track with our alliance help guide.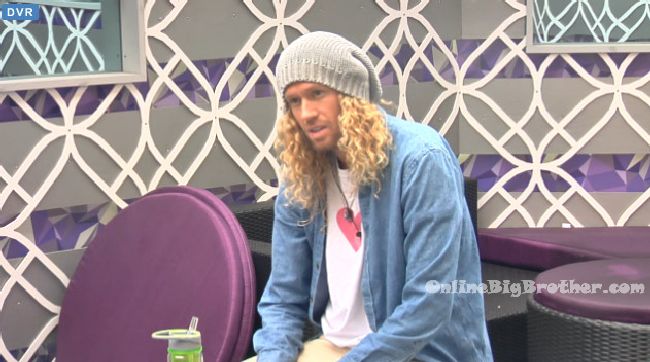 9am – 10am Big Brother wakes up the house guests. Out in the hot tub room – Tim is talking to Mitch about his lifestyle. Tim tells Mitch that its very refreshing he doesn't wear homosexuality as his personality. Tim says that when he was younger people used to think he was gay which made Tim wonder if he was even though he knew he wasn't just because I wasn't the normal straight. Dallas joins them. Tim gets called to the diary room.
10:25am By the pool –
Tim and Cassandra are talking. Cassandra talks about this being a tough situation having two friends on the block. Mitch asks her if she's made up her mind? Cassandra says its 50/50 .. Raul is very smart but some times I think he doesn't trust me. Kelsey said he does so that clears that up. I know Kelsey trusts me 100%. Mitch says that Kelsey makes Jared a bigger target but she also make you look like a bigger target. You don't want to be the victim of association. If they're up and one wins veto, who goes up .. a victim of association. Cassandra says for your game its probably better to keep Raul. Mitch says and that's what I think I'm going to do. Mitch says for the next 4 or 5 rounds I think its important that we have the same goals in mind. Tim joins them. Tim says I think this vote comes down to Jared. Ball and Chain or whether you want to free him up. It will change his perception to people in the house and the people watching. When things stay the same its a known entity. It's predictable. Mitch says his gut tells him to vote out Kelsey but if Kelsey stays it will take the attention away from me going up. Mitch says he thinks the brothers fall more to our side. They're emotional players that want to be with people they like. I don't see them having a strong relationship with Dallas, Loveita or Joel. Tim says this is the first week I am picking a side. I don't want to work with Maddy. Its not to say that I won't work with Dallas or Loveita. I just can't work with that type of player. She's not playing big brother she's playing high school. Tim gets called to the diary room. Cassandra and Mitch continue to talk and then she leaves and Phil talks to Mitch. Phil says that he would be friends with Tim and then take him out later because that would be really great for the show.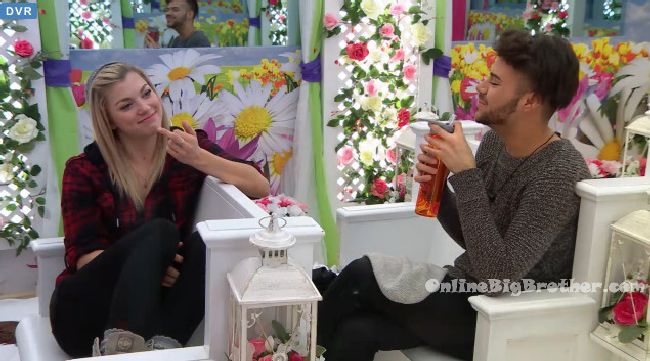 10:45am Havenot room – Kelsey says I am over all the fake b***hes! I am so tired of Maddy. Jared is really into this and I do think its better for his game if you stay. If you have Mitch, he would campaign for you. I don't mind if you campaign. I am honestly just over it. And Loveita acting crazy and having all these fights with people. I am just over it. Raul says I am getting to that point too. Kelsey says people don't pick on you like the girls pick on me. I want you, Jared and the brothers to do really well and I feel like I brought you guys together. I'm not giving up, I'm taking the situation and making the best of it. I just do think its better that you stay. Why does she like that duck so much. She likes a plastic duck more than she likes people. Its in a really great hiding spot right. Jared said it was in a whole in the bed. Raul says yes. Kelsey thanks Raul for stealing it. This is what happens when you make good friends in the house. Kelsey gives the middle finger.

11:25am – 11:45am By the pool – Tim says that what Cassandra does is tell me things that others say about me. I don't like that. Mitch asks what do you think is better for your game? Tim says my game is very different.. well everyone's game is different. I'm not afraid to go home. I would be fine to be a pawn. Mitch and Phil tell Tim that he would be a good pawn during a double eviction.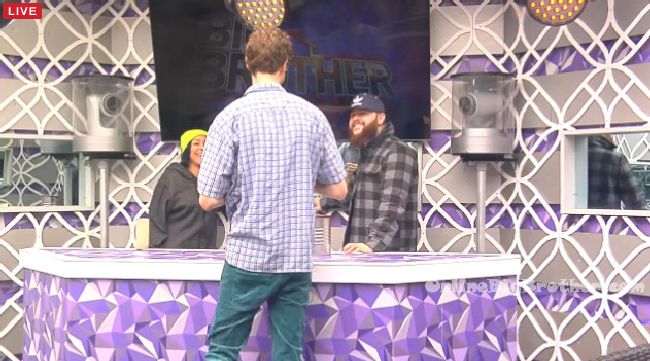 12pm Loveita and Dallas are talking in the hot tub room. They agree they need to win HOH this week. Joel joins them and tells them he's depending on them winning HOH. Dallas says we need to take out the rest of the 3 headed monster. Loveita says that we're becoming the 3 headed monster. Its been a massive advantage that people don't think I'm with anyone. Loveita tells Joel Jared says you're gullible but that's good they think that. Dallas says the only people I am uncertain with are Raul, Jared, Nikki, Tim and the brothers. Joel says same for me. Dallas says the floaters are the brothers, Tim and Nikki. Loveita, Joel and Dallas agree to being in an alliance. The COG's "The Canadian Original Gangsters"
12:25am In the high roller room – Ramsey tells Maddy that he would put up Raul and Cassandra. Maddy gets upset that he had said he would put up Jared and now's changing it. Ramsey says I'm not worried about Jared he will get taken out by me or someone else. Maddy says he won't get taken out by you. Ramsey says don't worry. Maddy asks did you make a deal with him? Ramsey says no! Maddy asks why?! Ramsey says because he wants Raul and Cass out of this house. I feel that Cass and Raul are gunning after me and that's also bad for you and Dallas if they get me out. I'm just talking out loud with you. Maddy says you're not talking out loud, you're telling me. Every time I've heard information from you lately its been from Jared. Maddy says I can't wait for you to save Jared and then for him to bulldoze over me, you and Dallas. Ramsey says so two more weeks till Jury. Maddy says we don't know that dude! Kelsey is going home regardless. Ramsey says she's not though. Maddy says 8 out of 10 people told me they're voting her out. Ramsey tells Maddy he'll boink her in Toronto. He then tells her to get her leg off him. People will think we're in a relationship. Maddy says oh my god! Ramsey tells her he has a sicka$$ balcony that he wants to boink her on. She asks him to describe it and then she tells him she's definitely coming to Toronto then.

12:30pm – 12:45pm Storage room / Backyard – Nick says we can't say I don't know. Phil tells Nick don't lie because that will come back to us. Phil says fine I'll try it your way. Phil says let me do the gaming. If you have something important to say then tell me. I'm certainly not going to talk to Maddy when she is public enemy number 1. Nick says you're not thinking about what will go back to Love. Phil says I'm not playing scared. You're scared of people. Nick says I'm not scared. Phil says
1:25pm Big Brother puts the house guests on a backyard lockdown. Kelsey tells Jared not to trust Ramsey or tell him any more information.

If you're using an Adblocker, PLEASE consider disabling it for www.onlinebigbrother.com by adding us to your whitelist. This is very easy to do: simply load www.onlinebigbrother.com in your browser, left click the adblocker and click "disable for this site"
[polldaddy poll=9357323]