POV Holder:
Dallas
Next POV
March 24th
POV Used
No
POV Ceremony
March 24th
HOH Winner:
JOEL
Next HOH:
March 24th
Original Nominations:
Kelsey and Raul
Current Nominations:
Kelsey and Raul
Last Evicted Houseguest
Paige, Sharry, Christine
Have Nots
Tim, Raul, Kelsey, Jared
Want to watch the Big Brother Canada 4 live feeds but live outside of Canada?
Bypass the geoblocking with HideMyAss VPN and be Canadian Anywhere: VPN Help Guide
ALLIANCES IN THE HOUSE
There will likely be a lot of alliances during the season – keep track with our alliance help guide.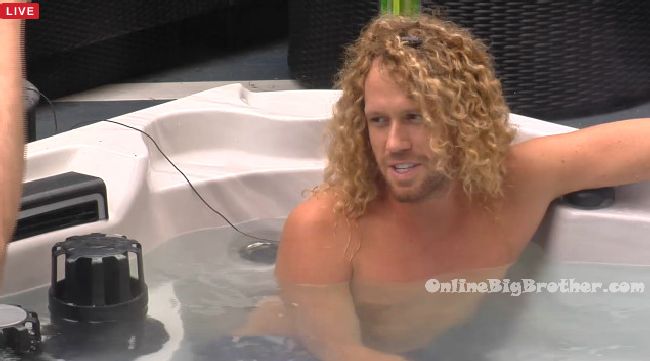 1:40pm Hot Tub – Phil and Tim talk about how Phil likes Nikki. Tim says you like to fix people, so do I. Phil says I think its because I see the beauty in her. Phil asks does she even want a good guy? Tim says probably but she probably thinks she doesn't deserve it. Phil says its kind of sad. Tim says some times people leave period stained undies on your bed. Phil says there's no reason to freak out over that. Tim says oh you don't know the story. Nikki found period stained undies on … big brother blocks the feeds. Tim says girls change as they grow up. They don't muck around and play with guys hearts as much. Cougars do.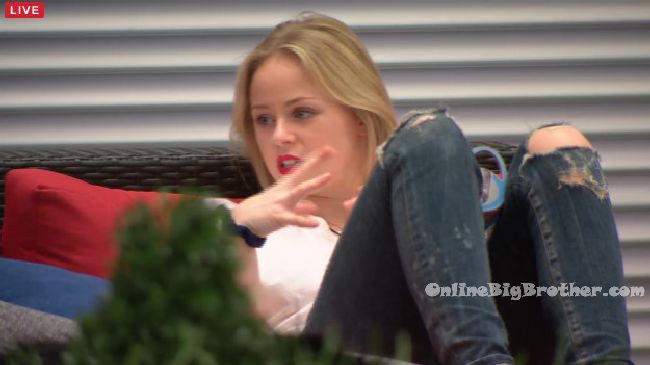 2:10pm Backyard –
Loveita is talking to Maddy about her theory that Tim and Nikki might be told what to do by Canada. Maddy says I doubt that. Maddy says Cassandra is voting out Kelsey. I believe her. Loveita says she is going with the house. Maddy says and the house is voting out Kelsey. There is no physical way she is staying. Tim and I used to talk and now after he hit me with a baseball bat he doesn't talk to me. I see right through him. Most of his stories are lies. He is going to win the game. All these stories of spiders, rhinos and celebrities. As soon as I get a chance I am putting Tim up on the block next to someone that would never go home like Mitch. I think Mitch is in a bad situation by being trapped into being on that side. Loveita asks does Mitch like me? Maddy says he doesn't really talk about you. Loveita says I like him. Maddy tells Loveita that she lashes out way too f**King much. Loveita says I don't think I do. Maddy says you had 4 fights in one day. Two with Cassandra, one with Jared and one with me. Cassandra and Joel join them and the conversation ends. Maddy starts talking about her dating horror stories.
2:20pm Hot Tub –
Tim talks about how before he had money he used to donate his time to charities. He says after he won he donated 20% – 50K to charity. He says he then kept the 200K in the bank and its still there because I've been lucky enough to have money come in since the show.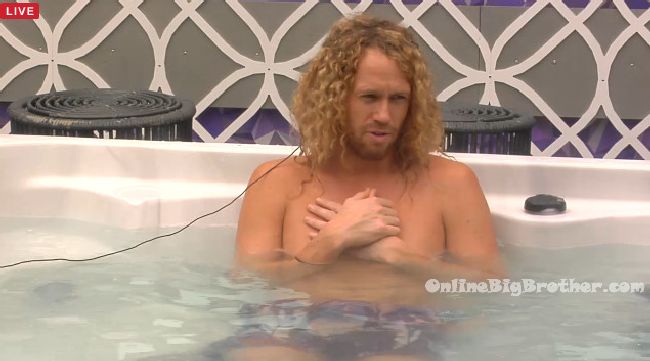 2:40pm – 4:15pmBig Brother blocks the feeds. When the live feeds return – All the house guests are coming out of the diary room. They got to eat and listen to music while answering questions in the diary room.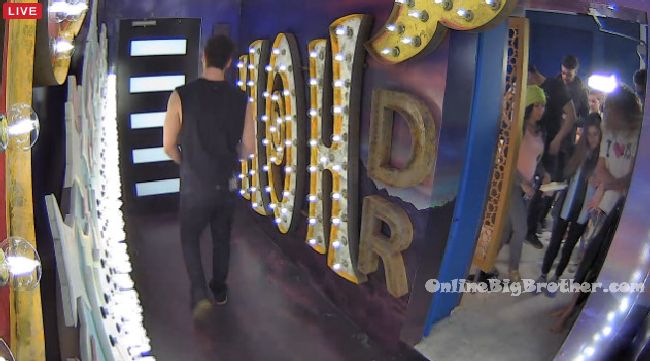 4:30pm Jared and Ramsey clear things up after Jared thought Ramsey had told Maddy their hot tub conversation when Ramsey hadn't.

5:15pm HOH room – Joel, Kelsey and Jared are talking. Joel says the vote seems to be 50/50. Kelsey tells Joel that out of her and Raul she is at peace with leaving. I've gotten everything I needed out of this experience and he wants this to further his career. If I do stay I am still here to play but if it comes down to it I'm okay with leaving.
5:30pm In the HOH room – Kelsey and Jared realize that all of the HOH camera's point towards the ground. They think Big Brother is giving them time alone. Jared and Kelsey make out behind Joel's stuffed dog. When they come up for air they realize the camera's are glued on them.

5:50pm – 6:10pm Phil and Ramey have a conversation and then Phil and Nick get into it about Phil not sharing information and filling him in on what's going on in house.
6:30pm Living room – Nick says its hard sitting back and doing nothing. If that's the case I would rather take my half of the money and run. Ramsey says you definitely have to figure out a way to work with your brother rather than stepping on each others toes. Nick says I know, it's hard because he's a hot head. Coming into this I didn't know if it would bring us closer together or push us a part. Ramsey says I think it will bring your closer together. Nick agrees.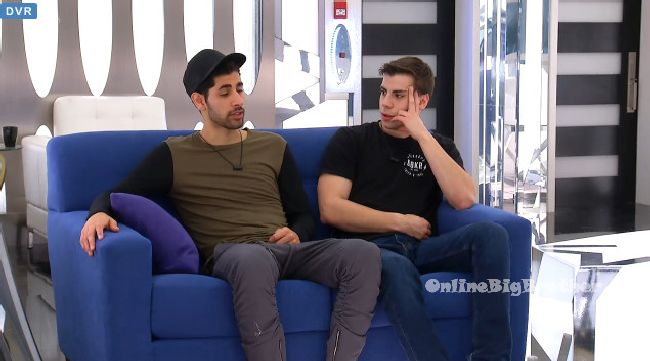 6:20pm – 6:50pm
Loveita says she loves her boyfriend and says If I was single everyone would never guess who I would go for on day 1. Dallas says Me, Joel and Ramsey. Loveita says you're wrong about one of those. Phil says its me. Not Ramsey. Loveita says its not Ramsey and not Phil. Loveita says for me if I'm good friends with someone .. I'm curious about dating them.
7pm The hosue guests are hanging out chatting about random things.. Mitch and Ramsey says they're voting for Raul to stay. Phil says he's pretty sure that's what he's doing too.
Share it YO!!
Tweet