POV Holder:
Dallas
Next POV
March 12th
POV Used
?
POV Ceremony
March 14th
HOH Winner:
Loveita
Next HOH:
March 17th
Original Nominations:
Cassandra and Christine
Current Nominations:
? and ?
Last Evicted Houseguest
Paige, Sharry
Have Nots
Joel & Cassandra
Want to watch the Big Brother Canada 4 live feeds but live outside of Canada?
Bypass the geoblocking with HideMyAss VPN and be Canadian Anywhere: VPN Help Guide
ALLIANCES IN THE HOUSE
There will likely be a lot of alliances during the season – keep track with our alliance help guide.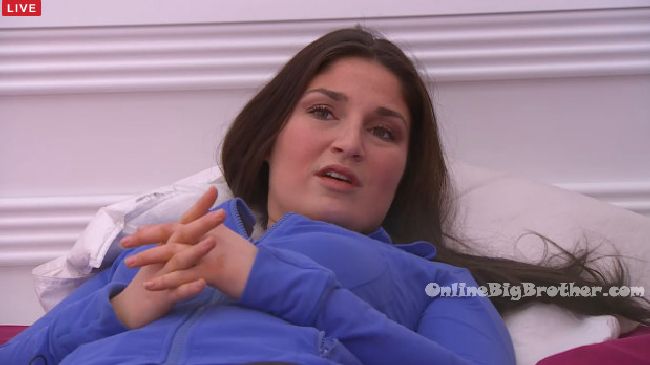 10:30am In the bedroom – Cassandra says the doctors told her she has a sprained ankle. Cassandra says that she went and talked to Loveita and asked who her target was. Loveita said she wasn't going to say but said she was pretty clear in her speech. Cassandra says so your target is me. She says Loveita said yes. Tim says I just don't like self righteous people. You can't go around saying you don't play dirty and then play dirty. Cassandra asks do you think I should be worried? Tim says she has it over Dallas. How is Dallas letting her rule her. Tim says we just need to keep you here and then put her in her place next week. I did a big poo in her toilet. Cassandra asks we can trust Raul? Tim says 100% Cassandra says I don't want Jared or Kelsey going up because then my votes are gone. Tim says I want Jared to win it. Wouldn't that be funny if it went back and forth. All I need are six votes. Kelsey and Jared said they could probably get the brothers to vote for me. Tim says If the brothers think Dallas has a plan to get rid of them, then it would be in their best interest to vote for you. She (Loveita) just likes having all the power. I don't trust a word out of her mouth. I think she is a lot smarter than people give her credit for. Cassandra says I think she's smart but she's a batch! Tim says you can't say that, that's what got you in this position.
11am Tim and Nikki are talking. Tim says I don't want to say any more game to Loveita. The only people I can trust right now is Joel, you and Mitch at this point. Loveita's game isn't to align its to use and switch to whoever she can use. Next week Kelsey and Cassandra will gun for Loveita hard next week. I think we just stay silent again this week.
HOH room – Loveita and Joel are talking. Loveita says I just can't stand Kelsey. Her and Raul. Jared just goes with the which way the wind blows. Loveita says maybe he should use the veto and we backdoor a big player. There's a huge backdoor setup here. Loveita says If I get out Cassandra, Christine has to work with us and not be a fake phoney.
The flawless switch @bigbspoilers #BBCAN4 pic.twitter.com/UYHmkRxfyM

— Dawg (@DawgsBigBrother) March 13, 2016
11:40am HOH room – Loveita, Jared, Maddy, Nikki and Ramsey are chatting about school and other random things.
In the bathroom – Tim is talking to Mitch, Phil, Joel, Nick and Cassandra about the Australian season of Big Brother. Tim says that played big brother where he was fully in it. He didn't play with one foot in and one foot out. I made it so I was big brother. I made sure I was involved in every story line.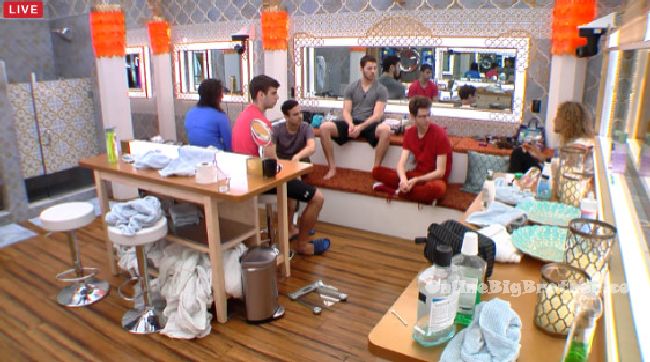 12pm In the bedroom – Kelsey is talking to Dallas with Christine and Cassandra in the room. Maddy comes in and immediately leaves. Kelsey says Maddy had the look of disgust on her face seeing her talk to Dallas and then left. Kelsey says I thought we were fine. Dallas says he'll talk to her because he doesn't want to be a part of that. Dallas, Cassandra and Kelsey leave the room. Jared talks to Christine about her accident in the challenge last night. She says she fell straight on her back. She says she thought they would stop it or a medic would come out but they didn't. Big Brother blocks the feeds. Jared says he thinks Loveita is completely by herself. Christine says yeah. She's just toxic. Dallas joins them. He talks about how Loveita doesn't care the girls are becoming extinct in the house. I had to calm her down a few times. I think the brothers are working with Joel and Loveita. Jared says I'm not going to talk to her about them any more. Jared says he was talking to Phil asking who he didn't want to win. He says Phil won't give any information and then said I guess I'm working with you, so them. Jared says we can go at each other all we want but lets make sure we get the brothers out first. Dallas agrees. Jared says they're trying to play nice with everyone. I think we should definitely deal with this the next couple weeks when we get power.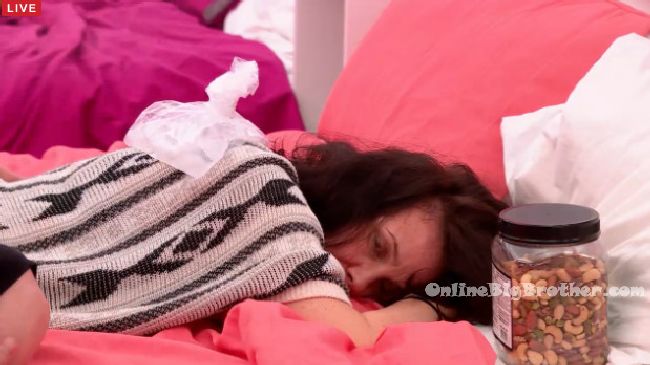 12:50pm HOH room – Mitch asks Loveita if she knows if he is going to use it or not? Loveita says she doesn't know. She says that she's just going to wait till everyone's talked to him first. Mitch says I don't know if he's working with them or not. Loveita asks you haven't told them about any of our conversations? Mitch says absolutely not. Loveita says there are enough floaters to get together and work together. Mitch asks are you afraid of that or want that to happen. Loveita says she wants it to happen. Mitch says if Jared won I think you would be fine. Mitch says that Jared is trying to keep Raul and Kelsey in check. I don't think they have your best interest at heart. And they're in the position with 3 people. Mitch tells Loveita to be prepared if Dallas does use it so you're not put on the spot. Mitch says you and Joel I feel the most connected and honest with. I feel less connected to Jared, Raul and Kelsey will cut me when the time comes to it.

Tim says once the line is drawn do you think we'll get our own room. Whoever kills the first b***h. Kelsey or Maddy. Cassandra says that Maddy is just so negative. Cassandra asks if I win HOH next week what if I do a Ramsey & Maddy and then backdoor Loveita. Tim says I love that. And don't tell anyone. Don't even tell me. Just be Cassandra slayer. I would rather someone from their side going. They're too strong and with the brothers in the middle. They're very crucial votes. Christine needs to go this week and then Dallas and Ramsey need to be broken up. Cassandra says I think the public likes me. Tim says yeah, oh yeah.
1:30pm HOH room – Joel asks Loveita who she wants to work with? Loveita says I want to work with Mitch but he doesn't seem to want alliances. Do you think we should backdoor one of the… Joel asks powerhouses? Loveita says yeah. If I backdoor Kelsey then everyone will be happy because I got rid of one of the powerhouses. Loveita thinks the POV ceremony and movie premiere are tonight. They start to head down stairs. Joel says that big brother gave him some candles for his brother.
Dishes are done! @bigbspoilers #bbcan4 pic.twitter.com/WQXrrzoech

— Dawg (@DawgsBigBrother) March 13, 2016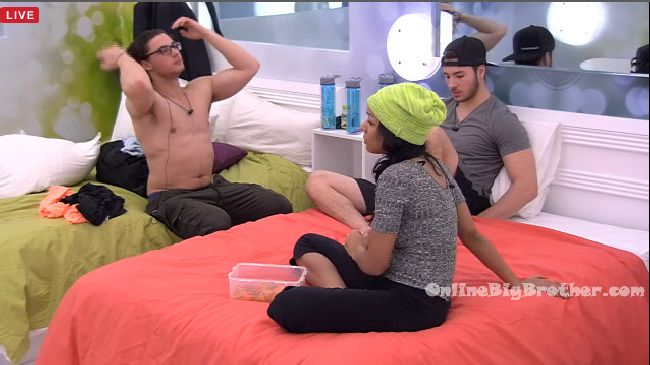 1:40pm Jared asks Loveita if Dallas has talked about him using the veto. Loveita says she's had a few converations but wants to wait to be the last conversation with him. Its his choice to use it. Phil asks who she would put up? Loveita says she doesn't know and wouldn't say. Loveita asks who would you put up? Phil says I know some people you are safe with. Me and Jared. I just heard some things in passing. I'm not going to name names that's not what I do. Its someone you've had issues with before. Phil says if you think about it, it would seem obvious. I'm not going to name names. Jared says you kind of have to now. Phil says people from the pink room. Loveita says she already knew about that. Everyone leaves. Phil says she's so f**King psychotic! She's so f**ked up! (Loveita)

1:50pm HOH room – Loveita asks if Raul wins HOH would he put me up? Jared says no. He would put up Dallas and Maddy. Jared suggests that they all sit and talk (Loveita, Jared, Raul and Kelsey). Take the time where we can just hangout and have fun. Loveita says if you guys keep your word then you know you have my word. Ramsey joins them.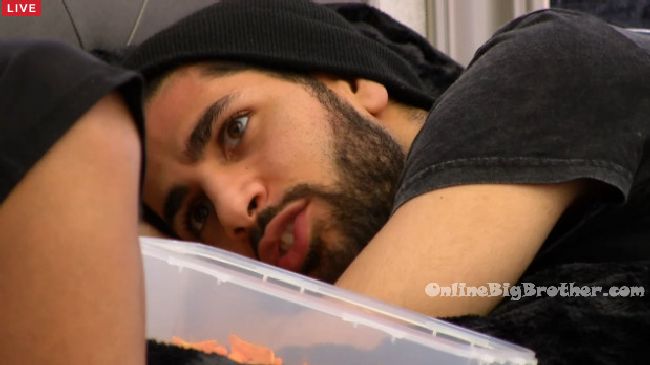 Help Support Online Big Brother
Show your support and appreciation to help keep the updates coming: Support OnlineBigBrother.com
[polldaddy poll=9341582]