POV Holder:
Dallas
Next POV
March 12th
POV Used
?
POV Ceremony
March 14th
HOH Winner:
Loveita
Next HOH:
March 17th
Original Nominations:
Cassandra and Christine
Current Nominations:
? and ?
Last Evicted Houseguest
Paige, Sharry
Have Nots
Joel & Cassandra
Want to watch the Big Brother Canada 4 live feeds but live outside of Canada?
Bypass the geoblocking with HideMyAss VPN and be Canadian Anywhere: VPN Help Guide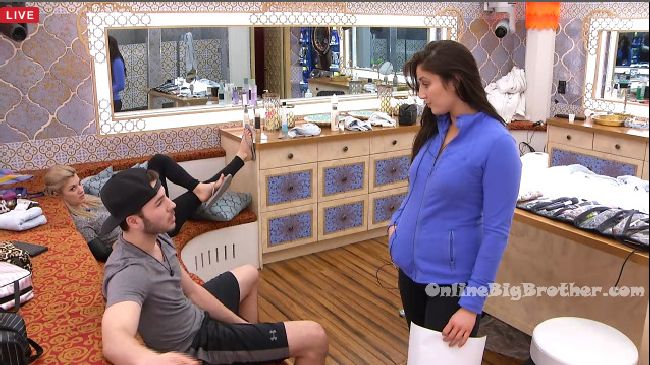 ALLIANCES IN THE HOUSE
There will likely be a lot of alliances during the season – keep track with our alliance help guide.
1:55pm Bathroom – Phil and Cassandar are talking in the bathroom. Cassandra asks what more is there to talk about. If she's HOH she wants everything to be LOVEITAS! Guess what that's not how it goes. People don't say where they're standing, they're a SUSS! Cassandra asks who are you voting for? Phil says I don't know at this point. I'm worried about myself at this point. People are throwing my name out. Cassandra asks who? Phil says people said you. Cassandra says I didn't say that?! Phil says people said that you said I should go up. Cassandra asks that it was me?! Should I get a house meeting right now!?! Phil says no. Cassandra leaves and heads to the bedroom.
2:10pm Havenot room – Mitch asks is it best to take out Cassandra and work with Loveita. Joel says the more I think about it Loveita's nominations make sense because it keeps the two sides going at each other. Joel says that Kelsey and Jared are much more capable of winning. Mitch agrees they're more well rounded. Joel says I'm not threatened by people like Ramsey. Mitch says that even Jared said that if one of them (Kelsey or Raul) goes it might be better for his game. I think he could come around. Its just the risk of them knowing we're entertaining this and then it not happening. Joel asks do you think if Raul won HOH would be put me next to Loveita because people know we're connected? Mitch says maybe. Joel says I think if it did happen, I think I would have the votes. Mitch says right now its Dallas and Loveita's decision right now and we need to decide how much we try to influence it.

Phil tells Nick that he wants Dallas's blood. At this point I seriously hope they do it! So we can make them scared of us. If we escape a backdoor we aren't going up for weeks. I f**king hate Loveita. She's a rat! She's going to need to check into a psycho ward after this.Joel and Mitch talk about the possibility of there being a secret room. Mitch tells Joel that the rocks near the kitchen could hid a secret door. PHil talks to Tim and says if the veto is used and I go up I am going to make it so clear who I am going after. Phil asks would you vote Cassandra out over us? Tim says yeah.



3pm HOH room – Kelsey and Loveita are having a girl talk. Loveita says my huge reservation with Cassandra is her friendship with you. When she was campaigning for me last week and then she made that comments when I won. ("That b***h won again") She also wanted me to win the veto and that she didn't care if I used it to backdoor you. If she was truly your friend she wouldn't say that. Kelsey says that Cassandra says whatever she thinks everyone wants to hear. Loveita says I don't think that's a friend. Kelsey brings up how Cass told Jared he needed to keep me in check. I'm my own person.

3:15pm Havenot room – Joel talks to Phil about his brother and tells him that he and Nick are always there for him if he needs to talk. Joel tells Phil that his relationship with Nick reminds him a lot of how close him and his brother were.
3:30pm Phil tells Joel that if Loveita does put me up I'm going to make a loud statement. I do like and trust Loveita but if I go up I'll have no choice. Joel says I understand. Loveita joins them.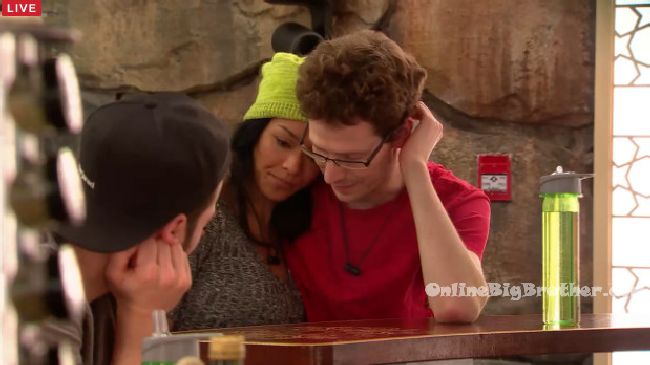 4pm Jared tells Kelsey that Phil asked to talk to him. He asked if Dallas talked to him. He said we should stick together.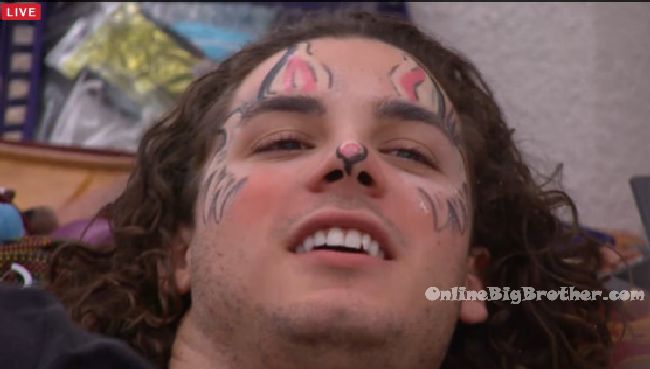 4:10pm – 4:30pm In the kitchen – Nikki gets annoyed at Tim saying he's been at her all day. Tim says I'm sorry I waved a pickle in your face. And stole a mushroom. Nikki says you're always trying to get a reaction out of me and I'm tired of it. Tim says he's sorry.
Cinnamon Challenge @bigbspoilers #bbcan4 pic.twitter.com/70avn96Spx

— Dawg (@DawgsBigBrother) March 13, 2016
4:35pm Bedroom – Cassandra tells Tim that Loveita was worse the first week. Tim says so last week when she was all nice, that was fake. People have such a short memory. I don't, I remember everything. Cassandra says she feels this Thursday will be a double eviction. I can just feel it. Phil says that Jared is a standup guy, just the way he handled every thing. Phil asks whos a lone ranger? Tim says I thought Loveita was but she's in bed with Dallas. Cassandra says I'm at rock bottom. Tim says no not yet. Cassandra counts her votes and thinks she has enough. Tim says you're right, you're staying.
4:50pm Tim, Maddy, Cassandra and Phil. Tim asks if they think Phil and Nick will separate. Phil thinks he and Nick will be given the option to separate or not. It would be good tv. Maddy says they won't give you the option.
5pm – 5:15pm Joel says today would have been my older brothers 35th birthday and passed away in October 2011 as an artist in New York. On his birthday my family and I like to have a drink and celebrate his birthday. Joel says that they're all his family in a way. Joel says he got a lot of dates and was very popular. I was always jealous of how he was able to do that. We were always together growing up. He always encouraged me to go out and talk to people and not be antisocial. His name was Mathieu. I was going to light a candle and maybe we can all sing happy birthday. They all sing and then hang their heads in silence.
RIP Mathieu Lefevre pic.twitter.com/o3dV7w1sL6

— hamsterwatch #BBCan4 (@hamsterwatch) March 13, 2016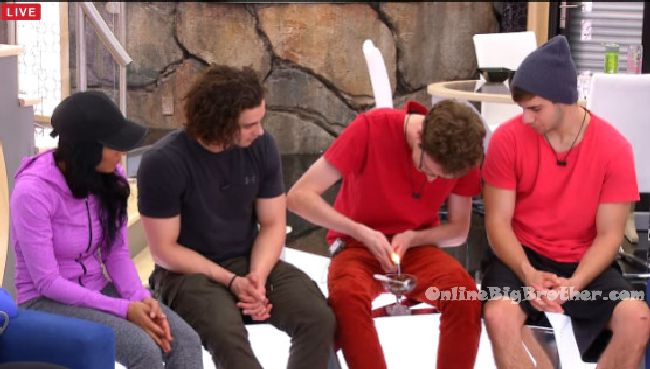 Help Support Online Big Brother
Show your support and appreciation to help keep the updates coming: Support OnlineBigBrother.com
[polldaddy poll=9341582]