POV Holder:
Dallas
Next POV
March 19th
POV Used
No
POV Ceremony
March 21th
HOH Winner:
Loveita
Next HOH:
March 17th
Original Nominations:
Cassandra and Christine
Current Nominations:
Cassandra and Christine
Last Evicted Houseguest
Paige, Sharry
Have Nots
Joel & Cassandra
Want to watch the Big Brother Canada 4 live feeds but live outside of Canada?
Bypass the geoblocking with HideMyAss VPN and be Canadian Anywhere: VPN Help Guide
ALLIANCES IN THE HOUSE
There will likely be a lot of alliances during the season – keep track with our alliance help guide.
9:30am
The house guests are getting ready for the day. Its Phils birthday today.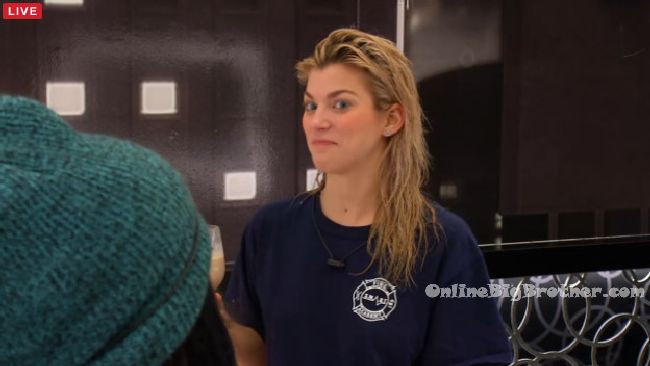 9:55am HOH room –
Kelsey says that she's burned bridges. Loveita says she has burned bridges. Everyone's on the same playing field. Kelsey says I don't have a problem with Christine. If she stays its not like I'm going to be totally choked. Loveita says personally I think you're safer with Christine here. I've just heard Cassandra burn your name. Kelsey says Cass has burned a lot of bridges. Loveita says I don't want things to go back and forth. Kelsey says we're not going to go back and forth. If me, Jared or Raul win HOH. The only people I'm worried about winning is Dallas or Maddy. Kelsey says I don't see Christine going up any time soon. I think for now, whatever happens happens. I love Christine and if she stay, its okay. Dallas joins them. Loveita says if someone is kind of snaky then you don't know where they're at. Dallas says its going to be a 6-5 vote. Dallas says she's (Cassandra) made it pretty clear that if she stays and wins HOH you're going on the block. Loveita says that's news to me! That's not what she's been saying to me. Dallas says well that's what she's been saying to everyone. Maybe I shouldn't have leaked that. Dallas says I've come terms that Cassandra is staying. It's just that she is going to Christine saying I feel bad I have the majority of the votes. And I'm just like You classless b***h! I'd like to see it get flipped upside down but I don't see it happening. Cassandra will cut deals with the devil just to stay in the house. Kelsey says but everyone knows that. Dallas says that's the thing people know it and they still want to keep her in here.
Loveita tells Christine that she needs to talk to Joel. I think he's the deciding vote. Christine says I've tried to and he said he'll talk to me later. Loveita says I'll talk to him. What can you offer him? I bet Cassandra's been in his ear. And has offered him the world.
In the bathroom – Phil used the mouthwash (Nikki had put dish soap in it). Phil pukes into the sink. Phil says he's dead. He runs to the bedroom and asks Tim if it was him? Tim says it was Nikki. Phil goes to the HOH room and asks Nikki if it was her that put soap in the mouthwash? Nikki laughs and says it was her and Tim. Nikki asks did you use it? AWW I'm sorry and on your birthday too! Phil runs back to the bedroom and tells Tim that Nikki said he was involved. Tim says it wasn't him, he only did the toilet prank. Phil goes back to the HOH room and tells Nikki he's going to get her back.

10:35am – 10:55am Havenot room – Tim says I think we're all on the same page you and I, Mitch and the brothers. Tim tells Joel that if we go against what Jared wants that might make him go after us. Joel says right. Tim says even though Christine might be easier to work with. I think we need to keep Cassandra. Joel says alright. Tim says If we lose a number next week then we won't have the numbers to take on either of the two. I think the brothers will be a target next week or Dallas or Jared. Tim asks what are we going to say to Dallas, Maddy and Christine? Joel says I've been saying to Christine that I needed to talk to other people first. Tim says I think we say once we're in the room then it comes down to our gut. Its not really about the player this week its about the play for next week.
11am Tim talks about his Big Brother Australia season. He explains how he didn't want a showmance to be a part of the story line and what he did to stop it.

11:10am Big Brother blocks the feeds.

11:55am In the kitchen – When the live feeds return – The house guests are talking ahout how they got the 3 hour warning till the live eviction. Loveita says I don't think anyone wants HOH. Dallas says I do! Loveita says HOH isn't what everyone thinks it would be. Joel says with great power comes great responsibility. Tim says some people are okay with making the hard decisions. Dallas says it will be interesting. Tim leaves. Loveita says most people have been honest about how they're voting. Dallas says I am going 100% voting Cassandra out. I really wished I had used that veto and forced you to nominate someone else. Bunch of pu$$ies in here! I can't stand it. Loveita says I don't even care if I go home. I don't even want to make it to jury. I can make 100K in 3 months. Loveita says I trusted Joel and he has been shady and shifty this week. To me I am disappointed with Joel because I had his back. Dallas says Joel doesn't have any balls he's a 34 year old boy trapped in a .. its frustrating to watch.
12:15pm Mitch and Ramsey discuss working together and how its okay if they don't vote the same way this time. Mitch tells Ramsey that he is voting out Christine. Ramsey says that people are speculating that you are closer with those three. (Jared, Kelsey, Raul) Mitch says really what everything comes down to is who wins HOH. Ramsey says I was under the impression that Cassandra wanted me out. She knows I'm voting her out.
Dallas tells Tim that before he got here Cassandra had a final 2 deal with everybody. Christine says everybody! Tim laughs and says that was her strategy?! Dallas says and she's still doing it, so you can't trust her word. Christine says so if I can convince Joel to you will? Tim says yes if you can convince Joel to and then I go talk to him and she says that's what he's doing then I will. Christine asks or Mitch? Tim says yes. Dallas says that Loveita is saying that Joel is telling her one thing and saying another to everyone else. Tim asks what will be the repercussions if Joel does go against Loveita? Dallas says Loveita will chop him up. Tim asks does Loveita have the power next week to go after him? Dallas says no. Tim asks will others go after him? Dallas says not this week but I could put some fear in him. Tim says its not right when people vote out of fear for the repercussions. Tim says at least you know where you stand with Christine whereas Cassandra is a leaky boat .. you tell her something and it will get out. Dallas asks Phil so you're pretty set on your vote to vote out Christine? Phil says yup. They're so even par, I just feel more comfortable with Cassandra staying. Dallas says I'm ready to throw a javel (javelin) at the dragon man.
Dallas impersonates Joel when u ask him who he's voting for in front of a group "Mm Ah Mm Ah" @bigbspoilers #bbcan4 pic.twitter.com/eFlhHzjBtq

— Dawg (@DawgsBigBrother) March 17, 2016
12:35pm Big Brother blocks the feeds..
1pm – 1:35pm In the bedroom – Jared tells Ramsey that this is the third time Mitch and Tim have told me if it comes down to it I'll throw the HOH to you. Why?! Just so you don't have to pick a side. Its just snaky. I don't like it. Maddy joins them. The talk about random things then Ramsey and Maddy leave. Mitch joins Jared. Jared asks Mitch who don't you want to win? Mitch says Dallas. Jared says me too.

1:55pm Phil exposes Loveita's weave…
Phil EXPOSES the weave @bigbspoilers #bbcan4 pic.twitter.com/LNLg2xPbb2

— Dawg (@DawgsBigBrother) March 17, 2016