POV Holder:
Dallas
Next POV
March 19th
POV Used
No
POV Ceremony
March 21th
HOH Winner:
Loveita
Next HOH:
March 17th
Original Nominations:
Cassandra and Christine
Current Nominations:
Cassandra and Christine
Last Evicted Houseguest
Paige, Sharry
Have Nots
Joel & Cassandra
Want to watch the Big Brother Canada 4 live feeds but live outside of Canada?
Bypass the geoblocking with HideMyAss VPN and be Canadian Anywhere: VPN Help Guide
ALLIANCES IN THE HOUSE
There will likely be a lot of alliances during the season – keep track with our alliance help guide.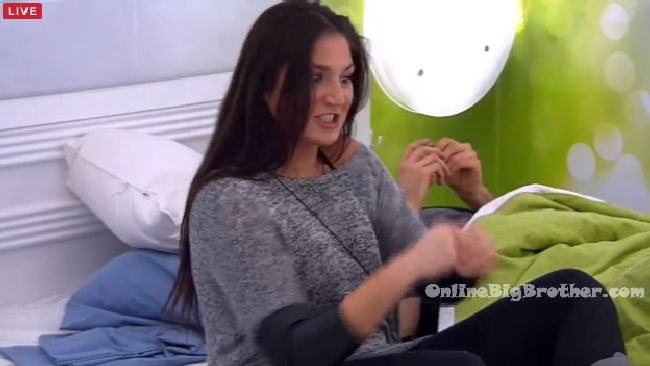 8pm Tim, Jared and Christine are in the kitchen chatting and making dinner. Tim says maybe I should try and make it to jury just to make a holiday out of it. Jury would be fun. Jared agrees. Tim talks about how after BBAU he was able to make a brand of himself where he's been able to make a living off of.
8pm In the bedroom –
Cassandra and Raul are talking. Cassandra says I just don't want any drama because eviction is tomorrow. Raul says I'll start it after. Cassandra says I have 7 (votes) so even if 1 switches I'll be okay. Do you think those 7 are solid. Raul says yes. Cassandra says I want to win HOH this week. Raul asks her who she would put up. Cassandra says Loveita and Maddy. This is nerve racking being on the block. We have to stick together because you never know where anyone else is at. I trust Tim. We should bring him in. I trust him as a friend. You know that little b***h Loveita she was telling Nikki she can't trust that b***h (Cassandra). This season is so sad its such a mean girl season. Other than me and Kelsey every girl is so mean. Do you think she'll still come after me? Raul says no. Cassandra asks what was that deal you made with her? You left me out of it. Raul says we're voting to keep you. Cassandra says Joel follows me everywhere! EVERYWHERE! In the real world if someone was talking to me like Loveita I would be like PISS OFF B***H!!! I just don't want to seem like a mean girl on tv. Do you think I am? What do you think I'm being portrayed as? Raul says as a cookie.
Cassandra "In the real world if someone was talking to me like Loveita I would be like "PISS OFF BITCH!!" #bbcan4 pic.twitter.com/2zKRbnKKtF

— Dawg (@DawgsBigBrother) March 17, 2016
In the bathroom – Joel, Maddy, Phil and Nick are hanging out talking about random things. Joel says when he did type casting in school people typecast him to be in shows like The Office. Maddy leaves. Phil, Nick and Joel all agree they're good. Phil tells Joel the longer we can lay low the better. Phil comments on how Sarah from last season laid low till day 60. He says I want to go to the end with you. If its a double eviction this Thursday I'll do my best to deflect your name. Joel says same. Phil says there are just so may other big targets. Joel says I just hope Nikki can keep it together.
8:35pm – 9pm Bedroom –
Mitch says if someone put him on the block that was his friend in the house he would be so caught off guard. Raul says I would never do that to my muffin. Cassandra says I was her (Loveita) friend last week and she told me she wouldn't put me up and then she did. Tim joins them. Cassandra says we need to band together so they don't pick us all off. Tim says well maybe you need to start getting along with the girls in the house. Raul tells Cassandra I feel like you need to clean your lips.. you look like a coke addict.

Want to watch the Big Brother Canada 4 live feeds but live outside of Canada?
Bypass the geoblocking with HideMyAss VPN and be Canadian Anywhere: VPN Help Guide
9pm – 9:15pm In the bathroom – Joel reassures Cassandra that she has his vote and the brothers. Cassandra comes out of the toilet and Joel goes into the toilet and asks "What is that?! Is that blood or is that jam? Tim starts laughing and leaves the bathroom. Joel says f**k it I have to go. Cassandra says I don't know, I'm not on my period. Joel looks at it closer. Cassandra tells him not to touch it. She goes in and closes the door and then comes out and says I don't know what that was. I'm not on my period. They head to the bedroom. Tim says to Cassandra I can't believe you blooded on the .. Big Brother blocks the feeds.


9:20pm
Dallas and Maddy are in the havenot room. Dallas tells Maddy about how he talked to Mitch today to try and get him on their side. They only reason Kelsey and them want to keep Cassandra is because .. Maddy says she's a vote for them. Dallas says Christine is a pawn and they think if they're next to her they'll go home. People are so dumb. Dallas says I told everyone where I'm at. Maddy says I know I'm not a flip flopper. Maddy says I've had a few people tell me how I'm playing is good. Just laying low. The first week I was up peoples a$$es. Dallas says out of sight out of mind. Maddy says I'm going to let people like Tim and Loveita have little arguments and sit back. Dallas says If we don't get the brothers to use their minds for once. If we can get them on board, we're laughing. Keep your votes though. Maddy says I am keeping my vote to vote out Cassandra HUNDO! Dallas says I really want to make some moves. I just got to make it happen. Then bang bang! We just need a string of good luck. Dallas says he would put up Jared. Maddy says and Raul. Dallas says It just has to be done because if not he'll go all the way to the end.
9:35pm
Dinner time..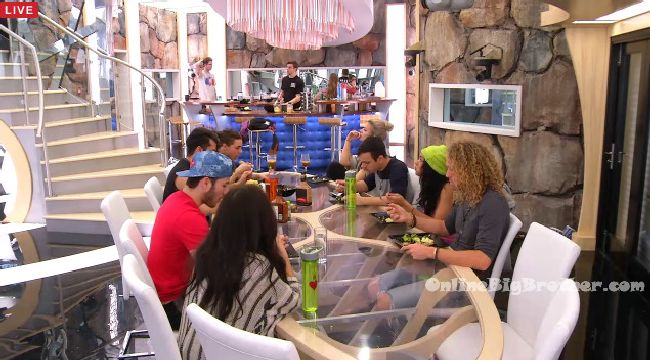 Maddy and Christine with Dallas sleeping of to the side.
Christine and MAddy are complaining about Cassandra. Christine is pissed that Cassandra is walking around acting and saying she's staying. Dallas wakes up "B1tch"
Christine – "B1tch"
Christine says she was campaigning last night with Joel but it's tough because Cassandra is always around.
Christine – She's so annoying.. She's such a piece of work and it pisses me off everyone is fally for it
Dallas – it's so frustrating I know..
Dallas thinks Canada is scratching their heads at the houseguests voting to keep Cassandra.
He counts the votes, MAddy, himself, Niki, Ramsey. He's unsure about Joel, says Loveita told him Joel is telling everyone he's keeping Cassandra then at the last minute send her home.
Christine – the brothers won't budge.. They're being pu$%$ies, Cassandra made them a deal I wouldn't doubt that.
Christine – I can see Mitch's face he's thinking all day
Dallas – I can only pray on the Big BRother gods she leaves…
Maddy and the brothers come in. Dallas asks the brother "You voting to keep cas"
Nick – I think so I dunno, ask my bro when he comes in.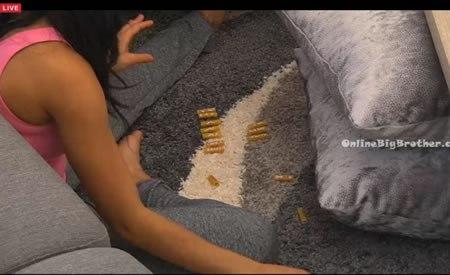 Loveita strategizing with Joel. going through scenarios if Christine leaves and future HOH's. Cassandra walks in and things get awkward.
Cassandra and Kelsey Have nots
Cassandra says Loveita is hiding her black heels. Kelsey says there's always talk about Cassandra working with Dallas.
Cass – who says that.. maddy
Kelsey – I don't F*****g talk to Maddy about sh1t
Kelsey says Christine was campaigning last night to her and it broke her heart.
Cass – Loveita is on another level of hatred
Kelsey says Loveita is flirting with Phil.
Cass – do you think she's smoking something.. I don't know her behavior it's so weird… She's gone loopy.
Loveita and Joel HOH
Joel says Dallas is scares him.
Loveita says she can garitee if Dallas wins HOH she'll be able to keep him off the block.
Loveita – he's named all his targets and your name has never come up
Joel worries Maddy would put him up because they see him and her as a pair.
Loveita doesn't think that will happen
Nick and Mitch HAve nots.. Later joined by Phil and Joel
Mitch wants to keep Cassandra, Nick agrees.
Mitch says Christine wants JAred, Kelsey and Raul out. He gets clumped up with them so if Christine wins HOH he could go up.
Joel says Christine will become the ultimate pawn if you are up against her you go home. If you are up against Cassandra you might stay.
Mitch agree.
Phil explains how Tim is trying to make the vote outcome a certain way adds that Dallas is trying to pull Tim in.
They are convinced the vote will be 7-4 for them.
Nick says if they can keep the fuel on the fire not on them they can cruise through the next couple weeks.
Mitch says the worst thing that can happen is the two side realize they are playing the middle and come after them.
MAddy, Nick, Maddy, Tim Bedroom
Christine – Tim you voting for Cass for sure
Tim – I'm ore thinking about the next week what happens.
Christine says she's the underdog, Cassandra goes home she goes back to being a princess living with her mother.
Nick says it's going to be tight
Christine warns them about how dangerous Cassandra is in the game, "She's a chameleon, She's a chameleon to whoever.. she doesn't give a shit about that spider she's just doing it to suck you d1*k
Tim – ya ay .. I know…
CHristine wants them to make a big move because this season is boring. Keeping her in the game is that big move.
Tim says Loveita hasn't give him a solid reason why she wants Cassandra out he's waiting to hear that.
MAddy told Nick he's being dumb saying "I'm voting with with house" becuase nobody knows what the house is doing.
Tim suggest that maybe Jared, Kelsey and Raul might flip their vote.
Christine – I want to make big moves and f*** sh1t up
Tim doesn't want to give Jared, Kelsey and Raul any strength.
Christine says she needs to be in the house more than Cassandra.
Tim asks them the targets, MAddy is after Jared. Tim think Kelsey has more control than
Christine – I need Joel, Mitch or you (Tim)
Ramsey and Loveita HOH
1:00am Joel and Cassandra
Help Support Online Big Brother
Show your support and appreciation: Support OnlineBigBrother.com
HELP keep the spoilers coming. Show your support by making a donation.
[polldaddy poll=9341582]
Share it YO!!
Tweet