POV Holder:
?
POV Competition
July 1st?
POV Used
?
POV Ceremony
July 3rd?
HOH
Paulie
Next HOH
July 7th
Roadkill Competition Winner:
Victor
Original Nominations:
Paul and Bront
After POV Nominations:
? and ?
Have Nots
?
Watch the 1st WEEK of the live feeds for FREE:
Big Brother 18 Alliances Help Guide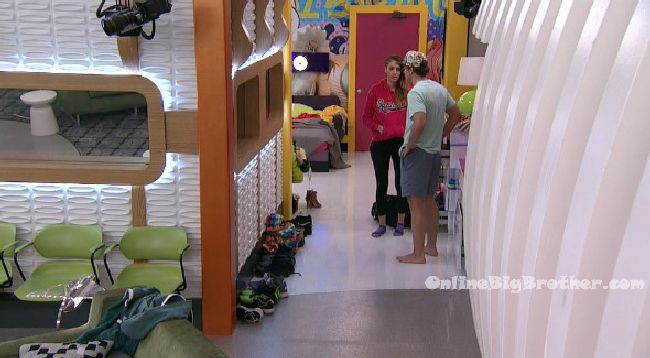 9:50pm Tiffany tells Frank that if she is going up she would like to know. Frank says they (Victor & Paul) don't talk open to me. Frank tells that Nicole is worried. Tiffany says knowing ahead of time causes less pressure but I'll just have to trust in you know (Big Brother). Frank tells her not to worry. She heads to the kitchen. Frank heads to the bedroom and does a little happy dance.
Franks happy dance @bigbspoilers #bb18 pic.twitter.com/Olch5EcLwe

— Dawg (@DawgsBigBrother) July 2, 2016
Frank then heads up to the HOH room and tells Paulie and Zakiyah that Victor said he's putting up Tiffany. Yeah she will sit on the blcok for a few days but once Vic is sitting up there she's got to think like okay. The great thing is too .. Paul, Vic and I talked and he was telling Paul he put up Tiffany and we got Paul to agree if his name gets picked he should pick you to play because you're on his team. Frank says I love that he's telling us all this .. he is going to be butt hurt. What was he saying up here …if we were playing him he is going to be pissed. Frank says f**k its great! Frank leaves. Paulie says she (Tiffany) is going to panic. Zakiyah says yeah she is going to freak the f**k out.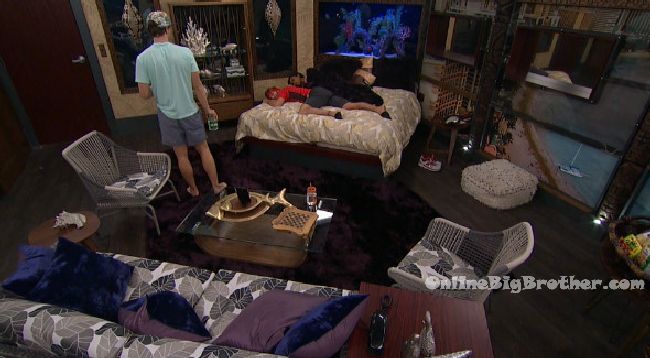 FLASHBACK and watch everything you missed: CBS All Access FREE Trial!

10:30pm HOH room – Tiffany comes up to the HOH room. She asks did he tell you who he is going to put up? Paulie says he didn't tell me .. he told Frank. Tiffany asks who did he say? Paulie says he said its you. Tiffany asks are you serious!? Paulie says yeah. Tiffany asks seriously?! Then Frank lied to me then! Dude then I'm getting paranoid then! Frank told me he (Vic) didn't tell him who it was. Paulie says I think he didn't want you to freak out. But I'm telling you do you don't freak out .. so don't freak out. He came in and told us. Tiffany asks why did he choose me? Paulie says I don't know .. I think he thinks the whole house doesn't know and he;s trying to throw off the fact that its him. What are you paranoid about? Tiffany says I'm worried that I'm getting backdoored.. and that I'm supposed to throw the comp .. so that its an elaborate plan to get me out. Paulie says that's not going to happen. Vic is going home and if its not him its Paul or Bronte. Tiffany says so I'm going to be on the block all f**king week!! You guys would be stupid to not vote him out .. because I would vote for all of you to stay. I'm a trustworthy person! Nicole, Michelle, Zakiyah, DaVonne and James join them. Tiffany says I really hope you guys aren't screwing with my head. Tiffany starts crying. They tell her she's fine and has nothing to worry about. Tiffany says I'm not upset with him. I just wish he would have told me. I'm not going to freak out on him. Tiffany says I hope this works out. When I had a gut feeling .. I'm paranoid for a reason. James says we got you! We Got You! Paulie tells her that Frank will come to her and tell her sooner or later.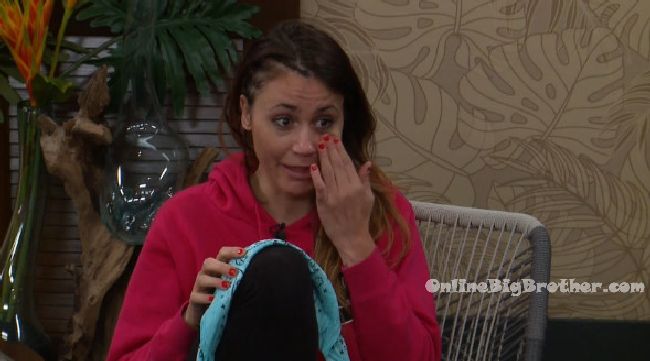 Paulie talks to Michelle. Michelle tells him that she thinks a girl needs to go soon. Paulie says well not this week .. I need Vic to go. Michelle says no yeah but next week.
10:55pm In the bedroom – Tiffany says tells Natalie, Bronte and Bridgette that she is going up. She tells them how Paulie told her after she had asked Frank and he lied to her. Tiffany says that she now knows that Frank lied to her.
11:05pm Frank comes up and asks did you tell Tiffany?! I told you I didn't tell her .. I denied it. F**K. Paulie says I told her that you probably didn't want to tell her because she would freak out .. just like she is now. Paul joins them and the conversation ends.
In the kitchen –
DaVonne tells Tiffany if it come down to it you know you have to throw it right? Tiffany says 100%! If I get screwed then I get screwed anyway because then someone lied to me.
11:25pm HOH room – Paul shows Nicole his "Love Sucks" tattoo. Nicole says its small and simple. Paul says just like you.
11:30pm – 11:35pm Natalie tells Bridgette that she only has these brainstorming sessions with her. Bridgette syas she is afraid to have them with Bronte because she is still so close with Pual. Bridgette asks you know what these boys are doing right .. you know that fight with Victor and James and sh*t to manipulate you. Obviously that was fishing to get you to find your own team. They have planned already for the next f**king weeks target so that you will vote out Victor when they're ready. They're thinking weeks ahead! We need to plot and plan like they do. And I think we have the ability to do it. Natalie says wait can you repeat that again.. everything. Did they fake the fight?! Bridgette says I don't think they faked the fight they definitely made it more extreme than it ever needed to ever be. The way Frank approached you in an almost intimidating way but acted like oh I'm just being a friend and I have your back.. this is why I want to tell you … da da da .. he is using your emotions, he's making you feel vulnerable and sad and like almost used by Victor. Natalie says Victor is a jerk. Bridgette says yes. But you see how he made you feel vulnerable and confused .. then he comes in 2 hours later asking how are you voting .. if you want to be with the strong men .. alliance. He builds himself up and at this point he's already divided you from Victor and potentially James and singling you out. And he's using your emotional pull. Like that takes f**king planning. Now they're trying to get Victor out and you're already on board. Natalie says I wanted Victor out for a long time .. so when the opportunity presented itself it was perfect. Bridgette says you see how they have a plotted plan where everything is falling into place. They're executing and planning and we need to do it. We need to pick 1 or 2 targets and plan for next week or even this week. Just because we're not in power doesn't mean we can't shake sh*t up! Plan and execute!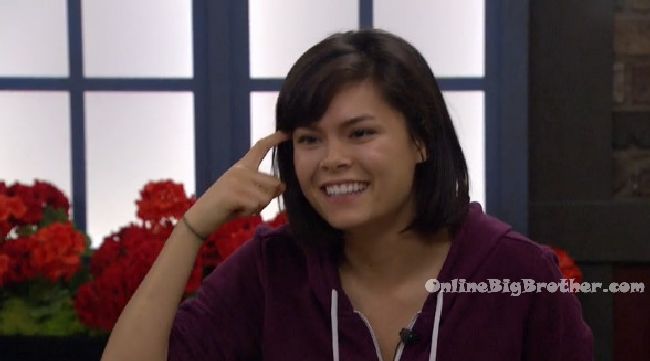 Nicole tells Victor that she will tell him if she ever wins too (Roadkill comp). He wants her (Tiffany) gone. Victor says so that's two solid, three solid. Nicole says Frank wants her gone. Victor says and Natalie. Nicole says that's 5 .. at least. But she can't find that out because she's on my team. Vic says she will go crazy. With her gone the house will be less…uncomfortable. Nicole agrees and then leaves.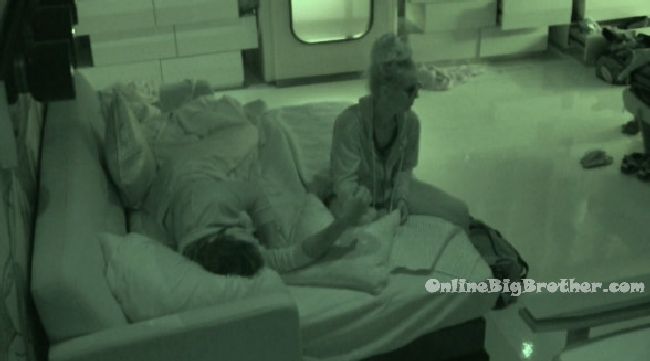 Meanwhile, Vanessa .. I mean Tiffany is waiting to nominated..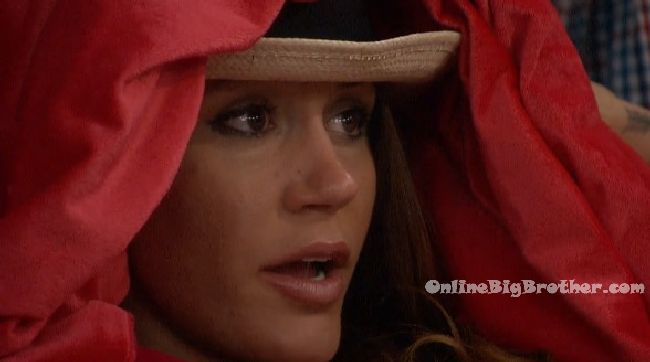 12:08am Big Brother blocks the live feeds for the Road Kill nomination…
FLASHBACK and watch everything you missed: CBS All Access FREE Trial!

[polldaddy poll=9459672]