POV Holder:
?
POV Competition
July 1st?
POV Used
?
POV Ceremony
July 3rd?
HOH
Paulie
Next HOH
July 7th
Roadkill Competition Winner:
Victor
Original Nominations:
Paul and Bront
After POV Nominations:
? and ?
Have Nots
?
Watch the 1st WEEK of the live feeds for FREE:
Big Brother 18 Alliances Help Guide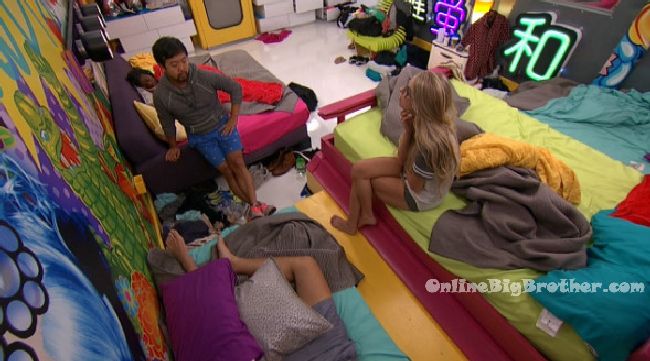 7:35pm Frank and Nicole are talking. Nicole says I did so much last week and I don't want to go up. Frank tells Nicole he doesn't think she is going to go up. Frank says I think he's (Victor) going to put up James. Nicole asks Frank thinks Paulie is going to talk to Victor and try and get me put up .. because I put him up. Frank says no Paulie is cool with us. James walks by and they call him over. Frank tells James if Victors name gets pulled in the veto .. you can try and win it and use it on Bronte or Paul. James says oh yeah I would try and win it. Frank says if he (Victor) does win it …it would be best to vote out Bronte. James agrees. Nicole tells James that he acted so calmly. Nicole says I'll be fine… its just the way I found out that was weird. James says either way we've got the votes. Nicole tells James I have a feeling its going to me your you. I jsut wish I would have heard it from the source Paulie and not Tiffany. James says I don't think he will put me up unless he knows he has the votes. James says I noticed Tiffany doesn't compete well in comps. Nicole says that's why she should go up. Nicole says I'm a girl ..when I see my face pop up on that screen its like post traumatic stress disorder. James says Victor thinks he has Frank and Paulie on his side. James says there are too many people that know we're working together. Nicole says how does Paul know we're working together. James says because of the 7-4 vote and he knows who the four are.
8pm Cam 1-2 HOH room – Paulie says in the off chance Vic did win .. I think we're going to continue to play in teams ..its only a matter of time before we get Vic out. James says I'm going to have to continue to throw them. Paulie says come tomorrow comes and his name (Victor) doesn't get pulled we might as well say goodbye to him. As long as its not the roadkill nominee that wins. James says I might just sit down and not even play. Paulie says I think at that point it will hit him. At that point I would just sit him down and say its time for you to go. James says he doesn't want Nicole to go up.. she's got enough blood on her hands. Paulie says I don't think she has too much heat.. she got out someone who everyone wanted out. Paulie says the girls just need to calm down. James says it will be all good, we'll get it done.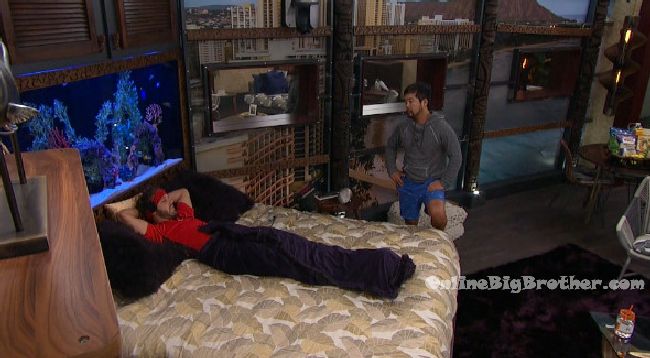 8:05pm Natalie, Bronte and Nicole are talking. Bronte says she feels like the girls are doing pretty good. I want a girl to win, I don't care who it is. Bronte says that Jozea was constantly cornering her .. and that she had a sigh of relief when Jozea went home .. I'm on the block and I feel better than I did last week. I really want to make it to the jury so that I can vote for a girl to win. Frank joins them.
8:10pm HOH room – Paulie, Michelle and Tiffany are talking. Paulie says he doesn't need anybody tipping Vic off about the plan. Paulie says there's no way around Vic not going home this week. Tiffany says unless he gets picked and wins. Paulie says but that's a very slim chance.. and I'll go head to head with him. He's gone at this point. Tiffany asks have you spoken with Nicole at all? Is she cool? Paulie says yeah. I said there are two people that are also up there that we want to go home. You have nothing to worry about. Tiffany asks what if Vic pulls Paul off who would you put up? Paulie says Natalie. Tiffany says oh yeah I keep forgetting there's her too. What's your gut saying on who he's going to put up? Paulie says my gut says James. Paulie says all you guys should just be sitting and chilling. Paulie says last week I thought I better not go home over this guy (Jozea) and I trusted you guys and he is the one sitting out there playing with himself in his underwear. Zakiyah joins them. Tiffany says you can tell Michelle is an emotional player .. she doesn't think positively about a situation. Paulie says she's a super fan and doesn't want to go out before some of these people. Tiffany says is going to go talk to Michelle. It's my paranoia. Paulie says if you get paranoid come talk to me and I'll talk you off the ledge.. I need you to be a beast.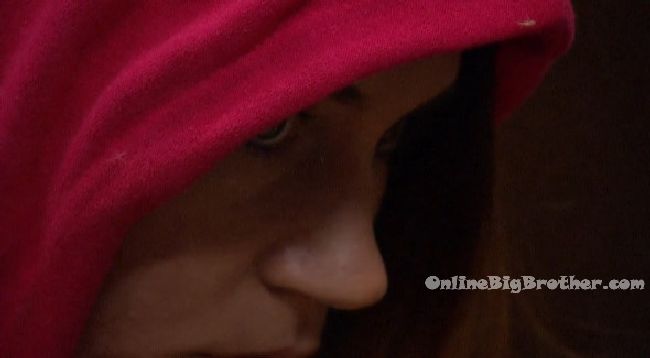 8:35pm
Victor and Frank are talking. Vic says for 1 I think it would be to obvious and 2 I don't think he would get many votes. I think we can use Bronte and Paul to our advantage. I think we can get Corey, me, you, Natalie and maybe even Nicole. Frank says yeah I think that's possible. Victor says we just need 5 .. and get someone (Tiffany) out that is making people feel awkward. Vic says she is always staring. Frank says I know blink for a second. Frank says I think Corey is going to be good. Vic agrees. Vic says hopefully one of them (Paul or Bronte) come off. Frank says and that's another vote too.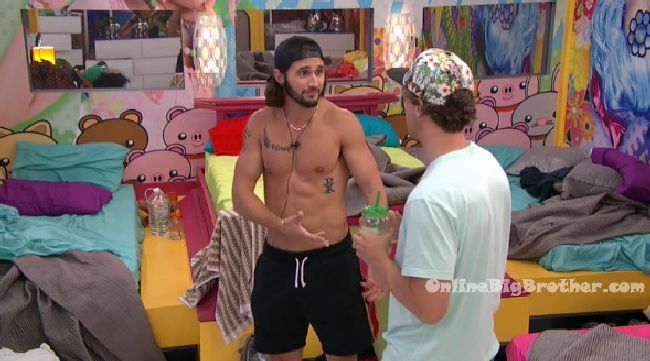 See what they can't show you on TV – CBS All Access: 1 WEEK FREE Trial!
8:45pm – 8:50pm In the bathroom – Nicole tells Victor that she is worried because she heard something about her name. I don't even know what's going on. Vic says just relax.. I won the competition. I did it in like 10 seconds. I did it the first time. Nicole so you're not going to put me up? Vic says I'm going to put Tiffany up! Nicole says thanks Vic. Vic tells her to relax. They hug. Nicole says she's on my team but she's sketchy. Thank you.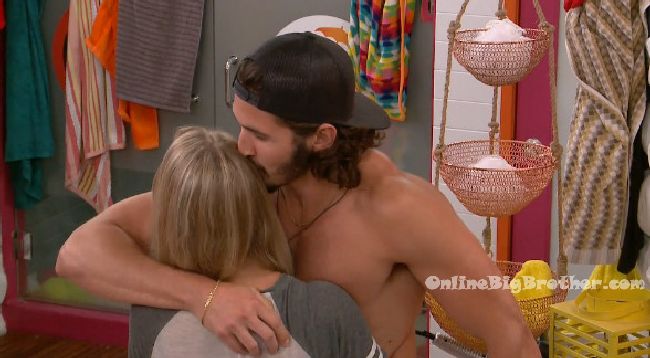 8:50pm In the bedroom – Victor tells Paul that he thinks the best move for him and Bronte is for me to put Tiffany up. This is the best thing I could have done. I've got to put my feud with James aside for a minute. Frank says Tiffany is a math tutor and she didn't even get that comp. Pual says if I pull my own name I think it would be best for me to pick someone weak to play. Frank says like Zakiyah. And she's from your team so no one would be the wiser. Paul says sand then I just have to beat Paulie. Victor says Paulie said it wasn't that they switched votes .. it was that Jozea was talking so much and Paulie wasn't saying anything. I don't think I'll get a chance to win HOH with James on my team. Vic tells Paul what freaks him out is if Paulie backdoors him. I feel like I would have a better chance with Tiffany up there.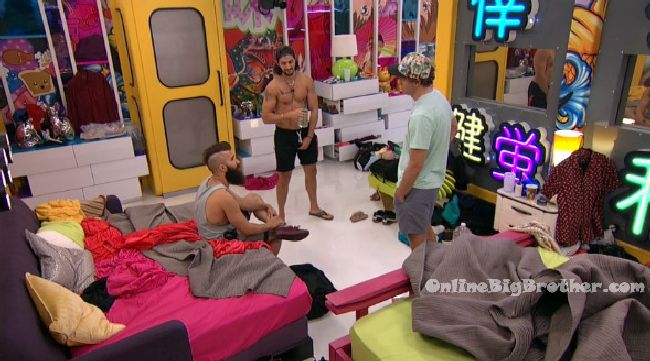 9:35pm – 9:45pm Bronte says I could never make up a blunt faced lie … I'm not that creative. James says I think everyone is just trying to figure out who got nominated for that roadkill thing. Tiffany thinks its going to be a girl. James says that Victor wanted to nominate me but then he asked Frank if they even had the votes to get me out. Phhhh.. I would rather he did nominate me. Bronte tells Natalie if worst comes to worst and I'm going home I want you to tell me. James says I told her (Natalie) if it comes down to me and you .. I don't want her to vote for me. Tiffany and Bridgette join them.
FLASHBACK and watch everything you missed: CBS All Access FREE Trial!

[polldaddy poll=9459672]