POV Holder:
?
POV Competition
July 16th
POV Used
?
POV Ceremony
July 18th
HOH
Paulie
Next HOH
July 21st
Roadkill Competition Winner:
?
Original Nominations:
?, ?, ?
After POV Nominations:
?, ?, ?
Have Nots
?, ?, ?
CBS All Access: Live feeds are only $5.99 per month – Try it FREE for 1 WEEK!
Big Brother 18 Alliances Help Guide
10pm Living room – Paul tells DaVonne and Nicole that Tiffany was lying to Bridgette and Frank saying you're not my target ..and they made me do it. DaVonne says no she did not! Paul says she was saying I've played an honest game. They made me do it. Miss information .. they told me all the wrong things. You were never my target. They asked her who told her and she said Day because apparently you told her that Frank was after her. When I say that she's got to go .. she should have gone. Now she's going to throw us all under the bus .. align with Frank and grow stronger. Day says Frank does not think you were involved in a flip at all .. Her (Nicole) he does. Paul says she is a con-artist.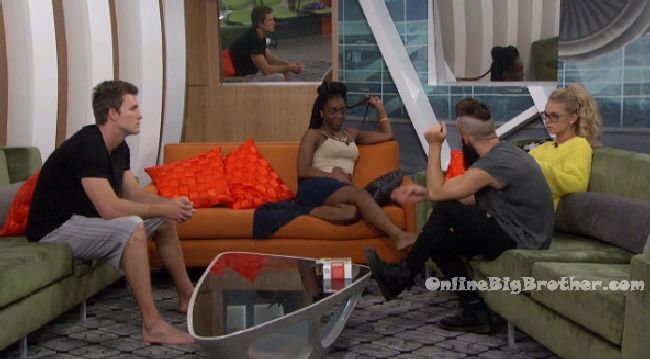 Paul "Tiffany was lying to Bridgette & Frank saying you're not my target.. THEY made me do it" #bb18 @bigbspoilers pic.twitter.com/NV9fiwpqbb

— Dawg (@DawgsBigBrother) July 15, 2016

10:10pm Nicole and Corey are talking in havenot room. Nicole says I feel bad.. I'm playing hard this time! Do you think I'm a bad person? Corey says no not at all. I got Frank off our backs for sure. He's good with us. It might stir up problems later. He definitely does not trust Michelle because she said I swear to god if Tiffany goes up I'll vote her out. And Frank was like well did you vote her out this week!? And she said ummm yeah. I was watching .. it was just us three and I was like there's the one vote. I told him lets get Day out. I'm a 100% on board. Nicole says but Paulie doesn't want Day out. Nicole tells Day about how Tiffany threw her under the bus. Nicole says some how whatever you said to Bridgette got back to Day. Just try not to associate with them. Corey says we've got you. Just try to be cool with everyone this week. Nicole says you can do what ever you want to do. Tiffany says I could prove it right now that I didn't. Tiffany says can I be honest.. I don't trust Day. Nicole says I know. I think its gotten back to her. Did you tell that to anyone? Tiffany says no. Nicole says Paul some how knew and it got back to Day. Everything gets back to everyone. Tiffany says all I said was I wanted to get information about Frank's situation. Why is Paul doing that?! Corey says I've got Paul under control. Tiffany says oh my god!! Corey says just say you're putting the game on hold. Pump the breaks. Say you're cool with what ever everyone else wants. Nicole says just please don't go to Paul with that or Day. Tiffany says I won't. Nicole says I would keep my mouth shut though. Tiffany asks why would Paul say that. Nicole says I wish now I didn't open my mouth .. because now I think you're going to go try and figure it out. Tiffany says she won't
FLASHBACK and watch ALL the DRAMA CBS All Access 1 Week FREE Trial!
If you don't have the #bb18 live feeds you're missing ALL the #DRAMA https://t.co/RlJcbe4JUf@bigbspoilers pic.twitter.com/DHIN9T3Z9c

— Dawg (@DawgsBigBrother) July 15, 2016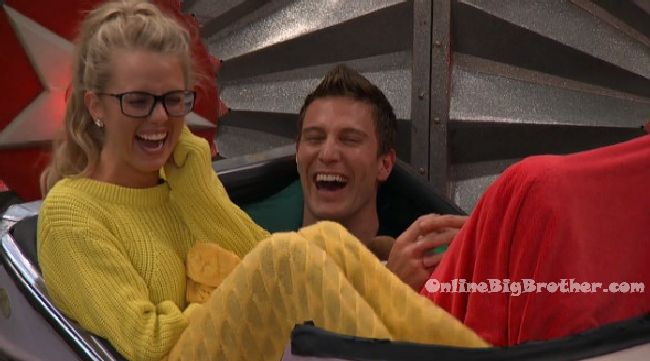 10:20pm Frank tells Bridgette you or me need to win HOH next week. Bridgette says I'll try. Frank says I should have never talked so much this week. I just get impatient. You're the only one I trust 100%. Bridgette says you're the only one I trust.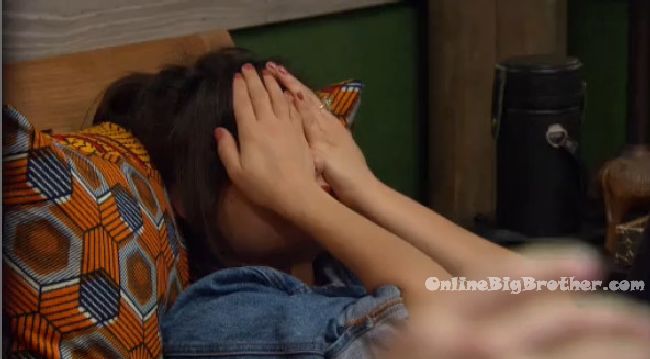 10:30pm – 10:45pm Paulie tells James, Nicole and Corey that he is going to put Natalie and Tiffany up. Nicole and Corey say they're down with it. James says he's down. We don't need her to take out Frank. Paul's a super intelligent and physical guy. You have both, You have both, Day has both, Z could possibly have both. Him and Bridgette would have to go through that entire line of people. After that maybe Paul goes, and then someone else who is blowing sh*t up. Nicole says I'm proud of you .. you come through. Paul joins them and says that Bridgette was playing with Day's jewelry. She picked it up and asked who's is this?! Frank was like Days and she f**king dropped it in the thing and was like ..whoops!!! Nicole asks dropped it in what thing? Paul says through the crack. Nicole says you're kidding me!? Paul says Frank said you little sh*t. And Bridgette said I'm feeling disruptive. Nicole says That is evil. DaVonne joins them. Paul says you've got to promise me on your life that you're not going to say or do anything. James says they talked about your baby. Nicole and Paul say no. DaVonne pinky swears with Paul. Okay. Paul tells her what Bridgette did. Nicole says Day was expecting something way worse the way you set that up. DaVonne says B***H!
FLASHBACK and watch everything you missed: CBS All Access FREE Trial!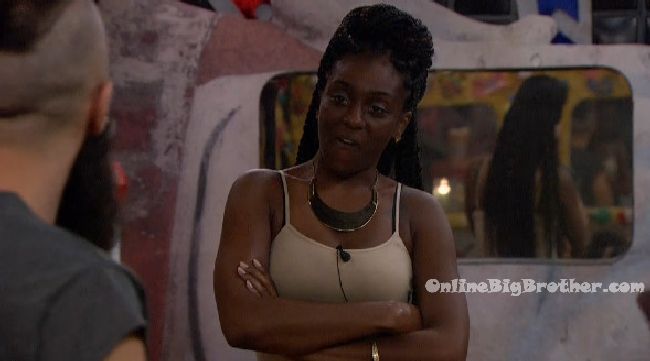 10:50pm Frank tells Bridgette we need to be able to trust Nicole and Corey. We need to roll with them and make a final 4 deal with them. Bridgette says okay.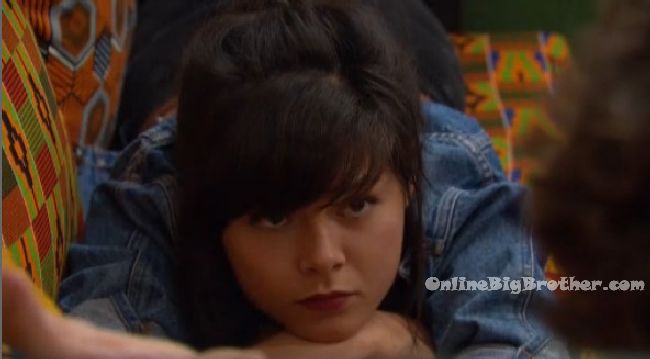 11:25pm Storage room – Frank and Nicole. Frank says I figure it was me, you, Corey and Paulie (the votes). Frank says he was talking to Bridgette about making something official with you, her and Corey. Nicole says I heard she was rolling her eyes behind my back. Frank says she honestly likes you. Frank says we have no other choice. Nicole says I don't want it to be because you have no other choice, I want it to be because you want to. Frank says I've never done anything to cross you. Nicole says I would love to work together moving forward. Nicole tells Frank that Michelle told Day he was targeting her.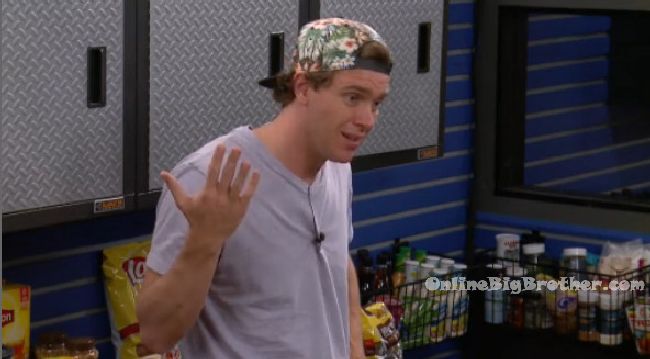 12am The house guests yell happy birthday to Bridgette.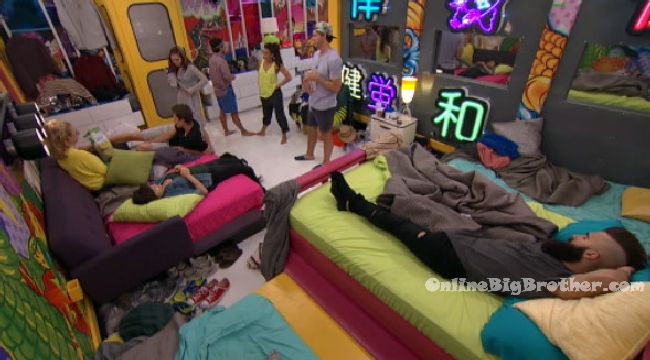 12:20am – 12:30pm Paulie comes out of the diary room and says WHO WANTS TO SEE MY HOH ROOM!!!! All the house guests head up to the HOH room.
Paulie reads his letter from his Dad:
SCUBO BABY! Dude HOH! Well done! Not Bad! Not Bad! Enjoy the entire experience! Have Fun! I've had Angelina leave her shoes and shirt on the kitchen table and a couple of shirts on your bedroom floor so as to remind me of you still being here at home. Stay true to yourself and keep smiling. You have all our love and support. We all miss and love you very much. DADIO!