POV Holder:
Corey
POV Competition
July 16th
POV Used
?
POV Ceremony
July 18th
HOH
Paulie
Next HOH
July 21st
Roadkill Competition Winner:
Tiffany
Original Nominations:
Tiffany, Natalie, Corey
After POV Nominations:
?, ?, ?
Have Nots
James and Natalie
CBS All Access: Live feeds are only $5.99 per month – Try it FREE for 1 WEEK!
Big Brother 18 Alliances Help Guide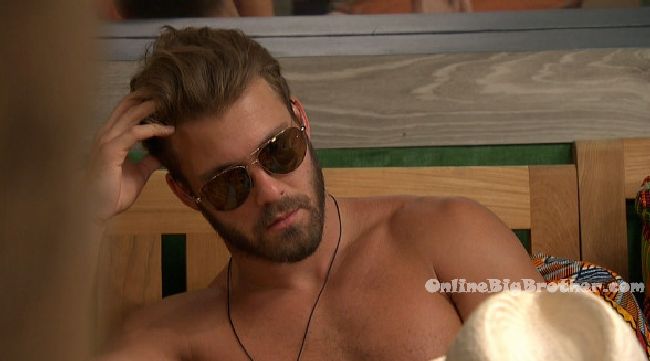 3:35pm – 4:25pm Tiffany talks to Paulie in the safari room. Tiffany says at this point I have nothing to lose and I want to be completely honest. I've been playing so wrong this whole time. I've been played like a little rag doll this whole time. Tiffany tells Paulie about the eight pack and how it formed. I wanted to work with you really bad because of our siblings. Michelle, Day and Nicole told me I couldn't trust you. Nicole didn't trust you and thats why she put you up. The day after the eight pack was formed the fatal five was formed. I know you watched my sister play but I am so far from how my sister plays. Paulie says I just said that to throw you off before the veto. Tiffany says I'm not a 10th of a player my sister is. No one tells me any information, those b***hes have been so mean to me.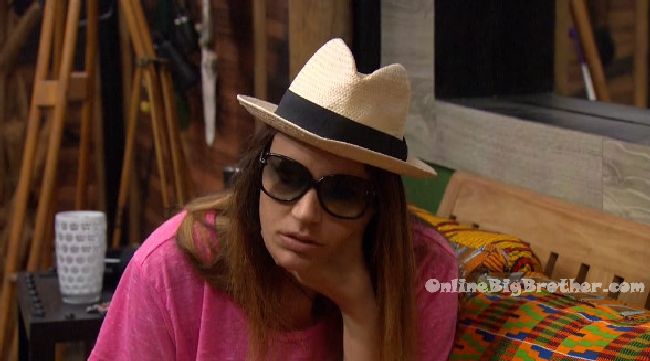 Tiffany says I don't trust her (DaVonne) as far as I can throw her. I wouldn't be coming after you. There was just a lot of misinformation thrown around. Paulie says same with you and Frank. Tiffany says that Day went out 2nd on her season and so she was willing to do whatever it takes to f**k sh*t up to stay. Paulie asks why don't you and Frank confront her? Tiffany says I will. Her game will be blown up to everyone! She was playing me hard!! I think it would be golden to have her F**King a$$ sent home this week. I wish you would have trusted me sooner. Paulie says she is trying to tie up her loose ends by pointing the target at you. Tiffany says Day also wanted Paul out. He's on her team and she still wanted him out. Paulie says she must see him as a threat. Tiffany says I just feel like I got caught in the… Paulie says wrong web. Tiffany says yes. James would be very loyal. So would Corey. I don't know about Nicole. I've heard a lot about her. She has a final two with Frank. She said to be the best I want to beat the best. She's not this naive southern girl. She knew she had to play dirty this time. Frank talks a lot but at the end of the day he is good to work with. Bridgette has been loyal to Frank. Paul lose lips. Paulie says he's a loyal dude once he finds the side he wants to be on. Tiffany says I don't think the girls are to be trusted in this house. Bridgette maybe because she's never crossed me, those other girls crossed me hard. This whole time I just wanted to have a loyal solid group. Paulie says I felt bad after what I did to you before the veto .. it was a game move. Tiffany asks what made you decide to put me up? Paulie says because of the blow up thing and Frank wanted you out so I was honoring that. Tiffany says I am 1000% going after those girls. I'm not going after you or anyone you're working with. You can use me as a pawn and put me up next week. I'll go after the people you want me to go after. Paulie says Frank wanted to have you and her (Day) up there together. But we could always put her up with the roadkill. Tiffany says well i can definitely make that happen. Paulie says well Corey is taking himself off. Tiffany says I'm just tired of being f**ked over by those girls. Paulie says well thank you for this talk. The hug.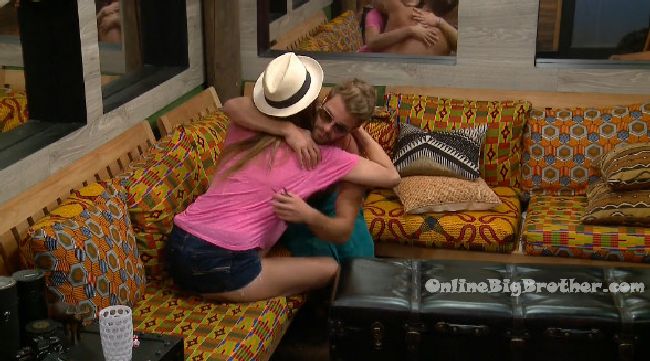 In the kitchen – Corey asks James – Hey James do you want to play some pool later? James says yeah! Corey says I don't!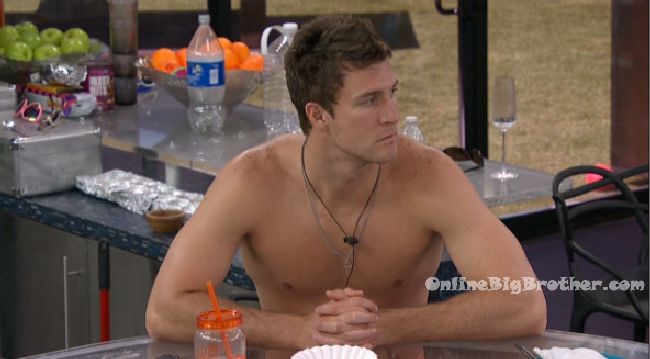 4:35pm – 5:05pm Backyard couches – Paulie tells Corey .. you me and James need to cross reference. I don't believe Tiffany .. she's going this week. DaVonne has to go too. Tiffany confirmed so many things. Corey says I know. Day is shaddy. Paulie says I don't know if all those girls are still in an alliance. We have to clip Day first. I know that Day is lying about a lot. Corey says you know how Day said Frank called her a sl*t that never happened. Frank says he doesn't even say b***h. And he's loud. Corey says right now lets get Tiffany out. Paulie says the reason I want to get Tiffany out is because Paul said they're coming after me next week. Corey says Tiffany owes me everything at this point. Paulie says I just don't want her up there two week in a row. Corey says I know. Day is making alliances with everyone. I am down to send her .. because Tiffany isn't coming after me or you. We need to look into it more. The last thing we want to do is send Day home if she's a vote for us next week. Frank joins them. Corey says that everything that Tiffany says adds up. And the things DaVonne says doesn't. Paulie says we've been saying for a long time we didn't trust her (DaVonne). There is no reason to be crying (DaVOnne) when Corey wins the veto…. unless you're doing some sh*t. Frank says what I am worried about is if any of those 4 win Day can get in their ear. Nobody is going to team up with Tiffany. Right now she thinks she's with me. Corey laughs about the fatal five girls can't win an comp to save their lives. Tiff won one. Frank says and it will be her last. I think Tiff would throw it to us next week and then we could take her out. Frank says far as this sl*t bullsh*t I am pissed. I want to call her out on it but I can't do that again.. I would just look like a bully. Corey asks who could we get to vote out DaVonne? Frank says me, Bridgette, Paul, you and maybe James. Big Brother blocks the feeds.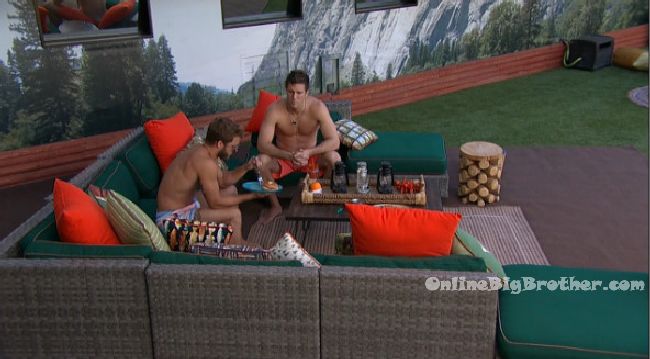 5:15pm – 5:30pm Backyard – James and Natalie talking. James tells Natalie that when he wins HOH he will make deals. Not to put up me or you for 2 weeks and if they break it .. then I will let everyone in the house know you can't be trusted. Don't win any comps in hte first half of the game.. let your social game carry you through. The in the second half you turn it up and start winning. Natalie says I do like Bridgette as a friend but not for what she said about me. And I don't like that she wasn't sad when Bronte went home. That was weird to me.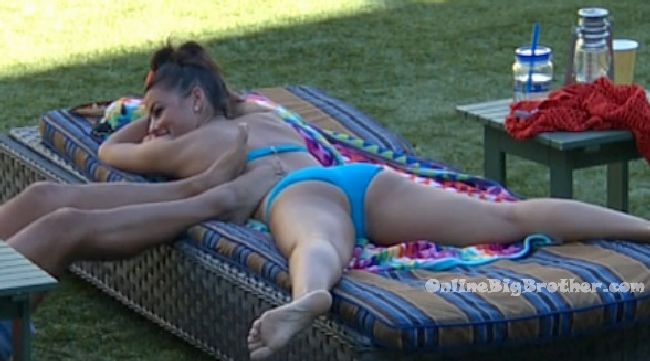 6:05pm Frank and Nicole. Frank tells Nicole that Day said I called her a Sl*t and Wh*re. People at home see that and know but it kind of makes me look like a sh*t head. Frank asks if Nicole will vote to keep Tiff. Nicole says if you have enough votes, I don't want to be left looking like an a-hole. Frank says I'm working on it. Frank tells Nicole that he wants to bury the hatched with her. The eight pack was really tight and then Day f**ked it all up. I'm pissed! Keeping Tiffany gave me and her the opportunity to compare notes. Nicole says I heard Tiffany sticks her tongue out at me behind my back. Real mature! Frank asks who told you that? Day?! Nicole says I can't say. Nicole asks you swear you have my back? Frank says I swear. You know how great it will be for Day to be up on the block against Tiffany and she goes home!!That would be perfect.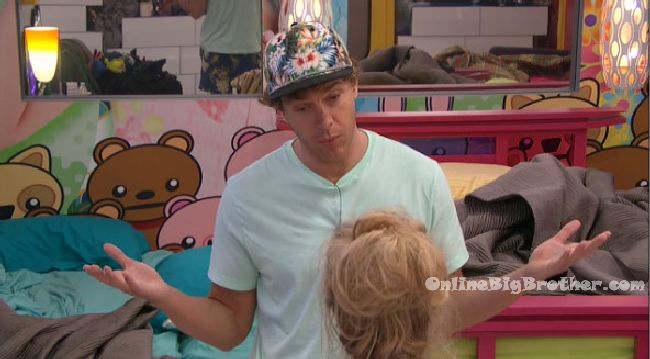 6:20pm London bedroom – Michelle , Nicole and Z are talking. Nicole says Frank asked her about the sl*t thing. I played dumb and said that Day hasn't said anything to me about it. Michelle goes to the bedroom and tells Day Frank calling you a sl*t is the topic of conversation. I don't know why it happened weeks ago. Day asks why isn't Z being vocal about it? He called her a sl*t too. Michelle says I don't, he needs to go. Day says her too. (Bridgette) Day says every time I step out of this room he has one of my friends cornered talking about me. Nicole and Corey join them. Day starts crying about how Frank called her and Z a sl*t and why doesn't she say anything about it. I'm just tired of it. I'm sick of it. I get it, you want me out of this house. According to you I'm out of here. Nicole says its falling on deaf ears. Michelle says he wants you to seclude yourself. Day says for the next couple of days I don't want to talk game. I was so close to throwing Bridgette's cookies in the trash. Michelle says I'll do it. Nicole says just know we've got your back. Z joins them.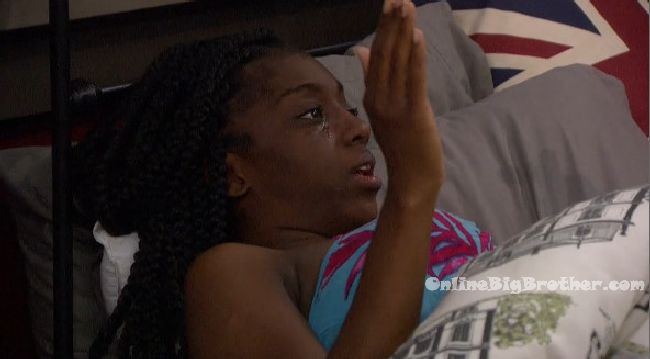 6:30pm Paulie tells Paul that Tiffany is going this week I'm not falling for that sh*t. Tiffany told me everything and Day is sketch. She still has to go. DaVonne is making up all these lies. Although I want Day out.. Paul says Tiff first, then Frank and Day. Z joins them. She brings up how she overheard Bridgette tell Frank she found out a lot of things. She stopped talking when she heard me. Day says I'm trying to figure out who talked to Bridgette and told her stuff. James joins them. Michelle tells James how Natalie was stroking Paulie's leg. James says oh really?! Michelle says it wasn't for long but she also said I give great ear massages. James says he will talk to Natalie tonight and ask her and if she lies to me I'll cut her.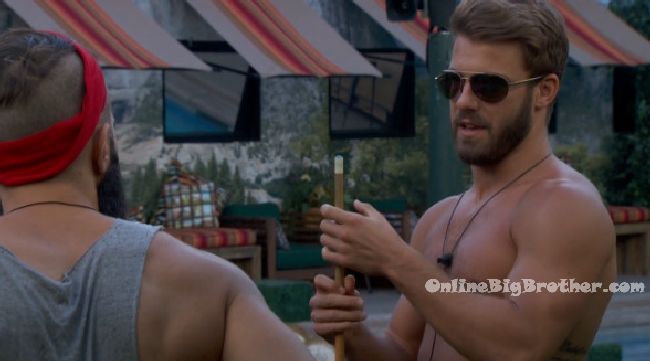 6:35pm – 6:50pm Bridgette, Corey and Frank are talking. Corey tells Frank about how Day is pissed about you calling her a sl*t. Frank says I know I'm pissed about that. I don't talk like that. She is nervous because her dirty laundry is out in the air. Corey says I wanted to ask her why she cried when I won the veto. Frank says i guess it makes sense if you're not good at competitions and not that likable … then make up lies. Tiffany joins them. Frank says we want her (Day) to freak out on you… the more she freaks out the more people will want her out. Its still early but its look good… I think we've planted some really good seeds. Tiffany asks can we trust Paul? Frank says I think so.
7:10pm – 7:40pm London room – Paulie, Michelle, James and Z are talking. Paulie says that Tiffany thinks its sinking in but she wasn't even looking me in the eyes. She's going home and then I'll use the information. Michelle asks do you think Paul is leaking stuff? Paulie says he came out of there and told me everything. He (Frank) needs to go .. someone needs to win HOH and put him and Bridgette up and send one of them packing. Paulie tells Michelle and Z how Tiffany called all the girls liars. (Day, Z, Michelle) Frank joins them. Michelle tells Frank to let it all blow over .. you can't freak out. Frank says she got cocky last week trying to flip some votes to keep Tiffany .. that allowed Tiffany and I to compare notes and figure out all the lies she's been telling. To be honest she can't win competitions and she's not that likable.. that's why she tells lies. I want you to rock with me. Frank tells Michelle you need to be nicer to Bridgette. Michelle asks why you're just going to choose her over me. Frank says no I wouldn't. If you have her back, she will have yours. She's loyal. Michelle says next week if I win, you both are safe.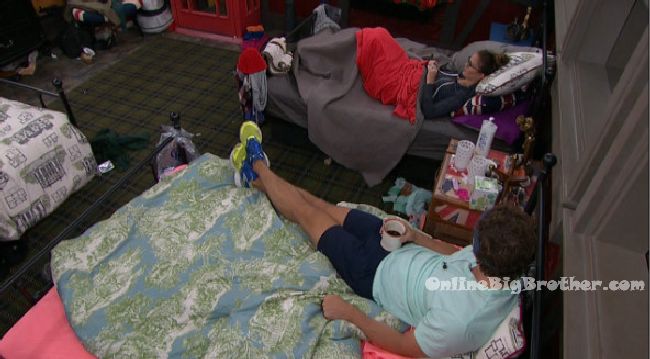 7:10pm – 7:30pm Nicole goes to talk to Day in the hammock. Nicole asks how Day is? Day says I'm just living. Nicole says he (Frank) is mad about the s-l-u-t thing .. he's upset that all the live feeders are hearing it. Day asks are you serious?! He call Z one too .. why is she not saying it. Nicole says he said its not in his vocabulary. Day says I called him a douche and then he said alright then .. looked right at the camera and said I was a sl*t. Nicole says yeah that's bad. Day says I don't care if I don't win the game .. I at least want to be able to beat Frank. Does Paul make you nervous? Nicole says I don't know. Day says he is really good at the back and forth. Nicole says right now I do trust him. Day says if he is playing both sides just as he is telling us everything .. he might be telling them everything.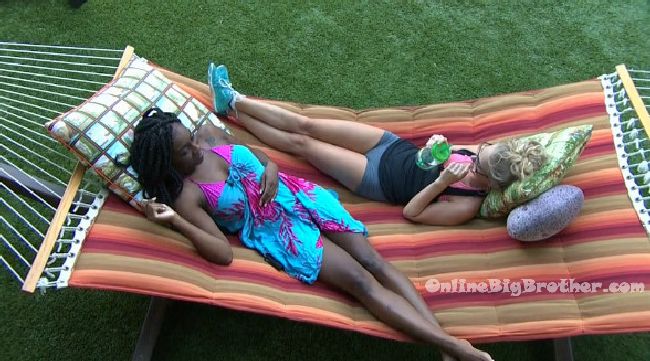 [polldaddy poll=9471428]