POV Holder:
Corey
POV Competition
July 16th
POV Used
?
POV Ceremony
July 18th
HOH
Paulie
Next HOH
July 21st
Roadkill Competition Winner:
Tiffany
Original Nominations:
Tiffany, Natalie, Corey
After POV Nominations:
?, ?, ?
Have Nots
James and Natalie
CBS All Access: Live feeds are only $5.99 per month – Try it FREE for 1 WEEK!
Big Brother 18 Alliances Help Guide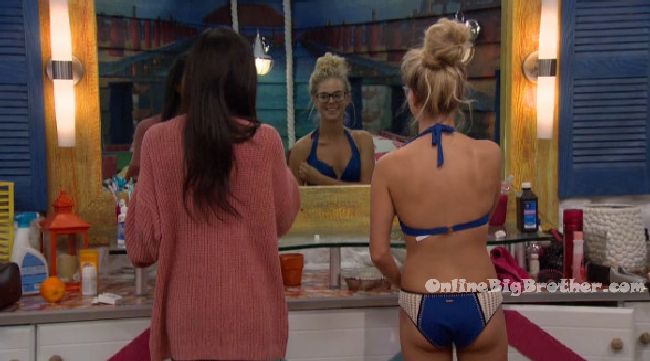 11am Big Brother wakes up the house guests. Big Brother calls Frank to the diary room. Paulie asks Corey does Frank have to take medicine every morning? Is that why he has to go to the diary room? Big Brother blocks the feeds.
In the bathroom – Nicole asks Z if they (Paulie & Z) kiss or anything? Z says no. He kissed my back a few times. Nicole says awww. Z says its about time something got kissed. Frank joins them and talks about how Corey was sleep walking last night. The last thing I need is the biggest guy in the house sleep walking. Frank and Z are talking alone and he tells her that he didn't call DaVonne a sl*t. He thinks it was misconstrued from people playing telephone. Frank apologizes to Z for popping her on the butt a few weeks ago. I do that all the time with my nana and I didn't mean anything by it. Z says I know, its okay. I figured.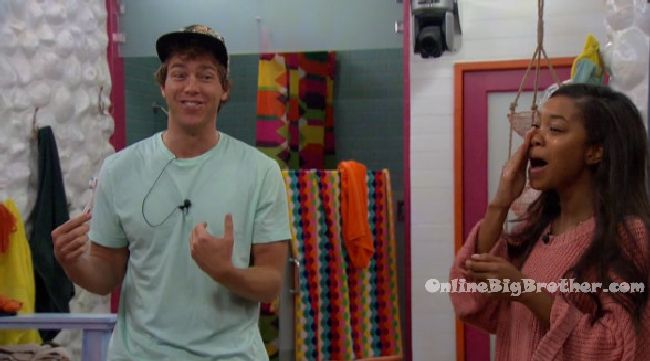 In the backyard – Nicole and Paul are putting the awnings down and one falls on Paul.
The awning falls on Paul causing the feeds to be blocked @bigbspoilers #bb18 pic.twitter.com/vA5damNmev

— Dawg (@DawgsBigBrother) July 17, 2016
HOH room – Corey and Paulie are lying in bed talking. Paul joins them and is holding a bag of ice on his face. He tells them about how he got hit with the awning.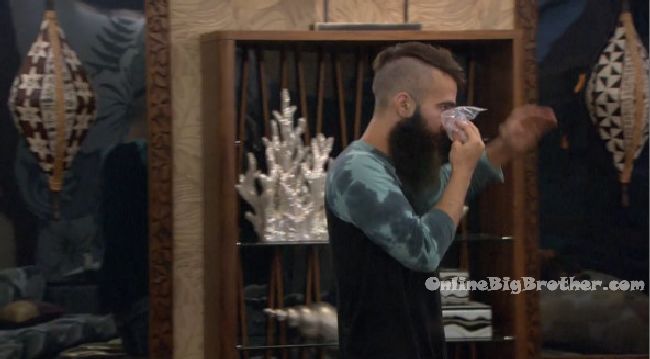 11:20am – 11:40am In the bedroom – Z tells DaVonne about how Frank came to her and said he didn't call DaVonne a sl*t. DaVonne says that Frank is now going around trying to say he didn't call me a sl*t. He looked right at the camera when he said it but okay! I can't believe he is trying to say he didn't say it. Z says she's witnessed him lie twice now, right in front of my face. Him, Bridgette. Does he think he has you? Z says no. DaVonne asks James does he think he has you? James says probably. DaVonne says but in reality you're voting out Tiffany, You're voting out Tiffany, Michelle, Corey, Nicole. So her a$$ is out! James says him and Paulie are going to go at it. Two big dogs. DaVonne says Paulie can't play next week but I'm fighting for Paulie. Z says that Frank was saying he was definitely going after the HOH. DaVonne says if he does win HOH he will put me and Paulie up. Paulie will come down. Who would be put up? James says I don't think he would put him up initially. DaVonne says if he doesn't I'll pick Paulie to play in the POV. James says I think the teams will last 1 or 2 more weeks. Z says he's got to go!! (Frank)

11:50am – 12:10pm Paul and Frank are talking in the backyard couches. Frank says I don't really want to use her (Tiff). I would be fine if she goes home next week. I would rather get rid of DaVonne this week. If she wins she will put up two guys. She would probably put up Paulie and I. Frank says if DaVonne doesn't go up ..I will put her up next week. Paul says f**king awnings. Well that resolves me of all my awning duties. Frank says as the dictator of the house I resolve you of your awning duties. Frank leaves. Paul tells Paulie that Frank wants to keep Tiffany and go after Day. Paulie says we need to get rid of Tiffany then. Paul says I'm not worried about any of the girls. Paul says I would put them both up (Frank & Bridgette) and tell him I am just using him as a pawn to backdoor Day. Paulie says if he is up there we have to get him out. We can get out Day another time. Frank joins them and says he just pissed out his a$$hole.
12:40pm Nicoel is teaching Zakiyah how to swim.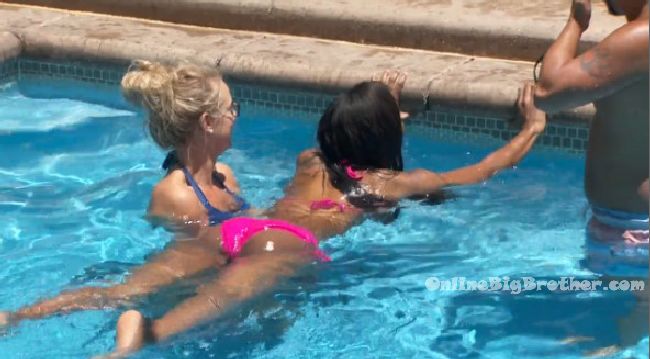 Help support us at no extra cost to you by getting your feeds through us: CBS All Access
12:30pm – 12:55pm Frank and Bridgette are cooking in the kitchen. Meanwhile in the backyard – James, Nicole and Z are in the pool. Paulie and Paul are talking on the couches. Paulie tells Paul that Tiffany saying there was an eight person alliance, a five person girl alliance, and a small guys alliance contradicts everything. Paulie says we get out Tiffany and then we'll get out Day. The only reason why we need to get out Day is because Frank has put in her head a number of times to get me us out. Paul says I've said it since day one that Z is the most beautiful girl in the house. Paulie agrees. Paul says she's cool as F**K.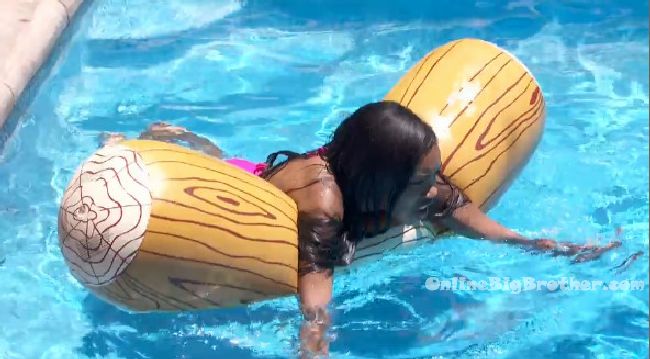 Kitchen – Frank & Bridgett whispering. Frank says one thing that Paulie has to know is that we're dangerous with him. Corey is athletic as hell… he hasn't been competing that well. Yesterday was the first day. Its very possible that Paul and Paulie threw it to him. They were all talking over there on the on the side. Bridgette says why did they all act surprised when they asked Coery not to use it. Frank sasy it really works out well that they're asking him not to use it. Bridgette asks where's James in all of this. Frank says I think James would work with us.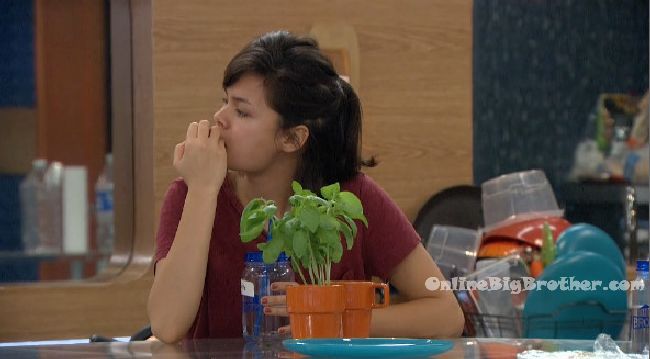 1:20pm Bridgette is doing squats in the bathroom.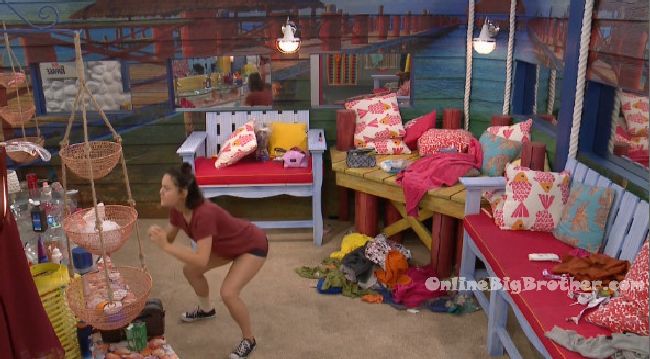 1:30pm Paul, Corey and James are talking about politics. They talk about Obama, Donald Trump, Clinton. James asks how secure do you think the white house is? Paul says you would get snipped if you tried to scale the fence.
2:20pm Backyard suntanning –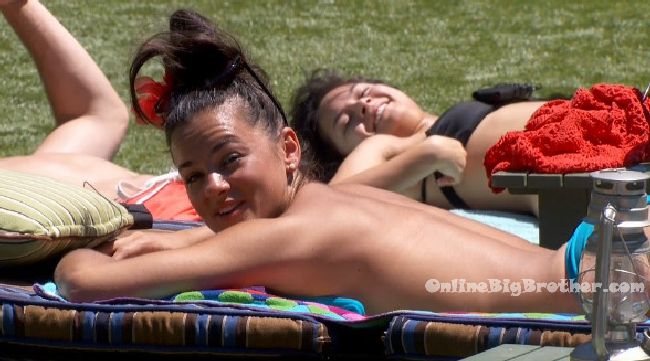 2:55pm – 3:20pm Outside the HOH room – Tiffany and Bridgette. Tiffany says she is very young minded and insecure. She cries about her looks and stuff. Bridgette says I can't stand it. Some people are dying because of liver failure or cancer. Like grow the f**k up.
Tiffany talks about Nicole and how she didn't really trust Paulie in the beginning and that's why he wasn't a part of the eight pack. That's why she put him up. The whole time I was building a relationship with Paulie. Bridgette says he is so against you now. Tiffany says that DaVonne was jealous of us talking and started planting seeds about me. She says that Day was also trying to get me and Frank to go against each other. I was trying to hint to Paulie there was an eight pack but I couldn't outright tell him or else I would go up for exposing it. All this time I was just trying to lay low and gather information. I wasn't stirring anything up. Tiffany says Day and Frank have a final 2 with Nicole. Tiffany tells her about the fatal five. Its not a fatal five any more because I'm out ..its just the four of them. Tiffany says we could have a group .. me, you, Frank and Paul. Or maybe Corey if Nicole is gone.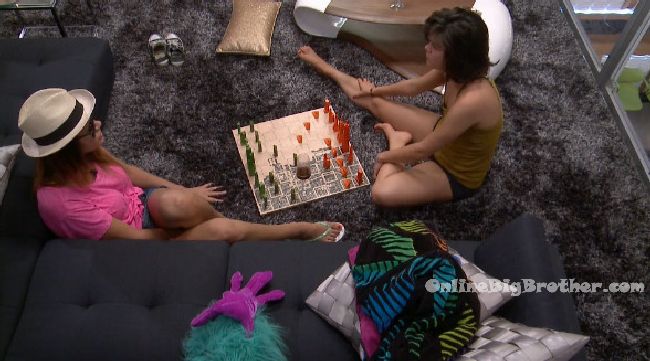 3:15pm – 3:30pm Paulie and James are talking on the lounger. James says I know if I win I will probably just throw them (Bridgette & Frank) up. Paulie says Paul said he would do that too. They keep trying to get me to go after Day .. but not this week .. Tiffany is going home. We've got a lot of Strong players .. he's (Frank) is going to have to be on point if he wants to win. They talk about the endurance wall comp.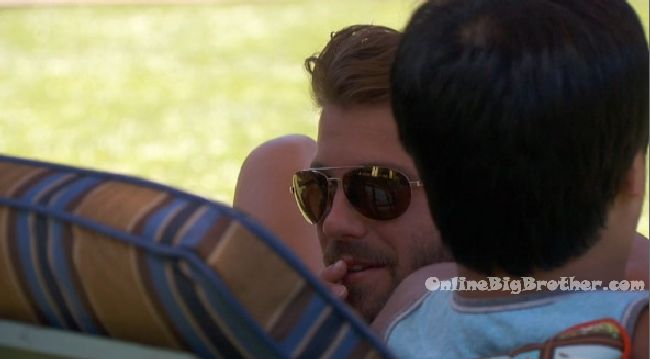 3:30pm Nicole continues to teach Zakiyah how to swim.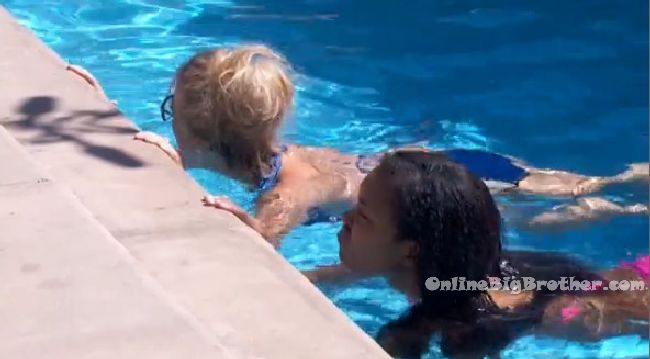 [polldaddy poll=9471428]