POV Holder:
Paul
POV Competition
June, 24th
POV Used
Yes
POV Ceremony
June, 26th
HOH
Nicole
Next HOH
June, 30
Roadkill Competition Winner:
Frank
Original Nominations:
Paulie, Jozea, and Paul
After POV Nominations:
Paulie, Jozea and Bridgette
Have Nots
?
Watch the 1st WEEK of the live feeds for FREE:
Big Brother 18 Alliances Help Guide

12:10am In the bathroom – Nicole tells Corey that Victor said that Bronte is putting you and I up together. And he's putting up you and James. Anyone else on his team are putting up you and James and you're the target. Corey says this is so weird. Nicole says he said that you and James are always pranking. Corey says I haven't pulled one prank. Nicole says anyways you've got to get him first.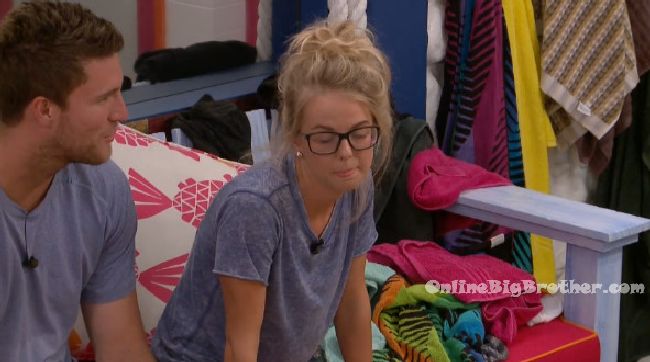 In the safari room – Paulie tells Michelle that Natalie and Bronte were tipped off. Michelle yells are you kidding!? Paulie says that Frank told Natalie to keep to herself but then she ran and told Bridgette and Bronte… because now they're acting weird. Michelle asks are you 100% sure Jozea's going home? Paulie says he planted the seed for like the comp .. he was like look you can have protection.. Michelle asks but he didn't say anything about Jozea going home? Paulie says nope. He was like I'm not voting my teammate out. Its not like he said Paulie ain't going home. I think she 100% went to Bronte because she and Bridgette looked petrified. When she and Natalie were talking and James came in the room they went dead silent. Paulie says the HOH is right after so it works in our favor because the only one trying for HOH is him (Victor). Michelle says the thing that I don't want to happen ..as the weeks progress is like for them to disperse and team up with them. Paulie says no, please keep yourself from thinking that. The plan is to get them all out. The Priority is to get Vic out and then Bronte. Nicole, Corey and Tiffany join them. Paulie says they're not being brought on to our side, Frank just didn't want Natalie helping Vic. Tiffany says this is perfect for Frank now .. because now they're going to go to him. Information is power and should have been a group decision. I just think moving forward that's how we should all operate. Paulie says I think just for a selfish reason of us wanting to see all their faces. I trust Frank's motives. Frank joins them and asks what happened. Paulie says that is obviously clear that Natalie told Bronte.. And Bronte told Jozea. Nicole & Tiffany are pissed at you. Frank says I'm not worried about it. Tiffany says that Jozea knows now. Frank says you don't know that! You're speculating.. all of ya'll are! Shut the f**k up! I'm not about to get grilled about this sh*t! Paulie says I trust Frank. Tiffany says I'm not saying that, I just think there are something you need to be careful with your words.

12:25am In the bedroom – Natalie and Bridgette are talking. Bridgette says I don't trust either side. Bridgette asks who do you trust more Victor or James. Natalie says I don't know. They're both telling me that he's lying to me. People are saying that James is lying to me and then people are saying that Victor is lying to me. Victor can go have sex with anybody, I don't care. Bridgette says they're both going to be scrambling for your support. Bridgette says I don't trust my team. Bridgette says please don't tell anyone that I told you because if Frank finds out, I am f**ked. Bronte asks are people asking you to vote for.. Natalie says no, they're just asking who I'm voting for.
In the storage room – Bronte tells Paul that people are freaking out. Paul asks what people? Bronte says Bridgette is freaking out that Jozea might be going home. Paul asks why would she be freaking out.. What is her reasoning? Bronte says I don't know. Gut feeling. Bronte tells Paul we're screwed. Paul says no we're not. In the event that that happens we need to win HOH. If that happens its on, its on like donkey kong. Rambo mode. Jozea joins and Paul leaves. Bronte tells Jozea that Bridgette has a gut feeling that Paulie is staying. Jozea says you can't let James get in ya'lls heads tonight. Bronte says I told Natalie not to trust James or Bridgette.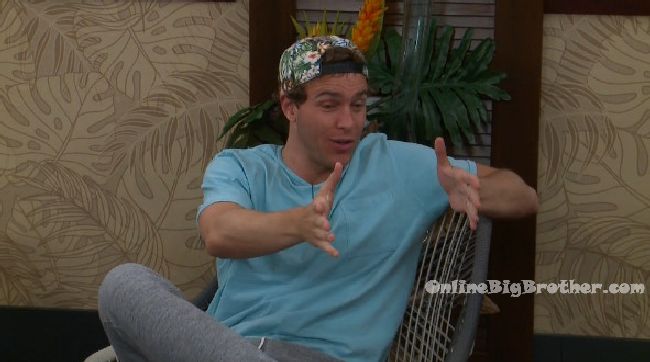 Help support us at no extra cost to you by getting your feeds through us: CBS All Access
12:50am – 1:15am HOH room – Nicole says I don't care if Jozea knows .. I just don't want Vic to be prepared and go an win HOH and put me and Corey up. Frank says part of me doing this was to get the heat off you and James. If anybody is going to catch heat for this, its me and James. If Natalie & Bronte tell him that I told them this ..then the heat is going to come back on me because all week I've been telling them the opposite. They're still going to be blindsided because the still think the have Z and Day's vote. Nicole says they don't think Jozea is going home. Corey joins them and says that Day and Z said it was getting heated up here. Frank says Tiffany and I just got at each other for a minute. Tiffany says I didn't say anything. You got a little freaky. Frank says no you started grilling me .. its fine. Tiffany says her style of communication is different from his and I can explain it unless you don't care to hear me out. Frank says I really don't right now. Tiffany says see that's the attitude.. I can't stand you. Tiffany leaves. Nicole says you can't tell a girl you don't want to hear her out. Davonne joins them. Frank says it doesn't change anything if she votes the other way .. if she does she can go next week. Day says that Tiffany is fragile and cracks under pressure. Nicole comes back and says that Tiffany is crying and is very pissed off at you. Frank says when I came into the safari room she jumped down my throat and I told her I don't need to be grilled by her. Frank says I just can't f**k deal with it. What's she going to do, jump on the short bus? Honestly I wanted her to stop because I can't deal with it the next few weeks. She acts like I was doing something bad and I was doing it to get the heat off you.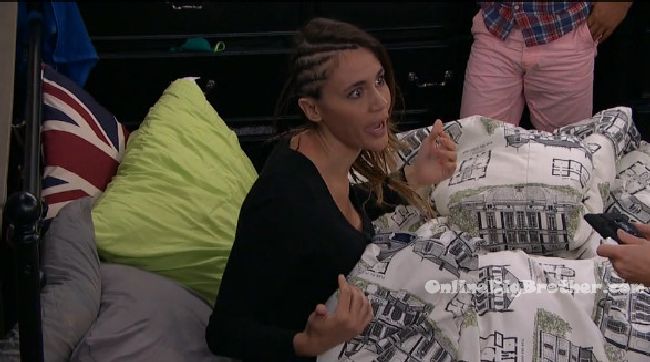 1am In the bedroom – Tiffany, James, Nicole and Bridgette. Tiffany is pissed off about Frank. Tiffany says guys and their god damn egos. You say something and they can't take it. Like they're being 1 up'd. I'm sorry, I'm sorry that I'm f**king smart and I know what I'm f**king talking about. F**king Idiot! He's a male chauvinist f**king a$$hole! That's what he is and he's done this twice to me already! He's threatened by me and its so f**king obvious. Because you know why .. because I have a brain and know what I'm saying. And he feels like he has all the girls. I'm sorry I'm not one of those girls. I know what the f**k I'm doing and he's playing with f**King fire is what he's doing right now!! He's f**king rude! He's a male chauvinist and I can't stand that sh*t! At least Jozea isn't like that… he's going home but he's not like that. I don't know if he's going home but whatever! He starts yelling and I do not respond well to that because I will f**king 1 up you! He did this to me the wine night. The whole thing started and I didn't even raise my voice. F**k me over once shame on me, what is it ..f**k me over once shame on you, f**k me over twice shame on me. I've studied psychology .. I know what he's doing. Nicole says I understand. Tiffany says this is great now America is seeing this. Nicole leaves. DaVonne and James comfort her. Tiffany starts crying. She says that she doesn't really think he's a chauvinist.
FLASHBACK and watch everything you missed: CBS All Access FREE Trial!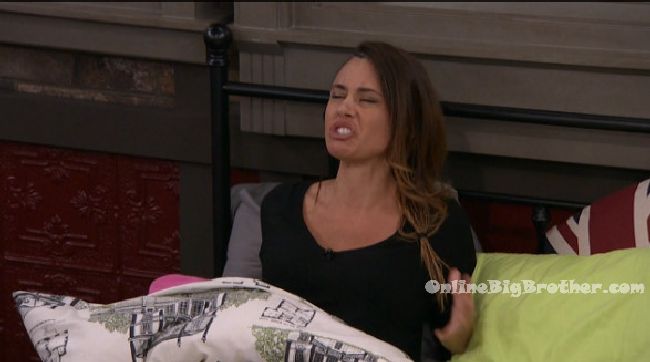 2:30am Paul and Jozea are talking in the safari room. Jozea says he can't sleep with all these people walking around and hustling. They better hope that if I go home, that they don't keep me for returning because if I pop back in I will cuss them out. All of them! They bring back the strongest and someone that will make things happen. And the only one is me. She can't do it.. And all of the returners would be a waste of time to bring back. They won't bring back a returner. If they bring back anybody it will more or less be me. I would have it out for every single last one. I would walk in and be like you're on my hit list, you're on my hit list, you're on my hit list.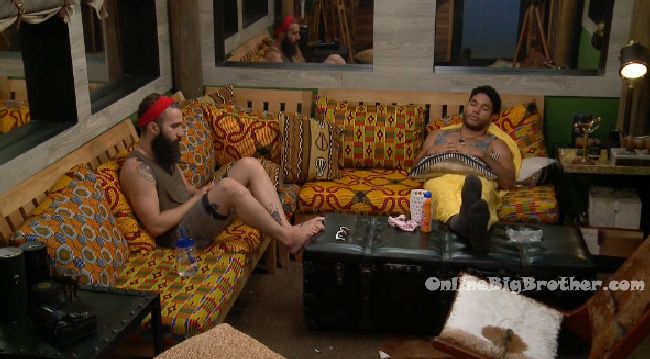 3:40am
All the house guests are sleeping except for Paulie ..
8:40am lights on but Everyone sleeping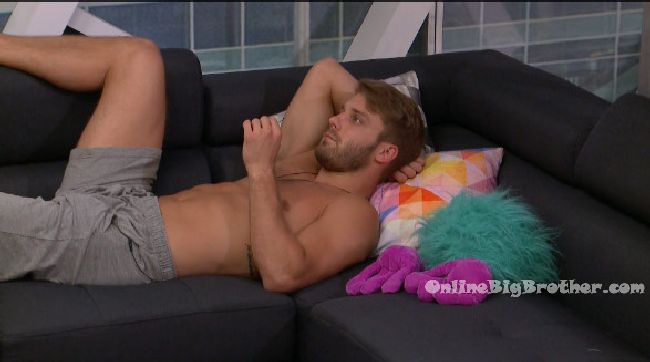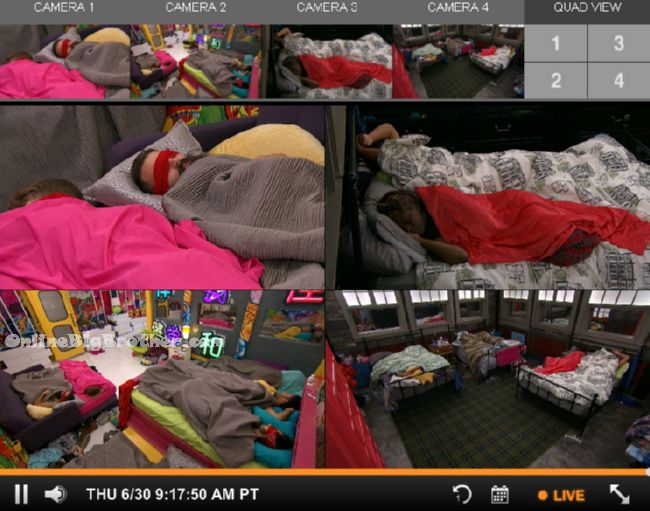 FLASHBACK and watch everything you missed: Live Feed 7 day FREE Trial!