POV Holder:
Paul
POV Competition
June, 24th
POV Used
Yes
POV Ceremony
June, 26th
HOH
Nicole
Next HOH
June, 30
Roadkill Competition Winner:

1

Frank
Original Nominations:
Paulie, Jozea, and Paul
After POV Nominations:
Paulie, Jozea and Bridgette
Have Nots
?

9:05pm HOH Frank, Tiffany, Da'Vonne and Zakiyah
Tiffany is telling her about the conversation with Natalie. Says Natalie doesn't like Victor anymore.
Tiffany is convinced Natalie will vote with the real house majority.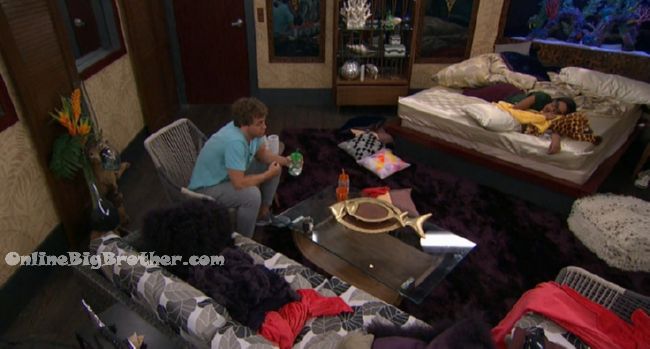 9:19pm Frank and Da'Vonne
Both of them Very Suspicious of Tiffany.
Frank says she's fine with Tiffany get cut these next few weeks. He wants Victor out first then Tiffany.
Frank – Natalie and Bridgette aren't threats.. I'll tell you what i'll do i'll win the roadkill comp put her up not tell anybody..
Frank says Tiffany is awkward, "I Don't think she has much of a strategy..she just wants to piggyback onto big moves."
Frank hopes Natalie flips and the vote comes out 9 -2
Corey comes up tells them he talked to Nicole and said by tomorrow everything that happened about the Victor date will be forgetting old news.
Frank brings up Tiffany how she's "Really out of the loop" After Corey leaves Frank and Da'Vonne go on and on about Tiffany.. Frank really doesn't like her wishes she was more like Zakiyah
They both agree they can trust Paulie more than Tiffany.
9:30pm Bronte, Jozea, Paul and Victor
Jozea – once all the generals are gone the sergeants have no powers..
Bronte is thinking they should put up James and Nicole.
Paul – don't you think if we put 2 verts up our vets will be scared
Jozea – No… I talked to them
Paul says his goodbye speech will be something about him and james never being able to play Chess but Paul was playing cheese all the time "Check mate b1tch" but her won't say b1tch,.
Paul – I'm going rambo mode tomorrow.. Literally blood in my eyes mode
Bronte – it sounds like they are really setting something up .. fancy (HOh comp in the backyard)
Bronte says james is a creeper she can't understand why America voted him favorite, 'He straight up made a lie"
Paul – Nicole likes me for some reason, i don't know why
Bronte – Paul we have the numbers (ZOMG)
Paul brings up Paul being nominated day 1 she has to have wanted him out.
They go on and on about how creepy James is.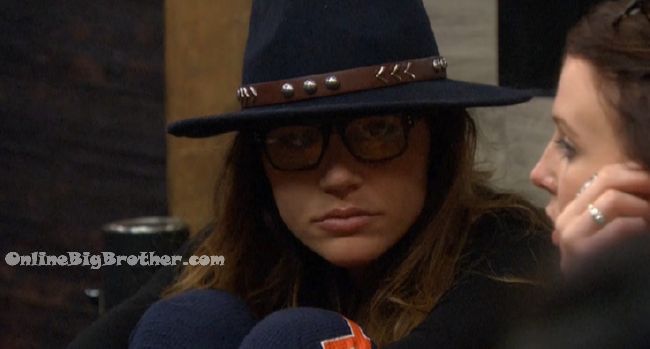 9:47pm Tiffany tells Michelle, James and Zakiyah about her conversation with Natalie.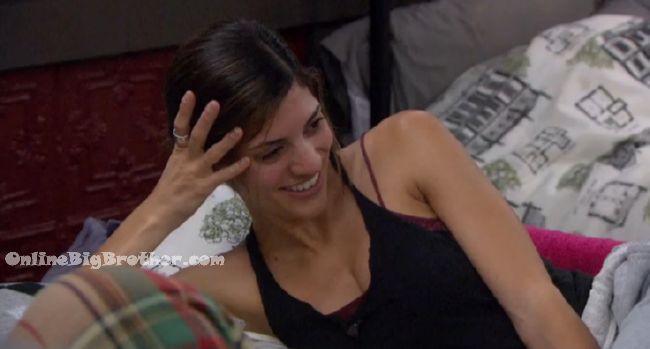 9:53pm Bronte telling Jozea and paul they cannot keep pushing Bridgette and Natalie for their vote. They know the only chance of a vote.
Paul wants to pots and pans Michelle, "I want to drive her insane so she never watches Big Brother Again.. Because she's such a super fan":
Jozea can't stand Bridgette because she'll press the red button, "every Big Brother that happens there going to be a red button.."
Jozea now tells them there was a season of Big Brother where if they pressed the red button more than 1/2 the cast came back into the game.
Tiffany comes in joins the conversation. Says if she was on the block she would press the red button. She tells him only 2 seasons had a red button.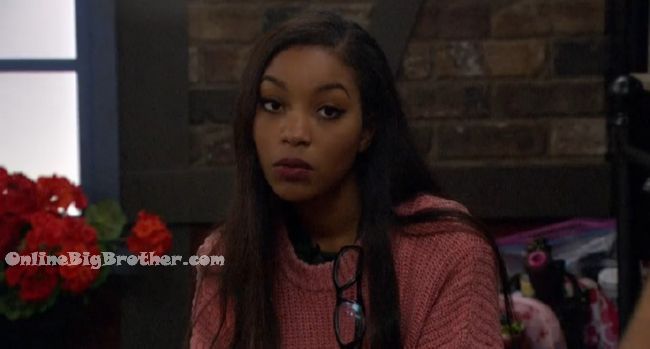 10:02pm Zakiyah joins them says she never talks to JAmes, "i can sense the divide"
Paul – where's the divide..
Zakiyah – Da's on our side..
Jozea asks her what she thinks the Paulie situation is
Zakiyah – I flirt with Paulie.. He cooks for me..
Zakiyah – he thinks he has me in the bag.. I was really drunk last night y'all I'm sorry..
10:05pm Natalie and Bridgette
Talking about all the drama that went on with James
Natalie doesn't give a f*** that Victor asked Nicole out on a date.
Natalie wonders why this is coming out tonight.. "Unless they are trying to sway my vote" Frank and James.
Frank joins them.
Natalie tells him she's fine about what happened today, "I'm good as gravy"
Frank telling her she needs to float their way for the vote tomorrow.
Natalie – why haven't you asked me before hand.. Why do you ask me today
Frank wanted to find out where the majority is first.
Frank says he's bringing something to the table..
Bridgette – I don't understand it
Natalie – what are you bringing to the table
Frank – the truth I told ya..
Frank tells her he's risking himself even talking to her.
Natalie – Ya.. you're not being nice to me right now.. You are being weird.. You've made promises to people and you won't keep them you don't think that's weird..
Frank says he can't trust Jozea he lied to his face.
Natalie – I just made a promise that's my thing
Natalie says it's not her style to go back on something she said, "I knew from the get go you wouldn't vote against your own team mate that's common sense"
Natalie – I'm still seeing who I can trust
Frank – no matter where you vote tomorrow you won't have a target on your back
Natalie – Who knows you are not lying to me right now
Natalie keeps repeating she's made a promise and when she does she doesn't go back on it
Natalie says she has a very strong feeling Paulie is going to stay tomorrow. She's not going to say anything because she made a promise.
Frank doesn't want her "Gunning after someone" if she wins HOH
Natalie says she's going to throw HOH
Frank tells her it doesn't matter where her vote goes tomorrow.. "Don't let it be used against you"
Natalie – how do I know you are not lieing to me
Natalie says Paul and the guys don't tell her anything.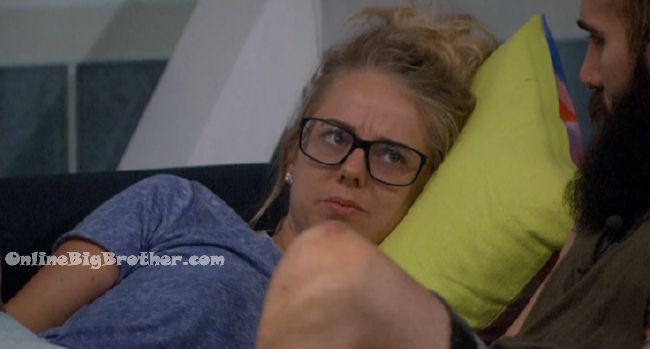 10:33pm Paul and Nicole
Nicole says she just doesn't want to be around Victor and James because of all the drama.
Nicole says she doesn't have a vote so nobody talks to her.
Paul thinks everyone is going to vote out Paulie.
Paul says he doesn't want to put Nicole into a tough situation and be the vote that forces a tie. Nicole says there's no way it's going to be a tie.
Nicole – nobody is going to vote for Bridgette to go home.
Paul says he's more loyal to Victor than Jozea.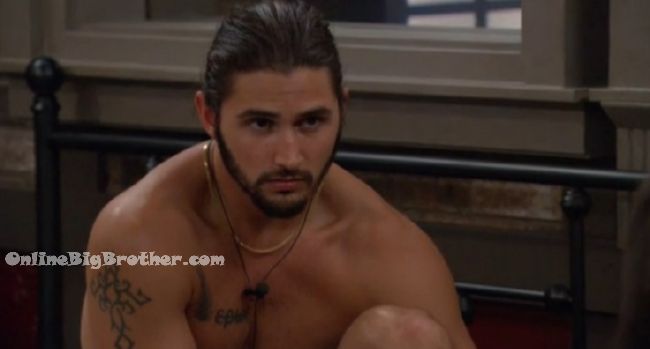 10:43pm Victor, Bronte, Natalie
Victor tells them Nicole is controlling COrey.
Natalie tells him Jozea is going home tomorrow she really feel it. she says it's obvious from who has been hanging out together in the HOH this week.
Victor doesn't think so says Da'Vonne and Zakiyah know each other from day 1 before Jozea was on the block.
Natlie – you really think Frank is voting against Paulie
Vic – Yup.. he's been with us from the beginning
Natalie and Bronte leave to bake. On the way to the kitchen they invite James to join them.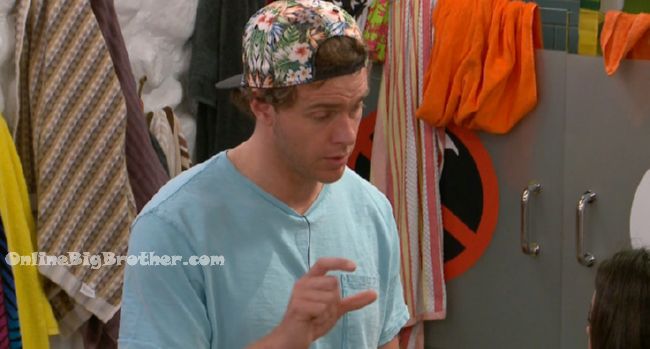 10:52pm Frank and Natalie
Natalie says she will keep what they talk about private, ;'I do need to think about things.. I'm not trying to be a flip flop"
Natalie – I do see where you are coming from.. I just need to take in all the information.. Bronte is my best friend in the house.
Natalie – how do we know we're safe (her and Bronte)
Frank – you have to trust me on that
Natalie says Paul, Jozea and Victor run their own thing they just come to her for votes, "I wish you had come to me earlier to secure the vote"
Natalie says she knows where the alliance is in the house
Frank tells her there's no alliance people are still clumped up with their teams.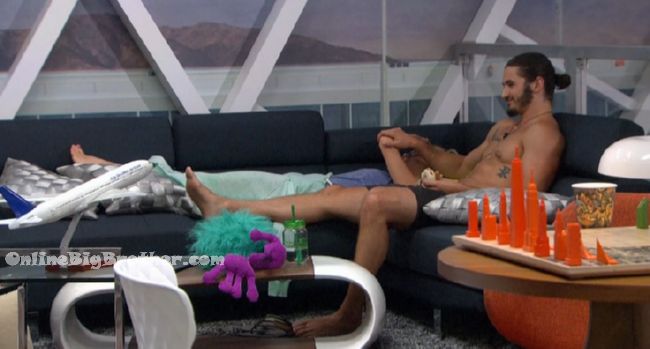 11:09pm Nicole and Victor.
They want to act like the drama today never happened.
Victor tells her she is not the target. James and Corey will be going up over her.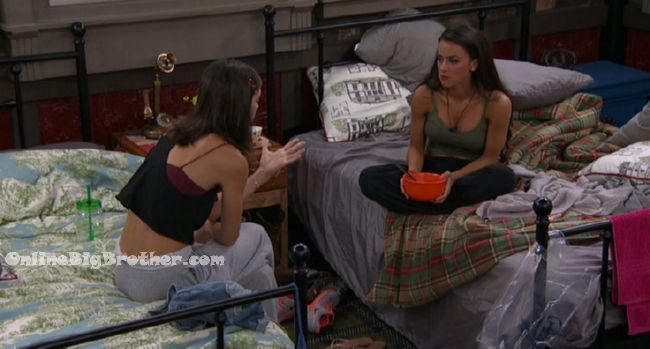 11:13pm Natalie and Bronte
Natalie says Jozea is going home.. someone has told her that.
Natalie says James and Frank are voting to keep Paulie in the house
Bronte – the only way that Paulie will stay is if Z and Da flip
Natalie – I'm voting for Jozea to stay but after tomorrow we have to collect our thoughts.. we need to see who's honest.. Don't talk to the guys about anything.
Natalie – Tomorrow we're going to find out who the house it.. I'm keeping my word i'm, voting for Jozea to stay.
She adds that the guys in their group are all targets.
Bridgette joins them says they really have to be careful "with these guys"
Bridgette – Frank is on you
Natalie – on like Donkey king
Bridgette – Him and James are talking and the subject didn't change until Corey was there.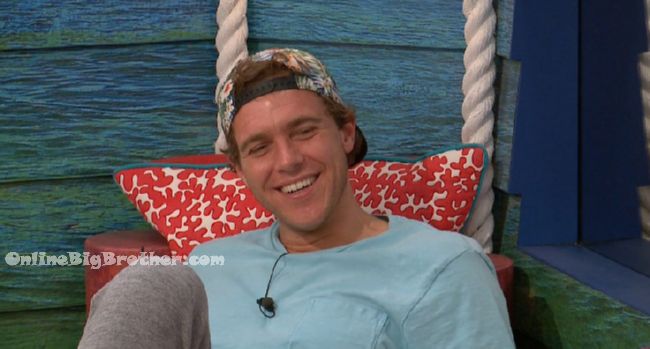 11:36pm Bathroom Paulie, Corey, Frank, Nicole
Frank says he told Natalie Paulie is staying. Frank says even if Jozea, Vic and Paul find out tonight they are not to beleive it they stil lthin kthey have Da'Vonne's and Zakiyah's vote.
They continue to count the winnings.
(The confidence is getting a bit much)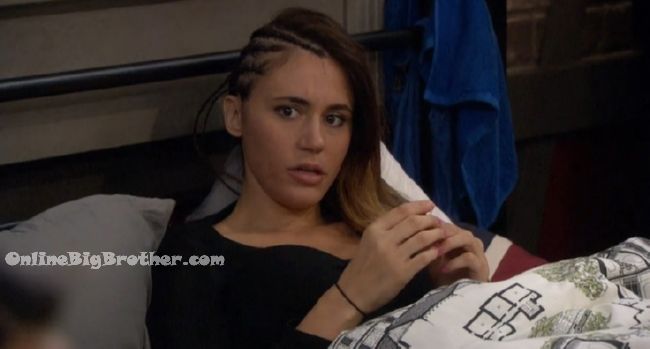 11:44pm Tiffany's new do

11:50pm Bathroom Paulie, Corey, Tiffany
Nicole and Tiffany pointing out that Bronte knows Jozea is going she' pissed. Nicole tells Tiffany Frank told Natalie but she sore not to say anything.
Nicole reminds them it's not a blindside if everyone knows.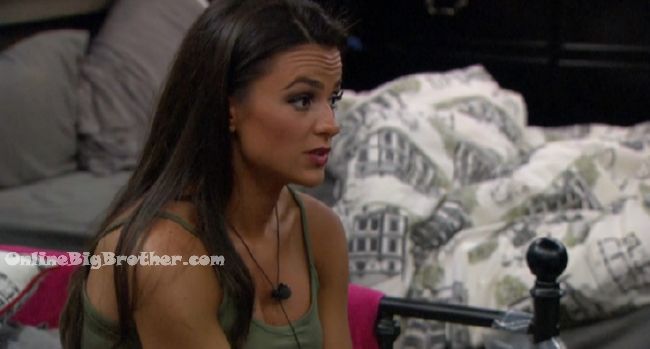 11:51pm Bridgette, Natalie and Bronte
Bridgette – 1/2 the house has Frank.. in the end what's best for us three
Natalie – stick together.. we need to wait for tomorrow don't put targets on anyone.
Natalie tells them there's a bigger alliance in the house, she thinks Zakiyah and Da are flipflopping, "We have to be careful they are gunning for the guys on our team.. "
Natalie and Bronte say they are voting Paule out.
Natalie – we have to be careful
Bronte – yes if Joeza goes home we have to figure ot
Bridgette says she doesn't trust that whole side of the house, Corey, Frank, Tiff, Nicole,Michelle, James, etc..
Bridgette – If Paulie stays it's too strong
Natalie says the other side's plan is to get her against Victor because they want to take out Victor next.
Bridgette – I'm playing the stupid card.. people drop shit around me there never think i'll know
Bridgette says it was good for Natalie to stick up for herself because Frank was berating her.
Natalie pleads with Bridgette to not throw them under the bus
Bridgette tells them she trusts frank but only because he's keeping them safe.
FLASHBACK and watch everything you missed: Live Feed 7 day FREE Trial!