POV Holder:
Corey
POV Competition
July 16th
POV Used
?
POV Ceremony
July 18th
HOH
Paulie
Next HOH
July 21st
Roadkill Competition Winner:
Tiffany
Original Nominations:
Tiffany, Natalie, Corey
After POV Nominations:
?, ?, ?
Have Nots
James and Natalie
CBS All Access: Live feeds are only $5.99 per month – Try it FREE for 1 WEEK!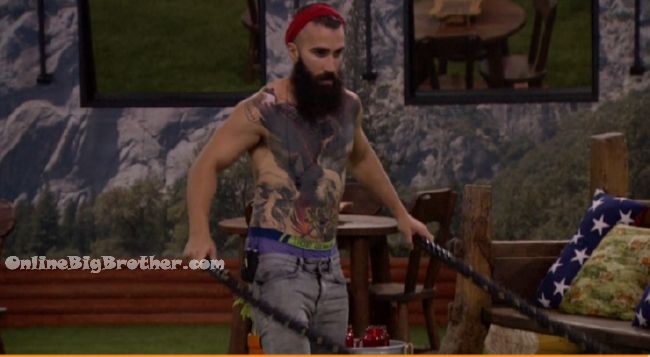 8:50pm Paul and Frank
Talking about the possibility the showmances are in an alliance together. They are thinking it's highly likely that the showmances have a final 4 plan, "Why wouldn't they"
Frank says IF Bridgette wins the HOH they'll go after Tiffany if she's still in the house. If she's not in the house they'll go after Da.
Frank – that way everything is calm that's what the house wants.
Paul – you know if I win I will get swarmed.. Like bees on honey
Frank suggests he doesn't win competitions unless he has to the reason he's been on the block is he showed people he can compete well and they want him to compete well against the target.
Paul asks why isn't he on the block this week. Frank says they were giving him a break.
Frank goes on coaching Paul about fundamentals of Big BRother. Loyalty is more important than social game and Cop wins etc etc..
Frank – loyalties key.. I think you got it in spades too
Frank that's what I like about you, you think logically.. It's all about strategy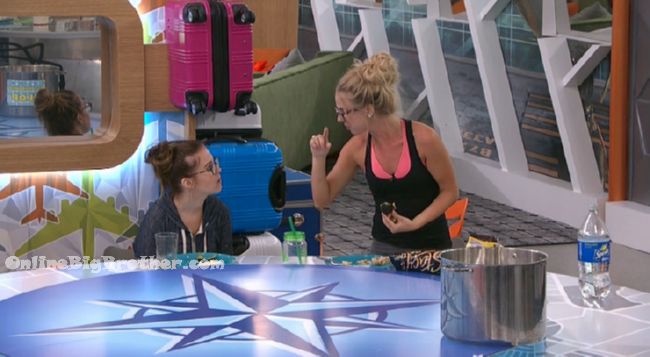 8:52pm Michelle and Nicole
Michelle says Frank is really been trying to play Bridgette down.
Michelle – He really likes that girl
Nicole – On the cupcakes she wrote their name on them connected with a heart on the end.
Michelle- Where is it
Nicole – he ate it already .. He showed me
They start singing "sitting in a tree K I S S I N G "
Paulie joins them.. They're snickering about Tiffany..
Michelle – "I heard about a new alliance, Frank Tiffany and Bridgette and it's called the Idiots.. That's what I heard on the streets.. "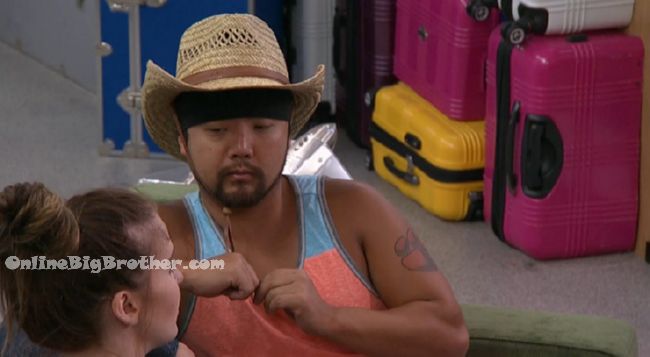 9:08pm Michelle saying Tiffany has made up all these lies.
Michelle – She said Da and Frank had a final 2 deal
Michelle – She said that Paulie and Corey, Zakiyah and Nicole and Da were in an alliance it's like she makes up all these lies..
James says he's solo in the game he's renegade.. Claiming eastside and westside
Michelle – ok that's good to know
Michelle says Frank told her about the fatal five … JAmes gets up and leaves "we're too obvious"
Michelle – ya?
James – T'YA
James leaves…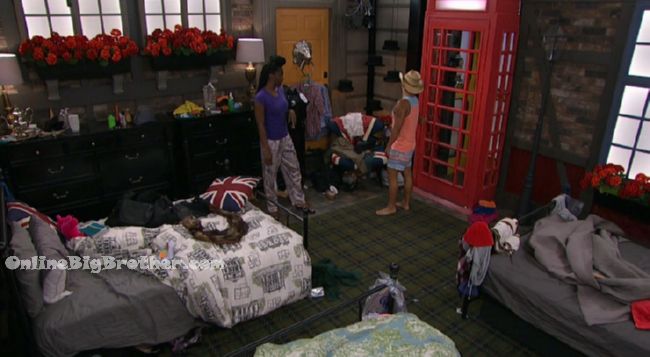 9:11pm James and Da'Vonne
They are both unsure about Michelle
"She's being a little.. Mmmm hmmm.. She talked she talked.. I don't know.. "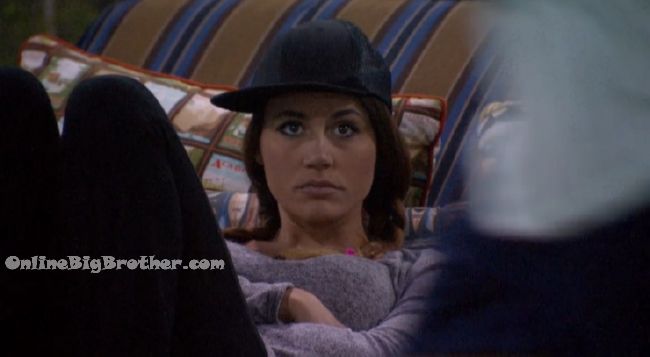 9:14pm Frank and Tiffany
Frank says he talked to her earlier today and she told him she'll vote his way if he has the votes .
Tiffany wants to know what MIchelle has against her.
Frank says it's petty something she heard you said thru Da, "Something like I hate that Girl or some other bullshit"
Tiffany – Da is a piece of Crap…
Frank – I know she is
Tiff – You know what she said up near the showers… She was like So you know what I like I like the fact that everyone that's going to jury is going to be fun everyone before that sucks and she's like right when I'm in they're. THinking I'm leaving.. f***g bitch
Frank – I can't wait to flip it…
Tiffany – She's a f****g b1tch
Frank – Paul I think we got his vote 100%, all we need is two I think we're close
Tiffany – should I talk to Michelle
Frank – not yet.. Not today.. Don't want to press too hard.. I've planted a seed with everybody but Zakiyah and JAmes yet.
They agree not to bother talking to Zakiyah
Frank – James will be an easier sell than most people.. Like I said it's early
Frank – everytime she sees me talking to somebody her fuse gets shorter and shorter..
Tiffany – I think she thinks you won.. (Roadkill)
Frank doesn't care Da lying about game but she was lying about personal things that pisses him off.
Frank says Da can't win competitions, she doesn't have a good social game her only ability in this game is to lie. "She's not that fun she's always got a pissy look on her face"
Frank – One thing you, me and Bridgette got to do is stay spaced out.. We got to have ears everywhere. We want to keep them from talking..
Frank says Michelle is too hard on Bridgette and it pisses him off
Tiffany – so rude to Bridgette
Frank – Bridgette is a sweetheart and it pisses me off
Tiffany – Michelle is insecure and petty.. She's been talking shit all season.. Especially to me when I have done zero sh1t to her.. She was my girl in the beginning
Frank – I think she'll vote with me
Tiffany – does she know Day is the renom
Frank – ya i'm pretty sure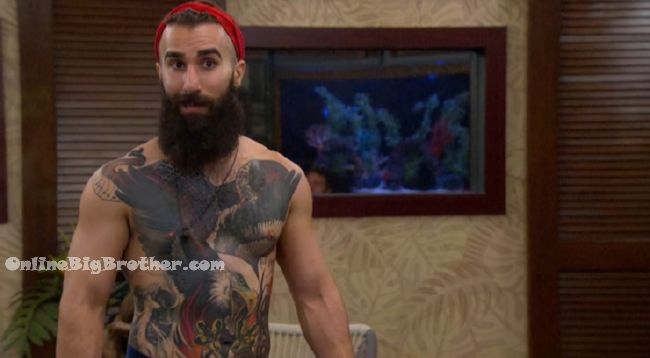 9:17pm Paul, PAulie and Corey
Paul says Frank is throwing next week's HOH if Da is out of the house.
Paul adds that Frank is going to strike Tiffany next week and Corey/Paulie during the double.
Corey says Bridgette and Frank are more of a couple than Nicole and him.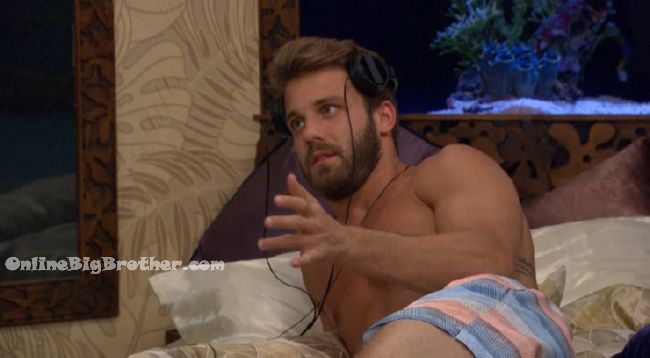 9:30pm HOH Frank and Paulie with Corey lingering around
Paulie wonders if Paul is upset because "Brionte got Clipped"
Frank says he sees it as a positive long term..
(They're just bullshitting each other)
Frank – DA f*** up the whole 8 pack.. If she had never made up that Lie between us… think of it BOOM BOOM BOOOM… everything would have been smooth.. They're would be no uncomfortableness in the house..
Paulie – Yeah
Frank – like I was saying the reason day says that ..
Frank – People are asking me why is Day lying.. I'm like it's easy.. I'm like she's not very sociable, She can't win competitions so her only game is to f****g tell lies..
Paulie – it'll be easy to get her out next week..
Frank – we'll get them both
Paulie – Either way two weeks go by 2 girls go home.. Then they're only 4 left not including Bridgette
Frank – exactly
9:44pm
Michelle, Da'Vonne and Zakiyah
Michelle – he told me to be nicer to Bridgette
Da'Vonne – why
Michelle – I don't know why .. I will never ever never work with that girl…
DA'Vonne says she'll put Frank and Bridgette up if she wins HOH..
They go on about Bridgette being a super playing super fan and lying that she's not.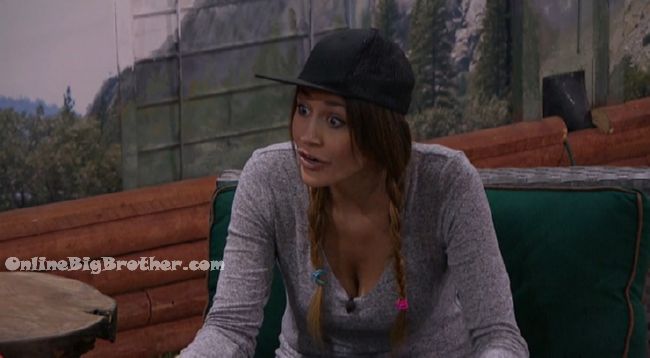 9:47pm Tiffany and Nicole..
Nicole says she heard from somebody that Tiffany HATES her and Corey
Tiffany – that was a lie I don't hate you guys .. who said that Da..
Nicole – we worked our butts off to keep you in the house
Tiffany – wait until you see what Da is doing..
Nicole says she felt extremely hurt
Tiffany – Da told me all this bullshit.. She said you and Corey wanted me out
Nicole – well Corey wouldn't have gone home this week..
Tiffany and Nicole talk about Da'Vonne making a lot of final 2's in the house.
Nicole thinks Da was trying to keep them apart.
Tiffany – I was true to Fatal 5 I was true to Da
Tiffany – It's not a secret i'm putting her a$$ up
Nicole – you're putting her up tomorrow
Tiffany 100%
Tiffany says that Da told her Nicole and Corey had a final 2.
They go on about Da'Vonne games
Tiffany – "she basically f***f my whole game'
Nicole says Da'Vonne assumes she's going up "She's got lots to hide "
Tiffany – she's a liar.. They called her Momma demon last season
Nicole – I didn't know that
Nicole – I can't believe you put him up (Corey)
Tiffany blames it on Da'Vonne says Da was telling her Corey and Nicole were coming after her.
Tiffany says DaVonne has lied to every single person in this house.
Nicole says Da'Vonne really played up before the nominations that she was going up she put on a show. Tiffany says that Da'vonne knew she wasn't going up Tiffany has told her prior, 'She's a actress"
Nicole says she has never felt more mad than when she found out Frank was telling her about those things Corey had said, "I blacked out.. isn't that crazy"
Tiffany – that's water under the Bridgette whatever..
Nicole about Da – 'Sometimes she tells me stuff.. it doesn't add up'
Nicole says she always wanted to keep Tiffany because they are on the same team.
Nicole about Da "She put a wedge between us.. she wanted you to herself she wanted you to not trust me.. I can't believe she told you that and that she had the votes to get him out (Corey)"
Tiffany says Da wanted Corey gone to get closer to Nicole.
Tiffany says Da was trying to get Paul out last week, 'Lies and deception.. I feel bad for Zakiyah because she trusts DA"
Nicole – In know…
Tiffany blames being a nervous wreck on Da'Vonne, 'I was a normal person getting long with everyone the first week.. her f***G lies she's playing way too hard"
Tiffany says Da'Vonne throws Nicole under the bus all the time.
Nicole asks what she says but Tiffany can't produce an example.
Da'Vonne joins them..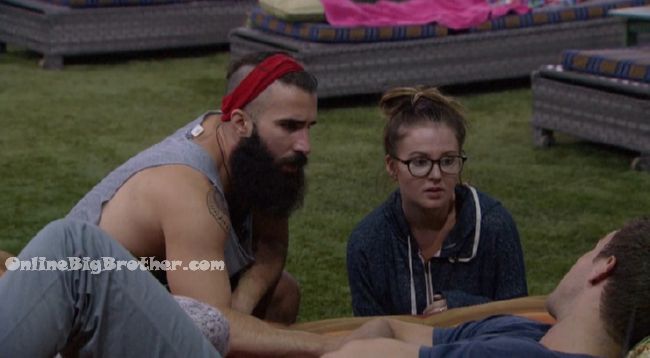 10:27pm Corey and Michelle Hammock
Corey says he likes Da but he knows she told Tiffany to put him out. Michelle tries to defend Da'Vonne. Corey says Da'Vonne told Tiffany sensitive information, 'Why the hell are you telling Tiffany …
Michelle – I'm fine with getting her out
Corey says Da told Tiffany she was in an alliance with Nicole/COrey/Paulie/Zakiyah, 'Which is totally not true"
Corey – Tiffany sucks she doesn't know how to make an alliance
Tiffany – I'm still scared of her
Michelle is proposing they keep Da this week and use Frank and Bridgette to get Tiffany out next week.
Paul comes by, they tell her that Da'Vonne is sketch
Paul – right now Tiffany is a way bigger fish to fry because she's nuts.. Then Frank is a way bigger threat..
Paul and Corey says Tiffany is going home 100%
Paul tells them if Frank win HOH he's taking out Da or Tiffany and during double eviction he wants to take out Corey or Paulie.
Pual – they trust me.. I'm going to blindside them next week.
Michelle tells him not to talk to Tiffany because she'll just tell him lies
Michelle e- she hasnt talk to me
Corey – she will
Michelle- i'll call her out on her bullshit.. she's desperate.. if we let her slide again.. it's another number for Frank and least now we have a number for Day.. she won't win HOH..
Michelle says Da will put up Natalie and Paul
Corey – I think she'll put up me and Pauli
Michelle – then I'll win Roadkill put Natalie up there.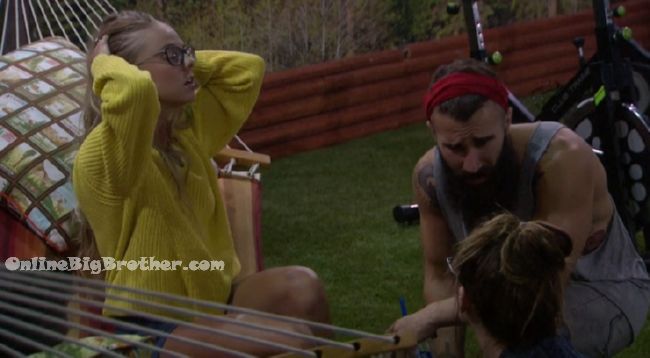 Nicole comes by says Tiffany told her "A bunch of Crap"
Nicole says Da told Tiffany that Corey and Nicole were gunning for her
Michelle – do you believe her thought.. she's spreading lies.. don't talk to her..
Michelle – you're still voting her out right..
Nicole – ya
Michelle – because that would be devastating
Michelle says After Frank and Bridgette Da should go
Nicole – sure whatever you want
Michelle did she tell you any crap about me
Nicole – no..
Nicole says Tiffany swears to god she never said she hated Michelle.
Michelle – she's lying to god on camera.
Paul tells them he's only talking to the other side to get information they are telling him and relaying it back.
Michelle about Tiffany "I hate her SO much"
Michelle – she (TIIF) told me Frank and Da had a final 2
Nicole – Da told her me and Frank and a final 2
Michelle – she's making up any crap she can
Michelle goes on and on about Tiffany going home..
Corey and Nicole ask he why she's being so weird about it.. don't worry Tiffany is going home.
Michelle keeps going on and on about Tiffany being dangerous
Corey – Michelle she's going home OH MY GOD"
Michelle – I just don't want her to sway you guys.. I know how good she is"
Corey – She's not really good.. Michelle seriously what are you so afraid of..
Michelle – her staying..
Corey counts the votes, "I already talked to Frank Frank is voting her out it's going to be 8 to nothing.. "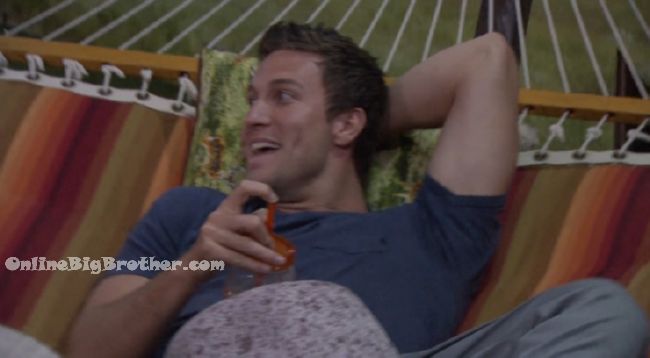 11:00pm Corey and Nicole
Talking about Michelle freaking out
Nicole – everything Tiffany told me made freaking sense
Corey – I told you
Nicole – I'm so game.. She needs to get out of this house .. She is evil.. Is it ok
Corey – i'm down with sending her home me you frank bridgette..
Nicole – Everything made sense.. T
COre – I told you
Corey – when Da started crying I knew it..
Nicole – I didn't know she was crying..
Corey – I assumed maybe you would go up..
Nicole – I want everybody to be onboard somehow..
Corey – it would be good for our game for Tiffany you stay .. Frank saw it too man..
Nicole – you know how pissed Michelle is going to be.. .she was going to cry ..
Corey – Da and her have something going on.. MOre shit is going to go down.. I guarantee ..
Nicole says Michelle is just like Christine, "This is deja vu.. I cannot put trust in this person
Corey – Michelle is sketch her mouth is HUGE
Nicole – and the way she looks at you..
Corey – I saw we get Da out..
Nicole – and she's asking if she's acting sketch YA she's acting sketchy..
Nicole is going to have a serious conversation with Bridgette because she wanted to put them up. Corey says Bridgette was thinking of it.
Nicole – Paulie is f***g good at this game..
Corey – He's got a big mouth
Nicole -He's going to shoot himself in the foot.. he wins comps like crazy
They agree they could use Tiffany to win competitions for them but on the flip side she might put them up.
Corey says they need to win HOH next week, "I would put up Natalie and Bridgette.. " He would make the house think he's backdooring Frank but will put Da up if she's still in the house.
Nicole back to Michelle saying it's freaking her out, 'What if she's secretly playing for Christine to get me out"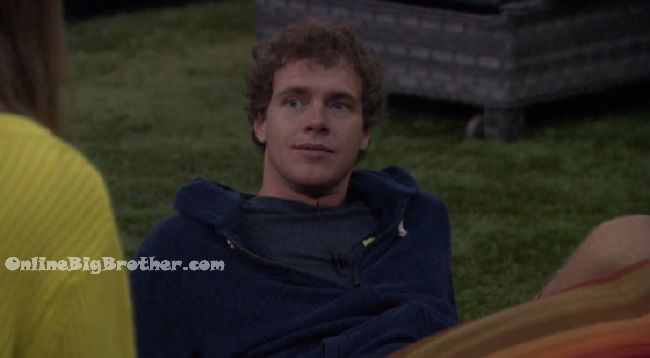 11:14pm Frank, Nicole and Corey
Nicole says she talked to Tiffany and all those crazy things she's saying is making sense.
Frank – I know
Nicole explains da called Frank a douche bag then he turned around and called her a sl*t
Frank – In that context it's a joke.. I didn't call her a sl*t outt meanness..
Nicole agrees..
Frank adds he thought da was telling people he called her a sl*t after he popped her in the butt
Nicole says Frankie called her a C**T
Nicole – I never did anything to him.. He said mean stuff about Victoria that was way worse than that..
Frank – he seems like he would have been kinda dirty like that..
Frank – Bridgette.. Bless her heart.. She thinks everybody hates her.. Alotta the girls..
Frank says Bridgette really likes Nicole because they are both nurses, "Michelle hates her.. She thinks Bridgette is fake but I think Bridgette is the realest person in the house:
Corey – She really is that happy.. Just to be in they're and bake..
Frank – she made the have nots slop pudding
Frank comments tomorrow will be a full moon and Da will be on the block.
Nicole leaves..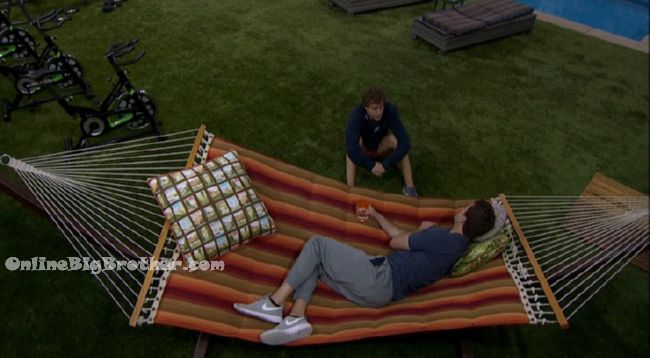 Corey says he's been in heat lately..
Frank says he did it in the shower does it once a week..
Corey did it once on Day 23
They agree Tiffany's story makes too much damn sense.
Frank – the damn fatal 5..
Corey – I think that's fake..
Corey adds that Nicole swears she has no ideas what it it. COrey thinks it was something Da'Vonne made up.
COrey – I definitely want Da'Vonne outta here..
COrey – Honestly dude we really need to get Tiffany out of here.. Tiffany I don't know what she is going to do.. I would like to keep her and have her go to work.. I can't trust her zero percent.
Frank – I don't trust her either
Corey – about da 100%..
Corey explains all other information coming from Tiffany is fake because nobody tells her anything. Frank says that is why Da is more dangerous she knows the game, competitions and she knows what's going on.
Frank wants iof Da wins HOH she'll be putting up 2 of the guys.
Frank – says Tiffany is on an island nobody is working on her "She thinks she's working with me i'll put her ass up next week"
Corey – as much as I stick up for the 8 pack i'm getting sick of it.. They were all freaking out for me winning the comp
Frank – trying to talk you into not wearing it..
Corey – right
Frank – let's cut some f***G fat.. Dead weight
Corey – I agree
Corey – Nicole is pissed at Da'Vonne.
Corey says they both have not been positive about Da'VOnne for awhile.
Frank brings up MIchelle being mean to Bridgette again
Corey – yeah I don't know why Michelle hates her so much.. She don't like Tiffany either
Frank – that's fine.. She wins put her up..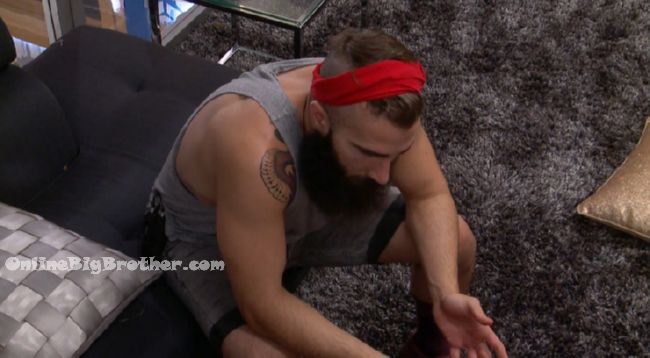 11:36pm Michelle and Paul
Michelle is freaking out that the house will flip, she thinks Tiffany has what it takes. Paul reassures her that every single person he's talked to says they are voting out Tiffany.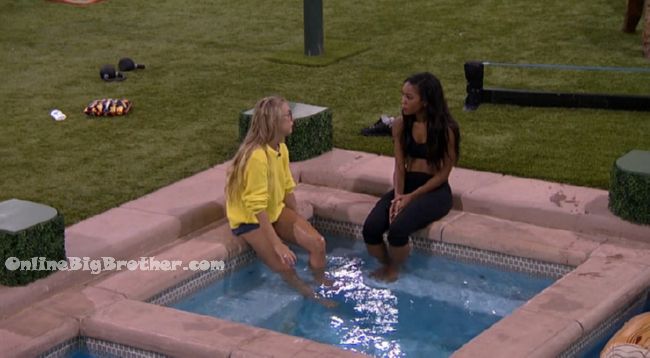 11:38pm Zakiyah and Nicole
Nicole going over parts of her conversation with Tiffany. says that Tiffany is claiming it was Da'Vonne that pushed for Corey to get nominated with the roadkill.
Nicole – I don't know if there's truth but everything she said made sense
Zakiyah WOW…
Nicole brings up Tiffany making a final 2 with Da'Vonne
Nicole goes on listing the points Tiffany man.
Zakiyah – damn it makes sense..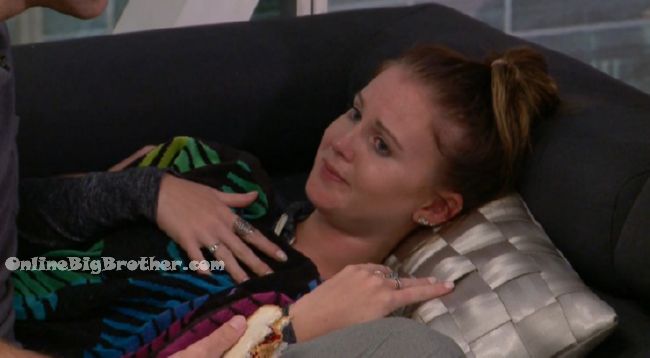 11:47pm Michelle and Corey
Michelle crying because Tiffany will put her up if she doesn't go home. Michele cries that Nicole made her feel like a bad person for not talking to Tiffany "I'm not a bad person I just don't like her"
Michelle says there's still 4 days "For that girl" to come up with schemes and lies against her.
Michelle now saying she didn't know until today how shady Da'Vonne is. Corey says it sucks he doesn't know if all of it is true.
Michelle says James and "Everyone" is acting like Tiffany did nothing wrong.
Michelle says Paul and Zakyiah want Tiffany out.
11:56pm
Michelle says PAulie is going to yell at Frank tomorrow during the Veto Ceremony and Call him out and PAul is going to yell at Tiffany.
COrey hadn't heard anything like that.
[polldaddy poll=9471428]