HOH: Sarah Beth
HAVENOTS: DX, Ky, Tiff
Nominations: BIGD Xavier DX and Claire
Power of Veto Players: Azah, Alyssa, DF, Xavier, Sb and Claire
Power of Veto: Xavier
Power of Veto Ceremony: Xavier used the veto on himself. Sb nominated DX in his place.
Big Brother 23 Houseguest Rankings – – RANK THE HOUSEGUESTS –
View the previous day ranks on the – Ranking Grid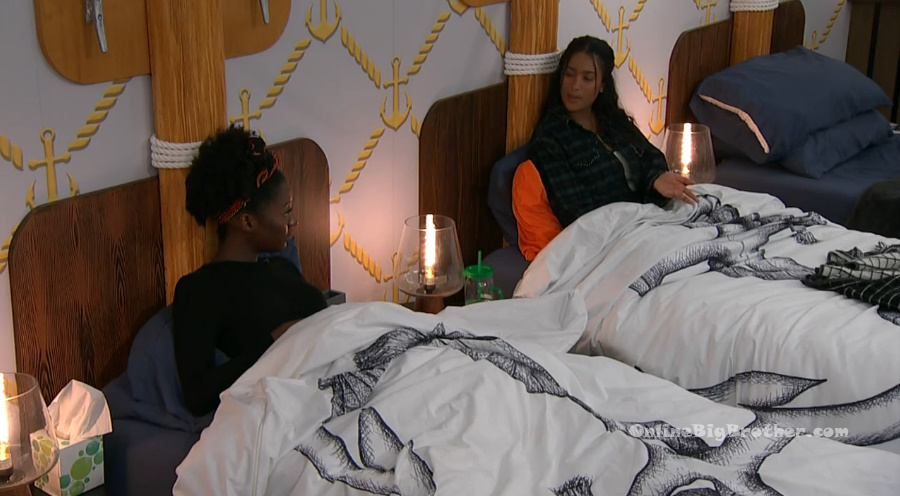 8:45pm Bedroom – Hannah and Azah
Azah – I go back and forth between the vote. I get back to what we all agreed on. Hannah – have you, Kyland and Tiffany decided how the votes are going to go? Azah – I talked to Kyland. He wants to vote for .. we agreed about 5-2. Hannah – okay. Azah – he asked if he could be the two. I said okay. I mean I am open to an opinion, what do you think? Hannah – To me I don't have too strong of an opinion on it. I wanted to do 4 – 3 but just in case someone flips. Azah – that is what worries me. If somebody flips. I am completely fine with 4 – 3. I think that is the best move honestly. Hannah – honestly if we shoot for 4 – 3 and somebody flips that kind of tells us what we need to know. And that's that we don't have our sh*t together so if we do 4 – 3 and someone ends up flipping Hhmmmm.. I don't know. If we did do 4 – 3 and someone ended up flipping it wouldn't be the worst thing for me, you and Tiff. Sure we would be unprepared but we would also know that the cookout can't get its sh*t together and we should probably rectify that. Some could argue that, that is better than not knowing. Whether people can stick to the commitment that they've pledged to if that makes sense .. Like if we've all said this is how we're going to vote and it doesn't turn out then we know we have some issues and we know we have to address them. But also just to be on the safe side so that things can continue going according to plan I guess we should just shoot for the 5 – 2 and then if it ends up being the 4 – 3 we will deal with it. The only reason I was thinking 4 – 3 is so that the Cookout is evenly divided between votes to keep Claire and votes to keep DX.. and that way he won't suspect that there is a ton of us working together. Azah – yeah that is a good point. Hannah – just in case there is a battle back. Azah – yeah. That is a good point. Hannah – but just to keep it simple we keep it a 5 – 2 vote and if someone flips and if it ends up being 4 – 3 vote we obviously have some issues that we need to fix but it won't change the outcome and DX will still go home. I guess if its 5 – 2 maybe DX wouldn't suspect anything because maybe it would be me and Kyland voting to keep him. Tiff would obviously have to vote for her person which is Claire. And you can say that you've voting with Big D or you can say that you know he doesn't have the votes to stay.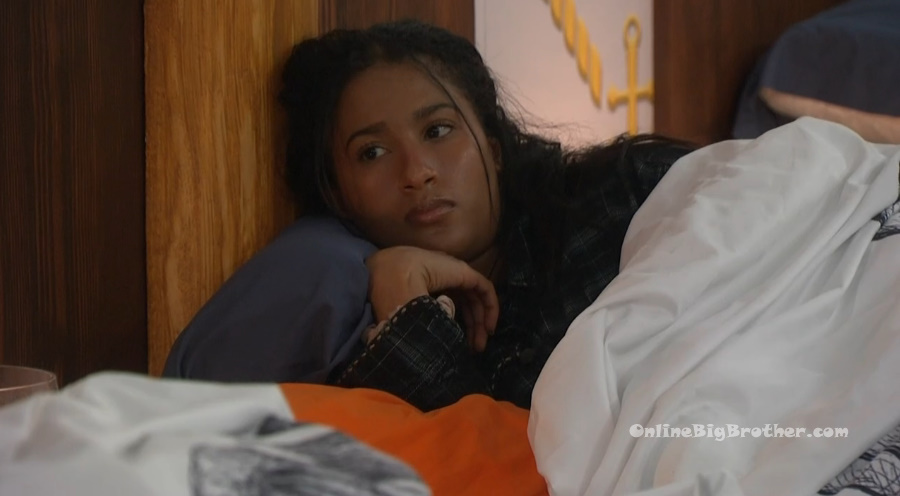 Azah – maybe .. because I am going back and forth too because I am trying to figure out what is best for non-cookout Azah. What would non-cookout Azah do?! Hannah – well non-cookout Azah, non-cookout Hannah and non-cookout Tiff would 100% keep DX. Azah – and non-cookout Ky would not? Hannah – I don't know about non-cookout Ky. I guess it would depend on who he trusted more DX or X. Azah – DX already has his reservations with working with what he feels is that powerful group of four. (Ky, SB, Alyssa and X) Hannah – yeah but if the cookout didn't exist I don't know if Ky would be aligned with X. That is why I am saying it would depend on who he trusted more. For me I can't push for DX to stay because I wouldn't be willing to take that shot against him. SO we could keep DX another week or two weeks or however long but if you win HOH, if Tiff wins HOH, if Ky or Big D win HOH they would have to agree to putting him up on the block or if they win veto.. then you guys would have to agree to not use it on DX. Azah – I already.. I had a one on one with DX today and I was completely back to where I was at the end of the week. Which was okay DX is finding out a lot he probably needs to go next week. Then I talked to X and I got back on DX needed to go. So I am still objective of DX needs to go .. I am just trying to figure out votes… of ideally what I would like is 4 – 3. Hannah – just same. Azah – if the only reason why we are doing 5 – 2 is because we're afraid .. that is concerning. I don't want what happened with Christian, to happen again. And what happened with Ky, happened with Britini again. I just want us to you know vote out who we've expected to vote out if we've come to an agreement. Hannah – we can talk about votes but as of right now you're pretty set on sending DX home? Azah – after talking with X about it.. like I said I had some where I came from .. its not looking out for one person or you or Tiff being too exposed but he brought up a really good point.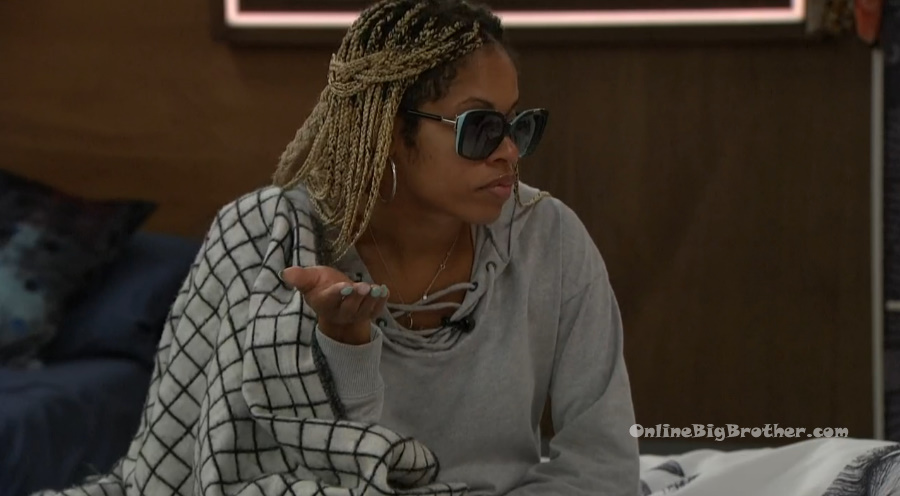 Tiff joins them. Hannah – you said how you were talking with X earlier today. Azah – he brought up a really good point which was .. I really really love DX and want him to stay but he seems to be resigned like he is not going to win but that he wants to take out as many people as he can which is good .. but the point at the end of the day .. he is so good at competitions.. Big Brother blocks the feeds. Hannah – one of us three need to win (HOH) so that we can be sure to take that shot against SB. Tiff – SB needs to go next week. Hannah – yeah and then Alyssa needs to go right after. If not Alyssa, then Claire .. just one of the two. Hannah – the only issue is that if there is a Battle Back and DX came back DX would be more likely to work with Claire. Tiff – we just have to watch Cliare, SB and Alyssa teaming up together. Tiff – what are we going to do about these guys?! These guys think they're carrying us. Azah – they kind of are.. but I don't mind it. Tiff – THEY'RE NOT! Azah – AH… I'm a joker, I've been getting hit left and right. Tiff – listen we are all protecting each other. They wouldn't still be here if they didn't have our numbers to keep them here. Azah – I agree with that. Hannah – its a team effort. Tiff – we all doing our part in here. Azah – yeah we all doing our part. Tiff – what I am hoping doesn't happen is we get down to 6 and they say BYE! BYE!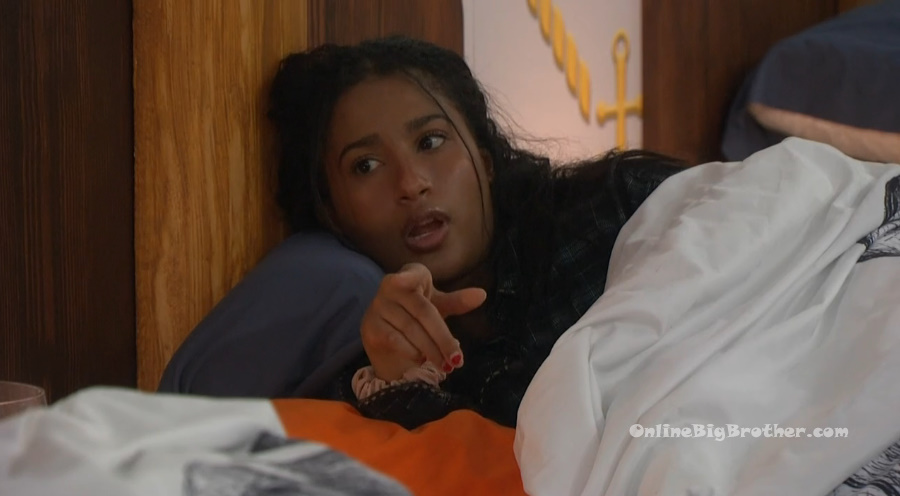 9:50pm Hammock – Claire and Derek X.
Derek – I low key wish tomorrow was Thursday. In a weird way. Claire – I know. Me too. Its like okay tomorrow I need to campaign to everyone and I know they all talk about it so I am like.. Derek – I know. I feel like when X is shut down (solitary)… which is good for us it is one less person to worry about. Claire – yeah. I mean it is just X and Alyssa's votes are locked. Derek agrees. Those are not my peoples. Claire – we're both just really working Big D and Azah. Derek – facts! You're like turning me into Christian. Claire – why? What do you mean? Derek – Christian tried to work Big D. Claire and Derek laugh. Derek – This is why like.. if you play a floaters game you're always at the mercy of everyone else. Claire – like as they go further and further.. like next week.. two votes.. like they can just tie the votes. Two votes become stronger and stronger and stronger .. that is why we were so scary. That's why next week Me and Tiff or Chaddha and you are still going to be scary.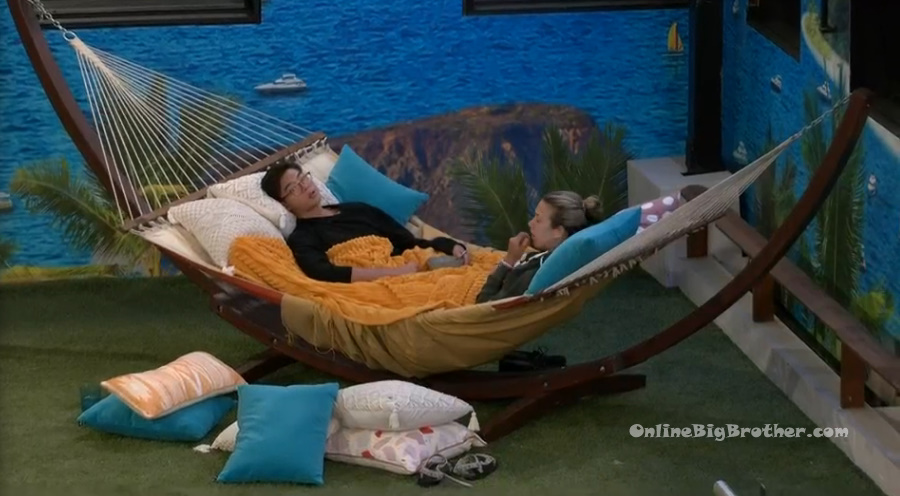 Derek and Claire realize this is the last night they can hangout in the hammock together. Claire – that is really sad.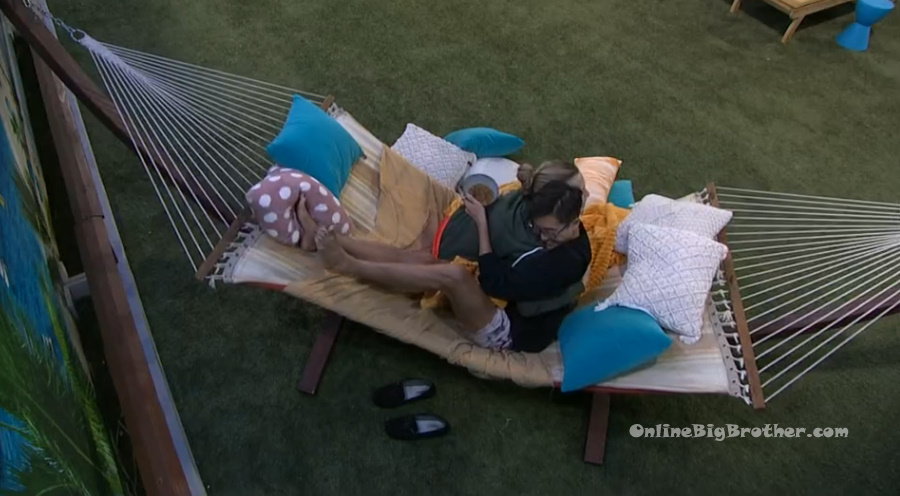 10:12pm – 10:20pm HOH room – Azah and Sarah.
Sarah – this is a tough week because obviously Derek is a great guy and I get along with him really well and he looked me in the face and said I am not coming after you and I believed him. I don't think he is coming after me or KY. But I think it was the best decision to put him on the block looking at the situation.. I talked to Big D earlier and explained that my goal was not to send either of you home this week. I did put Big D on the block but with the expectation that he would be taken down before even the veto because I had a pretty good idea that Derek X wasn't going to play and save his money. I didn't think Chaddha would play but if she did, she said that she would take down who I wanted. And Alyssa said she would take down who I wanted. And then I thought you would probably plan and take him down. Azah – yeah, I thought I would play too! Sarah – so I had a pretty good idea that he would come down. I realized that DX has a really strong competition game but also a really strong social game. And fortunately Claire did end up on the block so that does separate Tiff's vote from him. And like who knows when there would be another chance to take a shot at him. I know you are close to him so I know it might be tough for you. Azah – I get it and I get your reasoning. I plan to go with what the HOH wants. I don't want to be looked at as the person that is making things difficult at all. I am just being open with you .. I am struggling with it but that is just how it is. I am not having talks with people or trying to campaign for either side. I plan to completely respect your wishes. I know that sitting next to him in final two I would never win.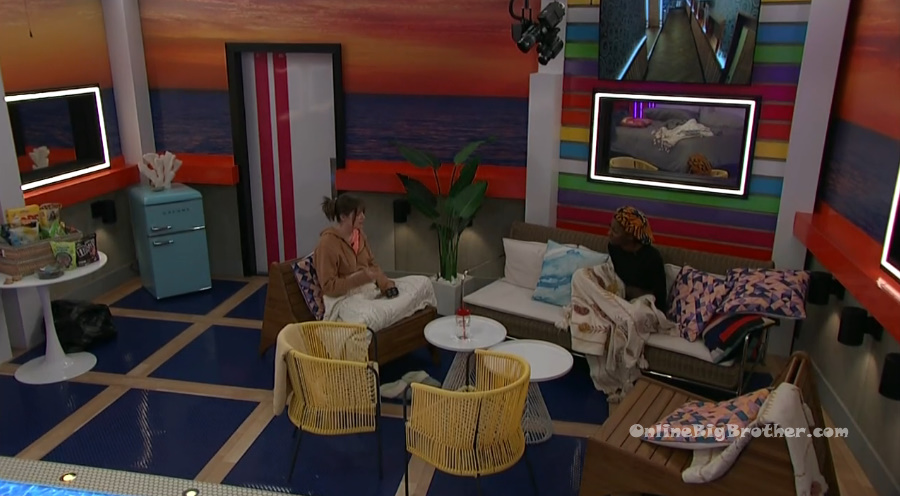 10:40pm – 11:10pm Kyland gets the camera. Big D plays Sarah and Derek at chess.

11:02pm – 11:25pm Backyard – Derek X and Big D.
Derek – where is your mind at? I see you getting dragged around all day. Big D – yeah I am getting dragged around a lot because everyone wants to know what I am going to do. And I am still trying to figure it out because I am still 50/50. I have talked game with you. I have not talked game with Claire. I know Claire is your girl. I know you guys are friends. It is hard because both of you guys campaigned against me.. you know to send me home. SO to me I am like I don't care who goes at this point. Claire I can understand because I don't have anything with her so I 100% get that. With you is where it is hard for me because me and you had that conversation. You know I gave you that heads up week one.. I thought we were on the same page. I obviously thought you, me and Ky were on the same page. So I am just trying to think what is best for me game because I am at the point where who is going to fight for me?! Derek – yup. Big D – and that is what I need. Someone that is going to fight for me and win these comps so I don't have to worry about going on the block. I don't know if that is a lot to ask. I will say this, Claire hasn't talked to me once .. so maybe she might not even need my vote. No one else has been like.. you need to vote this way. Derek – no one has? Big D – no one is going to tell me how to vote. EVER! Derek – that is good to know because I thought people were pressuring you. So here is my question .. would you rather have me fight for you or Claire fight for you? Big D – well the answer would be for you to fight for me… but then on top of that you have to understand that I gave you my word. I am just trying to see what is best for the future.. Right now when I look at the house its SB, KY, X and Alyssa are working together. Derek – and if I am out of this house.. do you see a path to winning this game? Big D – I don't, I don't. I mean I kind of do but I don't. If things go perfectly I believe I will have enough to play in coin of destiny. Derek – so on the coin of destiny thing.. I also have enough money to play. Big D – I believe you do. Derek – I am only telling you.. because right now if I leave this house .. everyone knows you have coin of destiny. Big D – correct. Derek – and everyone is going to know you are the anonymous HOH. If you take out a target, they're coming for you. You got that blood on your hands. If you keep me in this house.. just tell everyone.. bro I will throw it. You can take the shot that you want and I will throw it but you can just tell everyone that I took it because I am already a target, I don't care if I am a bigger target. They're coming for me. Its clear. Big D – how do you feel about Ky. Do you think you have his vote? Derek – I still have to talk to him. Big D – I feel like you have his vote to stay. I think who it is going to come down to.. I would rather .. if you come back in this game. I would hope that you will point your targets at the real people that need to go in this game. Big D – I believe you have Tiff and Azah.. X I don't know. Alyssa I don't know. Derek – I only need 4 this week. If I stay in this house, I will promise you… you will never hit the block, you will never be my target, and I will fight for you and I will fight for Azah. Big D – no I know that. Its hard for me .. because we made a deal. I am like whoever goes, goes because both of you were willing to keep Brit over me. Derek – there are relationships that I never turned my back on. Ky is one of them and you're one of them. I never campaigned. Big D – it wasn't campaigned. The problem is that girls talk. The girls all have big mouths in this house.
12am Living room – Azah, Derek X, Claire and Sarah are chatting about random things. Derek talks about dopamine deprivation and wonders if it will be like that when they leave the house.

1:34am – 2am Chess room. Kyland and Derek X.
Derek – He (Big D) told me he was 50/50. I feel like he is lying to me. I would believe if he was a no. Kyland – yeah then he is lying to one of us. How did the other chats go? Derek – I still don't feel hopeless but I feel like I have to pitch to you. I don't have anything locked not even Chaddha. Kyland – really?! Derek – if no one else will I don't see her voting for me. Kyland – if she doesn't, I will. Derrek then plays out different scenarios using the chess board.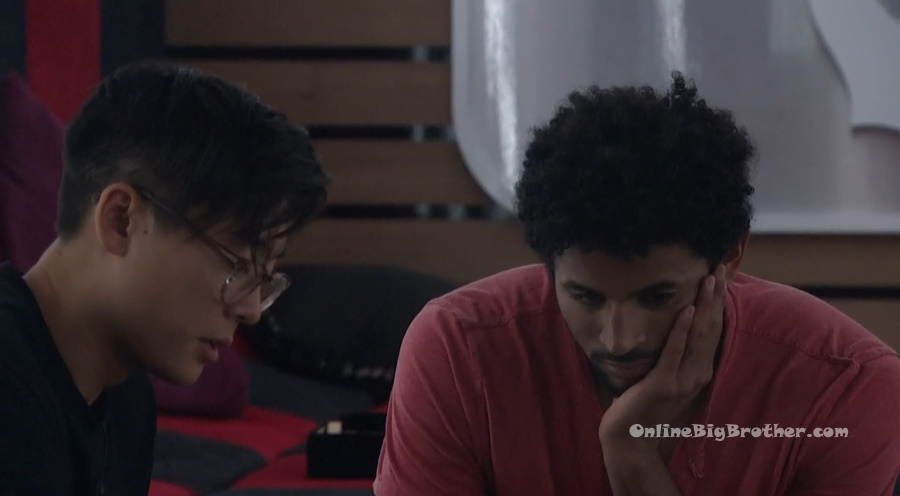 Help support Onlinebigbrother.com 🙂 Donate for 48 hours of good luck karma 😉 Without your support this site and these spoilers wouldn't be possible.
Donations to keep the madness going.