HOH: Sarah Beth
HAVENOTS: DX, Ky, Tiff
Nominations: BIGD Xavier DX and Claire
Power of Veto Players: Azah, Alyssa, DF, Xavier, Sb and Claire
Power of Veto: Xavier
Power of Veto Ceremony: Xavier used the veto on himself. Sb nominated DX in his place.
Big Brother 23 Houseguest Rankings – – RANK THE HOUSEGUESTS –
View the previous day ranks on the – Ranking Grid
Big Brother Spoilers – Flip is in the air.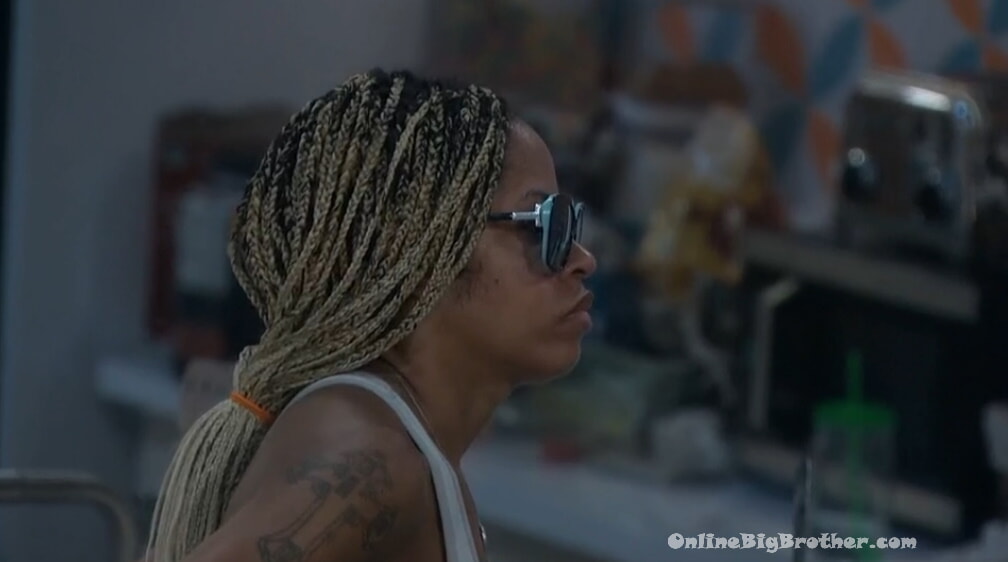 1:20 pm Kyland, Tiff
Tiff says if she wasn't worried about the 6 being mad at her she would say "F** them I'll do what I want to do"
Ky brings up if two Cookouts were on the block this week everyone would have blamed him. Ky says it was Hannah that told him what to say to DX to prevent him from playing in the roulette.
Kyland brings up Hannah saying to him there's someone in the 6 not on the same page for who they need to send home.
X and DF join them in the kitchen.
DF says for him both the nominees tried to flip the votes to send his a$$ home for him it doesn't matter who it is He'll go with what the 6 wants.
Df – I'll vote out DX just for the fact that I can't beat him in anything
X wants them all to agree before he goes into solitary tomorrow.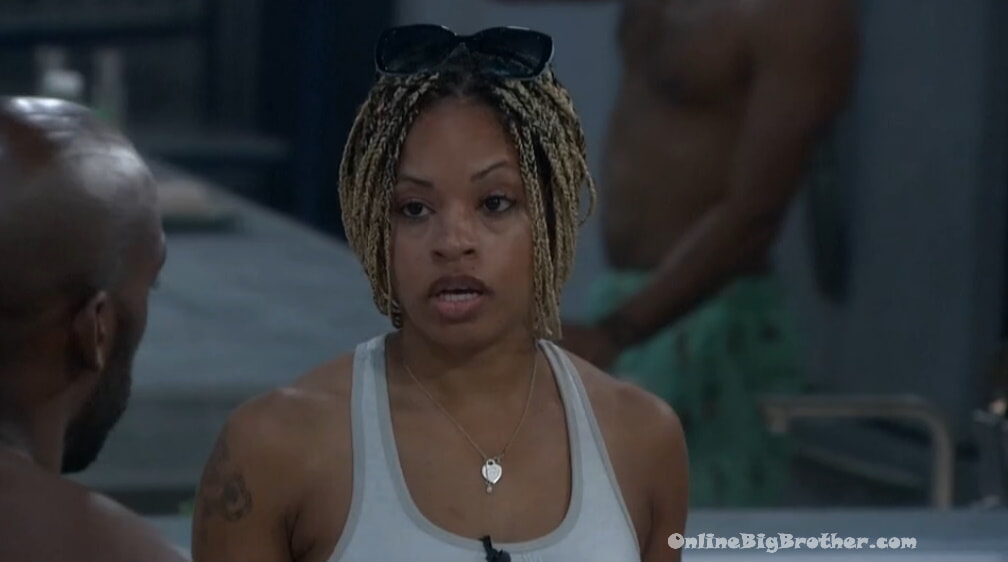 Tiff – I don't have a whole lot to say I'm perfectly fine with whatever the decision is. I'm fine.
Kyland – is there a game thing or is their personal stuff
Tiff – It is perfectly fine I don't want to put myself into a position where you view me as the trouble maker, the flipper, the emotional person, the selfish person, the personal gamer. So it is obviously umm.. not in the best interest that is perfectly understandable. It's a dead situation to me we don't have to keep having a redundant conversation about it
Tiff says if it's the 6 decision she's perfectly fine with it
Ky – we have all proven none of us are trouble makers
Tiff – you all have proven you will do what it takes in this game. I don't have a leg to stand on I've done nothing. I haven't won anything. I haven't done anything I'm in no position to call any shots.
Tiff – you guys are the ones that will take all the shots that need to be made so I don't have anything to say. I can't call a shot and be able to back it up. therefore I don't have any information to back anything I would say that needs to be done this week
Kyland leaves.
Tiff says she doesn't want to come off like she's bitchy and moody
Tiff says there are pros and cons to keeping each nominee.
Tiff – when I stand in the middle looking at you guys and my side.. I'm a girl so my relationship with DX is different. I know he's not looking at me, Hannah, Azah even DF in the closer future. I don't personally think he wants.. If his game relies on him not going after you I believe he wouldn't. He has been wanting to work with you guys for the last few weeks.
Tiff – one of the things he was scared of going after Christian is you coming after him. He wanted it to be you, him and Kyland
Tiff – I'm willing to let Claire go this week.
Tiff says she would put Claire on the block She's not afraid to do it. She doesn't want to do it but if she has to she will. Tiff says she's loyal to the 6 and if Claire is the last person she's HOH she's taking the shot at Claire.
Tiff – this is a game for me it has to be done.
Tiff highlights that DX is not untouchable. They had no idea that SB was going to be the one that takes him out.
Tiff says "honestly" if it wasn't for the six it would be "balls to the walls" for her to keep DX.
Tiff – I'm not going to do that out of loyalty to you guys (sigh feeds could have been so much more)
Tiff – I am like of course we all set our personal games aside and we've put a lot of blind trust and faith into each other in the hopes that we will all get to where we are trying to get to at the same time we don't know the unknown.
Tiff – Claire has been very distant to me this week to where I am like what is she thinking. I don't know all of Claire's thoughts right now
X – that is unsettling
Tiff – she snapped on me twice the day of the veto where I was like I'm just going to leave her alone
Tiff says she doesn't think Claire to do a whole lot but she could win HOH and if she does Tiff is sure what she will do. tiff adds that she knows what DX will do
Tiff – he's still a shield for Alyssa.. there's a lot of thoughts in my head.
Tiff says because she hasn't won competitions so she can't back up what she wants she's going to do what she does best and sit back and strategize.
Tiff – I create relationships with people and try to get them to do things we want done, Essentially that's probably what this house calls a manipulator. I am fine with that.
X calls that a "mist-er"
Tiff – I call it..
X – playing the game
Tiff – playing the game.
Tiff – I still think Sarah Beth should have gone home. She's going to f** around and keep going and we going to sit there looking like how the f** is she still here. Especially if we get down to five and she's still and we're down to 4 and she's still here and we're down to 3 and she's still in this b1tch. I'll be mad at y'all and we won't be friends after this game.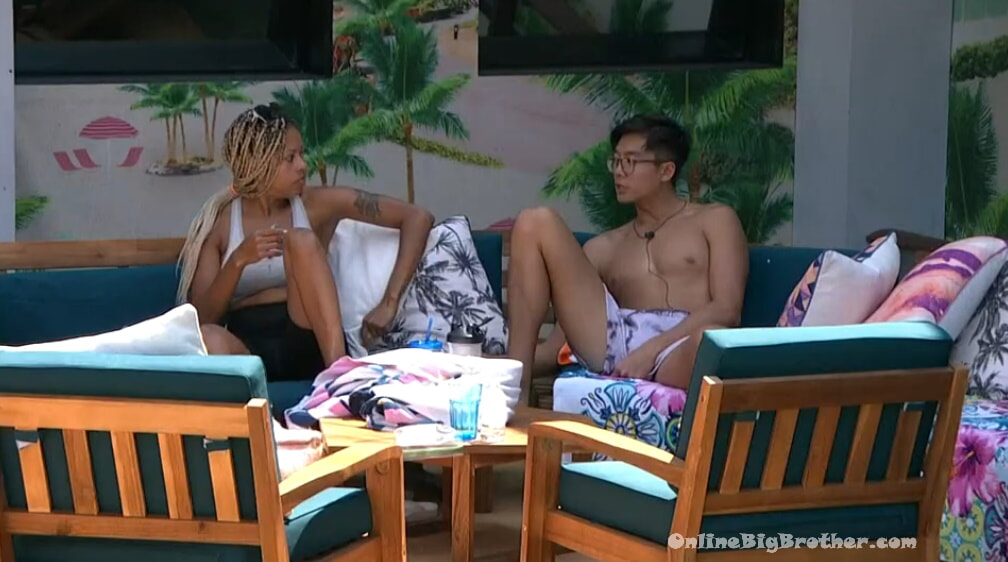 2:11 pm Tiff and DX
Tiff – Look, honestly I think X is who you have to convince. We're going to have to talk later but I got a pitch for you
DX – okay
Tiff – let them know HEY I know you guys are close to Sb and Alyssa but at some point, you are going to need to take them out who is going to take them out for you if you think you are going to get Hannha, Azah or Tiffany to take them out they haven't won anything yet. It's better for us guys to stick together it's an all-girl Jury. You want to send me to Jury with the rest of the girls when I could be here to help you guys out. Let's get down to the next two evictions. Let's get Sb and Alyssa out. I know you are all working with them but at some point, you have to let them go. Let's get them out then send me the f** to jury. I won't come after you for two weeks you have my word let make a two-week deal.
Tiff says if they come back with him being in the royal flush and taking out Christian say that wasn't a deal "that was an alliance I got brought into I didn't f**ing know I was brought into the royal flush next thing I knew I'm in this so what I have to be loyal to somebody I knew was targeting me since week one"
Tiff tells him to bring up using the veto on Kyland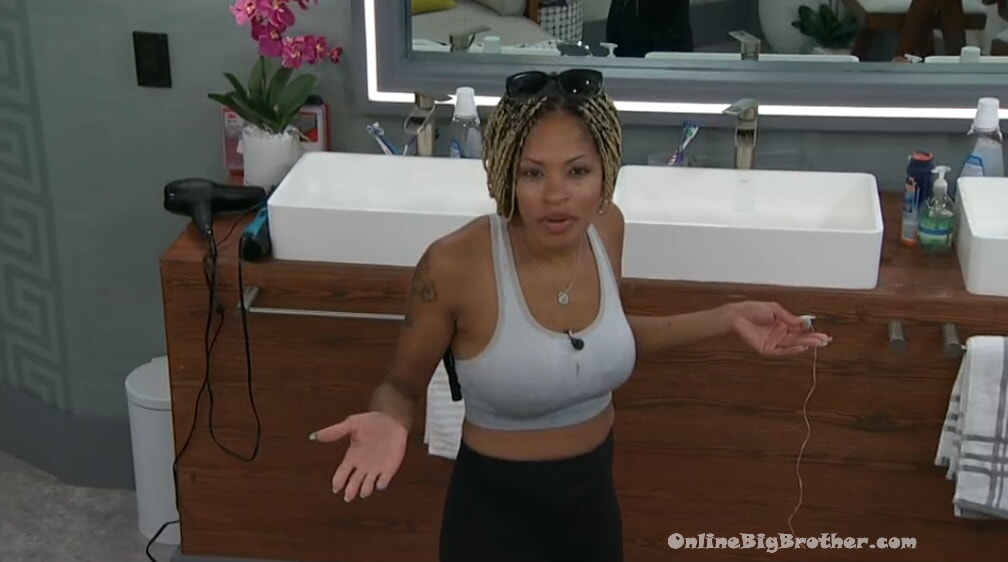 2:17 pm Tiffany to the camera
OKay so.. I promised Ky and X that I won't say anything to them regarding campaigning to keep DX here and I won't Not to them. I didn't say In won't help DX build his campaign so my mission for the next two days is to give DX his campaign pitch For Ky and Xavier for him to stay.
I won't say anything to them I don't want to hear ohh she's only caring about her personal game she doesn't care she wants to keep him she hasn't won any HOH we're going to have to be the ones that take him out.
Sarah Beth got his butt on the block anybody can get his butt on the block Nobody in this house is untouchable.
Let me work my little magic spread some seasoning on the cookout and I'm not giving up never quit don't give up I don't want DerekX to go home. this is a game this is Big Brother I want to have some fun I was ready to flip it for Christian I'm ready to flip it for DX and this time I might just do what I want this is Big brother I'm not here to lay down and sunbathe and just let everybody do what they want to do I came here to play a game. OKAY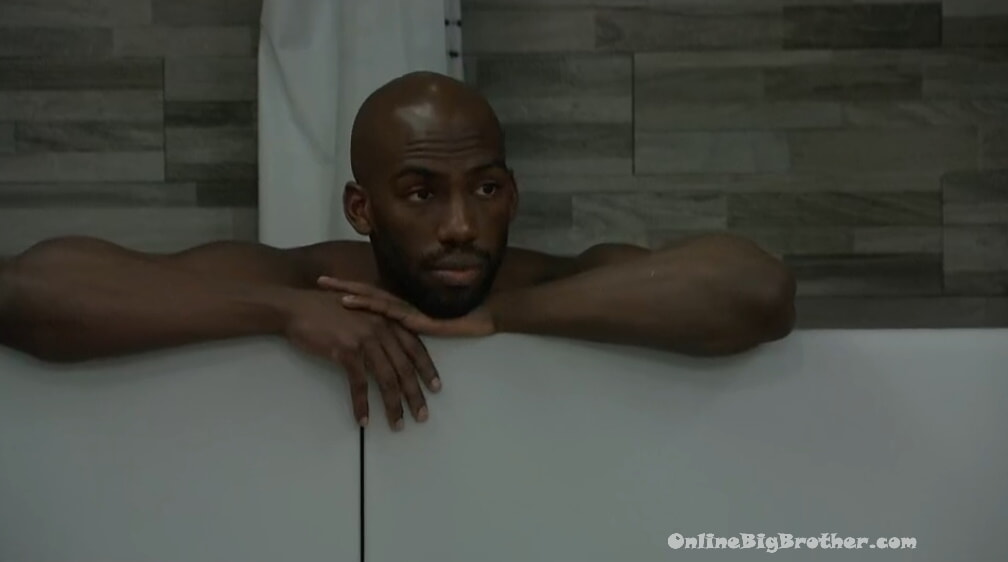 2:50 pm X and Hannah
Hannah wonders if Tiff is made at her she did voice to Kyland her concern that maybe not all of them are on the same page this week on who to send home.
Hannah wonders what Ky retold to Tiff because she said it was frustrating for her to have to justify why her person goes. "why do I have to be the one that breaks that down to other people"
Hannah – Tiff came by me in the kitchen and said I'm sorry for burdening you with my emotions about DX going home.
X says Tiff is just overall frustrated she's not mad at anyone.
X – if she is she'll get over it
X says if there are valid reasons to keep DX here he needs to hear it.
Hannah – for me I'm down to keep him here.. But that would take, Tiff, Azah, and Kyland. I'm not going to take a shot at him even if it comes down to 7 of us.
Hannah – I can't I would lose his Jury vote.
Hannah says if Ky, Azah and DF come to her and say they are all down to take DX out later in the game then she is down with keeping him. They can use him as a weapon to take out SB and Alyssa. "Without Ky having to do that and without you having to do that"
Hannah – if Ky and Azah can't promise that then we can't keep him.
X says no one is willing to take out DX "unless I win everything"
Hannah – you would have to win Veto and HOH in the same week. If I won veto I would be expected to use it on him and I would
X – that would be the same case for Azah and Tiffany
Hannah points out that Tiff is so attached to DX now what will it be like in 2 weeks
X – This is why we took out Bri to bring Azah and DF back into the fold. they were too emotionally attached to this person
X is saying that DX is the better play to take out for the 6.
X mentions that Tiff told him she is willing to take a shot at Claire he knows now that her judgment isn't there.


3:00 pm Kyland and Azah
Ky – if two of us were on the block this week it would be on me. The accountability of this week was on me I kind of want this vote if I can but.
Azah – that's fine I am completely fine
Ky says thank you he appreciates it they hug.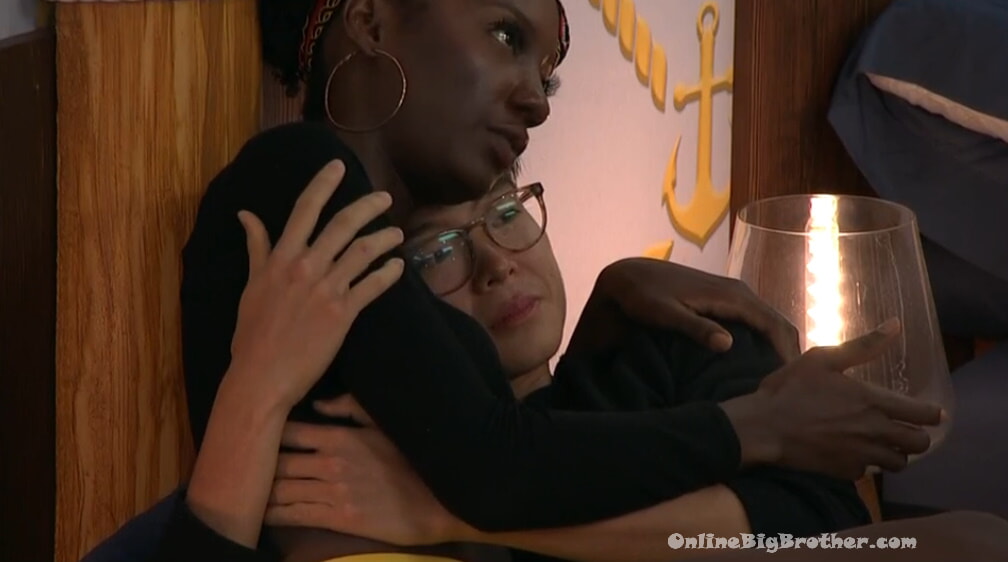 3:36 pm DX and Azah (Hard to follow some of the strategizing with the props plus feed blocks every 20 seconds doesn't help)
DX mapping out the game using chess pieces "wheres your head at with what's best for you game"
Dx says if he wins HOH he's putting up Sb and Ky.
DX points out that the coin flip argument doesn't hold as much weight with her because if he doesn't win then DF might. Neither will be putting her up.
DX – If I stay this week I will never go after anybody here
DX says he cares about Hannah, Azah, Tiff, and Claire and he wants them to go far in this game.
BabyD starts to cry..
DX – what is the worst case if I stay
Azah – Kyland winning and putting me up
DX – why wouldn't he put me up
DX – it's going to be those four vs me in their head (Ky, SB, Alyssa, X the monarchy)
DX brings up yesterday when he was in the HOH listening to music he saw DF, Ky, and X walking out of the have nots. He's been seeing them all including Alyssa talk to BIGD more because they all think he's the swing vote.
DX – I feel stupid because America was sending me money they wanted me to play the roulette wheel and I let them down.
Azah says she'll need time to think this through. Seeing what he's proposing on the chessboard makes it easier for her. "I was using fruitloops before"
DX asks her why the strongest players want him out. It's because they know he's the biggest asset to the other side.
DX – should I talk to BIGD
Azah – wait until Wednesday I'll talk to him a little bit.
BabyD leaves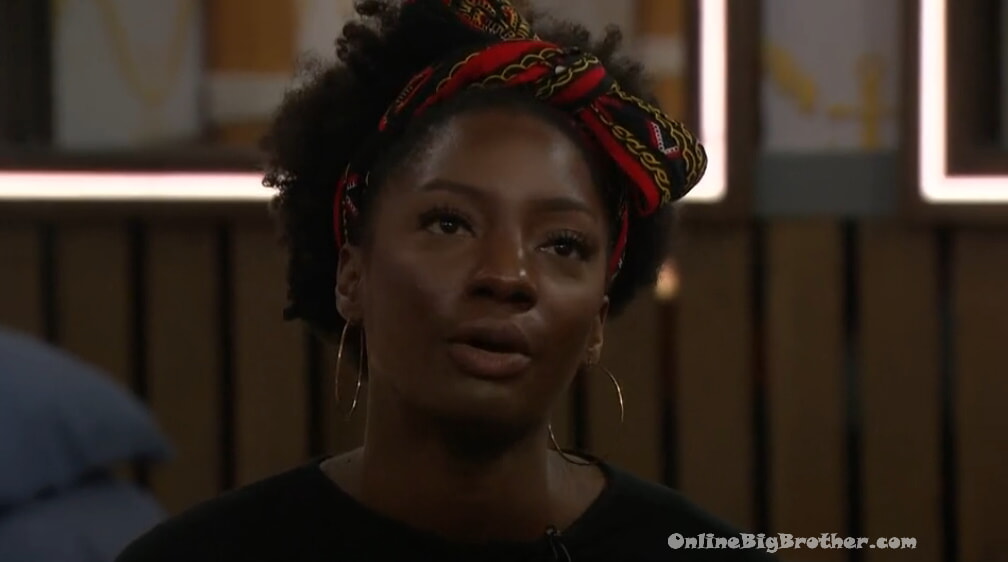 Azah – OH MY GOD I felt so certain until 30 minutes ago.. he brought up some really really good points goodness gracious. Number one I got a bone to pick with y'all. Why not give me money.. why?
Azah – what did I do to you I did nothing but if y'all think about me the same way you think about Kyland and SB we have a problem ok I don't like them neither
Azah – y'all shouldn't be putting me down with them in the 50's I don't like them neither (LOL do something)
Azah – he brought up some good points he won HOH BOOM BOOM Alyssa/ SB out he would do it..
Azah – he said he'll talk to the house. the house is the cookout we'll tell him to send Alyssa home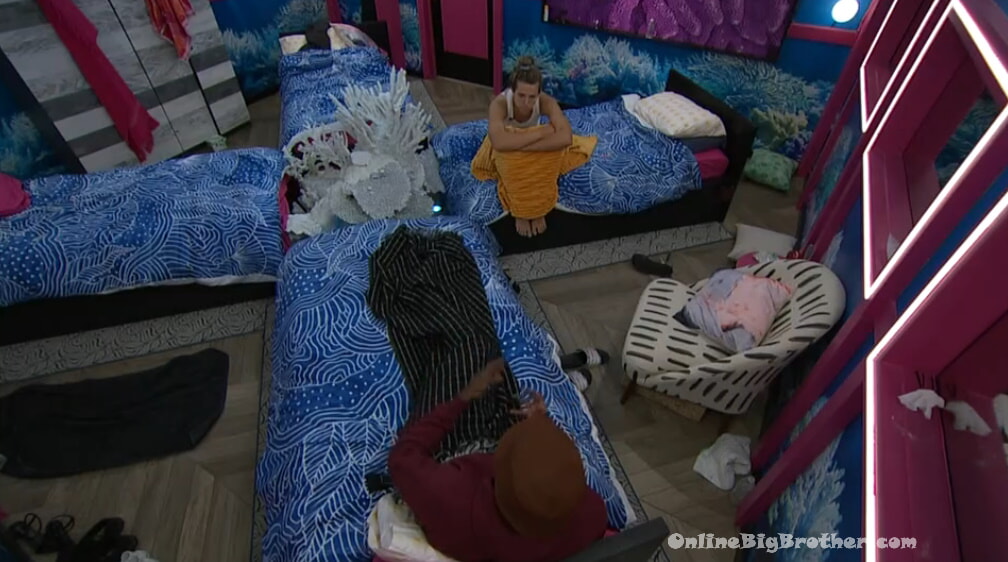 4:35 pm X tells Claire he's leaning more towards voting DX out. Claire says she's willing to work with him and Alyssa.
Claire says she wants to bounce ideas off him sometimes she feels like he's got a level head. Claire notes that sometimes when bouncing ideas off Tiff they veer into Conspiracy territory.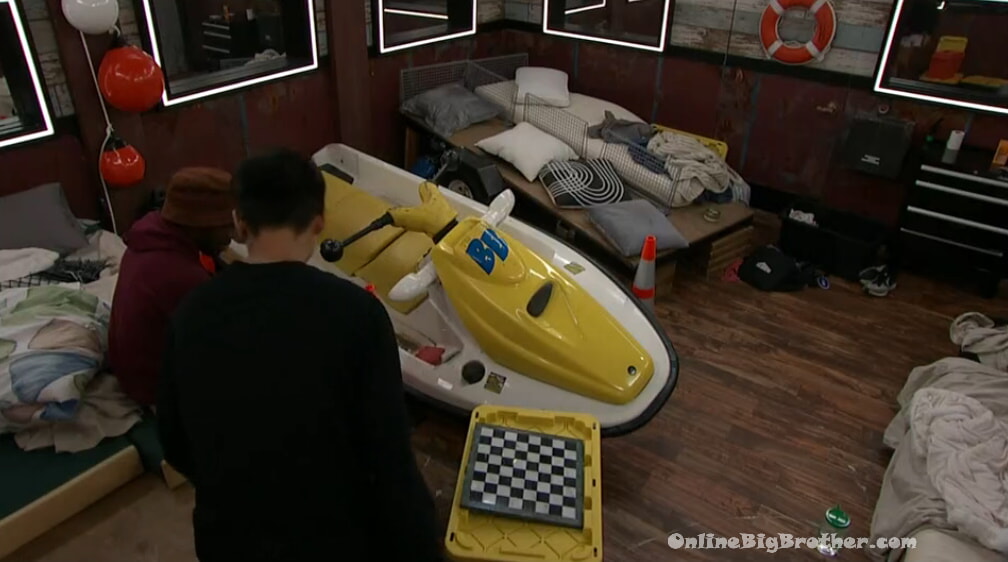 4:52 pm DX and Xavier
Dx pulls out the chessbaord
X – Jesus
DX – you are the only person in this house that I know will hit the block next week.
X – unless I win the HOH
DX – I am guaranteed to play the coin of destiny next week. If I do win it I already told you Alyssa won't hit the block. Hannah won't hit the block either the first thing is you cannot win Veto.
Dx – you probably can but let's say you don't if there are three nominees you only need two votes to tie with Alyssa not on the block and Hnanh, not on the block that's already two votes for you with me as HOH I would be the tie break. If I was anonymous HOH I can guarantee you will not go home that week
X – does the anonymous HOH break the tie
DX – YES, anonymous
DX puts SB, Ky, Alyssa, and Sb on the chessboard. "if you were to be working together. this would be a very strong group. the logic there is everything goes currently you can run competitions take out people one by one and this is a final 4"
DX – Do you think SB will ever take out Alyssa?
X – no
DX – Sb is a very calculating player if I see this logic she will too. If she goes into the final 4 with this it's 50/50 for her if her or Ky win she's final 2 but if you or Alyssa you going to final 2 a 50/50, a coin flip
DX – if I was here I wouldn't want to go in on a coin flip. For her the biggest threat is Alyssa. If she goes final 3 with you and Ky and her she's guaranteed final 2
X – I Knows what you are saying more likely I would take SB over KY
DX – I don't think she's making that move at final 4 the same reason why she's making the move on me.
DX says he had a good relationship with SB so good he didn't sping the roulette
X – you said you and SB had a good relationship do you not remember your HOH week?
DX says if he stays in this game SB and Ky will always look at him before X "Do you think that's true"
X – sb definitely Ky toss-up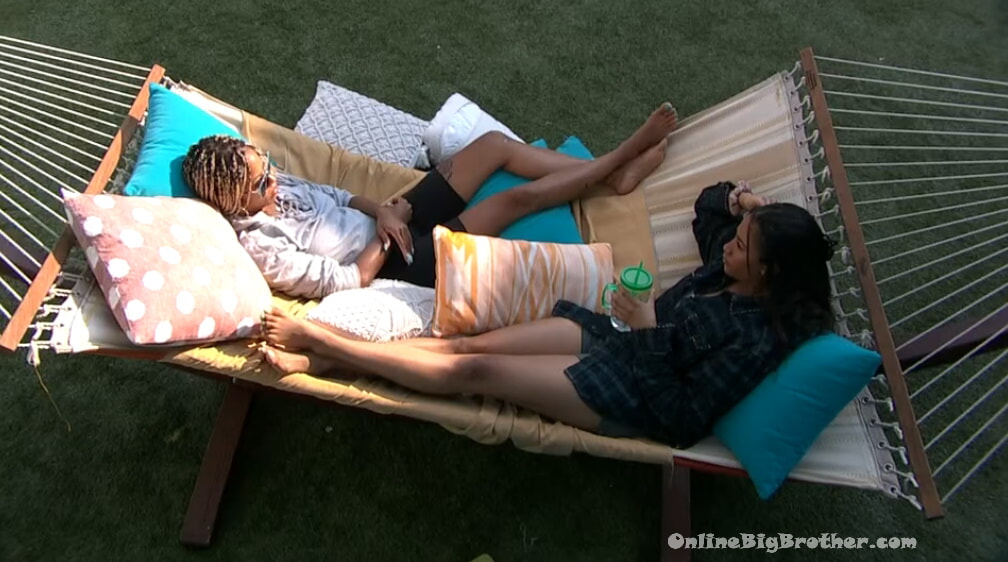 5:03 pm Tiff and Hannah
Tiff – she is playing the perfect game.. she knows when to turn her emotions on she knows when to turn them off. To win this game how to you play just like her.
Hannah – her preventing DX from winning that 5K put a target on her back
Tiff – everyone forgot about it.
Tiff doesn't think X or Ky would take the shot at her. The two of them will but they have to win first.
Tiff – DX will take the shot but he gotta go. Claire won't take it.
Hannah asks who Claire will target.
Tiff – just like we are sticking together don't expect them to not stick together (Doubtful)
Hannah – ok
Tiff – they will realize they are the minority in this house they can trust us if they want o it's not going to last long
Tiff tells her DX is not a vengeful person he's not going to take a jury vote away from her "I have a higher chance of losing Claire's jury vote than you have losing DX's jury vote"
Tiff says she's sold on the fact DX is going home she's not pushing it anymore she doesn't want to have conversations about it everyone else can figure it out.
Hannah points out how they have no shot of winning the final 2 against X if he keeps winning and takes out BIGD.
Hannah – do you think X, Ky, and BIGD think they're carrying us?
Tiff – They don't think we do sh1t. that's why I want them gone once we hit 6. There's no way they would be walking around safe if it wasn't for us keeping their names out of people's mouths. We are doing things to keep them off people's radar..
Tiff – My relationship with Claire is not as.. umm.. trusting as.. I trust DX way more than I trust Claire. He's a lot more naive and a lot more gullible. We can convince him to think a certain way.. I can't get her there.. I had her there but she's picking up on everything I don't know how much longer she can be here before she gets it.
Hannah – then brings SB and Alyssa into it but the guys think they have SB and Alyssa on lock
Tiff – the guys think they have everything
Hannah asks where the fourth vote to keep DX will come from, "BIGD or Ky?" (Hannah, Tiff, and Azah are the vote to keep BabyD)
Tiff – I think we can convince both BIGD and Ky
Tiff says DX needs to convince Xavier.
Hannah – Xavier is not going to be convinced.
Hannah points out that Alyssa was SB's number two target this week so there can't be too much trust there.
Tiff – I'm not going to say Keeping DX jeopardize us getting to the six I think it will jeopardize all six getting to the 6
Hannah – mmmhmmm
Tiff – that's the player in me I really want to play the game really bad but I can't. I'm limited in my play.
Tiff says if they send DX home and Alyssa wins it's the two of them on the block, "She's not putting up Azah, BIGS, Ky or X"
Hannah – if Alyssa wins Claire would see herself on the block but if Claire wins [veto] then yes they will be on the block unless X can convince her to put up SB
Tiff – those guys think they got those girls, those girls got those guys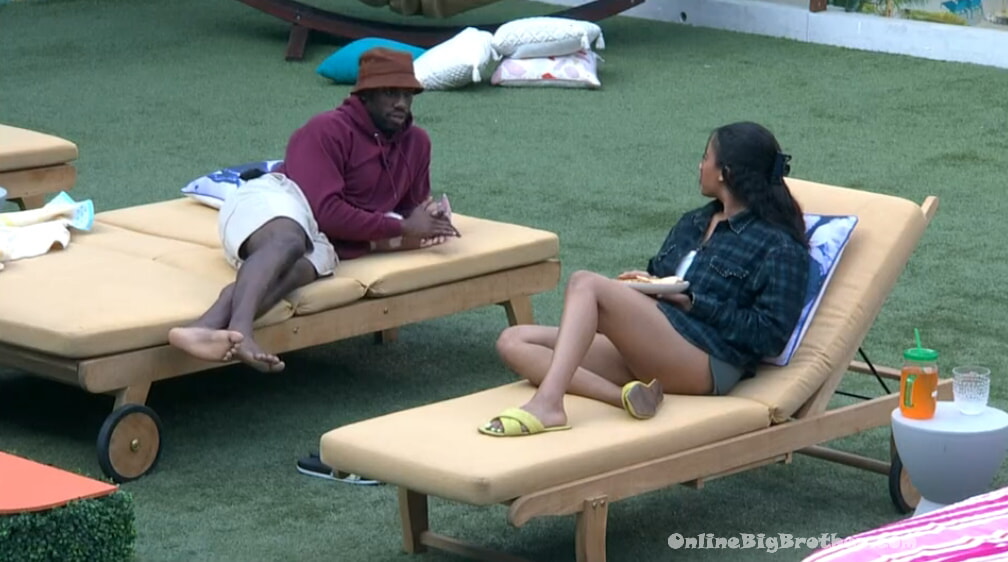 5:50 pm X and Hannah
X says DX made good arguments but he's not convinced keeping him is best for his game. Says they went through 18 scenarios.
Hanna – I told him his arguments don't make that much sense for you and Alyssa
X – he made good points but they were too easy to counter based on the dynamics in the house
X – he's a smart kid unfortunately there's not much I can do for him.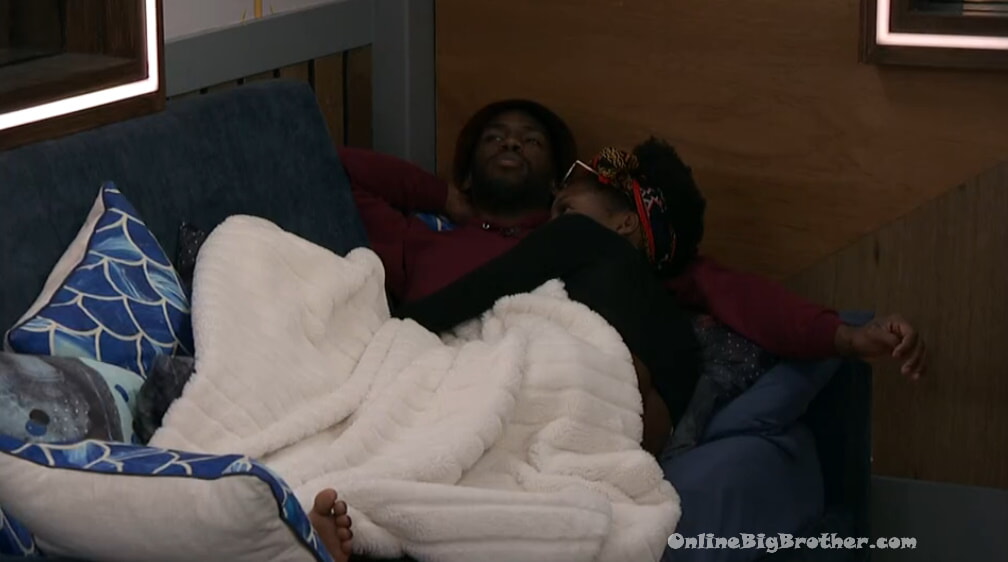 5:56 pm X and Azah
X asks her who she wants to stay this week.
Azah – BAbyD would be best for me to stay.
Azah says she was fine to get him out until she had a conversation with him "I want to make sure everybody gets there the six. I do worry about Tiffany and Hannah being exposed like that if BABYD is gone"
X – how would Tiffany be exposed with Claire here
Azah – she can't win Competition
X – We don't want someone outside of the six that can win competitions
Azah says what if Alyssa wins the HOH and Claire wins the veto there will be three people from the cookout on the block.
Feeds cut. When we're back. X is saying she is trusting DX more than she should.
Azah – everything he's promised me he's given me. His target is Ky and SB he wants SB out. He thinks that's the person to be afraid of.
X isn't convinced Brings up how hard DX will be to get out. "From a game standpoint" getting DX out now is the best play.
X – he's making too many promises with people he won't be able to keep at some point he'll need to get his hands dirty he's told me for his personal game it benefits him to keep me and Ky around. When we get to 7 he's not coming after me or Ky.
X – there's something Tiffany alluded to today and I want to make sure that isn't a thing.
X says she hinted that they are dictating things within the 6.
Azah says she doesn't think that at all.
6:36 pm Dx and Tiffany
Dx says he's got a pitch for Ky that he wants to run by her.
Dx says X has some late-game deal with Ky.
Dx pulls the chess pieces out. (again hard to follow)
Dx – here is the important thing I got out of it.
DX says there's going to be a double and a random competition coming up otherwise the days don't work with how many people are here.
Dx – where X's head is at is if they take a shot if they take a shot Ky and Sb are shielding him
Tiff – he doesn't want Ky or Sb to go so he can stay shielded
DX – exactly, He thinks him and Alyssa are really shield and honestly he's right
Dx – my pitch to him that become ineffective. the person I need to sell is not X the person is Ky
Dx – Ky doesn't want to be a shield for X. My pitch to Ky will be if I am out of this house you and Sb are shielding X and Alyssa. BIGD even if you feel close the only two people that have put him on the block is Ky and SB
Dx – next week X is guaranteed to be on the block lets say X goes next week then we lose the week after that. the most likely scenario is Ky and SB are on the block. But here is what changes if Ky and Sb are on the block you don't go home because that week you need three votes to stay. Ky stays (because of DX, Tiff, hannah's vote)
Dx goes on about scenarios using the chess pieces as props. Says he's convinced now that he has to sell this to Ky while X is in solitary confinement.
they go back to playing pool.
DX – you think those four can stay strong?
Tiff – I think they think they run this house.. without you they do
DX says he talked to X for 30 minutes and he had a rebuttal for everything.
Tiff – he's been thinking about this for a long time.
DX – I talked to Azah today
Tiff – I wonder if he's been thinking about this since Christian left. Maybe he's got a vendetta.. or maybe it's just game.
DX – I would be surprised if it was he's not that kind of player.
7:45pm Derek X and Tiffany playing pool while talking about what each other should have in a significant other. Meanwhile Ky and Hannah are playing chess.