HOH: Sarah Beth
HAVENOTS: DX, Ky, Tiff
Nominations: BIGD Xavier DX and Claire
Power of Veto Players: Azah, Alyssa, DF, Xavier, Sb and Claire
Power of Veto: Xavier
Power of Veto Ceremony: Xavier used the veto on himself. Sb nominated DX in his place.
Big Brother 23 Houseguest Rankings – – RANK THE HOUSEGUESTS –
View the previous day ranks on the – Ranking Grid
Big Brother Spoilers – X enters Solitary today and won't be released until the vote tomorrow.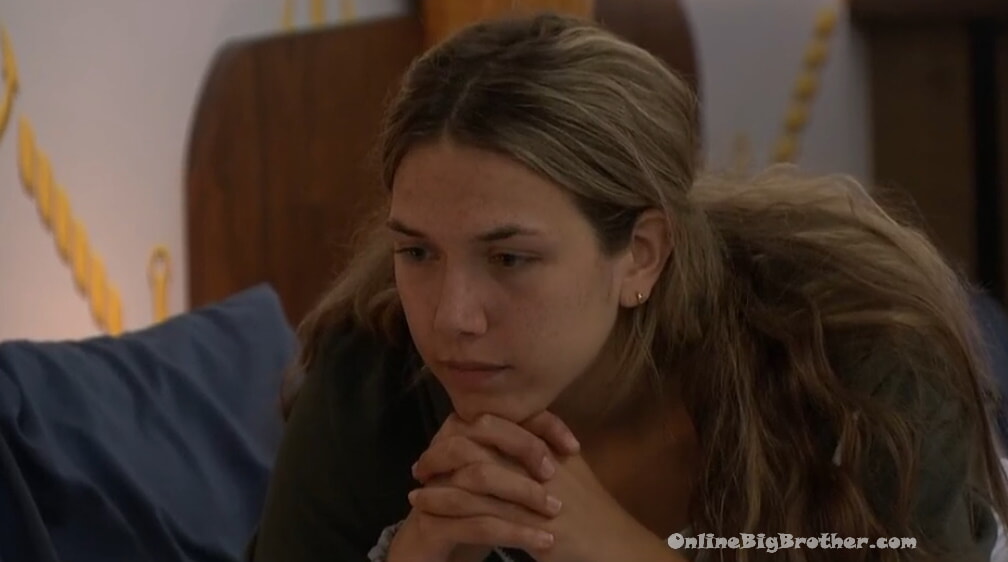 1:46 pm Claire and Azah
Claire says she wants to work with Azah. "both me and DX can be loyal people and I have been burnt by people I have a purpose to go after people"
Azah – you mean SB
Claire – yes.. I mean Ky and Sb
Claire says Ky had put her on the block he's not loyal to the queens.
Claire – if I'm HOH next week I'm also in a weird spot. most people assume that there's only one person that can win Coin of destiny
Azah – there might be more than one
Claire – with HOH there might be more (Chances to get money)
Claire – I know what it feels like to be used as a pawn. I don't ever want to play scared. using pawns is playing scared and I don't like that. that's not what I came here to do
Azah – if you won HOH how would you put up? I won't say a word to anybody
Azah – I'll tell you who I would put up. Ky and Sb
Claire – I will do the same. I have an excuse to. Ky told me when he put me up I could use him .. Chuck him up
Azah – if Ky won [veto] who would you put up
Claire – Alyssa.. what is important is next week we hold the power. I don't see the purpose of putting X up next week
Azah – I think he's cute
they laugh
Claire – X makes me a little nervous I think he's in a good spot but it doesn't make sense for me for him to go home next week.
Claire points out it's a little tough to win Competitions when there are five people that have won all the HOH's and Vetos.
Claire – DX is one of them, the other four I worry about.
Claire says one of those four have to go next week (Ky, Alyssa, Sb, X)
Azah – did you really get 50 dollars?
Claire – I really got 50 dollars the first week. I didn't get 50 the second week.
Azah – I have a feeling DX won 100.. DF won 100.
Claire nodded she got 100 "It makes me convinced that America does not like Ky and Sb because I was shitting on them"
Azah – well America don't f***ing like me either
Claire – America is trying to send a signal you f***ing need this money
Azah says she wants Claire to stay.
Claire – the odds that Tiff and I hit the block next week is pretty high
Claire says it's really her, Tiff, Hannah and Azah
Azah – I don't like Kyland and I want SB outta here.
Azah – BRAH if Kyland wins HOH I don't know what I'm going to do. (The OBB Boys are not ready for a Kyland HOH it's full Kraken at that point)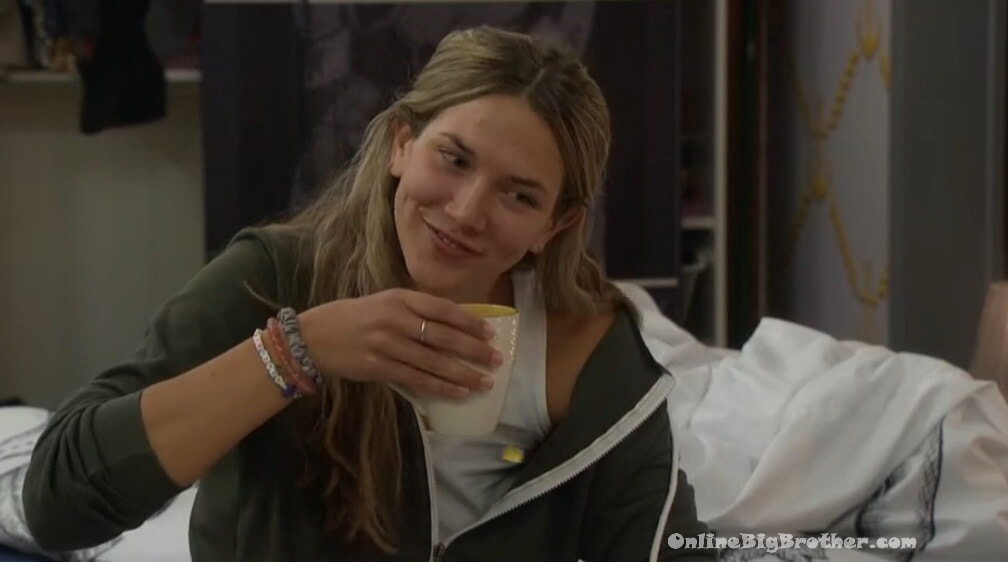 2:28 pm Claire and DF
Claire – my pitch to you I can't f***ing win a comp
DF – you don't need to pitch a lot to me the thing I need to figure out is if you won HOH where's your head at?
DF – do I need to worry am I a pawn to you? Where do I stand?
Claire – I will be upfront and honest.. I know what it f*ing feels like to be a pawn IF I win HOH I am not using pawns you don't have to worry
DF – ok ok ok that's how I feel I'm going to for the BIG DOGS.
DF says he feels like there are more people with the money for the coin of destiny.
DF – I can't do sh1t I'm hoping for an eating competition at this point
Claire says people lied about the BB bucks they got the first week.
DF mentions how people lie about playing in the High Rollers last week
Feeds cut. when we're back they continue talking about the power.
Claire says if the HOH assumes he has it they might do what he wants. "they don't want to have to risk if you use it"
DF – I'm hoping if I get HOH the coin of destiny I'll have to play to endure my noms stays the same. I hope I'm HOH so no matter what I have control over it at all times.
DF says he's telling her the same thing he told BabyD it's still up in the air.
DF – I feel like me and you, we're at the bottom and I'm just tired of feeling picked on and tossed around and sh1t ..
Feeds cut When we're back.
Claire – you are someone I want to start bouncing ideas off of. I feel you see a lot of what is going on in this house
DF – I do (from the couch in the yacht room)
DF – if you ever want to piggyback off of me and try to figure out stuff. I play across the board fair with everybody I try and play a logic and honest game.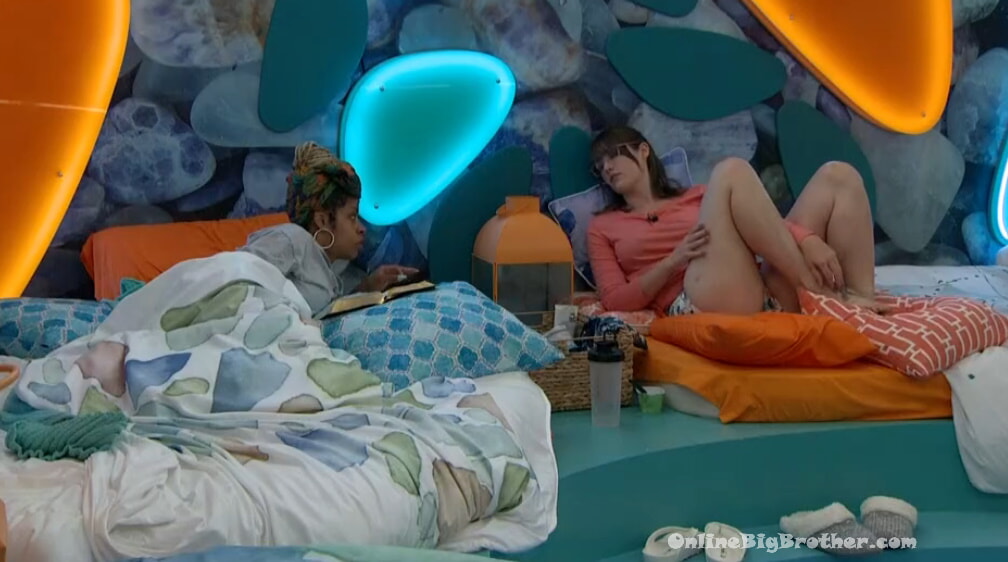 2:56 pm Sb and Tiffany
Tiff says she feels like next week she'll be on the block with Claire
Sb doesn't think Ky will she doesn't know where Alyssa nad X's head is at
Tiff – their actions show me where their heads are
Sb – BIGD has made comments about Claire he thinks Claire tried to flip the vote. He's also told a lot of people he's going after Kyland. He told DX he's going after Me and Kyland.
Sb says it's hard to know where BIGD's head is at.
SB – me and Kyland feel unsafe too depending on who wins.
Sb says she didn't want Claire to go home this week and the big reason why she's up against DX is because Claire would have been evicted next to Hannah, "DX is not coming after me but I would rather Claire ultimately"
Sb says there's an opportunity for more BB bucks in the HOH. She doesn't think production wants just one person able to play.
Tiff says she has a feeling this HOH will be luck. She's not a lucky person the only times she's been lucky is getting on Big Brother and having her son Christian.
Feeds cut.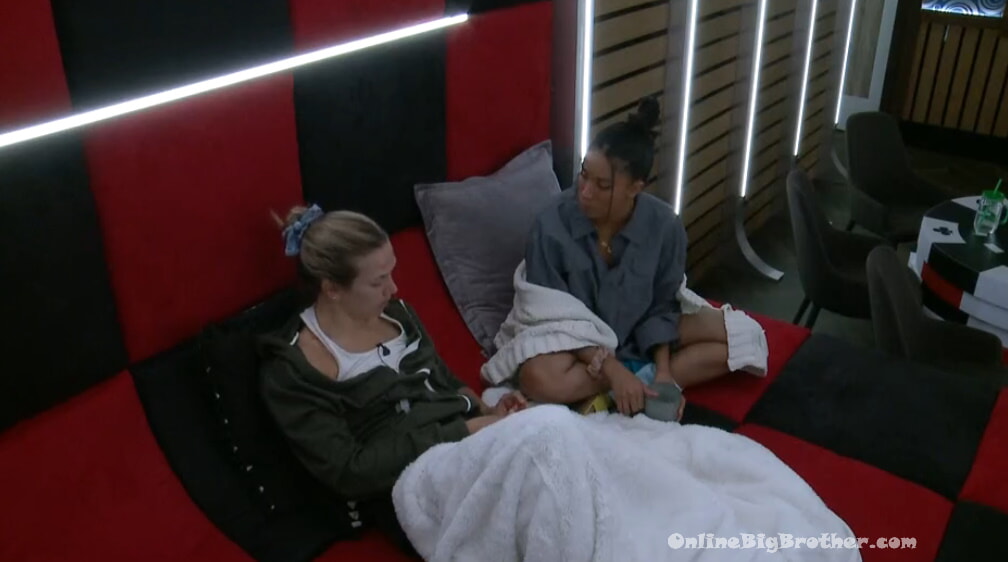 3:40 pm Claire and Hannah
Claire says that BIGD alluded he would go after BIG threats and BIG targets.
Hannah – I could have enough money (for the Highroller)
Hannah – I have 25 how much does Tiff have? (hannah has 150)
Claire – 75, I don't know if I'm supposed to tell you that she's been trying to keep everything close.
Hannah – regardless you aren't going to have enough money to play (Claire and Azah have 100)
Claire – what if something comes up during HOH a chance to get money
Hannah – that changes things
Claire – I feel like I have the next most..
Hannah – the only person we know for sure can't play is Alyssa and X can't play.
Claire – Sb, and Ky might have 75
Hannah – you don't think there's any chance they could have gotten 100. Oh they played last week..
Hannah – what would you do if it's Slip and Slide?
Clair e- go for the money I would never get that HOH win
Hannah – for me there's no way I will get the money to play so ..
Claire – go for the HOH yeah
Claire thinks Ky will go for the BBbUCks.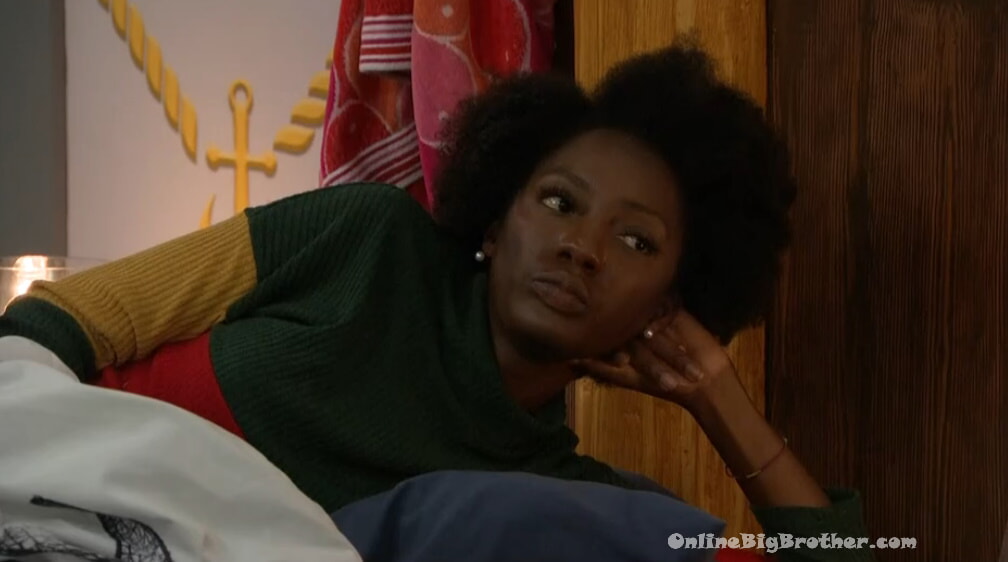 3:53 pm Dx and Azah
Azah is still struggling with her vote this week. She doesn't want to let SB get what she wants. DX says he can't say but he has three votes.
DX if she's taking a shot at the other side when she wins HOH and she's taking a shot at the other side by keeping him what is the difference.
Azah – I told Sb I am honouring her wishes I'm thinking of jury management too .. If something happens if I win HOH and put her and Ky on the block I'm not breaking any deals.
DX – if I win this week what I'll start with is those four. The reason I don't see them breaking is X and Alyssa are tight with SB.. SB is the glue.. Ky is tight with KY. Ky will never take a shot at X and Alyssa otherwise he losses SB.
DX – those two will never take a shot at Ky because they'll lose SB. They will ride that to the final 4.
DX – if you can win HO hand take out SB maybe there's a chance in the statistically more likely scenario based on past events. One of Ky, Xavier or Alyssa..
DF walks in to grab his water..
DX – in a scenario where one of those four wins and takes out someone from this side. It's down to BIGD, you and two others that's four V four.
DX – next week there's 5 people voting you only need 3 to win.. If one of them is off the block they control the votes. You will have to bet you entire game on them winning HOH next week.
DX says he has a higher chance to win HOH but even if he doesn't win HOH the following week he's the person that goes.
DX – what is your path to winning this game if I leave this house
Azah – Sb or Ky
Azah says the jokers have been a punching bag. "I hate floater games. I think my path to winning is being a floater"
DX – if I can miraculously stay through this week you can still play your floater game at that point you can have a choice at the type of game you play
DX – why does SB trust matter? I fell for the same thing I worked so hard top gain SB's trust I gave her 5000 I didn't spin the wheel I did so much and she backdoored me.
Azah – SB trust mattered this week so I didn't hit the block.
DX – the reason you didn't hit the block is because I was in the house. The reason you weren't on the block is because she had a bigger target.
Azah – do you actually have three votes?
DX – yes but they won't tell you
Azah – Ky, Tiffany, and Hannah
DX says if she decides to keep him can't she tell SB she is not voting for him.
Azah – lie?
DX – with Hannah, Tiffany, and Kyland in this game I will never hit the block with you. If you want to play the floater game with me in this game you would have the perfect setup.
DX – if I leave this week and if any of these four win they are not going after each other for 2 maybe three weeks if not riding it to four. If they are not riding it to four they are riding it to five with BIGD
4:28 pm Feeds cut to pound puppies. X must be going into solitary.
5:28 pm Feeds return but no audio..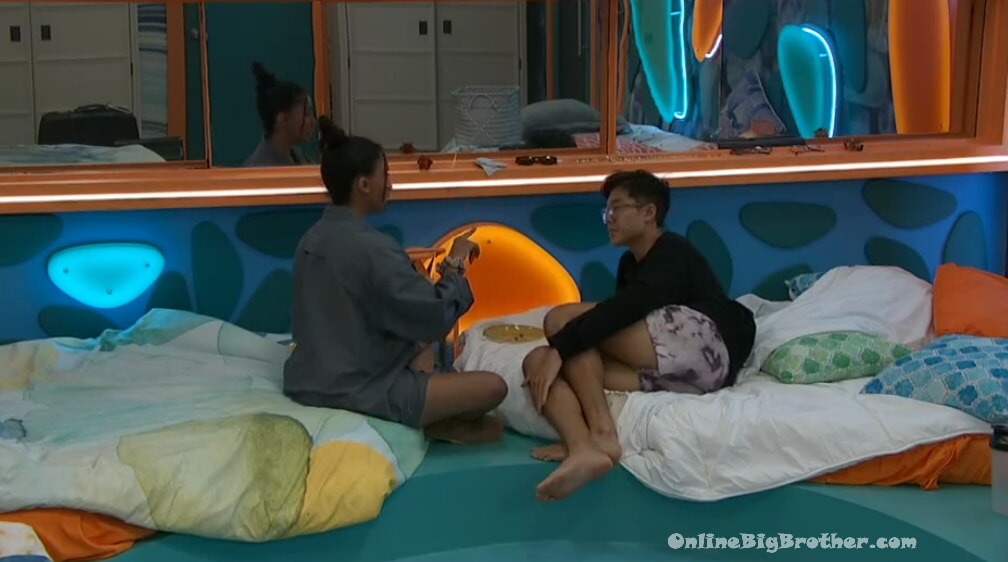 5:31 pm Audio returns X still in the house. They got to see Clips to study probably for tomorrow's HOH.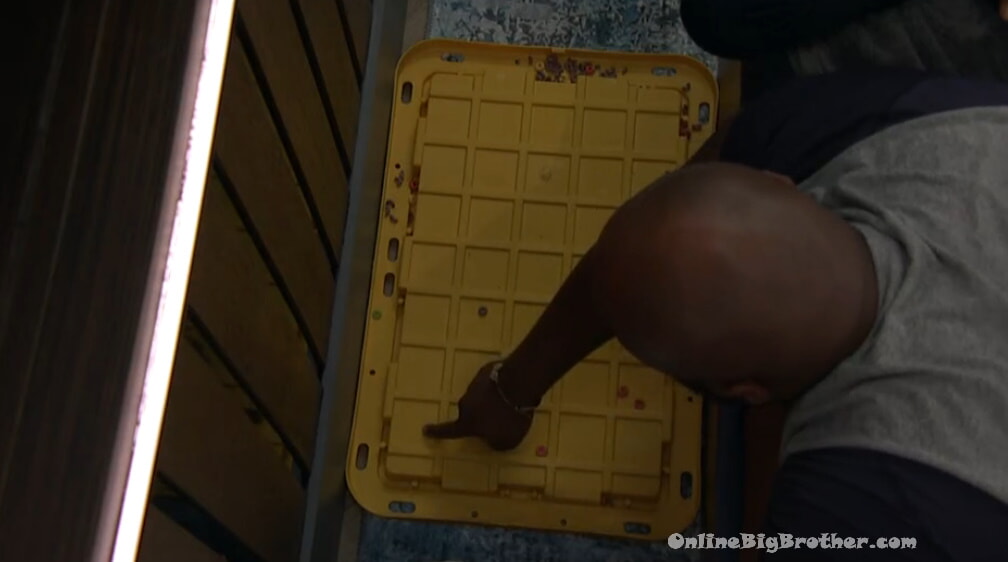 5:35 pm Jokers trying some studying
DF says he's a great visual learner that is how he did it at school.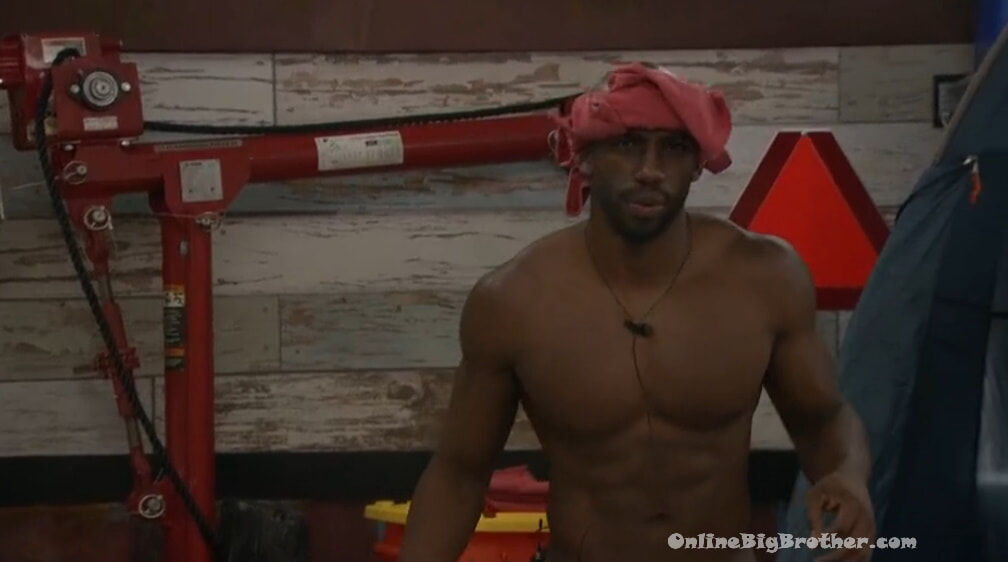 5:53 pm X goes into Solitary.

6:21 pm
Everyone studying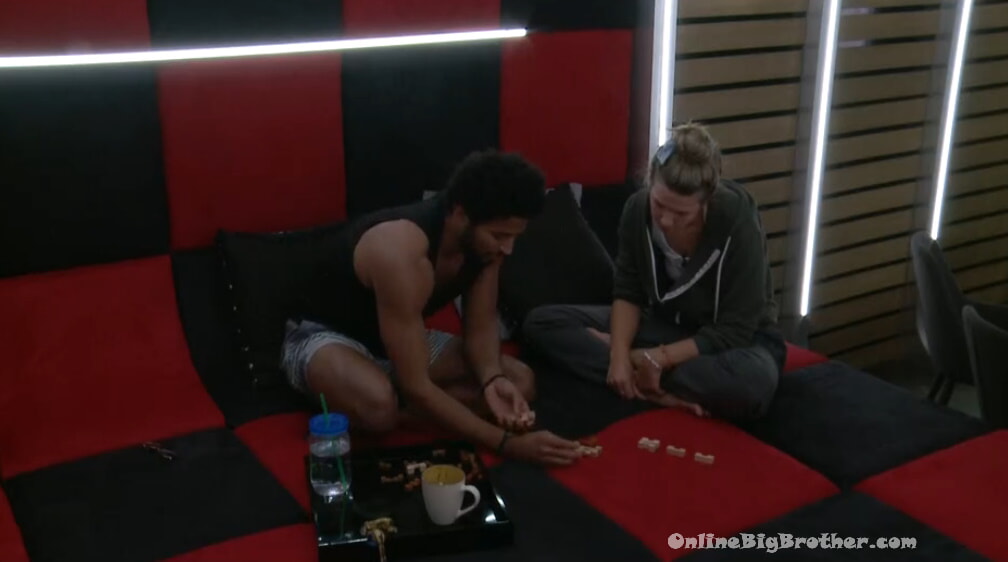 6:32 pm Claire and Ky
Claire – my memory is really bad so I'm a good bet for tomorrow if you want to win HOH
They laugh.
Claire goes into her real pitch. "Our strengths don't overlap.. you are good at physical stuff I'm good at puzzles"
Ky pulls out some puzzle pieces and goes through DX's campaign.
Claire – him and my target are the same for next week. If he stays he's a person that will beat you in comps. If he goes all of us have a better chance to win comps.
Ky brings up Claire wanting to flip the vote on his HOH. "I don't know how to make yo feel better about me" (Don't put her on the block)
Claire says that week there was a lot of paranoia and there wasn't a lot of talking going on.
Claire says when she was going up as a pawn he told her all these names of people that were going to be the target. She says he told her DF, SB, Birt "So I was like OKay does he not know who his target.. is it me?"
Claire mentions him telling her BIGD was the target which didn't seem realistic to her.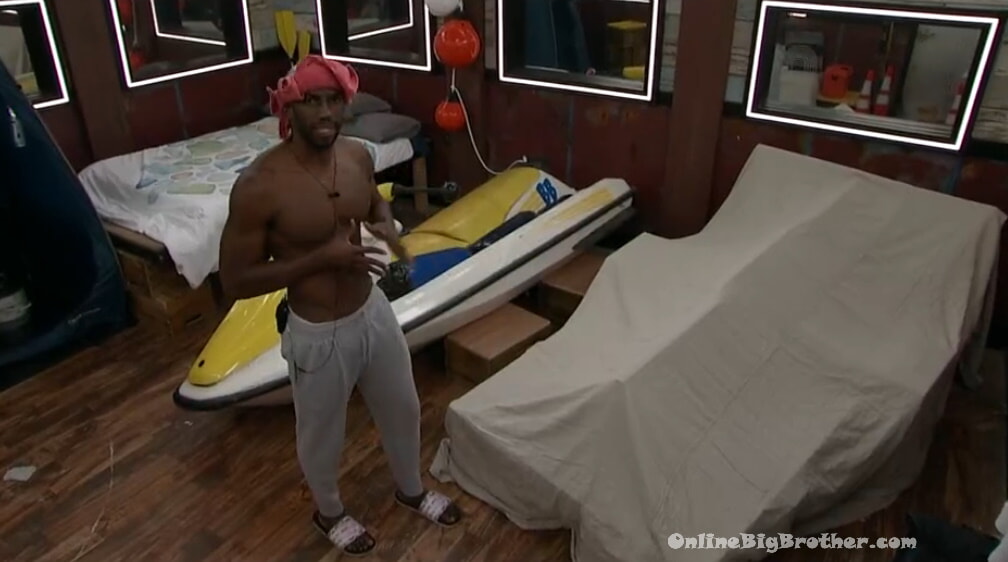 6:39 pm X shows off his living space.
6:56 pm Tent-o-potty
BUcket Toilet.
Please consider a donation to keep the madness going. BIG thanks to the people that have already chipped in.