Head of Household Winner – ENZO YO!
Have nots – Dani, Tyler, Da'Vonne
Nominations – Kaysar & Kevin
Power of Veto Players are – Enzo, Kevin, Kaysar, Tyler, Bay, David
POV Host: Memphis
Power of Veto holder – Kevin
Power of Veto Ceremony – Kevin used the veto on himself. Enzo nominates Christmas in his place.
Live feeds —-> Grab your Live feeds here. Try it free.
Rank the houseguests —-> Big Brother 22 Ranking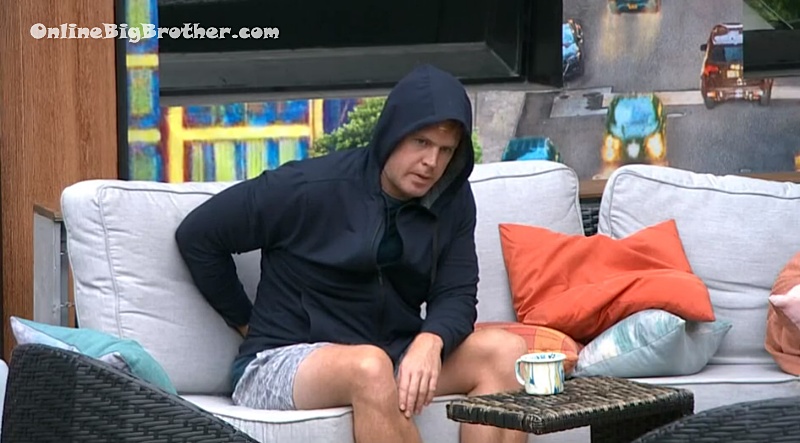 8:27 am Memphis wakes up .. walks around for a bit you can tell his back is really bothering him.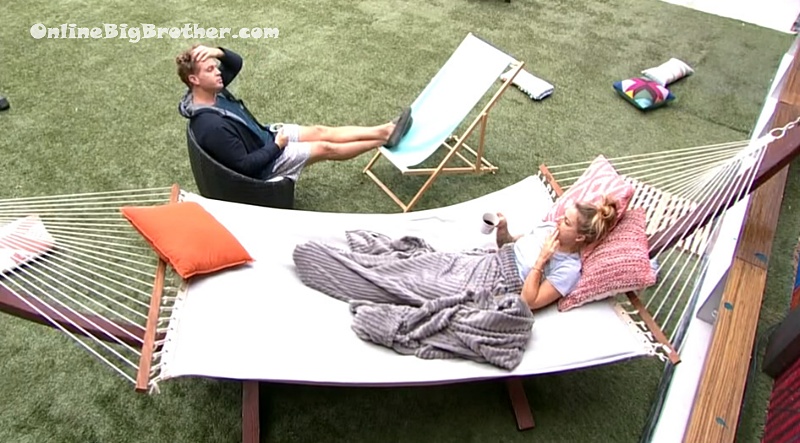 9:12 am Memphis and Christmas
Talking about the HOH is coming down to the two of them. Memphis says David is his main target right now
Memphis – He'll win an HOH eventually.. I would say he's more on my radar
C- you would you put up next to him, can't use Kevin
Memphis – I would be more willing to put up a pawn at the beginning and a David then wait for him to win the POV and if he didn't win teh POV it's David. If he does win POV backdoor someone else.
Memphis – if F***ing Bayleigh win next week it'll be a f***Ing sh1t show I don't mind sitting in the side lines
C – Who does she have a beef with
Memphis – I dunno
C – My list changes.. doesn't mean I don't keep my eye off certain people
Memphis – those 4 have started to .. Tyler, Cody, Dani and Nicole.. they are starting to get a little too comfortable.. I don't mean in our alliance our goal is to get us to the 6
Memphis – Every time I look up
c – they're hanging out
Memphis – i'm like dude be smarter about this..
They talk about how close those four are and everyone in the house is noticing.
Memphis – I was talking to Bayleigh the other day as far as Bayleigh is concerned i'm running solo .. at the end of the day if we can float to the
C – six
Memphis – the chance of all of us making it to final six
Memphis – all it will take is a Bayleigh and a Da'Vonne to win back to back HOH to turn this house upside down..
Christmas says she doesn't think that four have anything solidified but they have their four. (Bay, Day, Kevin, David)
C – I feel like throwing it to Dani and letting her get in it
Memphis wants them to plan for those four getting back to back HOH's
Memphis – I'm confident in the committee but if someone goes down we're not thrown in with that bunch.. that line will be drawn eventually
Christmas is going over her speech for Thursday. "good evening beautiful Julie amazing CBS and my dear dear dear houseguests… it's eviction night and you cast your vote for someone to stay and I hope you vote the HOH way. My work here is not done I still have a lot of competition to deliver and fun. So when you go in a Julie says what do you say.. please vote for this Christmas joy to stay" (barf)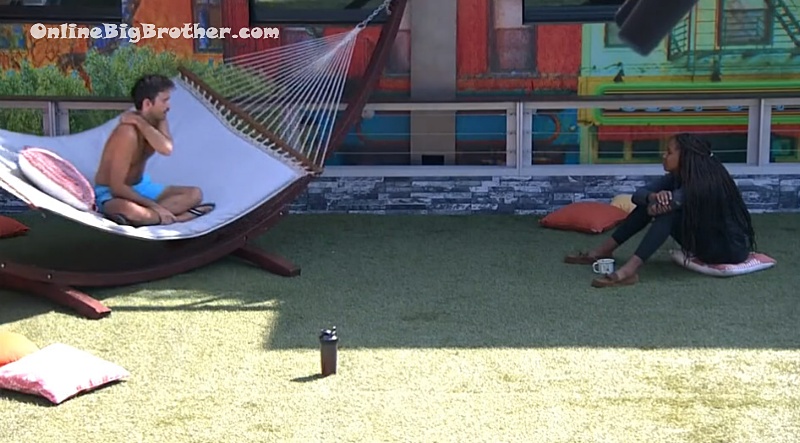 10:48 am Ian and Bayleigh
Bayleigh – lemme say this if you are thinking nucleus.. accurate.
Ian – here is what I think. I think its like an octopus. A Head and there's a bunch of different arms.. and I think that in every season that is like this there are common themes. 12, Rachel and Brendon were a big distraction and 19 it was Cody and jess.
Ian – this season it was Janelle and Kayar they are the big distractions .. everyone thinks they are tight tight.. with ….
Bayleigh – who actually is or does it even matter
ian – doesn't matter. I think it is possible that .. ohh man.. we need to kinda .. I don't know what your nominations would have been.. I hope it doesn't include me. I'm thinking
Bayleigh – how do you take a swing at that though
Ian – we all heard what we heard..
Feeds cut.
When we're back they're agreeing to talk later.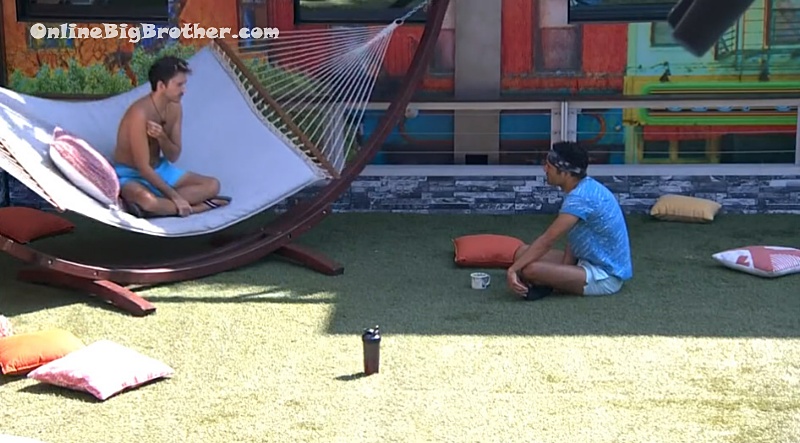 10:54 am Ian and Kevin
Ian – so I had an idea last night.. so you know how we can't bring everything out in the open we have a lot to lose. I know someone that doesn't. Kaysar
Kevin – that's what I said house meeting
Ian – have him bring things to light
Ian says Bayleigh told him theirs one person connected on all angles.
Kevin – male of female
Ian says Male and he's in the backyard right now.. (Cody)
Ian – it's going to get volatile soon
Kevin – I have your back
Ian says the problem is they have sh1t for power it's hard for them to control anything without it.
Kevin – if the trend continues I feel like David will be on the block.. i feel I would be next to him
Ian agrees about David isn't sure about Kevin "Cody just looked at me weird"
Kevin – it will be me, Day ..
Ian – I don't know about that.. Could be me
Kevin – Mmmmm not this week maybe the following week
Ian – mmmhmm
Kevin – have you connected at all with Tyler?
Ian – no, I need to I just connected a little bit with Bayleigh
Kevin – between me and you I'm a little cautious around bayleigh .. cautious
Ian – I agree.. I didn't give her much
Kevin – there's some people here.. have you noticed that some people have fallen into their patterns they did on their seasons.
Kevin – some people they have a middle game strategy not long term so they burn fast. The way they burn fast is they talk too much.. or they feel liek OHH I just need to get one week at a time.
Ian – Cody was just eye balling this conversation BIG TIME
Ian – can you make sure if one of them were to get HOH I'm not in the nomination. can you do that
Kevin – of course. can you with Nicole
Ian – for sure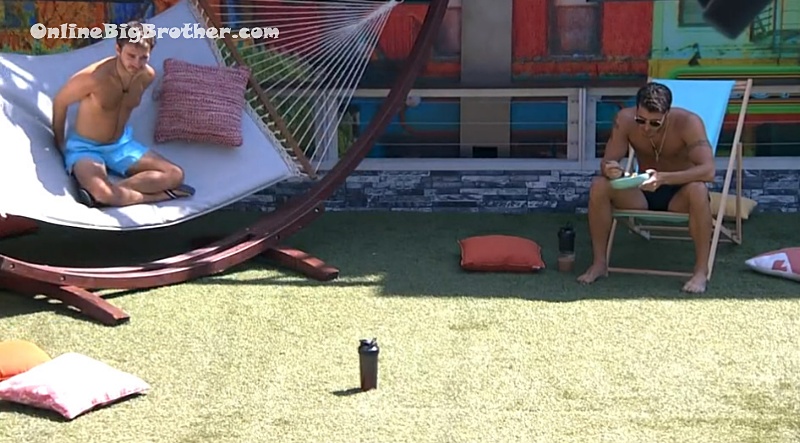 11:12 am Cody and Ian
Ian – this weeks vote is pretty obvious.. what do you think going ahead?
Cody – who are the biggest threats to your game
Ian – I haven't give it a ton of thought.. but the name when I talk to the core 4 .. people have said Bayleigh and Day
COdy – would you do that
Ian – I could do that.. will you help me if ti's knockout?
Cody – ohh 100%.. I got you
Ian – I want that room
Cody – how is your relationship with David
Ian – it's good I like him a lot
Cody – he messed me up with Da'Vonne
Ian – how so
Cody brings up the David drama with Day, Tyler, Cody last week but it involved events that went down during week2 (I've typed this out 40 times now.. )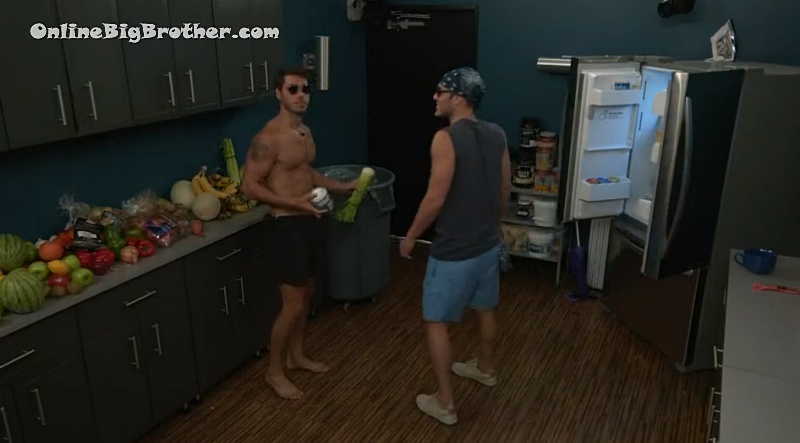 1:35 pm Cody and Enzo
Cody says Da'Vonne came to him about what Tyler said to Dani. She filled him in and when he was asked he "Played Dumb"
Cody – I was like Tyler said it to me .. dude I played Dumb .. she was like ohh really really oh sh1t..
Cody – I told her I was so happy this week because Kaysar is going home.. why don't we relax
Enzo – I like Bat, Da'Vonne whatever
Cody – I talked to David too. Day is f***ing up Bayleigh because she's lying. Bayleigh said to me last night that David went to them and said there's an all guys alliance. I'm in teh all guys alliance. He didn't do that I talked to him on the couch..
Cody says David thinks the trust is broken with Da'Vonne not him
Enzo – that's it we're good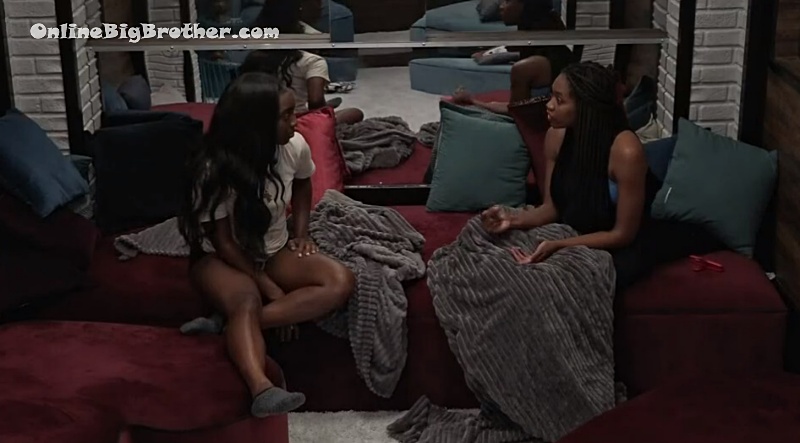 1:40 pm Bayleigh and Da'Vonne
talking about Dani trying to get one of them to explode.
Bay – what's her issue
Day – she wasn't us out so her and Nicole and swoop in she's uncomfortable. let her continue to be like that she would they all want her a$$ out, Goodbye
Day – she's trying to get you to erupt.. they don't deserve it.. You are playing one of the best social games I've seen in a very long time.. Sh'es not worth it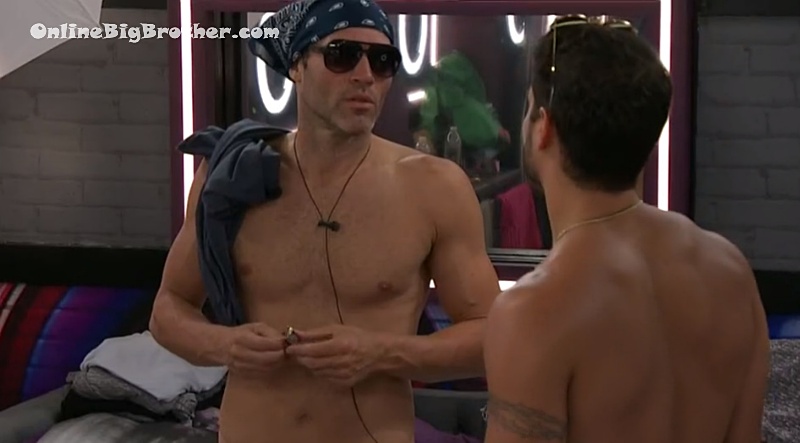 3:00 pm Enzo and Cody
Cody brings up Dani was saying "Ohh I don't know"
Cody – about outside or in here.. in here
Enzo – worried about what
Cody – the only thing and I'm not going to get paranoid. Da went to them and said something which made us look bad Tyler said he said something about us.
Cody – or Tyler went to her and was like YO I think Cody and Enzo ..
Enzo – yeah that's it. I think Tyler definitely did that. I think Tyler pinned everyone against each other when Tyler finds out about Nicole finding and knew we knew he went to Dani and f** us up ..
Cody – it could be that
Enzo – Dani definitely went to Ian said something about me to Ian
Cody – no I don't think she said anything like that
Enzo – I'm all about the core four
Cody says Tyler gets bent out of shape because he thinks Cody is close to Dani
Cody – the think about Tyler is he feels on the outs because you knew that Nicole knew (slick6). I knew. he's the only one that didn't.
Enzo – and Dani did that purposely.. Between me and you I'm going after her
Share it YO!!
Tweet