Head of Household Winner – ENZO YO!
Have nots – Dani, Tyler, Da'Vonne
Nominations – Kaysar & Kevin
Power of Veto Players are – Enzo, Kevin, Kaysar, Tyler, Bay, David
POV Host: Memphis
Power of Veto holder – Kevin
Power of Veto Ceremony – Kevin used the veto on himself. Enzo nominates Christmas in his place.
Live feeds —-> Grab your Live feeds here. Try it free.
Rank the houseguests —-> Big Brother 22 Ranking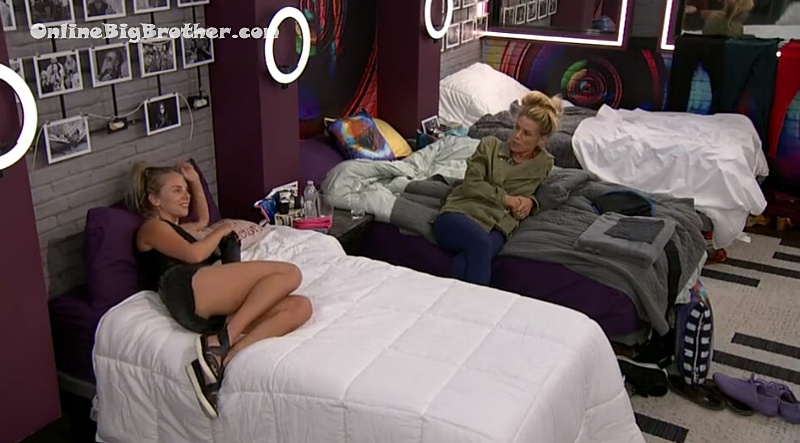 3:36 pm Dani and Nicole
Dani – Christmas talked to Bayleigh again for a long time.. in the hammock
Nicole – ok I'll get with her.
Dani – I need to get it together so I can do rounds. I feel i haven't been talking to people these past 2 days
Dani – at least I'm not snapping on people like they were last week
Nicole – better to lay low than to do that
Dani – people are like whats wrong whats wrong. I'm starving to death that's whats wrong
Nicole says there's no one she would want to talk to right now anyways.
Nicole – I know I need to act normal but I need to lay low because of that whole thing.
Feeds flip to Kevin and David..
They talk about Tyler.
Dani – his strategy is to lay low and win competitions till the end.
Dani – I told him look you can't win that way.. we need to focus on keeping targets ahead of you
Nicole – what did he say
Dani – typical Tyler whatever .. these boys are stupid what are you going to do win every competition then we will be here and you won't. Like there's only so much we can do to protect you. Like I'm doing my best but if you are acting like a fool there's not much we can do
Dani – everyone in this house will want them out before us.
Nicole – yeah
Dani – I talked to Ian to and I kept putting in his head they'll come after him
Nicole – he wants to win bad
Dani – he thinks if you two go up he'll leave.. which is true
Nicole – only like 50% of the house is going for HOH
Dani – Ian thinks this week is knockout
Nicole – don't think about not throwing this HOH i'm just going to say that. I just don't wanna go up
Dani says Da'Vonne cannot win, "I told Cody do not let her win"
Nicole – are David and Da'Vonen close or not close
Dani says Day claims they aren't but they really are.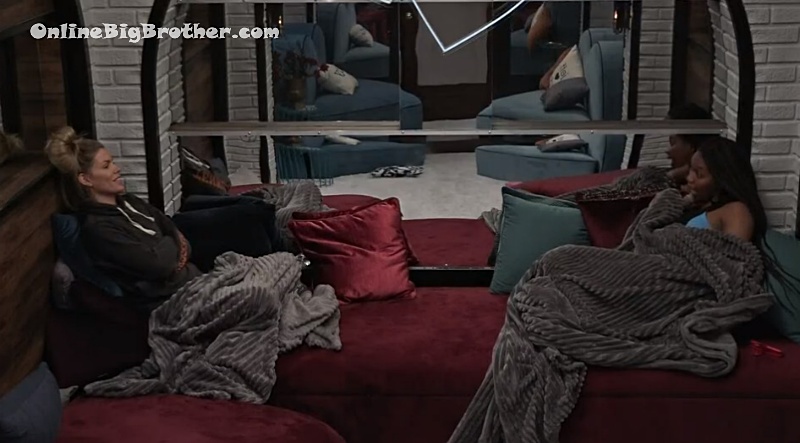 3:53 pm Bayleigh and Dani
Bayleigh – Kaysar is clearly the target he knows he's the target.. what's happening next week
Dani – is he even going to campaign
Bayleigh – I don't think so I think he's just enjoying himself he knows he's going home and him and Christmas are pretty cool so I really don't think he can campaign at all so that means this whole week is done.
Dani – Memphis out next week right
Bayleigh says people have changed their opinion of Memphis now that his back is broke
Dani says she thought Bayleigh in particular wanted him out because he said her name
Bayleigh – he said my name he said I was one of 6 .. having him here with a broke back he's not a threatening .
Bayleigh – I'm just waiting to see what pops off. I know something is going to POP off
Dani – has to
Bayleigh – I wonder how Christmas will be handling things I didn't know if she knew she was going up
Dani says Christmas had a inkling
Bayleigh – she said she was a little surprised maybe that will put her on the defense and she'll win something..
This conversation comes back on the feeds around 4:30pm. chit chat.
At 4:37pm they start complaining about the food and gaining weight because of it.
Bayleigh says there's so much bread
Dani says all the food in the house is garbage "everything is unhealthy unless you sit down and cook every freaking meal which I just don't want to do"
Bayleigh – I don't have the time (LOL why you have work in the morning?)
4:16 pm Ian and Da'Vonne
Chit chat..
Ian says he misses watching Finance news "Crowns Crypto cave and CNBC.. all that good stuff. that sorta thing is interesting to me"
Da'Vonne says she's excited to see what is new on Netflix
Kaysar joins them . Says he's fasting because he feels disgusting. "I want my slop body back"
Chit chat ..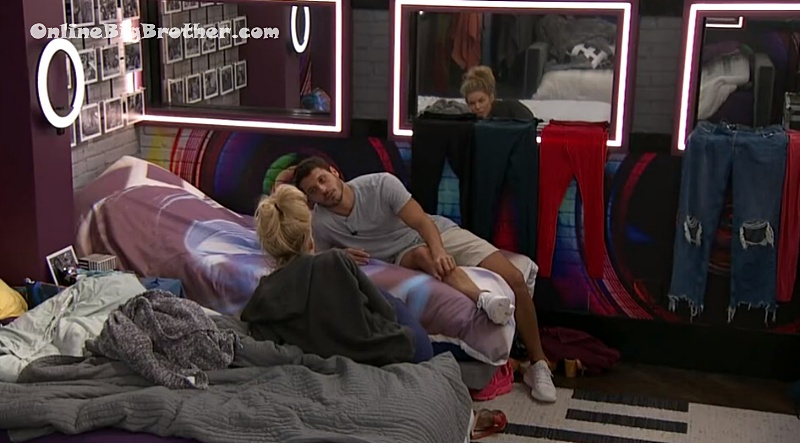 4:42 pm Cody and Dani
I want some Cody and Da'Vonne time.. i'm like YO .. she's like can you come up and grab me.. I don't have f**Ing time for that.. I'm in his house I don't have time to run after people to make sure I get my one on one time because you're paranoid.
Cody – I'm hitting a wall and getting really f**Ing tired
Dani – I have as sneaky suspicion that Da'Vonne and Bayleigh are going to out the six..
Cody – to who
Dani – anyone that gets HOH that's not in the six
Cody – what makes you think that.
Dani – we have to make sure you me and Tyler are on the same page
Cody – Tyler makes me nervous.. everyone keeps saying stuff like you're super tight with Dani.. yeah I'm tight with Dani
Cody – why is it a problem that people in your alliance are tight.. I'm getting fed up with the paranoia
Cody says Da'Vonne and Bayleigh told Enxo this
Dani – what is Enzo's deal he's tired of being HOH he's been acting funky these past two days
Cody- he's bent out of shape with the David thing
Dani – I sore to Nicole I wouldn't tell you.. for reals do not tell a soul
Dani – Bayleigh went up to Christmas yesterday and said I have some information but i'm not telling you until HOH (Christmas told Nicole this)
Dani – she's not telling her until she gets HOH..
Dani says Bayleigh is going to throw someone under the bus.
Dani says Bayleigh keeps saying how next week is going to get messy "Why?"
Dani adds that bayleigh is now walking back from targeting Memphis, She's not targeting Kevin, David or Ian.. "What are you going to do.. me, Nicole, Christmas and Tyler that's the only options so you are telling me they are going to flip next week"
Cody says Tyler is being super sketchy
Cody says Tyler has an ego and people are not telling him everything like they did on his season.
Dani points out that Tyler has nobody else and it's not like they are after him
Dani is worried Bayleigh will out the 6 with Christmas. Says if Christmas finds out we are in another alliance she will be "pissed.. pissed"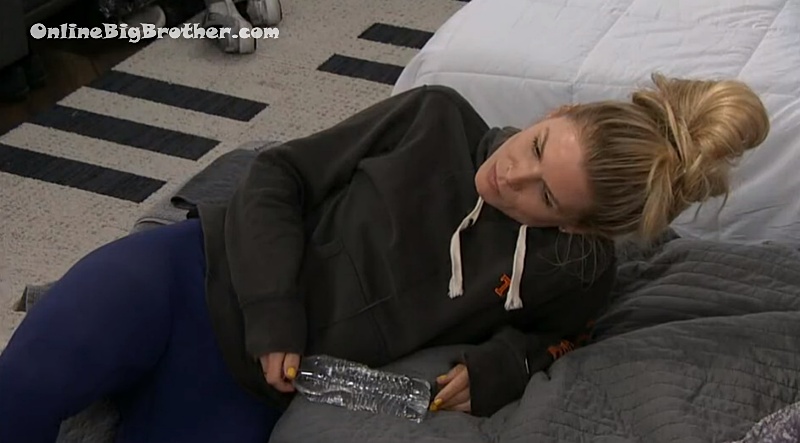 Cody – I'm done with the slick 6 I have no problem winning and putting them on the block
Dani says Da'vonne is easier to read and easier to get two steps ahead "do you agree with that"
Cody doesn't think so "I'm barely around Da'Vonne"
Dani – is this knew
Cody – I never was.. this whole paranoia thing i'm over it..
5:22 pm – Dani saying that Enzo trusts them way more than he trust Day/Bay
Dani thinks the HO after next will be a double and it will be questions and she sucks at questions.
Cody says he sucks to didn't win one questions competition on his season.
Dani says Tyler won the questions during the double his season. Adds that Ian will be good to win to.
Dani thinks if Day/Bay do not go after them this week coming up it will be during the double
Cody points out that everyone is banking on Christmas winning HOH. Doesn't think people should do that there's a good chance she won't win.
Dani says she only one that last safety suite because she was against 3 people.
Cody – maybe it would be good if David finally wins won
Dani – who will he put up Memphis
Cody – maybe.. you might be able to get him to backdoor ..
Cody says David never heard Memphis and Christmas "They were literally laughing about him"
Dani wants them to synch up their stories for when the slick six gets outed.
Cody – what's our reasoning to do that right now.
Cody says their alliance is teh worst alliance every "It's worse than the bombsquad.. I'm part of the two worse alliances ever"
Dani brings up The Regulators they went out 1-2-3-4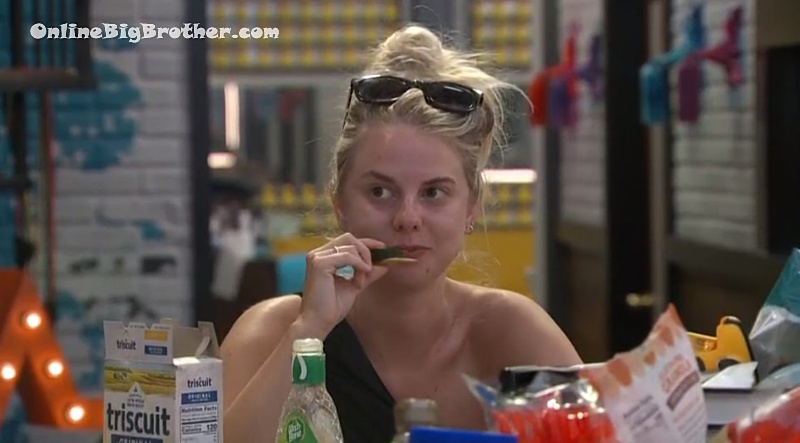 4:53 pm Nicole enjoys a snack.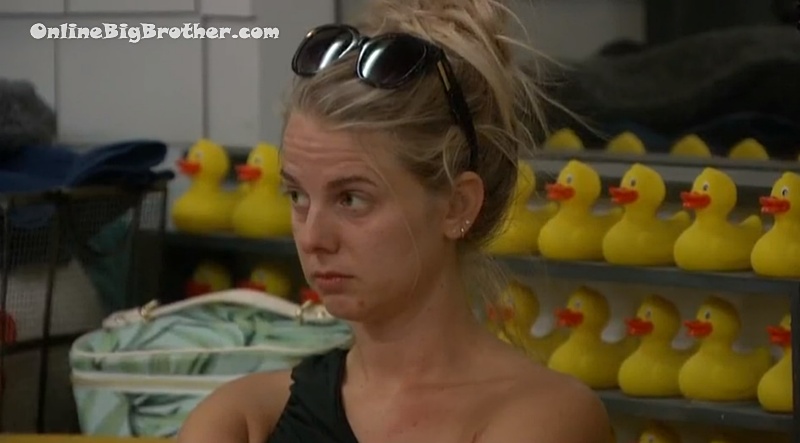 5:36 pm Nicole in the bathroom talking to Ian in the shower.
5:40 pm Christmas and Kasyar putting the awnings. Making jokes..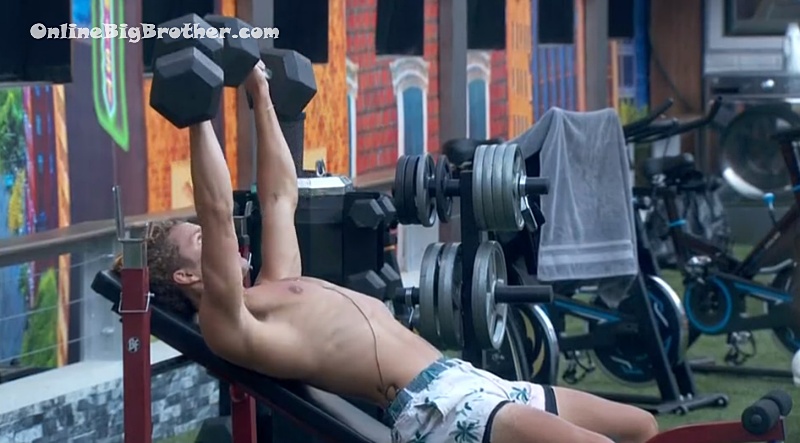 5:55 pm Tyler and Cody have been doing Bro chat about Bro splits in the backyard. There's nothing interesting going on.
In the kitchen. Kaysar talking to Dani about the course he use to teach he taught "UX design" his degree was economics he taught himself Design.
Dani asks him what he was going to do with economics.
Kaysar says ideally wanted an entrepreneurship program but they didn't have that so he took the theory part and figure the rest out. Adds that he was really interested in computers so he took some computer courses. "I loved computers but didn't like to program. In hindsight I wish I would have figured it out I think everyone should learn how to program."
Feeds cut. ..
6:10 pm
Ian and Kevin
Kevin – I'm still going to nudge Da'vonne and Bayleigh
Ian – I think Bayleigh in particular
Kevin asks if he talked to Da'Vonne
Ian – that party got crashed by Kaysar..
Ian – what are we going to call it?
Kevin – I don't know
Ian – Light ring .. (the lights in the room)
6:13 pm Ian and Kaysar
Ian says he doesn't like seeing him go. says he feels he's in danger and will be going out next week
Kaysar – no one is targeting you
Ian – I'll tell you more later.
Kaysar- why do you suspect this
Ian – I get told bits of information to fuel paranoia
Kaysar – who .. Nicole
Ian – yeah
Ian – do you .. you know you're going.. have you resigned.
Kaysar- I've been seeing if I can get some votes i need you, Da'vonne, Bayleigh, Kevin, David and Memphis.. the thing is they have no loyalties to me so I don't know where to begin.. My strongest relationship is Bayleigh and Da'Vonne and they're not even giving me their votes. So how am I even supposed to make headway with the people that are the toughest to crack. .like David. he's trying to get in good with the people that are just about to put him out the door. He;s trying to kiss their a$$
Kaysar – where does that leave me I haven't been able to play this game yet I've just been hanging out
Ian – I have theories tomorrow I'll tell you everything
Kaysar – what's your hesitation
Ian – I don't want it to. I'm not willing to stick my neck out of I'm the only one
Kasyar – someone has to take a shot at Cody and Tyler and it seem likes no one has the backbone to do it.
Ian – If I had gotten HOH I wouldn't have nominated you
kaysar says he would have nominated Cody and Tyler and that is why he's on the block
Ian – knowing what you know from the other day? (the yeller)
Kaysar – yes .. yo think Cody and NCiole
Kaysar – Nicole's game play is to lay low until half way in the game and she'll then make a opportunistic moves. Or she'll wait for Alphas to do a lot of work upfront. She's not doing anything she's transmitting information
Nicole comes in says she's looking for tweezer because Cody has a ingrown hair
Kaysar – you're doing that for him
Nicole – I'll do it for anybody .. you got any zits..
Nicole leaves.
Kaysar says Dani is in the best position "she's really good at this game"
Kaysar – do you think Nicole and Cody have a final 2?
Ian – I dunno about that
Ian – I've known my position in this game and it's not good.
Ian says he hasn't had power yet so there's nothing he can do. "I'll explain it Thursday shortly before but I'm pretty sure I have the whole thing mapped out"
Ian doesn't think there's "a Four"
Kaysar – what about Enzo
ian – he's similar than mine
Kaysar – that's what I thought
Ian – I think there's a lot more than A four.. I think there's fours.. many people that believe ..
Kaysar – their in something and it's all really messy. I see that but typically one takes preference
Ian brings up his theory that Kaysar and Janelle were a distractions to make everyone feel there was a common enemy and a common foe. Adds the same thing happened with Brandon and Rachel, Jessica and Cody (told Kevin this in the AM)
Ian doesn't think the Dani, Nicole, Tyler, Cody alliance is that tight "theres a worm in the ointment.. im 95% sure I have everything clocked"
Kaysar – can anything help me to stay this week
ian – no.. you're not flipping 7 voters against Christmas..
Kaysar – yeah didn't think so
Kaysar – is there someone that is playing everyone and is working with this side of the house.
ian – I thin we heard that.
Feeds cut..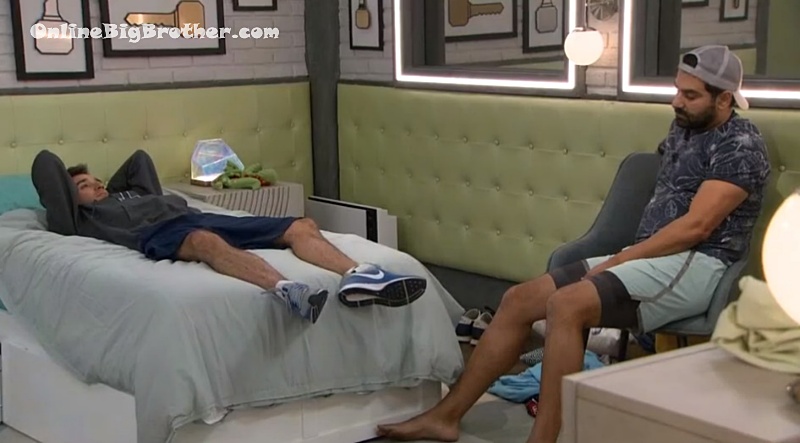 When we're back .. Ian is saying the two winners this season were lumped in.
Kaysar is trying to get Ian to tell him the big information now and not wait until Thursday.
Ian – lemme just think about this.
Ian – anything I have is a guess
Kaysar – that's fine everything I have is a guess too
Ian – I think there's a fake boys alliance. It's only real for a couple those in the know, know it's fake.
Kaysar – David.. correct
Ian – Enzo more so than David.
Kaysar – yeah I can see that
ian – David is the outer of that ring .. Enzo is slightly higher and Tyler is a ring higher than both of them
Kaysar – Is Tyler not in the inner circle
Ian – when that noise came we looked at each other and saw fear (Tyler)
Feeds cut (Goddammit)
When we're back ..
Kaysar says he tried to get Enzo to get David up
Ian – he thinks he's in a boys alliance
Kaysar – he said he can't do it he's good with him (David)
Kaysar says he told Enzo about the Dani, Cody, Tyler, Nicole alliance he was extremely interested "makes sense would mean Cody was double dipping"
Ian says he can't tie the ends back to Tyler "I don't think he's involved.. he's a inner ring but he's not core"
Ian – he's very close
Kaysar wonders is the play is Cody and Dani and watching the feud.
Ian says he's going to try to get the HOH this round "Big time"
Ian – sucks you're probably not going to be here.
Ian says there's only two people in the core alliance. "Dani thinks she's in an alliance with Cody, Nicole and Tyler"
Kaysar – what about Tyler
Ian – I don't know where he fights.. somewhere in the boys alliance
Kaysar – this is based on things you've seen?
Ian – yeah and they were all in teh camera room in the beginning.
Kaysar – what about it
ian – every single person was in there that first round of play, David, Enzo, Cody, Dani.
Ian – NicoleF is with Cody he was tasked with rounding them up, Nicole was tasked to getting me and tasked with getting Christmas.. Divide and conquer you and Janelle were set up as distractions.. Kessha was unlucky..
Ian has no clue where Memphis sits.
Ian – we were given a gift and to not consider that is foolish..
Feeds cut.. When we're back..
Kaysar – Cody needs to go
Kaysar wonders if Dani or Tyler have figured it out.
Ian doesn't think there will be a battle back. "it's too big of a risk"
Kaysar – to be honest this has been a little bit of a lackluster season .. there's been a couple groups and not a lot of drama.. from a production stand point this has been a snooze fest..
Ian says if he gets power he'll smash thing s
Ian – I ain't going to campaign for it.. guys if you don't want this thing to die a boring death you need to give me it (A power)
Kaysar says Ian is safe with Bayleigh and Da'Vonne. I told them you're good they know that Nicole is working with Cody.
Bayleigh comes in says Yoga and meditation is starting soon.
6:55 pm Feeds go to stars
8:25pm The feeds are still blocked.. Kaysar is probably getting pandora's box, diamond power of veto or a coup d'etat..
9:30pm Still nothing..
11pm No feeds for you..
11:55pm Still blocked..
4:23am The live feeds return to all the house guests sleeping..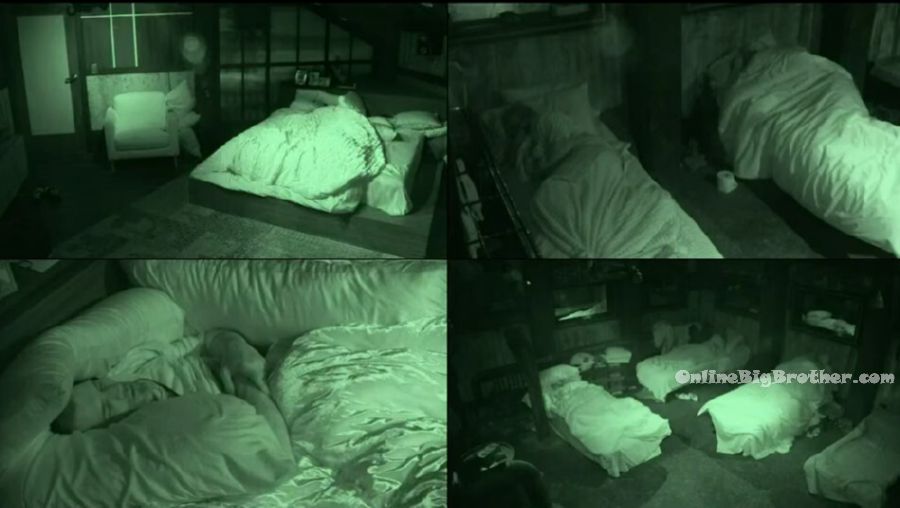 7:13 am Kasyar is up. everyone else still sleeping. Memphis not being up right now is suspicious
Memphis, Kaysar, and David are up no word on the outage.
No idea about the outage last night. So far Nicole, Kevin, Memphis, Kaysar, David, Sh1tz are all up. slow start just chit chat.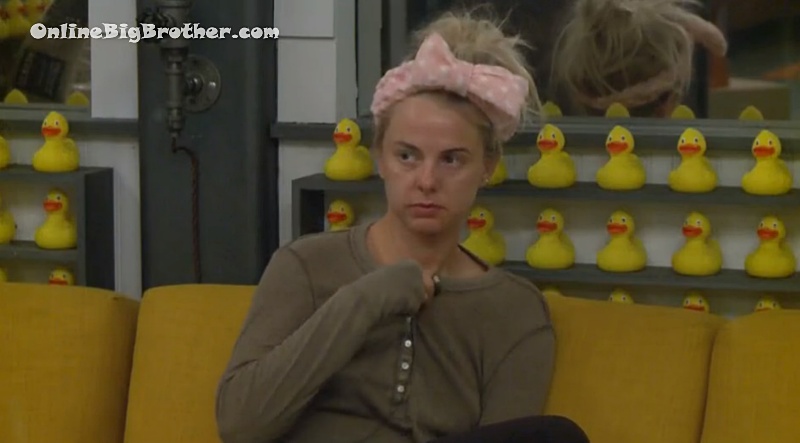 you want a screengrab