Head of Household Winner – ENZO YO!
Have nots – Dani, Tyler, Da'Vonne
Nominations – Kaysar & Kevin
Power of Veto Players are – Enzo, Kevin, Kaysar, Tyler, Bay, David
POV Host: Memphis
Power of Veto holder – Kevin
Power of Veto Ceremony -Kevin used the veto on himself. Enzo nominates Christmas in his place.
Live feeds —-> Grab your Live feeds here. Try it free.
Rank the houseguests —-> Big Brother 22 Ranking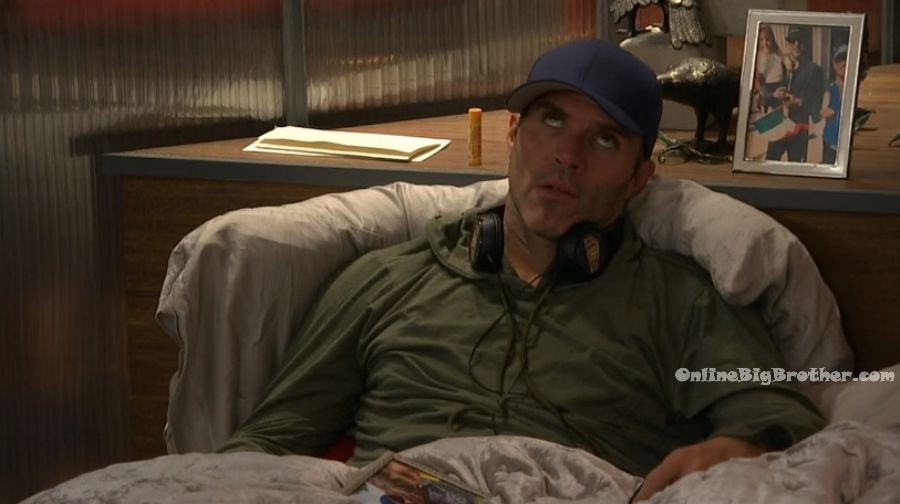 7:35pm HOH room. Cody and Enzo.
Enzo – Kaysar said that Cody said that Dani is going after her. Cody – going after Day? Did he say were he got that from? Enzo – I think he is at a point where he doesn't give a f**k. Cody – so we don't know the extent of it. I am going to ask Tyler.. why .. DaVonne ran up to Enzo .. that Tyler told me that Enzo told you guys. Did you say our names to her? Because I want to know if she was using that to press you or not. Enzo – I don't know if Cody knows it. Enzo – Christmas came up here and said that she wanted to tell me before DaVonne had a chance to .. that Dani is coming after DaVonne. Cody – yeah we were all up here when he said that. I am not dealing with this sh*t anymore. Enzo – me neither. I should have just put up Dani and Nicole.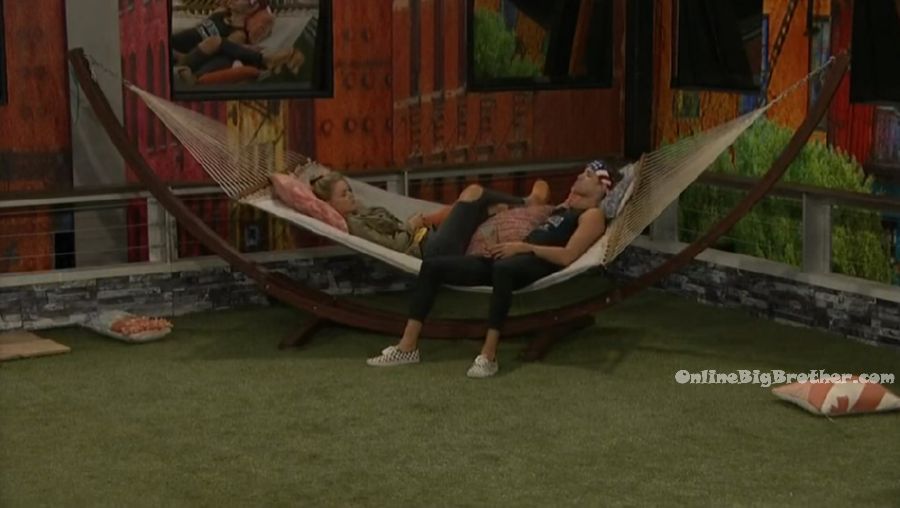 Backyard Hammock. Tyler and Dani.
Tyler – things are going to turn .. soon they're going to be so clear.. right now everything is so blurred. There aren't that many blindsides that could happen. Dani – are you close at all with Christmas? Tyler – I am trying to be .. its just so difficult. Dani – I felt the exact same way. She is very guarded in this house. Tyler – guarded and like out there. I think her and Memphis are pretty close. Dani – but I also feel like she would turn on him .. because there are a lot of things that she doesn't like about him. How are you and Ian? Ian really likes you. He talks about you a lot. It is really weird. Do you guys have a secret final 2?! Tyler – if we do.. I don't know.. but I'll take it. Dani – I am not kidding he always brings you up .. like its really weird. Its totally a good thing. Tyler – he might just be doing that with me and Cody because you're the only one that tells me that.

8:15pm Backyard. Enzo, Cody and David are playing pool. Meanwhile in the hammock – Ian, Tyler and Dani are chatting about random things.

8:35pm – 8:45pm Hammock. Ian and Dani.
Ian – I heard that David was the replacement possibility. Dani – I feel like everyone is trying to use him as a scapegoat. Do you feel like that? Ian – yes but he does say a lot of weird freaking things. Dani – no I agree. Ian – Do I think so yes! Absolutely! There is no question about it. Dani – what would your ideal week be? Ian – like HOH and then run it kind of like Enzo did. Dani – yeah but getting who out? Iam – I guess match Nicole's idea. Dani – yeah I think it is good to get out a pair. A pair before jury too .. you know what I mean. The risk with that too is having two people that are really close and two votes. Its really risky. Ian – if you won HOH who would you put up? Dani – If I put up Bay, I don't know who I would put up next to her. David .. I don't know. (So you're okay using him now?) Ian- you could tell her that she is the pawn. Nicole joins them. Dani leaves. Ian – if it (HOH) came down to me and you.. Nicole – you want it? Ian – yeah. Nicole – oh yeah I'll throw it to you definitely. I trust you so I don't care. And I wouldn't do that with a lot of people.. that is for damn sure. Nicole – do you know what you would do next week? Ian – its whatever you want to do. I think we have the same wave length. Nicole – would you do the back door approach? Ian – I haven't even started to think about that. Not even considered yet. Nicole – the thing is .. when you win .. you don't have a lot of time.
Hammock. Nicole and Dani.
Dani – what were you going to say earlier about Christmas? Nicole – she was telling me.. because she said something about Bay told her that if she wins HOH she's got good information. Do not say I said anything. Dani – I want to know what information? Nicole – I asked what is it? And she said that she wouldn't tell her until she wins HOH. Like what kind of strategy is that?! Bay thinks they're (Bay and Christmas) really close. Dani – who do you think she would throw on the block? Nicole – I think you and Cody. I think its going to be something that she is going to make up about Cody. I think it is something juicy! I want to her to win HOH so that we can find out what it is. Christmas is going to get more info and get back to me. It benefits Cody to have Day in here not Bay. Dani – he is actually pretty close to Bay. Nicole – everyone thinks they're close to Bay. We need Bay to give that info to Christmas.. I know its about Cody. I 100% know! Dani – I have a feeling that at some point in this game they might expose our alliance. If that ever happens .. we will all deny it. Because that just puts them two in a spot.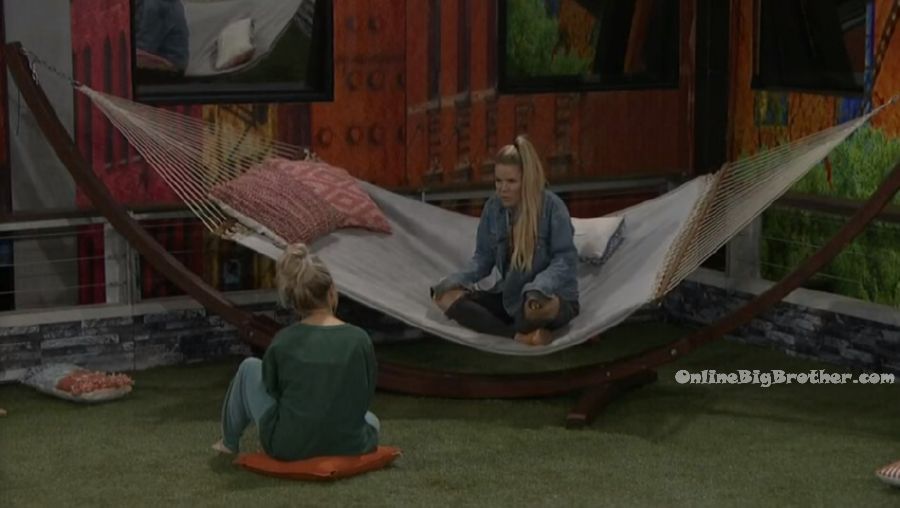 11:17pm Backyard. Dani and David.
Dani talks to David about her daughter and all the little things in life that she loves. Dani – who would you go after if you won HOH? David – who would you go after? Dani – I don't know right now.. but I'm not afraid to do anything. And I am definitely trying to win .. I am not like I am going to throw it because I don't know. I'm not like that at all. Are you and Memphis cool now or no? On a game stand point? David – I mean I don't know .. from a personal stand point I really felt uncomfortable. Dani – yeah I don't blame you. David – but since then .. that isn't the case. David – would you put me up? Dani – no! Would you put me up? David – no. Dani -see you can't even say it with a normal face. David – I said it without looking away. You looked away when you said it. Dani – I look away.. I do that in the DR all the time. Its just who I am.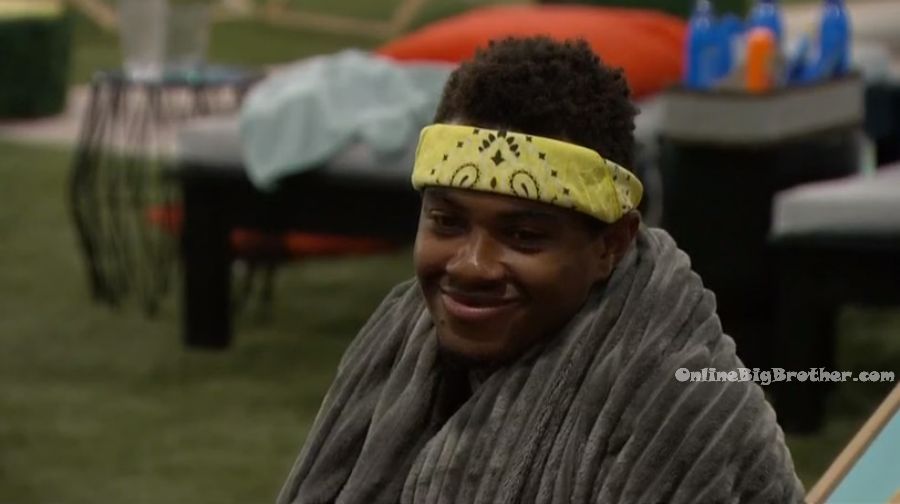 11:20pm Kitchen. Kevin and Kaysar.
Kevin – I really do feel like there is a good probability of America's vote thing. Kaysar – that I am going up against everyone that is evicted.. what do you mean? Kevin – Like this week there was no suite because there is something happening. When I would watch I loved it when very likable characters .. the only way they can survive is with a power. And then I felt like as America I could play with them by giving that person a power and influencing the game.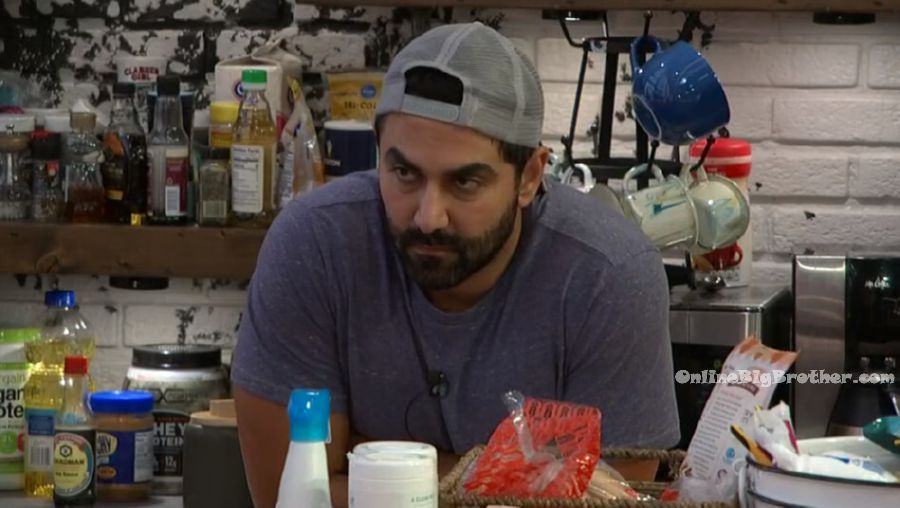 12am kitchen. Cody, Bay, David, Tyler, Kayar, Enzo are hanging out chatting about what celebrities are watching big brother.
12:13am Bathroom. Kaysar, Day, and Bay.
Day – if you've got something .. let me have it. Kaysar – have something like what? Information? Day – yeah, anything! Kaysar – I already told you everything I know. Day – who does Enzo want out of here .. right behind you. I already told you about Ian. Dani is trying to double deal. Her sole alliance is there. David can't make up his damn mind. You know where he stands. He badly wants to be accepted by them. Enzo is not entirely with them. You have to be careful because he did say that the women in this house freak me out. I tried to convince him.. dude do not go there. Its not in your best interest. Memphis does not want any alliances till after the first half. Day – if you would have your way for a fairy tale ending who would leave right after you. Kaysar – honestly the biggest mistakes that take place are people over calculate and don't get the big targets out. People are like oh no I want them in the house. That's what we did in All Stars one. Saying you want to keep Chill Town because it keeps the attention off you but what ends up happening is it f**ks up your sh*t because they're the ones that are driving sh*t. Everyone is gravitating towards them. Giving them information. Helping them win comps. Take out the main heads. Bay – give one name. Kaysar – Tyler or Cody .. I haven't decided. You know who the scariest person in this house actually is.. Dani. But you can't take her out yet. She has a lot of power. She is very covered. She is buried behind Tyler and Cody. The ideal scenario .. if you had one shot to bust it up.. that is it.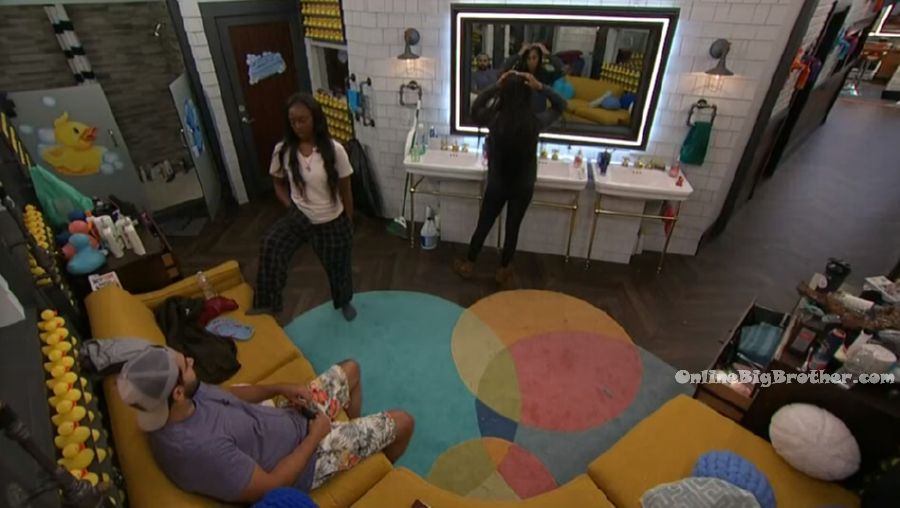 1:30am- 3:40am Kevin and Day in the hammock.
Day – when I say this is a can't say sh*t …this is a can't say sh*t. Dani is trying to get me out of the house. Kevin – why? Day – Tyler comes up to me and is like you know Day, I have to tell you something. Dani has been going we have to get her out. Kevin – okay. Who else? Day – Enzo knows and Cody knows. Remember Kaysar said something about David is playing for third place? Kevin – I don't get that. Day – basically that he needs to detach from me and Bay because he is playing for third. Kevin – how do you know that came from Dani? Day – that is my intuition. Kevin – but you don't have receipts on that. Day – don't you see how Dani is all over David right now. What if Tyler and Cody are working together. What if Tyler is telling me something about Dani and Cody is going to tell Dani… Day is trying to get you out. You get what I am saying. Kevin – no, that's what it is Day. She is like a secondary to the alliance. Day – no she is not. Who are the primary members? Kevin – Cody, Nicole and Tyler. Dani is secondary. Derrick pre-gamed with Cody and Nicole before coming into this house. Dani wasn't a part of that. Day – where are your receipts. Kevin – I can't say, I promised I wouldn't. This tea is certified. We need a long term game in this house. This is manipulated for middle game. Day – I am not going to let this go .. who said it?! Kevin – no. Enzo is being included .. he is getting played to some degree. That nomination did not come out of his brain. Day – tell me. Kevin – no I have to live off my word. Day – then trust me!? Give me the first letter. Kevin – no. If we get power what do we do? Day – Ian and Nicole and then backdoor Cody. Out of Nicole or Cody which one are they going to pick. Ian is going to take himself off the block. Day – if she has been planting seeds in David ..she is going to use me to tip the ice burg.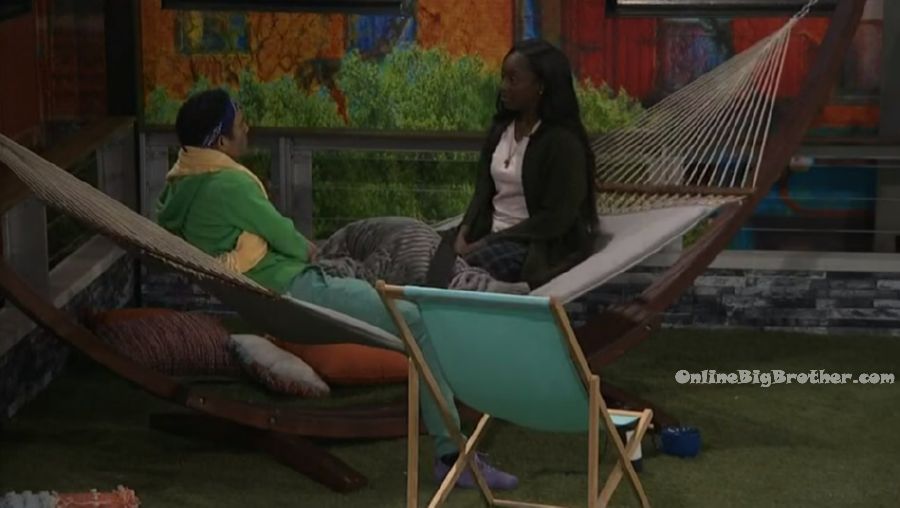 4am All the house guests are sleeping..
Show your support by making a donation.
If you're enjoying our live feed updates this season, please consider donating.
Any amount is greatly appreciated! Your donations go directly to paying the fees required to run this site.