Want to watch the Big Brother Canada 5 live feeds but live outside of Canada?
Bypass the geoblocking with HideMyAss VPN and be Canadian Anywhere: VPN Help Guide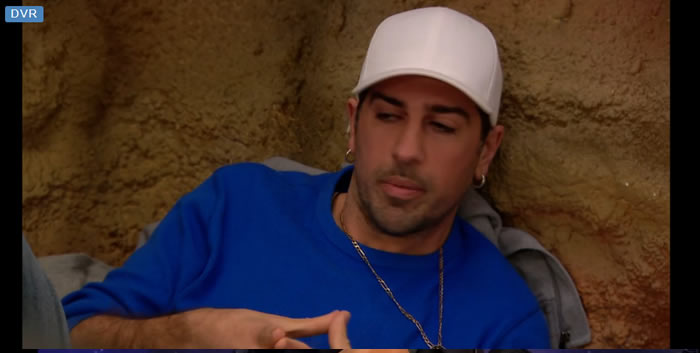 Have not competition. THey got to vote for who was have nots. The votes were shown. Instead of players with the most votes it was players with the fewest votes that got it. Bruno, Demetres, Emily, William are have nots
Cookie tallies
Gary = 48
Jackie = 21
Kevin = 16 (9 from himself)
Karen = 15
Dre = 13
Dillon = 11
Ika = 3 (from jackie)
Neda = 2
Sindy = 1
Bruno = 0
Demetres = 0
Emily = 0
William = 0
7:11pm Bruno and Kevin They're pissed!
Bruno – I came here to play the game not for stupid f*** gimmicks
Kevin – yeah it's ridiculous
Kevin – how am i Supposed to explain my thought process to the audience..
Bruno – they're not getting this sh1t..
Kevin – you get boned every time you play this game
Bruno – I'm here to play a F****G game you know.. I'm so tired of this
Kevin says Gary didn't even get to be a have not
Bruno mentions that Gary is 'So f***G protected"
Bruno – this game is f***g broken bud
Kevin says they just formed a relationship with Jackie and now it's gone
Kevin says Jackie will be going after Ika and Demetres after that
Bruno – I'm not far behind.. this game so f***g stupid
Neda joins them says the game is unfair.
Kevin – they showed every single vote
Sindy joins them
Neda – they want people to flip out what's the easiest way.. show the votes
Kevin – Gary put 9 in mine
Neda – Gary's a little shit
(They're all pissed because their games have been exposed)
7:14pm Karen and Gary
Karen – how about that bitches
Gary – I love it.. I love it lets make feasts.. I'm making pork chops and chicken breasts
Gary – you see how mad Neda is because I gave her one
Gary says Ika has already dropped her.
Karen – I'm getting rid of Jackie over Dre
Karen – I f***g hate these people
Gary – I can't believe how conniving they are.. gutter people
Gary about Kevin – You see how his strategy got exposed ..
Gary – see how he got exposed..
Ika comes in.. "you think it's April fools"
Gary – no it's backwards week..
Karen – we're talking about how all the alliances were exposed, we know the pecking order now
Ika – not necessarily
Karen – it still shows..
Gary says it's funny that Neda is pissed at him for giving her 1 chip when he knew she wasn't going to be a have not and she gave him 10.
8:26pm Storage room Sindy, Ika and Kevin
Talking about how Shady production is
8:33pm Ika and William
AS jackie walks by. . Ika "We all know who I wanted to go on slop"
Ika tells William she thanked Jackie for giving her 3 votes otherwise she would have been a have not this week. Ika explains that Kevin gave himself votes to make it look like people were targeting him.
Ika goes on about how much she doesn't like Jackie, "she's fake"
Ika says Jackie doesn't like Dre.

8:40pm Emily and Gary Storage room
EMily says the reason why he got so many have not votes is because he's entertaining. Canada would love to see that
Emily – I put 6 in yours and 4 in dre's
Gary – I didn't campaign to keep Cassandra so if that's they reason you vote me out you guys are idiots..
Emily says everyone has told her Gary is going after Dillon and Emily
8:50pm Neda and Ika
Saying that Gary is playing the victim card.
Neda – he made a personal attack against me.
9:45pm Jackie and Sindy
Jackie is crying because Ika is being mean to her.
9:50pm Gary and Ika
Gary is telling her about Jackie. Ika says she's not going to stop. Gary warns Ika about being too mean they might give her a mean girl edit.

10:16pm Ika and Dre in the bathroom
11:00pm Jackie and Bruno
\
12:35am

[polldaddy poll=9712548]