HOH: Kyland
Nominations: Hannah and Tiffany
Power of Veto: Kyland
Power of Veto Ceremony: Kyland did not use the veto.
Big Brother 23 Houseguest Rankings – – RANK THE HOUSEGUESTS –
View the previous day ranks on the – Ranking Grid
Big Brother Spoilers – Kyland did not use the veto Hannah and Tiffany remain on the block.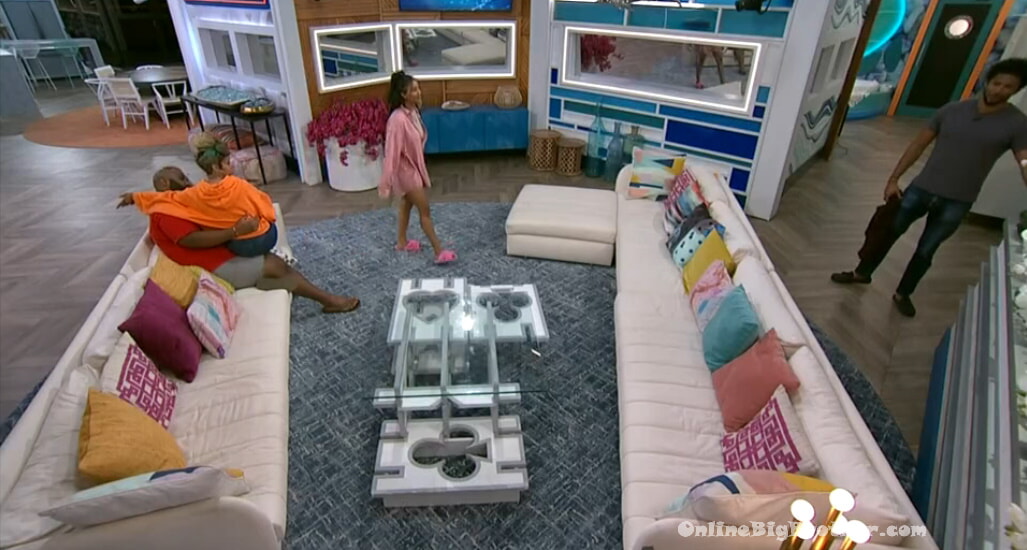 10:00 am Hannah, BIGD, Ky and Tiff
Feeds return after an early veto Ceremony. Kyland doesn't use the veto. Nobody seems mad just joking around. Kyland gets called to the Diary room
Tiff – they want you to apologize. You got two black women on the block what kind of guy are you?
They laugh..
BIGD – Girl I loved your speech though.. that's what I love about you
They start talking about sharing the winning money.
BIGD says he would give everyone 5K for Christmas.
Hannah says it might not be legal.
Tiff says you can't make deals about the winning money. You can do whatever with it after.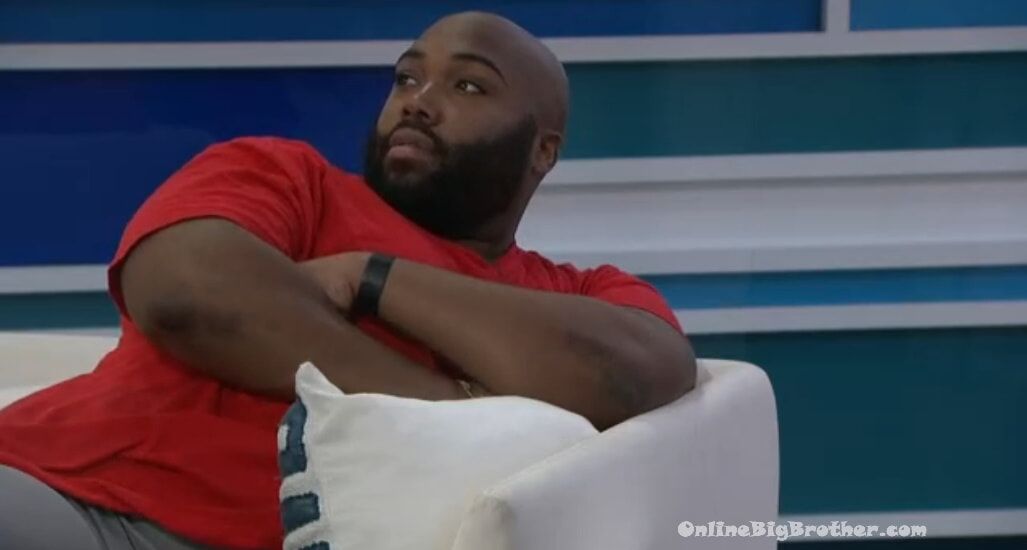 10:06 am BIGD and X (BigD is all about sharing the money now)
BIGD – If I.. let's say. If I won Whoever was in sixth like who went out at six. I would still send them something. Like even if it's the same as 5th if that makes sense.
X – I don't think you are allowed to say that.. it's colluding with the jury to say hey vote for me. It's like you're bribing the jury. You can't say that. I get what you are saying.
X – you say that out loud you get into trouble.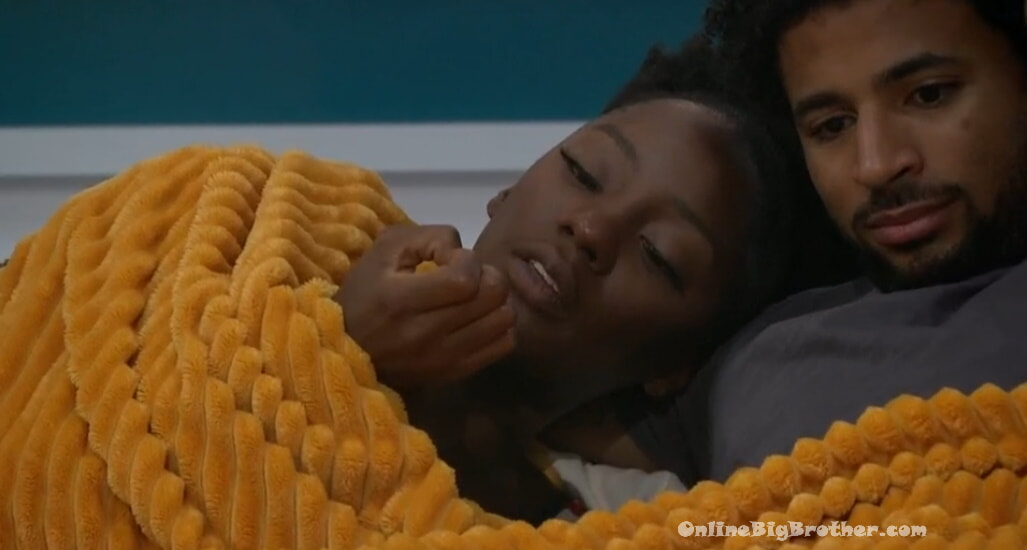 10:42 am Azah and Kyland
Azah – before I talked to you I told Tiffany yes I would but I can change that with her
Azah – Before talking to you I said Ohh Yes, of course, I got you but I have no problem telling her that's changed. I was planning on going with what you wanted
Ky – thank you I appreciate it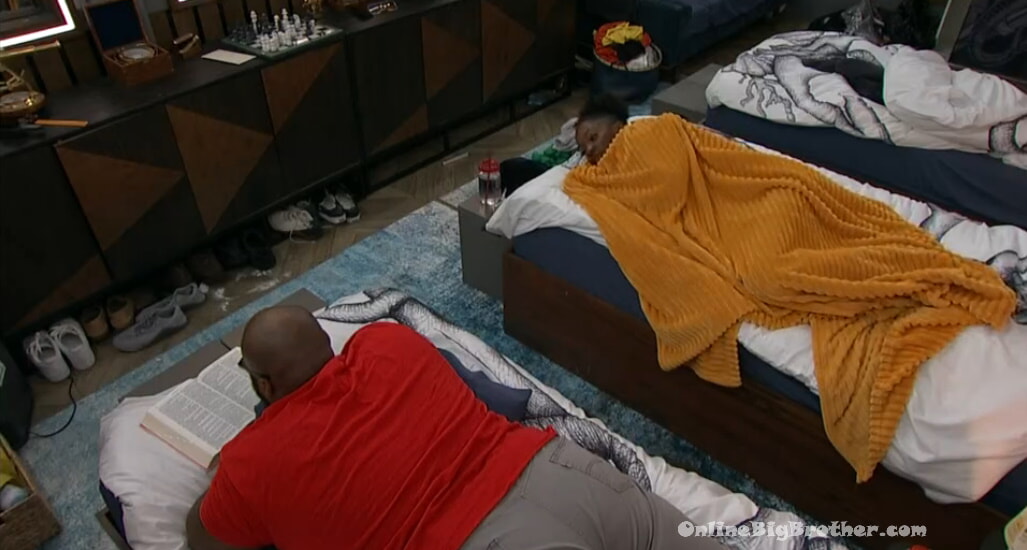 11:16 am BIGD trying to read the bible On the other feeds Hannah was going on about wanting Sawggy-P and Davonne to spend the day in the house with them. (Yikes)
11:20 am
Azah – right after the veto ceremony he comes up and says Can I sit next to you. I said sure and the first thing he asked me is are you okay with voting my way. He wants to make sure I am following in his footsteps. maybe he feels like he's turning on his charm and it's working. You know where my heart is my heart belongs to two men in this house, you and Xavier.
BIGD – he's using his charm
Azah – yeah he's using his charm.
11:44 am Xavier, Azah, and BIGD talking about Tiff/Kyland. They're cut from the same clothe. They go on about Tiffany and Kyland being selfish in the game.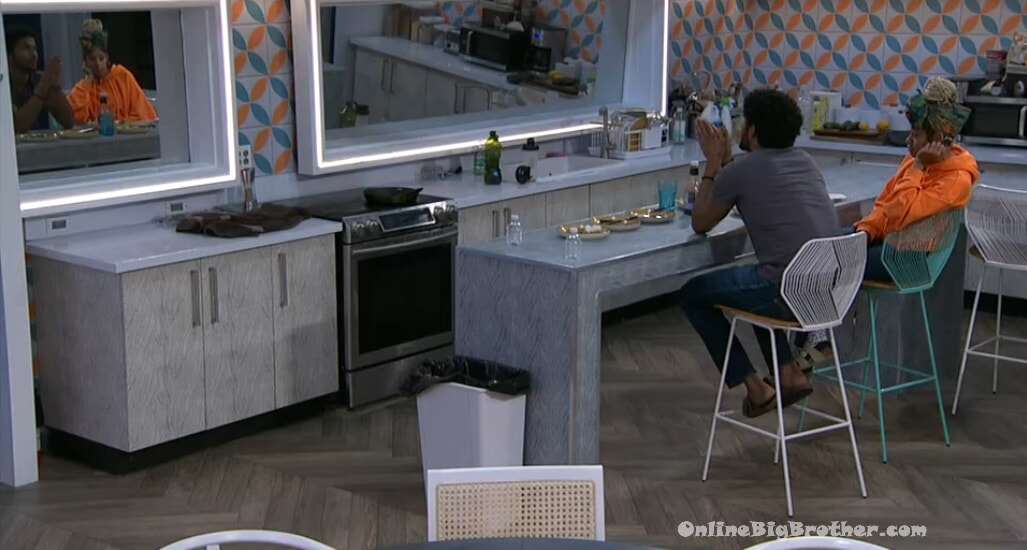 11:58 am Tiffany and Kyland
Tiff – BIGD wants you on an island by himself that way you have to choose him. If you have me then he knows you have me and him and he could be expendable at some point but if you only have to keep him. He knows you don't have Azah.. He doesn't know if you have Hannah but he knows you have me so if I go you only have him. He will not change his mind.
Tiff – the only way I can work on him is that he feels you have him more than I do
Feeds cut.
They talk about DX's HOHS room and how messy it was. Tiffany had to clean it for him one day. DX mentioned how if she thought that was messy wait until she sees his Appartement. Kyland says they found his one flaw.
They talk about construction going on outside. (I believe the double on Thursday is not live. Therefore feeds will likely go dark on for some time)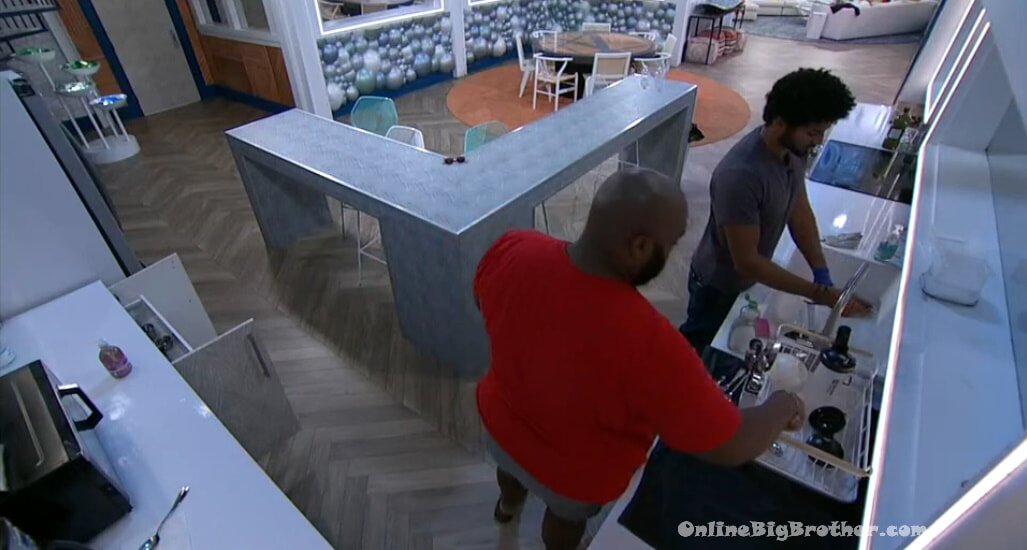 1:23 pm Slow day on the feeds. BIGD and Kyland are studying while doing the dishes. In the other room, Hannah is chit-chatting with Xavier.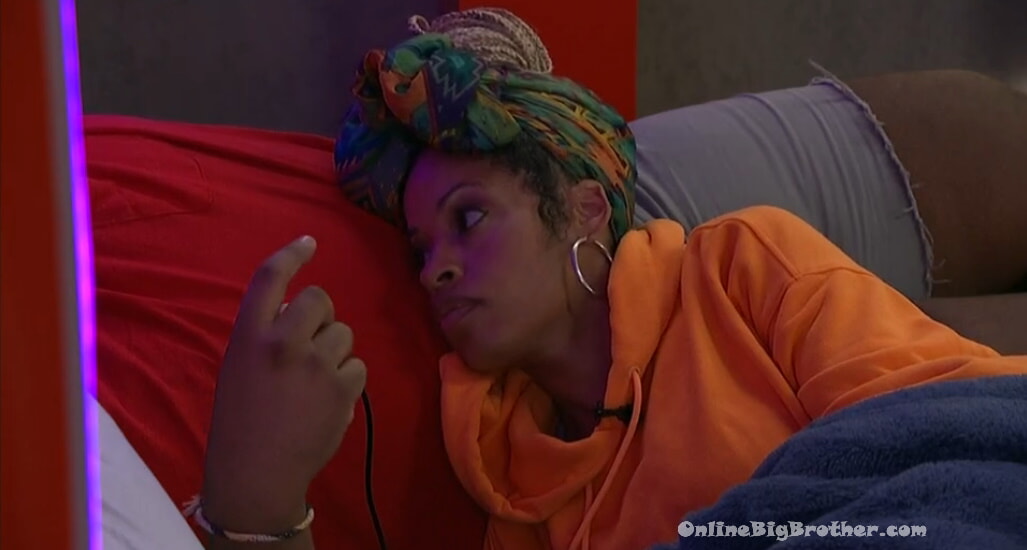 1:55 pm Tiffany anad BIGD
Tiffany asks him if Azah offers a final 3 with her, Azah, and BIGD.
Tiff – I'm not coming after you
Df – I have made .. just like I talk to you I talk to Hannah the same way. I told Hannah hEy…
DF says they made an agreement not to come after each other.
Tiff – Hannah is going for the money Hannah is cutthroat.
Df – I know she is
Tiff – I don't even need to make it to two I just want to get me and my son some money
DF – I have to think about what I said to her and what I said to you.
DF says Hannah started talking to him when they got to the six.
Tiff – Hannah has deals with everybody
Tiff – Azah won't work with Hannah like Azah will work with me. Azah doesn't trust Hannah.
Tiff – I would always be with Azah. Azah's my sister.
Tiff – Hannah is not playing this game with her heart at all she's playing with her head.. she's young she can do that.
DF – you and her both made valid points.
Tiff goes on about how she doesn't want to go back home with no money for her son.
Tiff – I'm too old to come back and play this game again.. Hannah is 21 she'll come back several more times.. I am done.. I can't keep doing this.
Df – you have Azah's vote it'll come down to me and X's vote.. I don't think he's made any promises.. I told her I wouldn't get rid of her when we hit the six.
Tiff – Hannah is coming after you she does not want anyone to take you to two. She does not want to give you that opportunity I know that for a fact.. I'm telling you all now you don't have to take me to 4 take Azah and Kyland to three.
Tiff says if Xavier makes it to final 2 he's going to win, "everyone respects him, everyone respects his game. He hasn't lied to anyone on that jury"
Tiff – everyone will respect the game this is BIG BROTHER it's about who played the best game. Xavier played a flawless game. I do think he will win over you, he'll win over me and I think he'll win over kYland.
Tiff – people will like you and be like DAMN BIGD made it.
DF thinks the jury will have a tough time picking between DF/Tiff and Xavier. /(LOL)