HOH: Kyland
Nominations: Hannah and Tiffany
Power of Veto: Kyland
Power of Veto Ceremony: Kyland did not use the veto.
Big Brother 23 Houseguest Rankings – – RANK THE HOUSEGUESTS –
View the previous day ranks on the – Ranking Grid
Big Brother Spoilers – Tiffany most likely being evcited.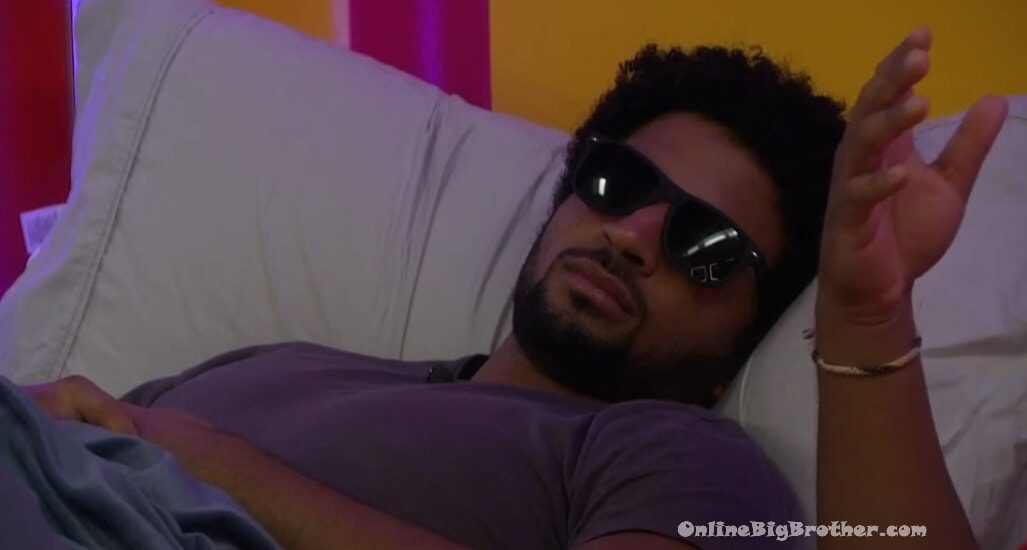 2:12 pm BIGD and Kyland
BIGD says Tiffany is trying to put a wedge between them because that is her only gameplay.
Ky – she's doing the same to you she tried to do to me. Point me at X, and now she's trying to point you at X. She's trying to point X at you like that's all she's doing now.
DF – she is working the hell out of me right now
DF – she's like I'm not coming after you. Hannah has already made it clear that she's coming after me because she doesn't want any of you three to take me. So I was like Damn .. That's your own person that you loved. You are willing to throw.. so. that was interesting to hear.
DF – I know for my game it's not good for her to be here. I just need to figure out. I wonder if Hannah said that just to game her or if she really meant that.
Ky – it wouldn't matter cause Tiff would do the same thing. Just because she's went on this apology tour doesn't mean she's shifted and now is going to carfe for you.
DF – I know.. I know I don't care if I get three and Xavier and Ky are sitting at the end.
DF – I don't care if I'm sitting at the end with Ky and he's like won 7 comps.. that doesn't scare me I will still show what I did. Some people will respect that. Same reason why I'm sitting next to X and whatnot.
DF – I made a promise to these two men that we would make it to the holy BB in my head I'm like my one promise is to Ky the most out of everybody.
DF – all she will do is throw up the f**ing guys and she can win sh1t.
Ky says in every scenario if Tiff wins it'll be 2 of the 3 guys "Most likely me and X"
Ky – me and Azah are chill now
DF – if Hannah wins.. I would hate to do it but I would send Azah home
Ky – Thank you..
DF – I would have to
Ky – If hannah wins remember if you send Azah home it's perfect because me and X are competing BOTH the number four HOH and the number four veto there's not shot Hannah will beat us.
DF – This is my hit list. Tiffany, Hannah, my love she'll kill me but it is what it is. Azah.. then I feel like me and you can beat X.
Ky – the three-part HOH..
Feeds cut..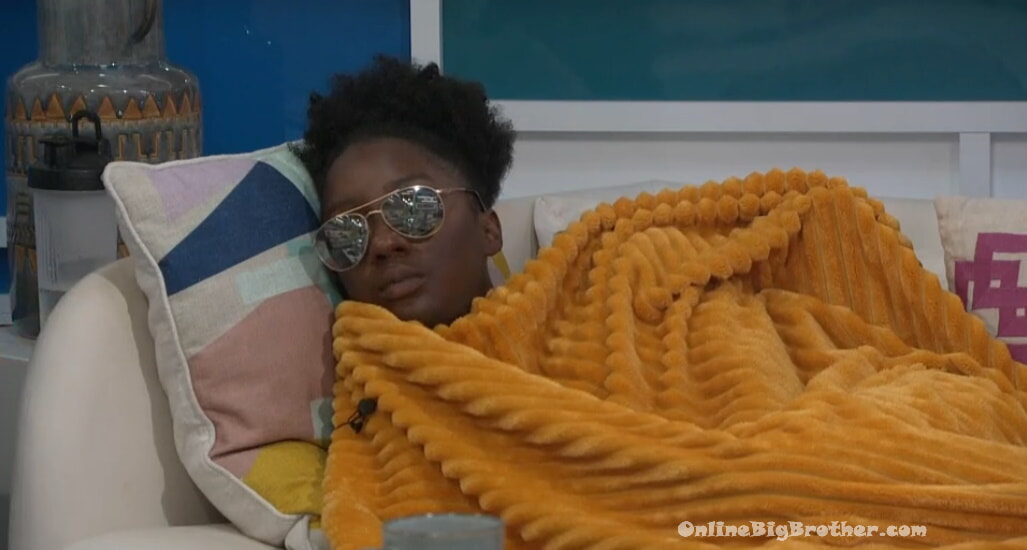 2:42 pm Xavier and Azah
Azah says she made a deal with Ky that she wouldn't put him up next week if she was kept off the block this week.
X – your only option left is Hannah.. mmmhmmm
Azah – how about you
X – I was looking at her too. her and maybe Ky.. I wasn't sure I was bounding between the two.
Xavier saysTiffany told him Hannah will take him out if she gets power.
X says Tiffany is on the block and she's proven herself to do whatever it takes for her own self-interest. He doesn't know if he can trust Tiffany, Either way he'll take that information into consideration next week.
Azah says she's going to gun for the HOH at least to prevent Hannah from winning. Adds that Hannah will go for a Guy if she wins likely X and Ky.
Azah – either way you know where my loyalties lie, it's with you
Azah – Save yourself for four. if Hannah drops out save yourself for four..
Azah wants her or BIGD to win the veto
X – I might do that.. I don't know how beneficial it is to throw competitions.
Azah says the veto is more important now. "If there's a HOH to win it's not that one. My loyalties lie with you at the end of the day"
Azah says Kyland is not her first option he's her second. Xavier asks if Hannah is taken out next week and Kyland wins at four who does Kyland put up?
Azah – you
X – sounds like he.. He's set himself up to where he's guaranteed final four and potentially Final three. If he's guaranteed for final four final three it means for two weeks I have people coming after me.
Azah – you will have hannah coming after you that's it.
Xavier – This week Tiffany has got to go.
Azah – the most dangerous person is Hannah she has no qualms with anybody she could put me and BIGD up and then who wins veto that's a complete wildcard when you think about it.
X – I agree.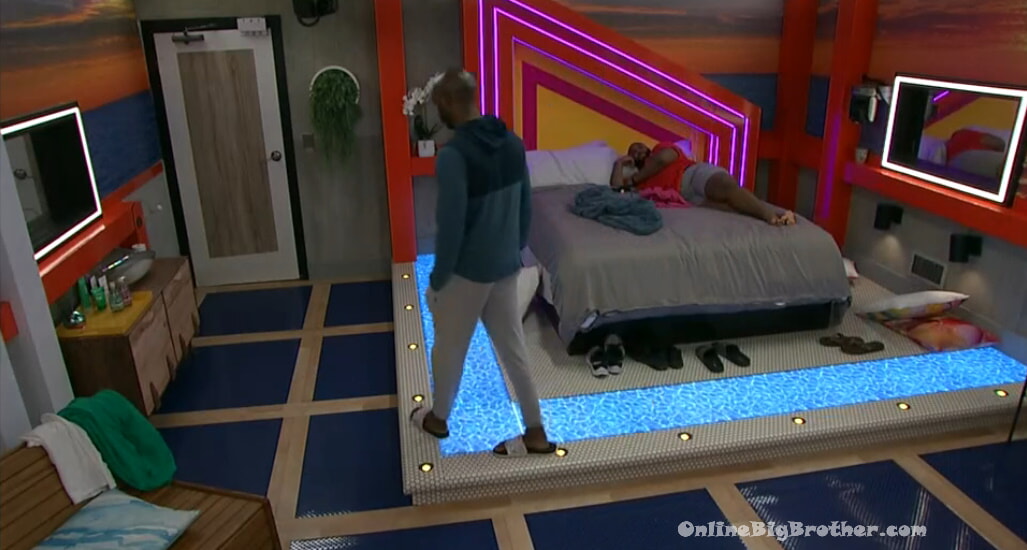 3:24 pm X and DF
(X pacing around checking the door acting a bit sketchy.)
DF brings up his talk with Tiffany where she told him Hannah wants to take him out because Hannah thinks everyone will take DF to the finals because he's a sure win.
X – she told me that Hannah wants to take me out
DF – what is guaranteed up to ?
X – if Hannah won she's looking at you, Ky, and myself. she feels that she can't beat
DF – we can't keep Tiff
X – no no no I'm talking about next week
DF – next we have to be on our sh1t
X – Sounds like we have to take out Hannah
Df – we have to
X – We're getting Tiff out this week. Between Tiff and Hannah, Hannah might be more of a threat from a competition standpoint.. Tiff's going home this week 100%.
DF – I can't believe she said that to me she's killing my confidence.
X says Tiff is throwing Hannah under the bus with her campaigning.
X – she's not going against Hannah but she's definitely throwing Hannah under the BUS
X – if I win HOh who do I put up?
DF – Azah
X – how does Azah feel like that because we have a final 3.
DF – unfortunately, she's going to have to suck it up Azah has not been a pawn.
X says Ky has made a deal with everybody
DF – we all have.
X – let's say I win the next HOH and I take a shot at Hannah and Azah. What's to stop Ky from taking a shot at me at four?
DF – Don't you guys have a deal or something?
X – as long as he honours that he might say f** it.. I don't think he would I'm playing out Scnarios
DF – we got to pray I can win so you can feel comfortable to go to four
X – at four it is what it is we decide who we want to take to final 3.
DF – Azah understands. Azah is sitting in a really good position
X – If I were to win the next HOH She has to go up cause I'm not using you as a pawn. If I put up Ky it'll fracture our relationship and we have a good one right now.
DF – This is how I look at it. Tiffany is going home, Hannah is next, Azah is next, and then when we get to the three of us it's a friendly gentleman's fight.
X – with Azah at Four the way that Ky has it set up.. I think if Azah wins she takes out Hannah which is fine.. Everything is setting up right i'm just wondering if I want to win this HOH..
DF – you can't win this hoh
X – I'm done throwing competitions.
DF – she made it plain and simple that you will win
X – she's trying to increase my target
DF – she said you played a flawless game. everyone respects you
X – FALSE she just won Claire's speech put a hug a$$ target on my back
Df – Claire did say if you were in the finals she's voting for you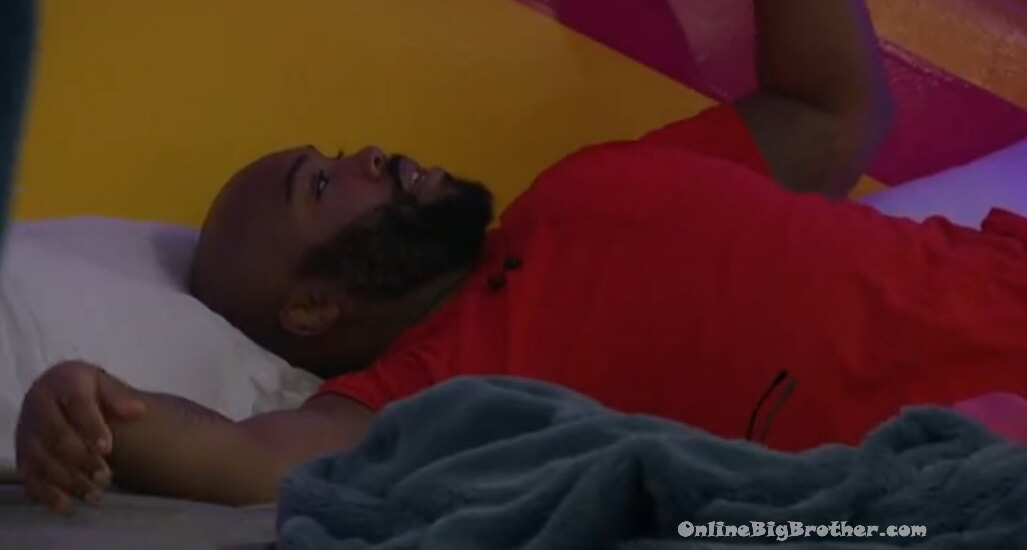 DF – she said THIS isn't a friends game DEREK.. like you're not going to win being friends with people. I was like I wasn't F***Ing friends with everybody I actually manipulated and did all the moves to get everybody to do what they needed to do. Why is my case not bigger than his because he won a couple of comps? She like YEAH…
DF – ohhh okay that's the game we're playing
X – she's making similar pitches to everybody "this isn't big love this is big brother"
DF – she said she wanted me, Ky, her, Azah to work together she didn't name Hannah.
X – she can't say, Hannah.. sounds like she's wanted all you guys to come after me.
X – she just lost my vote.. well she didn't have it.. I was straight up to her I said I was leaning towards Hannah (staying). FACTS straight up. If you give me things to consider I will consider them..
DF continues to pick out bits from this Tiffany conversation. 'I painted Tiffany what she needed to hear I like yeah I'm just trying to stay low cause I need Ky and X to go after each other so that I don't have to worry about anything" (lol)
X – I still think I can convince Azah that Ky and I are at odds.
X – I haven't worked out today.. damnit. I need to be fit.
DF – if that backyard isn't open tonight that means HOH competitions on Wednesday
X – damn I don't want the way Azah feels about me to affect her gameplay she can't be doing that.
DF – Unfortutnley I don't know what to tell you I know because we talk about everything
X – She said she had a crush, Crush is different than game, and feelings
DF – At least you know she'd ride for you N——-
Feeds flip
When we're back they're still talking about getting Tiffany out this week and Hannah next week.
X – they're all downstairs doing what women do. We're up here eating all his sh1t doing what men do.
DF – I want to see if I can get her a little hot.. so word out on the street you coming after me?
X – low key you can say that..
X – damn he's got a trash can in this b1tch. (throws something away )
X says Hannah is a better player than Tiffany because she doesn't play emotionally "we brought her into the fold late"
DF – Tiffany won two HOH's back to back
X – Tiffany is a formidable competitor.. Mentally and strategy-wise Hannah is better.
X – Tiff is the targe that needs to go this week the remaining target is Hannah "truthfully we take out Azah when we take out Azah it is what it is" (yikes)
X goes on about how much ammunition he has to put Hannah up.
X continues to pace around and short circuit
4:09 pm Kyland and Hannah
Hannah – I'm telling you there's an episode tomorrow that means eviction on Wednesday.
Hannah – I'm going to campaign tomorrow
Ky – Come here for a sec
Hannah – okay
KY – Obviously I can't vote. Derek and X are pretty locked in keeping you
Hannah – yeah
Ky – She's getting to work aggressively Derek said wow it's aggressive had me thinking
Ky – not thinking he's solid it's good..
Ky says Azah is saying a lot of things she's just as likely to do what he doesn't want done.
Hannah says X told her he's leaning towards keeping her.
4:44 pm X and DF
After a short break from pacing X is back at it.
They talk about Tiff
Df – if you didn't pull the moves and stunts you did in the beginning it would be a different scenario it could be, you and X in teh final 3 but you pulled some crazy shit.
DF – you didn't pull the correct stunts what you should have done. You tried to overpower us you talked to us in different tones that made us feel like we're constantly butting heads you rub people the wrong way at times. The storage fight was the icing on the cake for me.. I was like PFhhhh
DF – you were willing to put all our games in jeopardy for something a week ago.. I thought you were okay because we were fake smiling.. okay cool that shows your maturity level/.
DF says Kyland and Tiffany were more selfish than the other six so that is why they have to do (they didn't throw the comps to DF) . Adds that Kyland deserves to go a little bit further because he made more sacrifices for the 6 over Tiffany.
BIGD – I'm trying to play this as fair as possible
X says if it was fair Azah would leave NOW than Hannah, followed by Tiffany.
Df – I can never feel comfortable if Tiffany is still here
X – do you love Ky
DF – I do not.. Do I like him yes ..
DF says he had one sex dream about Ky but he can't go into details.
DF asks if Ky has ever been angry at X
X- he knows better ..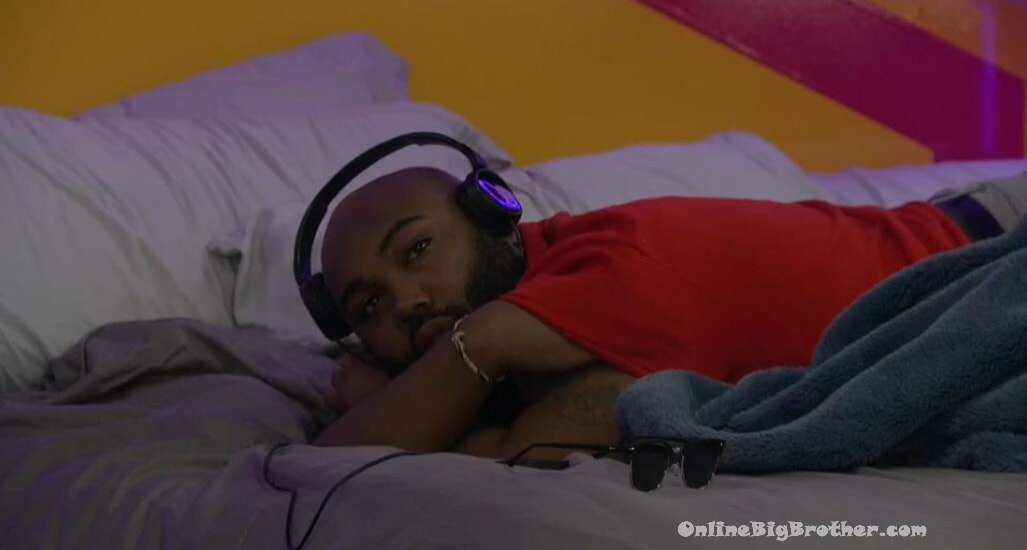 5:17 pm X and DF
talkinga bout working out in the house
DF – I tried to do some sh1t but I'm just not motivated I like to have my coach tell me what to do and my BIG gym with all the weights and sh1t
X – I don't need a coach.. I'll work out in a second
DF- the one good thing about this experience is I lost so much muscle. Going back I'll probably be able to run more cause I lost so much muscle where now it's just f***ing fat.. (Jesus)
5:32 pm still pacing
DF – ky makes it to the end he gets everyone's vote
X – nope he's pissed off members in the cookout
DF says Tiffany got into his head.
DF – we are voting for Hannah to stay.. if Hannah wins. 'Azah voted you out' \
X – point Hannah in the direction of Azah.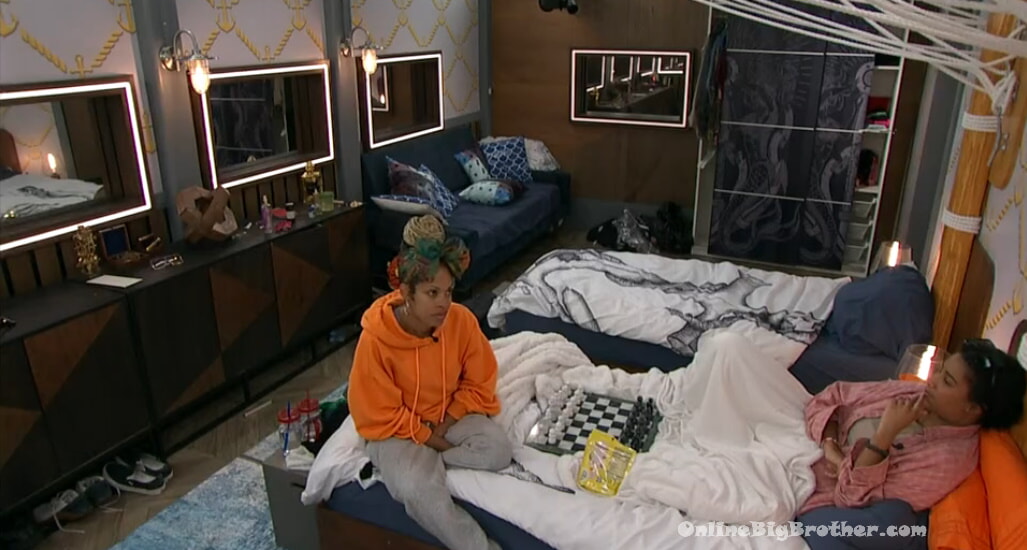 5:38 pm Tiffany and Hannah
Hannah says DF hasn't really been playing the game.
Tiff – He thinks he's been playing the game. if that's the game you want to play that's cool. It's like being on the lakers but you never get on the court you get on the court in like the playoffs when somebody gets hurt.
Tiff – I'm on the team and I'm playing… you know what i'm saying. I do feel like we played. More so we did a lot of strategizing..
Tiff goes on about how she's "old school BB" and how new BB has gotten so predictable in their game play
Tiff – the last few years I've been like what the f*** everybody is going to vote the same .. (This season wasn't exactly unpredictable)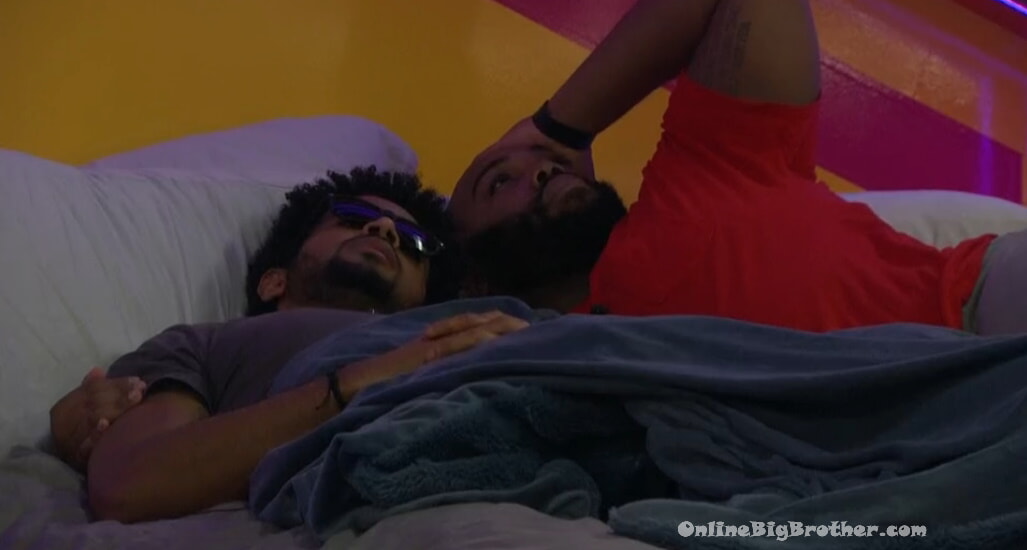 5:50 pm Cookout guys going on about Tiffany's campaigning and getting her out this week.
After X leaves
DF – Azah's okay to take fourth place, to be honest.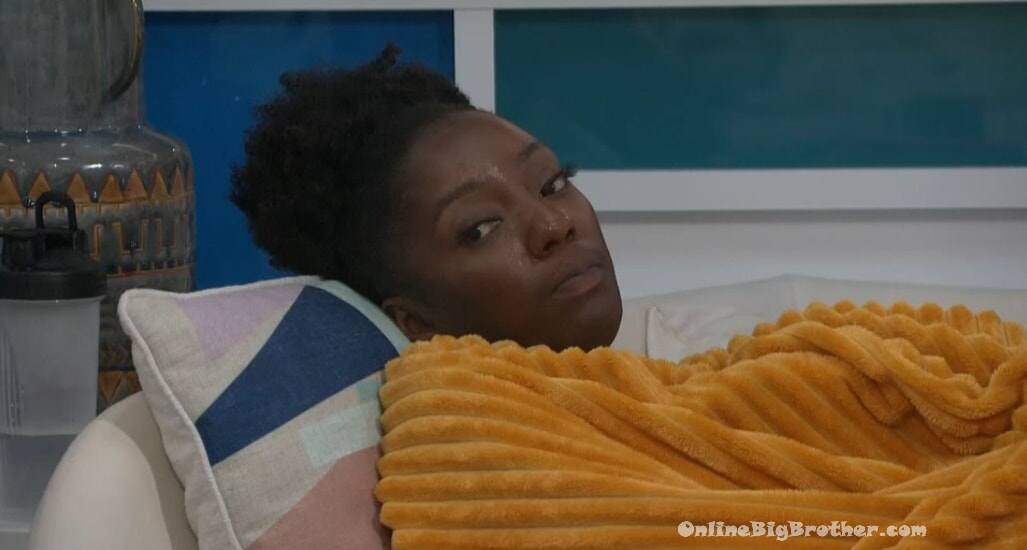 6:30 pm Tiffany reading the bible to Azah.