Head of Household Winner – Christmas
Have nots – No havenots this week
Nominations –
Power of Veto Players are –
POV Host: –
Power of Veto holder –
Power of Veto Ceremony –
Live feeds —-> Grab your Live feeds here. Try it free.
Rank the houseguests —-> Big Brother 22 Ranking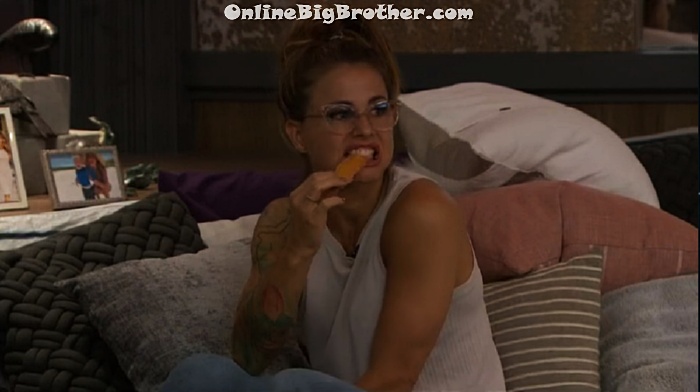 1:00 am Nicole and Christmas
Nicole going on about Kevin being "So weird"
N – he is flipping. I really love Kevin
Christmas – he's going to be really upset tomorrow (Kevin is a nom)
Nicole explains that he's flipping like one minute he likes her one minutes he doesn't "I wouldn't put my game in his hands"
Nicole says she should leave soon people will start thinking she's "hypnotizing with with my nominations I've been running this game since day one doing nothing getting too much credit"
Christmas is excited that she gets to play in the veto
N – I hope it's the prices one
Christmas – me too momma needs a vacation
Bayleigh comes up having found Christmas' water bottle
Nicole says that was a nice thing but it was also a "Spy move" Adds that Bayleigh is going to be saying "Nicole is up there
Christmas – people know we hang out.. whatever they are pretty open about their friendship
Nicole says he can't hangout with any of her favorite people.
Christmas – have you and Ian ironed things out
N – yes. I don't trust him fully. I trust you the most
Christmas – I trust you big time
N – I trust him but don't trust him if it was that easy for him to get paranoid in thinking weird thing I thought this could happen again
Christmas – you guys didn't break you just bent
N – I told him let move forward everything is good he's really happy you won HOH
Christmas – I told him when we left the yard we're good
N – He thinks he's Covering for me..
Christmas – what they are telling him is he is your shield
N – he's covering for me because he opened his move and told information he shouldn't have told and people are mad
N – he has it in his head he's doing me this big favour but really it wouldn't have happened if he hadn't opened his mouth
Christmas says she loves Ian. "I remember him playing this game. He knows what he's doing. He stepped up and made a performance when he needed to his season"
Christmas – I love him but he is not in our alliance
N – I know
Christmas – he's a close friendly from what Bay has told me they are friendly too
N – He's playing everyone
Christmas – which is why he got so freaked out with that horn because he thought he thinks his name can get thrown out there really easily (WTF)
N – mmhmm, yes so. I have to check in with him every 6 hours.. is everything good? I'm just use to it. I let him talk to one person and he's trying to blow up my whole game.
N – like Christmas saved you what are you doing
Christmas – before this sh1t happened we were talking I told him.
Christmas explains she told him she gave him safety because he was close with Nicole and wanted to let him know that door was open between them.
Nicole says Ian is playing all sides
Christmas – he's playing all sides and it backfired
N – he's playing on our side more
Christmas says she's not playing all sides. the other side is just giving her information.
Nicole says Ian has told her no information that has influenced her game "I feel like I'm always looking out for him"
They agree Ian threw the competition today
N – it makes me so angry.. he didn't want it at all that means he thinks he's safe. He has a photographic memory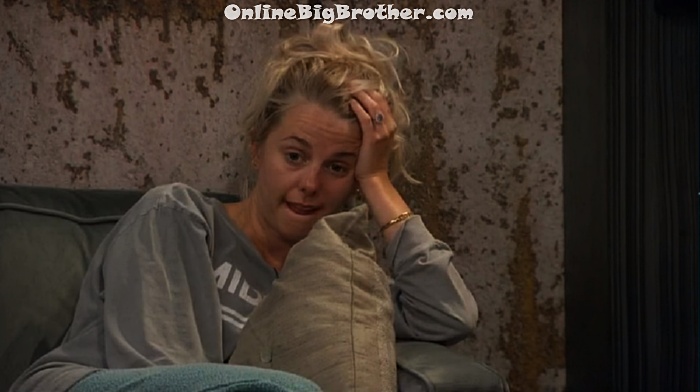 Christmas says 1/2 the house threw the HOH "No one in our Squad. Bay and Day didn't"
Nicole says Ian threw the HOH because he didn't want to pick two people "Would have shown his cards"
Christmas – really sad
Christmas – you don't think day threw that last question
N – she might have
Christmas – to me.. on the last one she answered wrong
N – no way she threw that
Christmas – hear me out. I'm just saying 95% sold since she does feel so good with me and so does Bayleigh. Now thre's this other ruckus going on she felt she didn't need to (win)
Christmas says her and Tyler we last picked
Christmas – you can't throw sh1t in Allstars (This is far from allstars hun)

1:26 am Cody, Da'Vonne and Bayleigh
Cody complaining that this past week there was a lot for him to deal with than having Kaysar do what he did in eviction it "Boiled my blood" (snapped in the DR about the wall yeller)
Cody – I was so made it was about to come out I was like I'm going to f***ing snap
Cody backtracking to why he picked Da'Vonne "Not that I was angry at you.. it was like Kevin f***ing eh .. i was f***ed up in the moment and I picked you"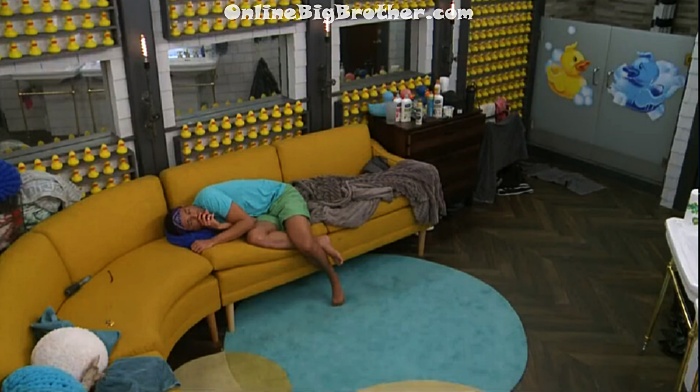 Feeds flip to Kevin in the bathroom saying to himself "bayleigh and Da'Vonne need to act calm. I do not want to be stuck .. oh my god. I literally don't know what to do. I'm not going to push an agenda on a person"
Kevin – she literally told me I'm save this week so
Bayleigh and Da'Vonne join him.
Da'Vonne – there's a very thick line drawn in the sand the mindset yo need to have is I might be going up I need to win the veto. Thats where I'm at
Feeds cut .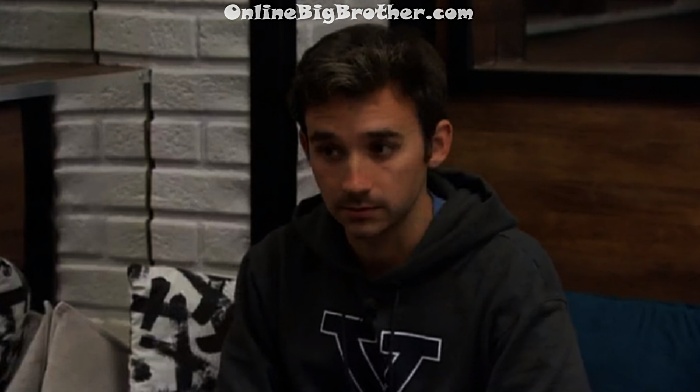 1:38 am Nicole and Ian
Ian – I think we need to be more cognizant as a house in linking them all the time like. I felt really bad when Bay pointed that out.
Nicole – I do understand the whole linking them together but I do understand they're each others number one
Nicole – when I talk to them I talk to them like Janelle Kaysar like a pair
Nicole – they're each other number one that is the only reason why I link them.
Nicole – I care about you so much you and I will be friends forever. I want to make sure you are ok. I am so sorry I stepped on your toes and came across as aggressive.
Ian – it's fine
Ian says when the whole bullhorn thing happened he felt a little hurt
Nicole – I should have been more sensitive and figured it out.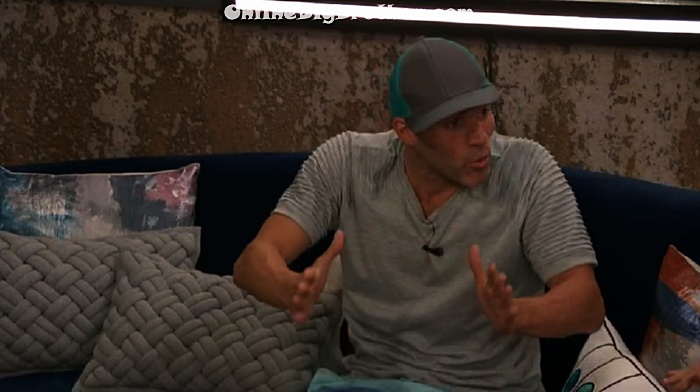 1:44 am Enzo and Christmas
Christmas – Tyler is really by the book for this game he doesn't let his emotions get in the way
Christmas – I hope my game is similar to his
Enzo – taht's who I'm playing this season
Christmas – and don't cross me
Enzo – if you are loyal to and you already proved that to me I proved it to you. I got your f**ing back whoever we f**Ing take out we f***ing take out
Enzo – Ian's awesome like him
Christmas – he got in some mix today. this whole day has been weird.
They agree Ian threw the competition today
Enzo – he didn't want to choose anybody
Christmas – that's why
Enzo – he has it good right now
Christmas – I feel like it's a little too good
Enzo – he's a champion
Enzo says he was sitting in the back and he "saw it all" Ian picked the wrong question on purpose
Christmas says Kaysar had a fixation with Cody.
Enzo says the main thing with Kaysar was Nicole and Cody "I think he said Dani at some point"
Christmas says Dani was floating with everybody "I know she was letting the girls know they're safe with her"
Enzo – in my HOH she was throwing them under the bus
Christmas points out that Dani and the girls are at each other now
They agree maybe it's best to keep them in the house so they go after each other
Christmas says she's not worried about Dani she'll sink her game on her own.
Christmas – Ian sparked my interest but I'm not really worried about Ian we're on really good terms so he's a friendly .. I'm keeping my eye on him keeping him close.
They agree they like Memphis.
Christmas says Day got picks constantly during the competitions "What is she doing. am I missing something"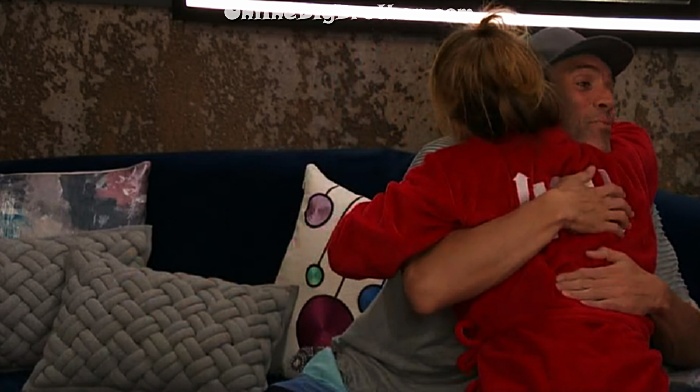 Christmas says Day has never once come to her and offer they work together and now that she's HOH Day come up and offered it.
Christmas says week one she told the "girls" that if she won HOH none of them had to worry "that was first week"
Adds that they've never said or done anything since that.
Christmas – they haven't been like lets make it official
Enzo points out that Day got mad at him when he gave her the plus 1
Christmas – she said I can't wait to start officially working with you .. too late baby girl
Christmas – Kevin I think he is sincere mostly he was.. had he been telling you he wants to work with you
Enzo – since the first week
Christmas – said the same thing to me and Nicole and suddenly today he came to her and said he wants to make it official I really want to work with you but he never followed up
Christmas says Kevin is also really close with Day/Bay.
Christmas points out that Kevin chose Nicole and Cody in the knockout "Nicole asked him what was that about and he said we're not officially working together"
Enzo – he could have pinned it on Kaysar. \
Christmas – he was like I want to work with you I want to work with you now we're not official
Enzo – players like that get to the end of this F**ing game.
Enzo points out that Kevin got to third place his season he was one question away from winning the whole thing
Christmas – I want to keep him in our eyes
Enzo – you got options
Christmas – for me personally on my game its similar to yours we have a lot of friendly's
Christmas says she's got a good working relationship with Nicole, Ian and they have Kevin "I want to trust him but the things he says"
Enzo – make sense because in the beginning he wanted to work with me.
They agree it's week 5 if someone hasn't picked a team yet "get outta here"
Enzo says he's backing her up no matter what she does "whatever you do I'm with it"
Christmas – there will be a emotional reaction, take out the second one next week and we're good (Second one?)
Christmas – I'm set with what I am going to do. It makes sense to me it's obvious.
Enzo says peple will ask him what Christmas is doing
Enzo – she's going to do what she's going to do that's your baby's momma
Christmas – momma is going to run wild.
Enzo – she's going to tickle where she's got to tickle let her tickle away
Christmas – they won't like my tickling tomorrow
Christmas – on a personnel level I feel back about how this will affect them ON a game level it's the only f***ing move
Christmas says the fact Da'Vonne adn bay were called up so many time in the knockout makes her worried about that they are doing
Enzo – Da'Vonne got called up 6 times.
Christmas – they are the only ones that pitched to me we're good..
Enzo says they never win anything says this is a business 'You have to earn your keep.. I don't want any floater going back and forth winning this thing"
2:17 am Da'Vonne
Da'Vonne – if I would have won HOH I would have reason to nominated all three of them (Dani, Cody, Nicole)
Da'Vonne – I didn't win HOH that's OK. Christmas is in power the plan is to get Christmas to do all the work. We'll see what happens with that.
Da'Vonne says Ian, Nicole and Cody are linked
Da'Vonne – Step one go to Ian let him know I don't know what you've been told but I got your back. we're in this together I'm not coming for you. Ian is the telephone man so he'll run that message back
Da'Vonne – I'll plant the seed go water it
Da'Vonne – Step 2, talk to Cody. Cody is somebody that is the nucleus of all these alliance he's at the core. I have to make sure I don't completely piss him off. Today I let him know I know you're coming after me so I'm coming right back at your a$$ but I didn't win HOH
Da'Vonne – go to Cody say my feelings are hurt. why did you do this.. I don't understand help me understand what did I do.
Da'Vonne plans on saying that Dani, Cody's friend was also coming after her.
Da'Vonne – Make him tell Dani now Dani feels bad for even thinking of coming for me then make him feel bad for coming for me
Da'Vonne – step three I have to go to Nicole let her know What are you doing. Have to make her feel bad with how she behaved today . Girl what was that about you showed all your cards in a matter of 2 seconds.
Da'Vonne – Reassure her I got your back I'm here for you girl
Da'Vonne – the reason I'm not talking to Dani is I need to make her feel like sh1t. She needs to feel terrible. To call out me and Bayleigh I take that as a shot.
2:38 am everyone sleeping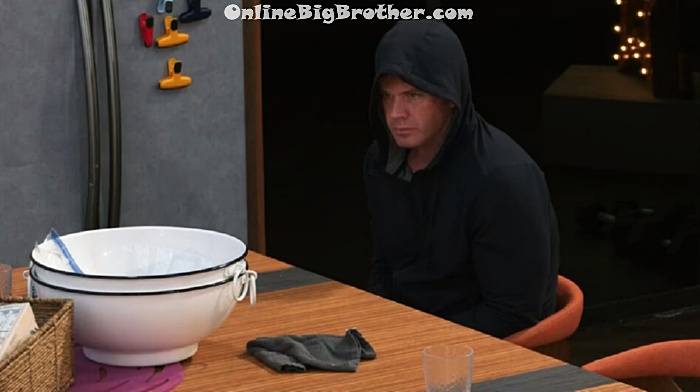 7:19 am Lights on. Memphis and David up.
8:30 am everyone is up
8:43 am Correction Bayleigh/Da'Vonne/Ian still sleeping.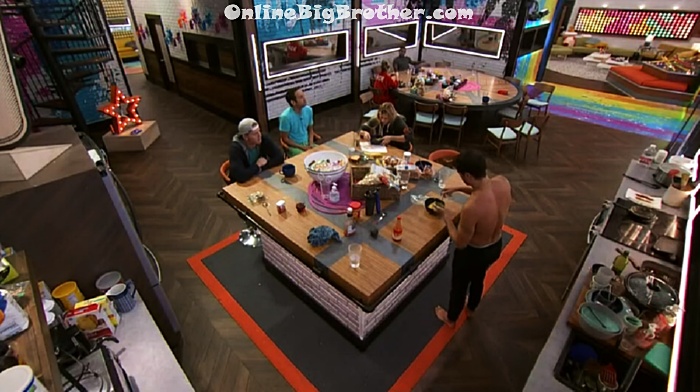 8:45 am kitchen
Kevin – I'm so stressed out why am I stressed out
Dani – Guilty conscience
Kevin – I'm excited to see what this room is
Memphis – I don't thin it's going to happen today.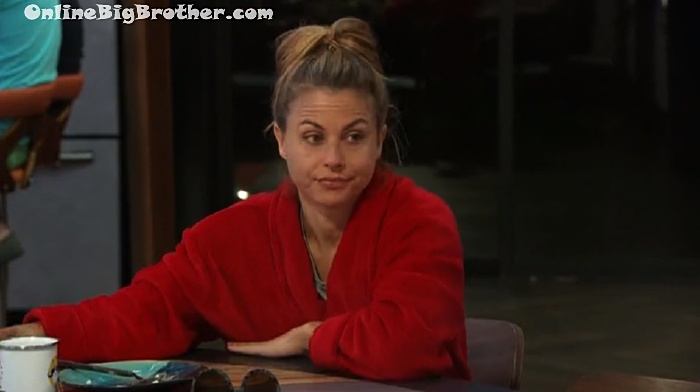 8:48 am Sh!tmas and David
Sh!tmas – I wanted to prove to myself why they chose me the first time. I wanted to .. like for me I needed to show myself I deserved to be here.
Sh!tmas – and then i wanted to be able to the the way I wanted to play that the way I had to play
Sh!tmas – show the house you are an asset and not a burden or just a vote
Sh!tmas – for me I had a lot of self doubt on my performance to you know to get to final 3 (you don't say)
Sh!tmas – I couldn't physically do anything and even then my brain was foggy
Sh!tmas – did I get here because I actually did have a social game (Nope) and like aligned with the right people and did what I needed to do or did they just carry me along (yes)
Sh!tmas – Now I understand that I participated I earned that spot
Sh!tmas – I see what they see in me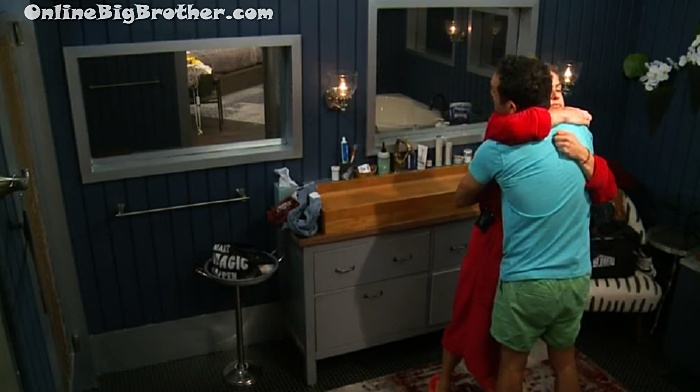 9:00 am Christmas and Kevin
Kevin – Christmas whatever you do I support you don't feel any pressure remember to focus on your game
Christmas – thank you thank you
Christmas – I'm scared because of this twist and I just I genuinely love every F***ing person in this house
Kevin – it sucks
Christmas – but we're playing a game I really do have to separate those. Those are two different highways you know.
Kevin – I'm glad we made that arrangement before this started before you had power..
Christmas – I appreciate that so much as much there's a few people that have been like I want to work with you, I want to work with you.
Christmas called into the Diary room
Kevin – let me know how I can support you I got you
Christmas – yes we'll reconvene.
10:32 am Feeds have been down for about an hour.
Noon No feeds
1:30 pm feeds return
Spoiler – Sounds like Da'Vonne/Bayleigh are targets Kevin is pawn.