Head of Household Winner – Christmas
Have nots – No havenots this week
Nominations –
Power of Veto Players are –
POV Host: –
Power of Veto holder –
Power of Veto Ceremony –
Live feeds —-> Grab your Live feeds here. Try it free.
Rank the houseguests —-> Big Brother 22 Ranking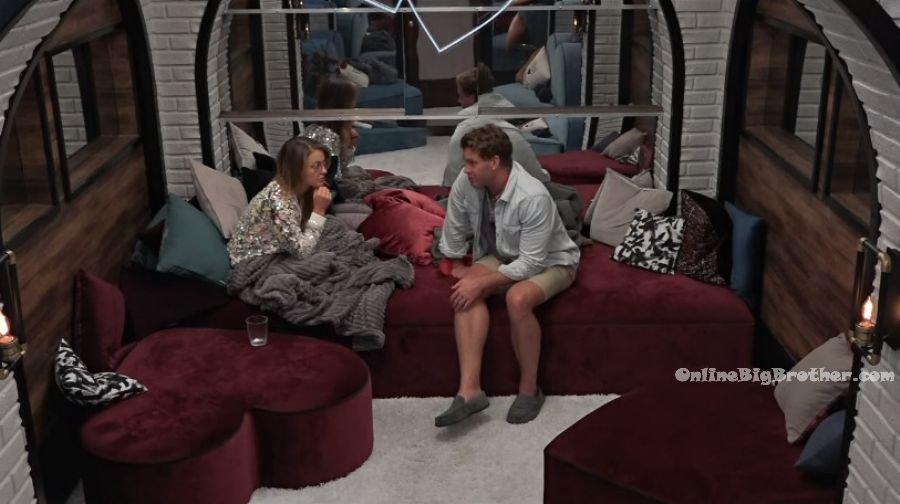 6:35pm – 9:11pm Big Brother blocks the live feeds.
Lounge room. Christmas and Memphis.
Christmas – I would like to know that Dani is all in. Memphis – well she doesn't really have anywhere to go. With her game she doesn't really have any other angle. So from that point of view, I don't think she is going anywhere. But I do think that she is going to f**king piss someone off. Christmas – I just don't want her to blow up our sh*t. Memphis – the only way someone would do that is if say me and her were on the block and she knew she was going home or I knew I had the votes and she wanted to just f**king blow it up. But I don't really see a reasoning behind that. But I don't know .. do your thing .. think about it. Christmas – thanks. Memphis – I really don't have any input. Christmas – good talk.. thanks so much.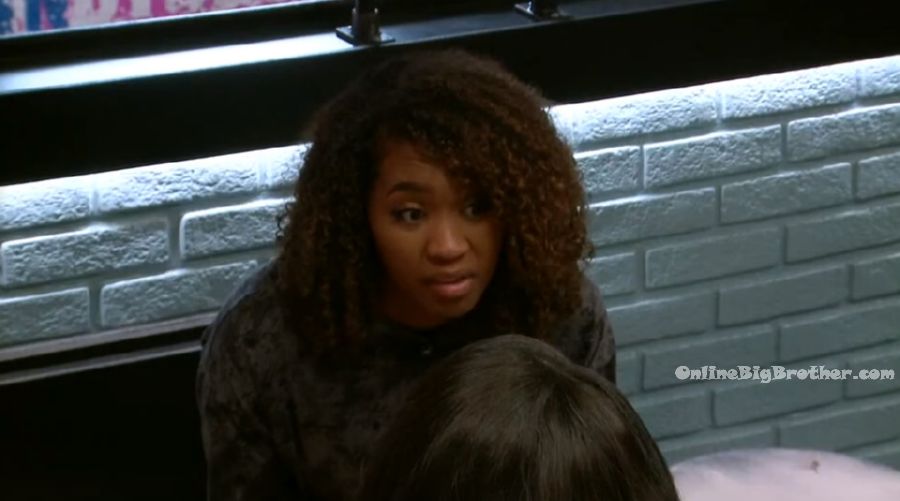 Outside the HOH room. Bay and Day.
Day – are you okay!? What the f**k?! Why?! Bay – Sorry I have anger issues.. I am walking through the kitchen and I was already irritated because of the whole Ian thing .. so apparently he is going back to Nicole and saying I am so sorry it spiraled out of control and I spread all these rumors to Kaysar. I told him that Bay and Day were coming for me. And I made up a lie that you were the one that told me to do it. He just spills everything. And this week I thought that you and Bay were in an alliance and that you were conspiring against me. I just went off the handle. So I get up and I walk out and I am walking through the kitchen and Dani is staring at me. So I just go HEY, I don't know what I did to offend you but I apologize. And she just goes .. (silent). So I go into the bathroom and Cody and David see me and ask what's wrong. I say nothing. I go into the bathroom and then kind of punched the wall. I cried. That's it. I'm fine! I really will kill somebody. Or I will lash out and I don't want to do that. I really don't want to do either. Today already hasn't been the best day.. I am dealing with some stuff and then I come back in here and ya'lls bullsh*t. I don't have time for this. Day – why did you apologize to her (Dani)?? Bay – I know I didn't do anything to her but she obviously has a chip on her shoulder and is obviously upset. So for me the way I deal with things is I defuse them. I don't know what I did to piss you off but I am sorry. It has to be something personal. You're obviously mad. I genuinely want to fight her. I have feelings and emotions.. I hold them in until I explode. Day .. I can't do it! I am CRAZY!!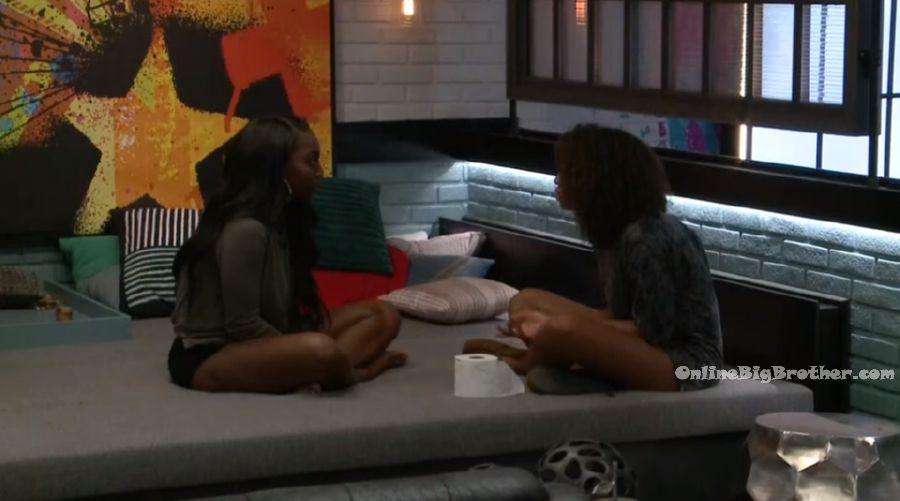 Lounge room. Christmas and Tyler.
Christmas and Tyler celebrate by dancing, giving fist bumps and a hug. Christmas – are we ready to do some savage sh*t!?! Tyler – whatever you want to do. Christmas – oh my god. Okay! Tyler – just let me know what you need me to do. Christmas – the obvious play is put up Day and Bay. Because that is like .. Dani is losing her SH*T! Tyler – oh they (Bay and Day) are coming for Dani now. Christmas – they are? Tyler – for sure! The can't even look at each other. They are gunning for Dani. I really do want some input. Tyler – they are for sure coming for each other. Christmas – that is awesome for us. Tyler – that is awesome. Does that mean we should get one of the three of them out because they're coming for each other or will one still be coming for the other one? Christmas – I just want to walk through my options. Tyler – if you put up Bay and Day and one of them goes .. the other will assume that you and Dani are super tight and if that one wins next week .. then you and Dani would probably go up on the block. Christmas – I personally think that Bay should go first unless she wins the veto. She is the most vocal, emotionally driven and a better raw competitor than Day .. that I've seen. Day seems to by much more level headed. Respectful of the game. Understanding the complex levels of the game and not an emotional voter. Tyler – absolutely. 100%! And you don't want someone like that (Bay) in jury. Christmas – What about Bay as a pawn.. Dani as a pawn.. because then I can be like look I don't know what is going on .. this week we have to figure it out. The only challenge is if the other (Day) wins veto or if Dani doesn't believe that she is the pawn. Tyler – it could drive them closer. If they're still in the game ..they are going after Dani and not you or me. Tyler – I think the comity can stay solid. You just have to be prepared for the wrath of Bay .. put her up and then go up to your room and lock the door.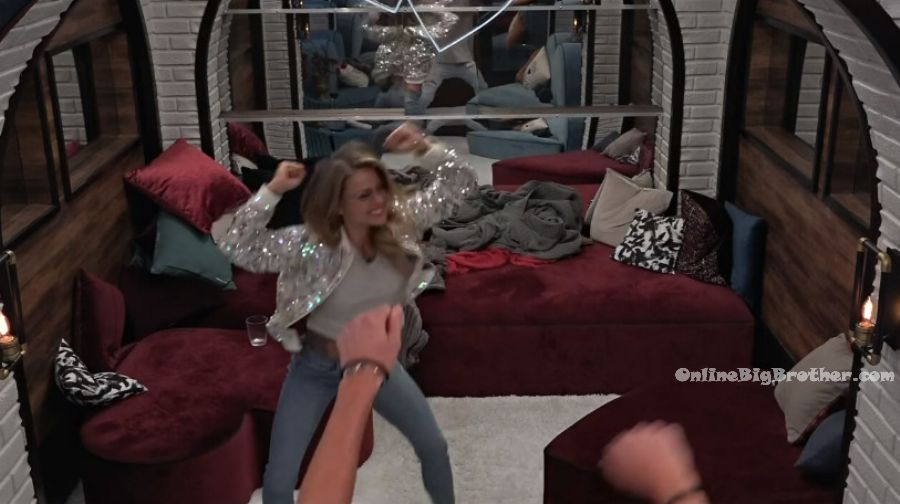 9:40pm – 9:55pm Bedroom. Cody, Dani and Tyler group hug.
Nicole joins them and is crying. Dani asks her what happened now? Nicole – I just tried to talk to Bay and it did not go well. She was just kind of sticking up for Kaysar. She then said that multiple people confirmed that I am coming after her. Who are these multiple people?! Dani – Kaysar. Nicole – Day won't look at me .. and won't talk to me. Dani – do you want to join the slick six?! Come one Tyler wants to lie about it more. Dani – don't worry they won't even look at me or talk to me anymore. There is going to 1000% going to be a twist tomorrow.. it will either be really good or really bad.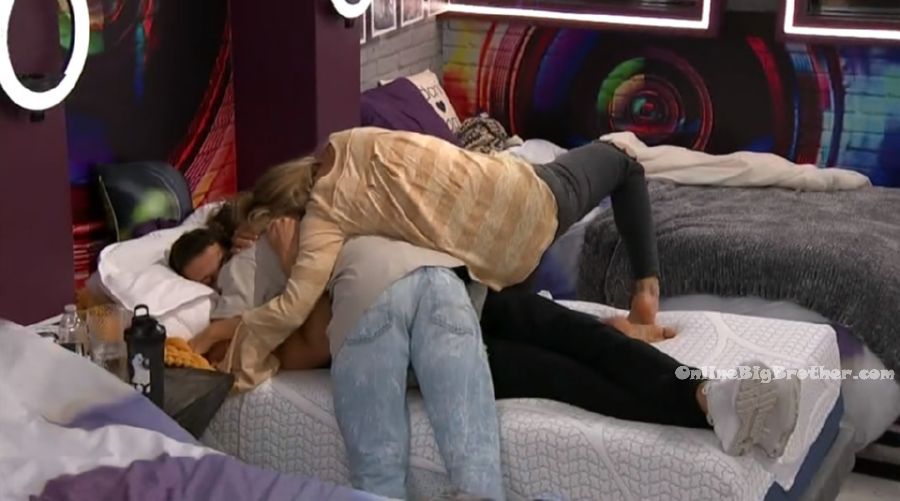 10:30pm Lounge room. Christmas and Dani.
Dani – so Memphis lied three times. I asked him why the hell did you pick me? He went Ah, ah, who was I supposed to pick? And I go Somebody NOT in your alliance!! And he goes I didn't even think of that! #1 – Lie! Then he takes a minute and goes I picked you because I thought you could beat him. #2- Lie! And then ten minutes later he says he picked me so that people wouldn't know our alliance. #3 – Lie! WHy are you lying!? Why are you making up all these lies!? That's weird right?! I was like really mad! Christmas – he is on his own island. Dani – what is he doing?! He thinks we are always going to have his back and he never has to have ours?!!? Christmas – I have no idea. I am glad he didn't win.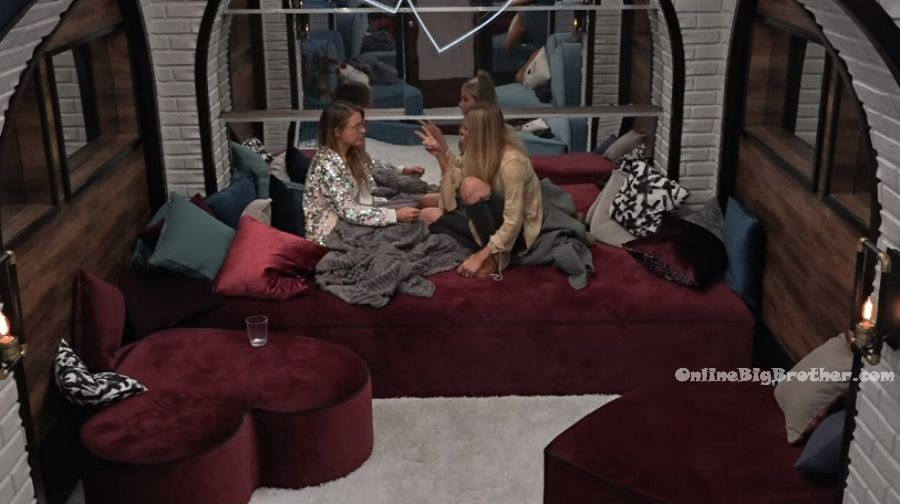 10:40pm Bedroom. Ian and Nicole.
The feeds switch mid conversation. Nicole – I didn't know I did that to you. I am sorry. Its a good thing I warned you about it.. Otherwise you would have been blindsided. I could just tell it was going to be awkward all day long. And you who I trust .. I was like I can't afford to have Ian talking crap about me. So I am really glad we cleared that up. Ian – the fact that I am owning it now. Nicole – that proves everything to me. That I know you didn't do it intentionally to hurt me. Nicole – Kaysar went to Bay and said that I'm trying to make you put Bay and Day up. And that you don't want to and that you want to be good with them. I forgive you and know that you wouldn't intentionally hurt me.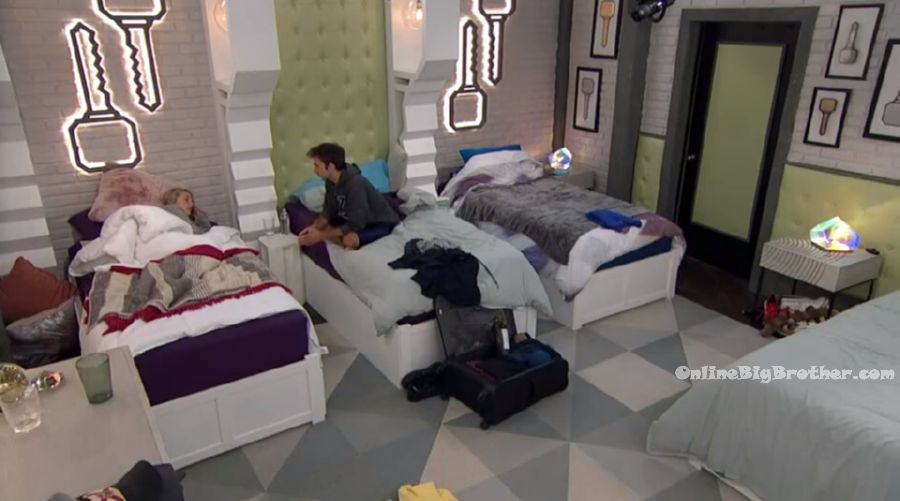 10:47pm – 11:10pm Havenot room. Nicole and Day.
Day – I need to know what is going on. Me and you had a very direct conversation right before the competition .. we had the competition and Kevin does whatever he does.. Nicole – I think I assumed that you had something to do with that. That is why I was a little pissed. Day – but why!? Nicole – because if I am being honest with you .. he stood there he looked and then I thought he looked at you ..I thought you went like this and then Nicole and Cody and it hurt my feelings. Day – no he literally stood up there and said I don't know what to do. I actually looked at Memphis. Memphis and I had eye contact. I didn't look at him at all! Nicole – I talked to Kevin and said that I was hurt by that because I said I would not put him on the block even as a pawn. I thought he looked at you and he went like this. Day – no, no, not even a little bit. So then Cody picks me and then Dani picks Me and Bay. And I am just like I am getting hit by Cody and I am getting hit by Dani. WHY?! Nicole – I blacked out after and don't even remember what happened. Day – so after when I loose .. the way you darted up there in celebration!! Nicole – I knew you would think that. Some one asked me and I was like I would have done that for Day too. I could tell you felt a certain way. I was the first one to hug everyone in the comp. I was happy a girl won. I am friends with Christmas. I would have been happy if you had won too. If you had put me on the block I would have been blindsided by that. I would have been happy either way. Day – this level of communication is very important to me. Nicole agrees.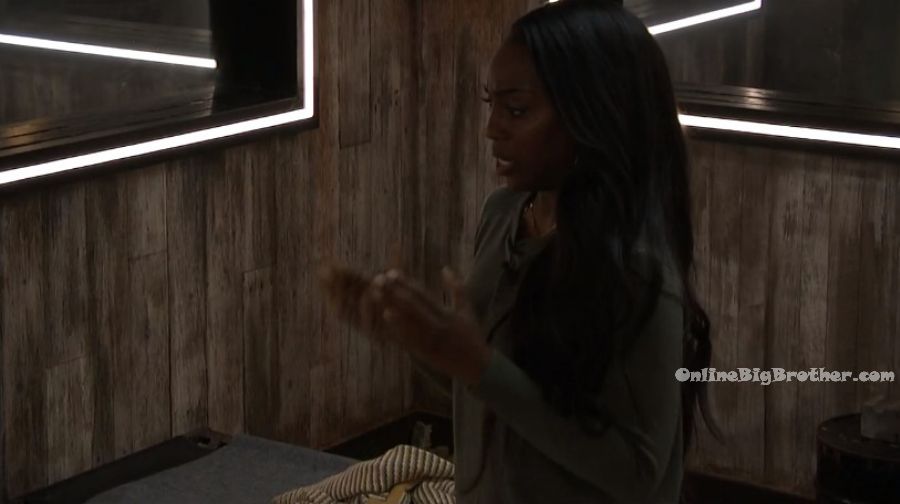 11:50pm – 12:30am Big Brother blocks the feeds. During this block Christmas got her HOH room.
12:45am – 1am HOH room Nicole and Christmas
When the feeds return – Nicole is talking to Christmas about her HOH letter. Christmas – tomorrow is going to suck. Nicole – I know. Christmas – I love them and I don't want that type of friction. Nicole – it is going to be uncomfortable. Christmas – I can tell that they think that they are.. Nicole – golden. How did their convos go? Did they throw anyone under the bus? Christmas – no. Nicole – when they ask why you put them up what are you going to say? Christmas – I'm going to say that its not personal.. I need to flush through somethings .. they are a known alliance. I can't say that we were put into a room multiple times and no one followed up with me. So today Bay was like I can't wait to make something more official with you. So why did it take until I won to make it official!? Nicole – if they didn't approach you that means they have something else. Christmas – so I am not in an alliance with them.. they are each others untouchables .. if I hop in an alliance with them then I am the first to go. Nicole – in all reality they're coming after our alliance .. but you can't say that. You have to come after the people that are coming after you. Christmas – what are they doing to Ian. Why is he so freaked out? Nicole – I don't know he is freaking out.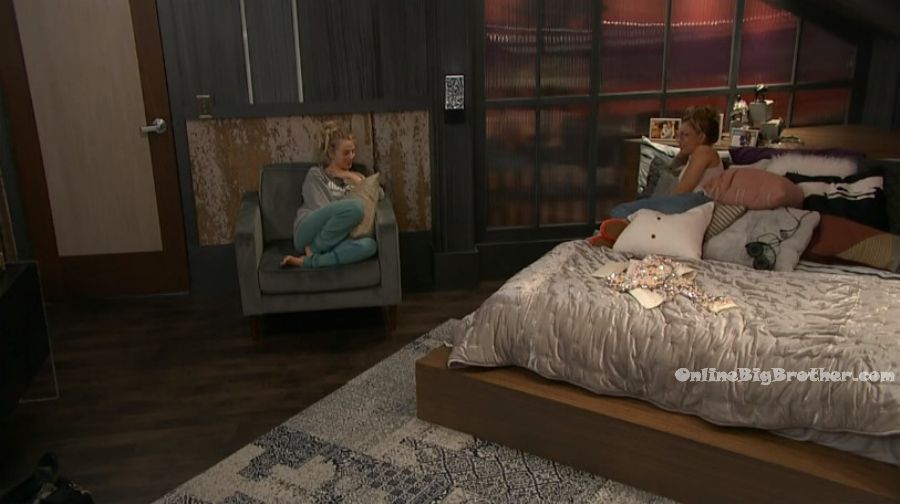 Show your support by making a donation.
If you're enjoying our live feed updates this season, please consider donating.
Any amount is greatly appreciated! Your donations go directly to paying the fees required to run this site.