POV Holder:
Zach
Next POV
April 24
POV Used
?
POV Ceremony
April 19
HOH Winner
Zach
Next HOH
April 22nd
Nominations:
Godfrey and Jordan
Have Nots
Godfrey, Sarah, Jordan, Bruno
POV Players
Zach, Jordan, Godfrey, Sarah, Ashleigh, Pilar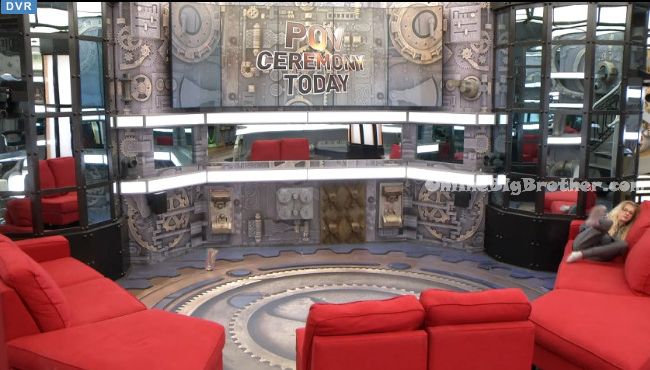 8am
Big Brother wakes up the house guests. On the living room TV it states the Power Of Veto Ceremony is Today. Sarah says that me, then Parhar, then Bruno got woken up at like 3am in the morning. Bobby and Bruno head out to the hot tub. Bruno tells Bobby we need to talk. This didn't come from me, so you know I was talking to Zach. But supposedly Godfrey went up to Zach and threw us under the bus. Godfrey went to Zach and told him to put up me or you. Bruno says Godfrey thinks he's going to use it but he isn't. Bobby says good. He is pretty predictable. Bruno says he was telling JP he was going after Kevin. Bruno says I didn't even ask Godfrey. Bobby says I don't trust Godfrey any more. He was kind of dicey even in the beginning. Bobby says my game move is to be quiet and lay low. I know Zach is trying to mend all of these relationships. Bobby says for our penta-cut plan to work we need 10 people left in the house. We just need to get rid of Godfrey and Cindy. Bobby says when Godfrey's back is against the wall he'll sell you out. Bruno says I haven't even talked to Godfrey yet all I've asks is have you talked to Zach? And he says oh no I think he's doing this. Bobby says Goodbye Godfrey! You cross the chop shop you get chopped. Bobby says the best plan is to still stay loyal to the chop shop. Bruno says I am so sketched out by JP. Bruno says I didn't worry about Godfrey but I do now. I can't believe it. The problem is the girls will put up the guys, the guys are putting up the guys. Bruno says if I won HOH I would put up Sarah & Cindy. He then says he would do Sarah and JP. Bobby says I would have to do Britt and someone.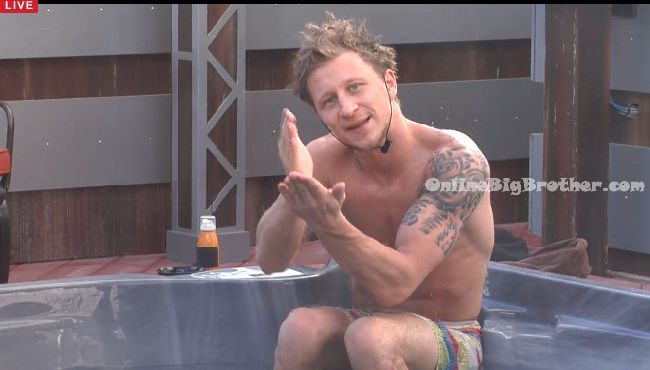 9am Cindy sits down with Jordan. Jordan starts massaging her legs. She says she requested muscle cream. I want to put that everywhere. Jordan asks in the places I can't get to? Sarah, Willow, Jordan, Kevin and Sarah head to the bedroom to take off all the sheets to be washed.
9:15am – 9:25am Out in the hot tub room – Jordan tells Brittnee that he is staying up on the block. I might talk to Zach again. Brittnee says she wouldn't bother since its the morning of already. Jordan says she's probably right. He says its okay we still have the votes to keep me. Brittnee agrees.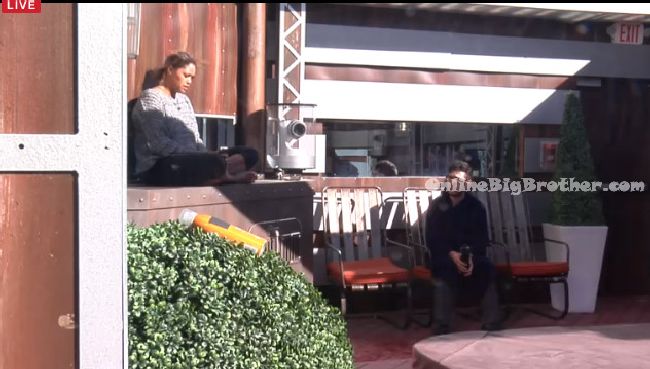 9:45am – 10am Out in the backyard – Kevin and Jordan are studying. Kevin says that Sarah is very insecure about herself. Jordan says very insecure. You always have to tell her how beautiful she is. Kevin says that Brittnee said she needs a showmance or her mom would be disappointed. They comment on how insecure Brittnee is and she's a model. Kevin says I feel bad for Godfrey. Jordan says I know. He made his pitch to Zach last night. Jordan says Zach was just doing his yeah, yeah, yeah's. Kevin says he's (Godfrey) just a lost puppy looking for a home. Jordan says we should have given him a home. Kevin says ideally you or I win HOH. Jordan says actually B or Sarah winning would be best for us. Sarah joins them. Jordan says that "Coach" from Survivor said once that the only things people want are Love, Respect and Admiration. And Godfrey didn't get that from anyone.
Kevin and Jordan are out in the backyard. Kevin says he heard so many conversations last night I was just like go to bed. Zach says I know I can't wait to get this over with so I can just turn my brain off.
In the living room Bobby massages Cindy.
10:30am
Bobby asks are we still on plan for the thing? Zach says yeah Godfrey. Bobby says I'm scared he's going to say something to Kevin. We have to make him think he's safe. Zach says he'll think JP is going. Bobby says I trust you more than anyone in the house. He (Godfrey) threw me under the bus and I'm pretty close to him. I'm always that weapon in the hole. The weapon in your back pocket.
Bruno talks to Godfrey. Bruno asks why were you saying he might put up Bobby? Godfrey says I don't know. I was just thinking if he doesn't put up Kevin maybe he would put up Bobby. Bruno keeps asking why Godfrey thinks Zach might put up Bobby. It just doesn't make sense. Godfrey says if he doesn't put up Kevin and he's not going to put up the girls. Godfrey says I couldn't get him alone last night. I'm going to try again today. Godfrey asks if it stays the same do you think I'm okay? Bruno says I don't know, we'll see what we can do. Do your thing bud. Godfrey heads inside and asks Jordan how he's feeling. Jordan says I don't know. I don't think he's going to use it. I'm just getting a bad feeling. Godfrey say wow! That's messed up. Crazy messed up!
10:40am In the bedroom – Godfrey tells Bruno and Bobby that JP just told him Zach isn't going to use the veto. Bobby says well then Jordan goes home. (He's lying they want to vote Godfrey out.)

Willow hugs Jordan and tells him she loves him. They both talk about how bad they feel for Godfrey. She says she would tell him (Jordan) if she thought he was going home. Jordan says I trust Zach. He wouldn't have put me up if thought I would go home.