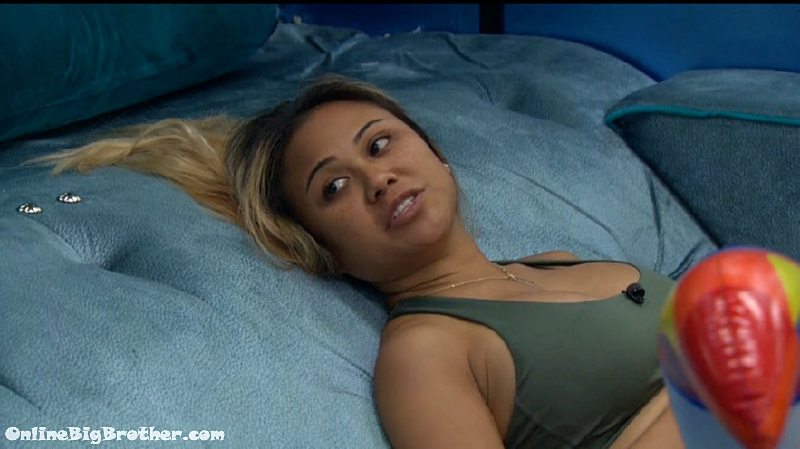 3:24pm JOsh and Alex
talking about how boring Matt was.
Alex says Kevin hates that Josh isn't influenced by his sh1t and he hates the two of them are close
Alex – Hates it
Alex says if Kevin wins Fans favorite she'll be pissed
josh thinks it's either him or Alex, Him because he's a goof ball and Alex because she's a badass
Alex says it's between her, Jason, JOsh but they might go final 2 so maybe Kevin.
Alex says if Kevin wins AFP she'll "Sh1t on national television"
They talk about Raven's changing accent.
they talk about Jillian and how there is no way she could pull her along to this point
Alex laughs – "I couldn't pull her, and Jason.. .and You "
Alex says one reason she hates Kevin is the only fights she's been in with Jason have been over Kevin/
JOsh says Kevin knows if he gets rid of Alex he's got jason
JOsh and Alex agree if Raven goes to the end she's winning.
Josh – first of all we're hated
Alex – yeah
Alex – I sent 1 and xmas sent one and JAson sent 2
Josh – I fought with every single one
Alex's goodbye message – "I do remember day one Kevin when you were the old man sitting in the couch with 16 people and no one gave a sh1t about you and I was the only one that brought you ice water to see if you were OK and sat with you" (a mother teresa)
Alex – so why don't you remember day one
Alex – I took care of him and he doesn't remember that
Josh – I don't know when he turned on you
Alex – I became HOH, he was always working with Cody
4:10pm Paul working out.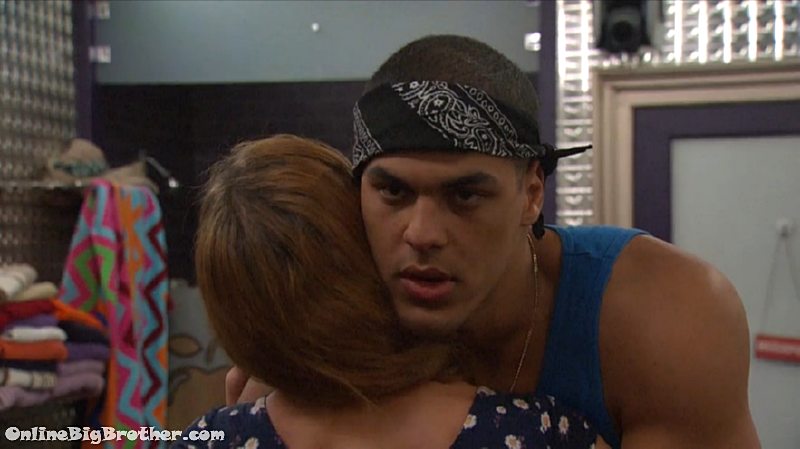 5:03pm Josh and Raven Bathroom
Josh – I'm in a worse position than you.. you're in a really good position, I'm telling you that..
JOsh – it's not smart to take a shot at him first.. you've shown me nothing but loyalty
JOsh – You and me we're good.. and I got your back..
Josh – gimmie a hug.. I stink..
they hug
JOsh – we can't spend a lot of time together.. Once Jason goes everybody is split up
Raven – we have to win
Josh – Yeah
Raven – my mom is really sick..
Josh – you're making her proud
Raven – I haven't won anything
Josh – you've kept your word, YOu've stood up for all the right reasons..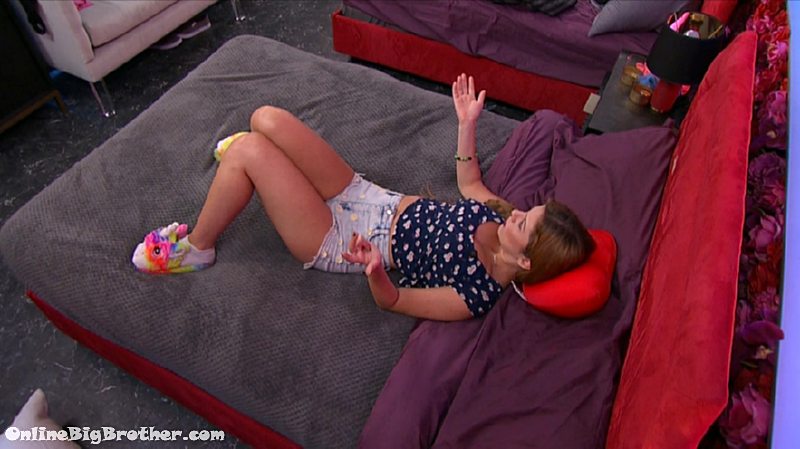 5:12pm Raven thinking…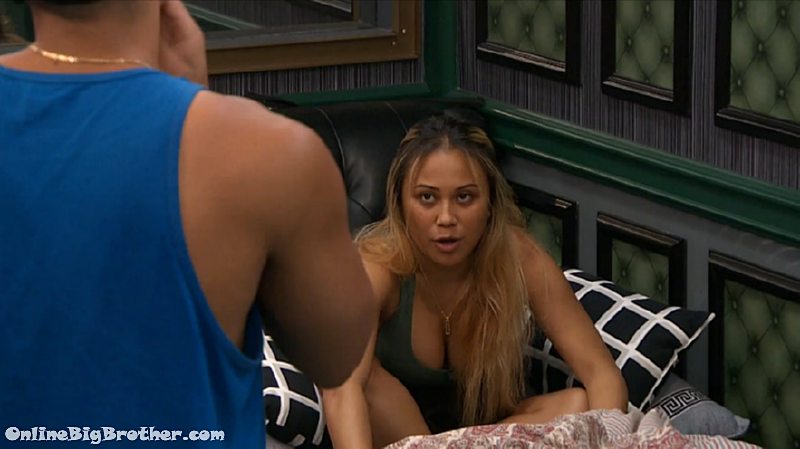 5:30pm
Alex laughing "Dude did you see kevin's rash on his back"
Josh – no
Alex – he's being creepy and annoying
Alex – he's trying to listen in on our conversations
Josh – he's trying to stay calm.. but you can tell he wants to jump outta his f*ing skin
Alex – you can tell he thinks we're stupid too
JOsh -…. yeah (lol)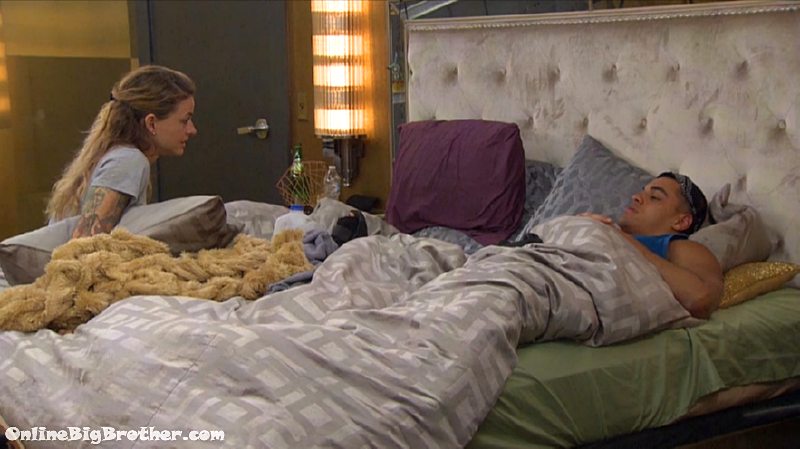 6:10pm Xmas and Josh HOH
Xmas tells him about the final 2 scenarios and how Paul has a HUGE disadvantage because he's a vet.
Xmas – it is not good for him
Xmas- he's played a really great game but he's a vet, people don't want to see the vet that got second place last year win this year
Xmas – he gets a double bonus, he should have won last year
Xmas – your Ex, you called people out.. but that's also a strength you didn't bullsh1t anybody. . you should incorporate that into you speech
Xmas says Alex and Jason have convinced themselves that what is happening isn't happening
Josh – it hurts me seeing how naive he is..
Xmas says Jason is going to be popular with the
Josh – you've played a flawless game
Xmas- I can't say that
Xmas – I had 1 f*ing leg and I Was loyal to my group from day 1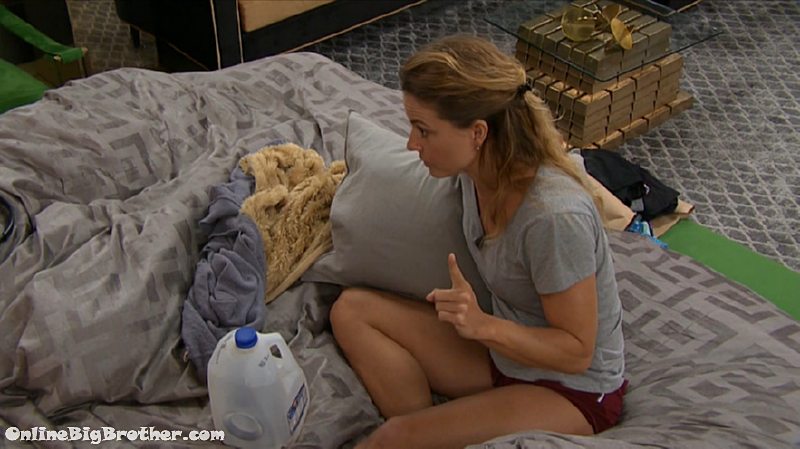 6:17pm Josh says he knows that Paul needs to protect himself.
Josh – because he does have a huge target
Xmas- yeah
Xmas – you and I we're the underdogs
Xmas – he's still the vet, He's still dominating competitions and he still has sick social game so, arguably he is the number 1 threat in the house .. or target
Josh – i would not be happier with one of us winning .. like this season cannot be.. no one can take it but one of us three.. we all busted out a$$ from day one..
Xmas – between the three of us we'll take top 2
Xmas says that Cameron had "Weirdness written all over his face"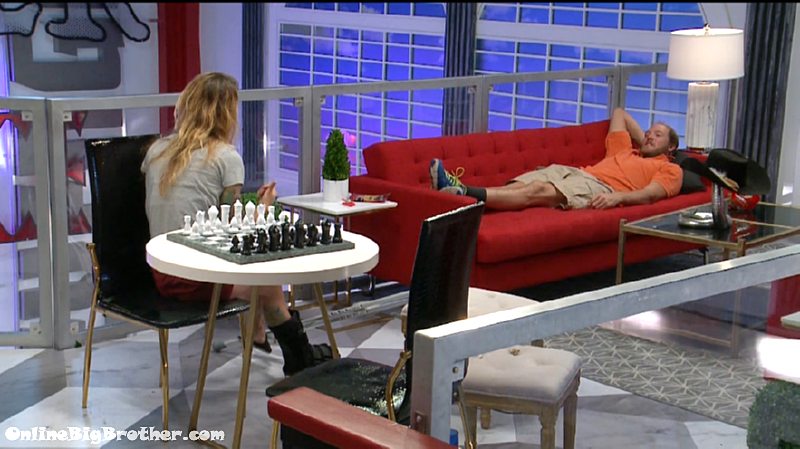 7:32pm Jason and Xmas..
Xmas – she's (Raven) a pathological f*ing liar 100%
Jason – yeah
Xmas- are you an olympian.. where'd you train, what Olympics are you going to
Jason – can you explain what inverted spine is
Xmas – show us your inverted spine
Xmas – show me your hard kneecaps
Jason says when she says something and you listen because you don't want to be rude. It just makes her want to talk to yo more because "someone listening"
Jason – I don't want to be the insensitive one but … (spins his finger around his head.. implying Raven is crazy)
Xmas says compared to Raven "Matt was a goddamn saint"
Xmas – Matt knows that she's a pathological liar
Xmas doesn't think Matt is really into Raven. He didn't come to play the game he just came for the experience. He met Raven abut then found out about all her medical issues. Xmas adds that Matt probably became sorry for Raven because of all the insecurities she has.
7:50pm Raven she didn't gain weight while being on the show. Above you can see her tonight and her July 10th.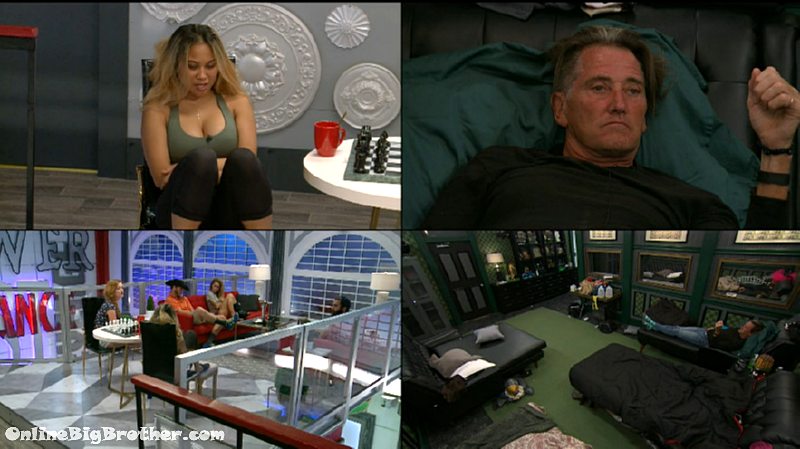 8:30pm ….. .
If you've enjoyed our live feed updates this season, please consider donating.
Simon and I work 24/7 all season long to keep you updated on everything that happens inside the house. Any amount is greatly appreciated! Your donations go directly to paying the fees required to run this site.
Links to the ranking system
Rank your house guests here
For those of you that like Statistics here are some expanded reports.