Power of Veto Ceremony Results
Paul used the Veto on Alex. Xmas nominated Kevin as the replacement. Jason and Kevin are on the block for eviction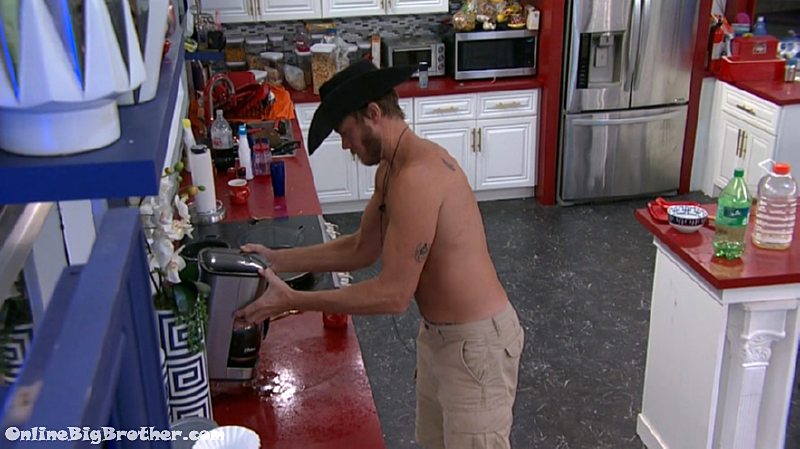 9:23am Failed Coffee making attempted
Jason – this f*ing Coffee pot piece of F*ing sh1t
Xmas comments that it rained outside.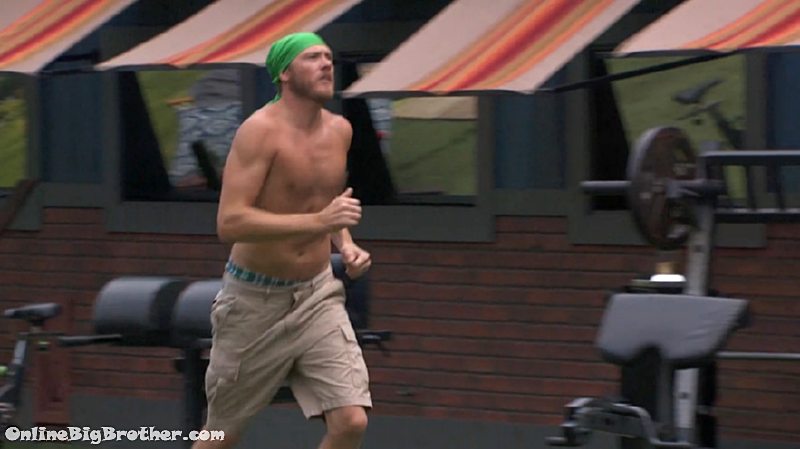 9:36am Everyone back in bed but Jason.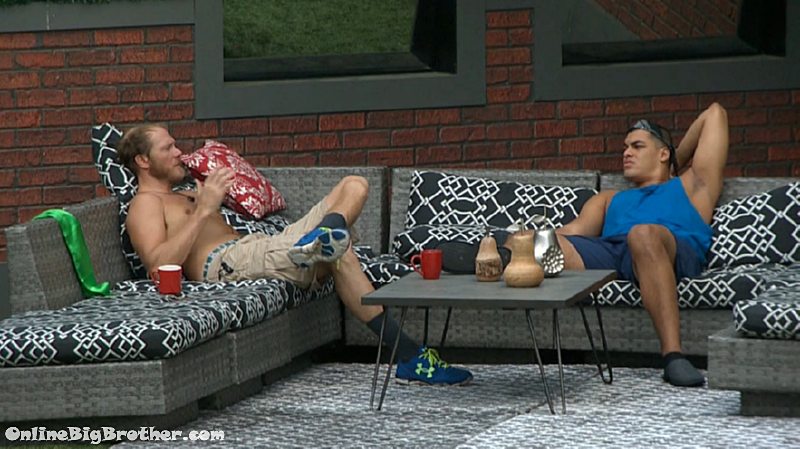 10:10am JOsh and Jason Backyard couch
JOsh tells him everyone in the house he likes even Kevin with all the shit he's pulled Josh likes him. Josh thinks Kevin is a great person but in the house he's not himself.
Jason – we'll see
JOsh says he trusts tiger (Alex)
Jason goes one about how great Alex is at this game.
Jason – She's really good.. I got luck.. you got lucky
Josh – no one knows how close we are.. if they can't wind of it they'll know instantly
JOsh – it's going to be a rough week.. Kevin's going up today and he's losing his top
josh – do you think he'll know he's going
Jason – once he's on the block he'll know he's going.. once Paul pulls one of us off he's going to be like OHH SHIT..
Jason says Kevin will either blow up for a second then say f* it or be so upset he doesn't say anything
Jason – i've been basically wrong on every turn this far (Actually you've been more right than Alex)
JOsh says Jason has been a real asset to the team
Jason goes on about Kevin caling Alex the puppetmaster..
Josh – it's not true
Jason – everybody wants to be the boss but nobody wants to put the work in to figure out how to be the boss
Jason – I don't mind being a worker.. That's how I win.. I don't quit.
Josh – in this house a lot of people try to discredit your intelligence
Jason can't wait until the season is over so he can figure out "What people really are"
JOsh says Jason was one of the more entertaining people this year. JOsh sys Jason will be a favorite for America's favorite Player.
JOsh adds that Kevin really wants to get it. Josh doesn't care if he's hated.
Jason – I got think I fully comprehended the size of this thing..
Jason – 3 days a week.. it's an hour each time, that's 3 hours a week that's damn near a soap opera
JOsh – it's it's one of the biggest most successful running.. and I think the most respected
Josh – If you want to go on TV this is the most respected shows to be on.. (This may be the funniest thing)
Jason – I didn't know anyone that watches Big BRother.
Jason explains then he started asking people after the casting process started.
Jason – everyone is secretly obsessed with it.
Jason says his neighbor he's known for years, "I'm going to stand up on his wedding.. Ole is the ring bearer"
Jason goes on about how big of a fan this guy is and he never knew.
Jason didn't tell him he was going to be on the show. HE told Holly to be there for the premiere and record his face when he finds out.
Josh tells him a "Secret" he's a secret Superfan.
Jason asks him why was cameron voted out
Josh – he didn't fit in, he was the odd man out..
JOsh says if he didn't grab that Apple it would have been him evicted.
Feeds have been down for the POV Ceremony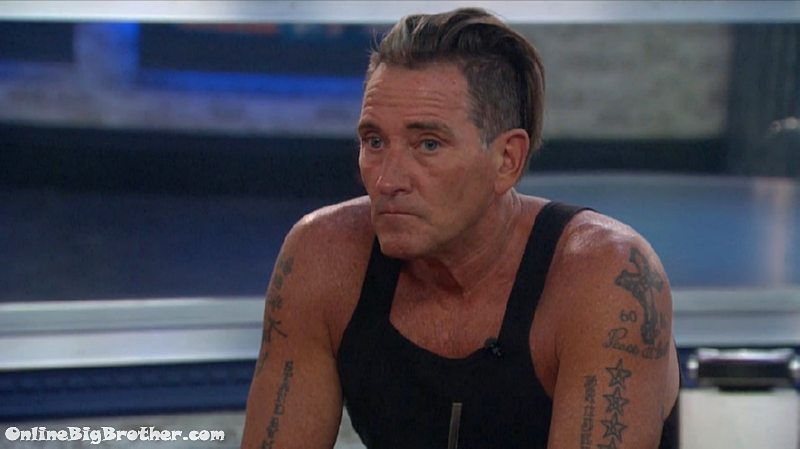 11:42am
Power of Veto Ceremony Results
Paul used the Veto on Alex. Xmas nominated Kevin as the replacement. Jason and Kevin are on the block for eviction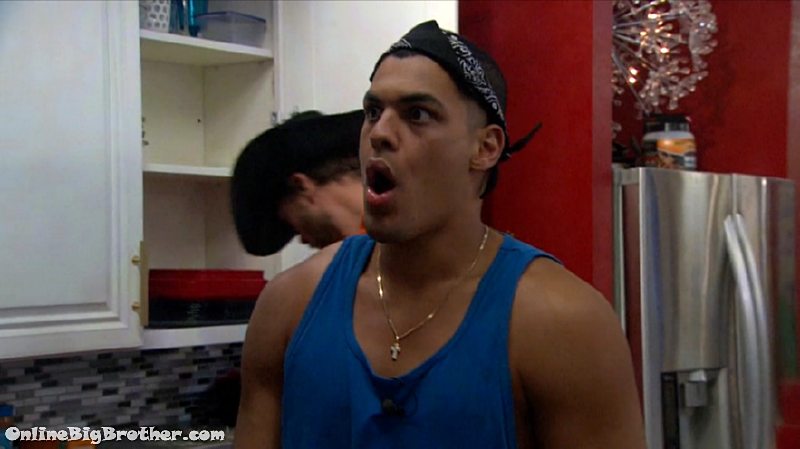 Josh, Paul and Jason talking about Kevin "going home"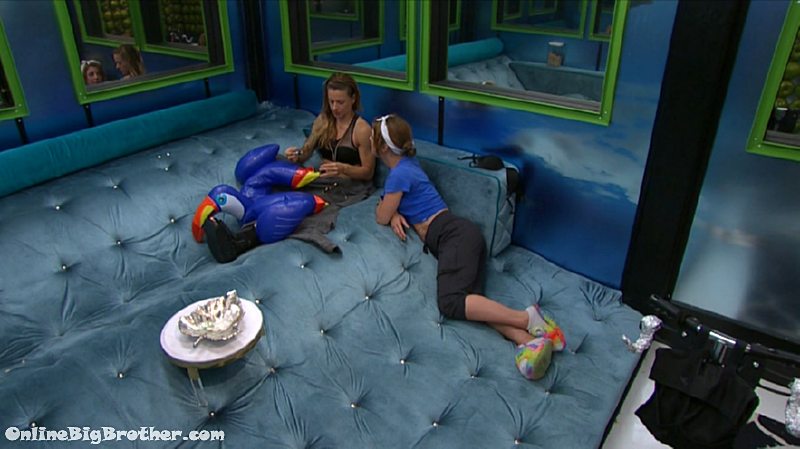 Paul's stupid floaty has a hole in it.
11:56am Kevin telling Jason he knows Alex won't vote against him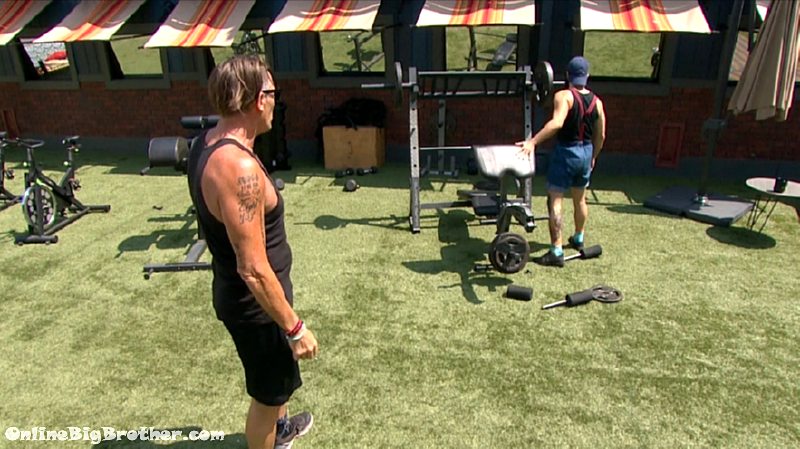 12:10pm Kevin and Paul
Paul – be cool.. actually be a little not so cool
Paul – maybe be a bit worried
K – Yeah I'll act worried I don't talk to nobody..
K – She ain't going to vote against him Paul
P – Doesn't matter
K – Everybody else is
P – no more questions Kev please..
K – I'm just going to walk alright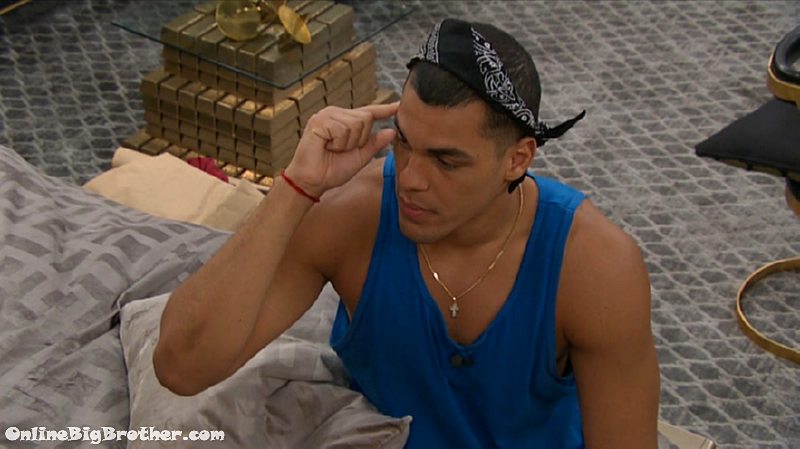 12:19pm Josh and Xmas HOH
Josh – as a fan I see the game being played..
JOsh goes on about Paul's game being obvious to him but since Xmas and Paul are his rock he's going to stick with them
Xmas – we're tripod
Xmas – [Paul] literally went to school to think this way
Josh – I would rather sit on the block over him.. it's better for me to sit on the block
Xmas – it's better I sit on the block
Josh – I have a stronger bond with the people in this house
Josh – as long as you keep me I'm safe on the block too
Xmas – worst case Alex wins HOH she'll put up Kevin, Raven or me
JOsh says he can do damage control with Alex, "i can be like Tiger I have no one.. I will fight for you"
Josh – Alex thinks she's this big mastermind player..
JOsh – what's your damage control on her once we evict jason
JOsh – we can't have the same notes
Xmas – I've been doing damage control for a week now.. girls power.. I'm amping all that up.. I'm riding that wave
Xmas says she can't wait to hangout with Paul after this
Xmas – We'll have so much fun it makes me so excited.. (She's giddy 12:26pm flashback cam3-4)
JOsh says raven is annoying as f*
Xmas – if only she was chill
Josh – she told me she's s great actress
Xmas says Raven is not going to go anything this season.
They think the Jury is going to be biter.
Josh – they're all fans.. they'll be you ruined my dream.
Raven comes up .. my headphones stop working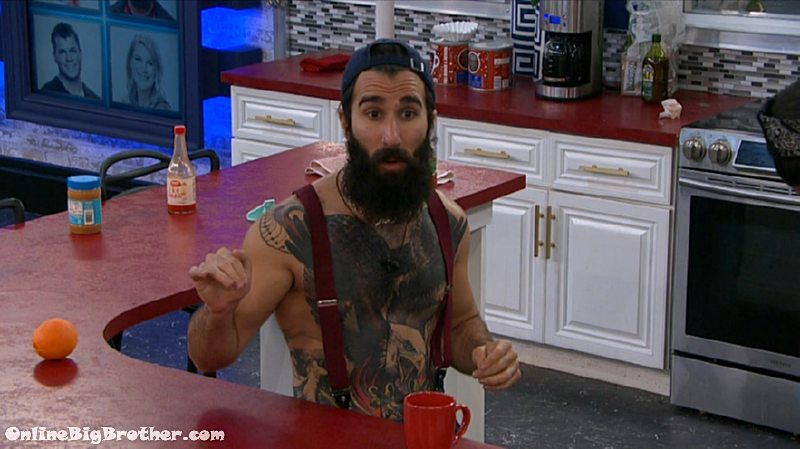 1:36pm Paul, JOsh and Xmas
JOsh – i've been thinking about what you were saying nobody will vote for us next to her (raven)
Josh – top 3 she will crank it
Paul – we're kicking her out at 5
Paul – at 5 she doesn't want to win that HOH .. I can keep pumping to her don't win at 5 because we gotta play at 4
Paul – if you want me to take you to the end
Paul – she won't want to win 5
Paul – it'll be … and Kevin and if I can convince Kevin to throw it .. then it's you two.. actually it's best case I win this week
Josh – Ok I'll win 5..
Paul says he doesn't trust Raven
Josh – we can get in her ear
Paul – she'll come after me and Alex
Josh is saying he'll volunteer to go up as a pawn to make sure xmas and JOsh stay off.
Josh – we have the votes to keep me
Paul says they don't have the balls toe taek a shot at him "dude"
JOsh – I don't think she dose that's worst case scenario.. we've never seen that girl in power we have no idea what's she's thinking
Paul says if Alex wins the veto next week they take out Raven
paul – I'm 100$ next week is BB comics
Paul talks about last year how he lost it
Xmas – I remember that
Paul – I thought this plan through it's going to work..
Paul starts giving them some lines that he'll throw out to Josh when they do the fake fight
PAul – what the f* brow
Josh – don't say anything about my word..
Paul – no no .. I'm never going to do that..
JOsh – you're a big guy a big man
Paul – trivial stuff..
JOsh – I don't owe you an explanation
Xmas – i'm done fighting.. i'm done..
Paul says Alex goes next week.
Xmas leaves..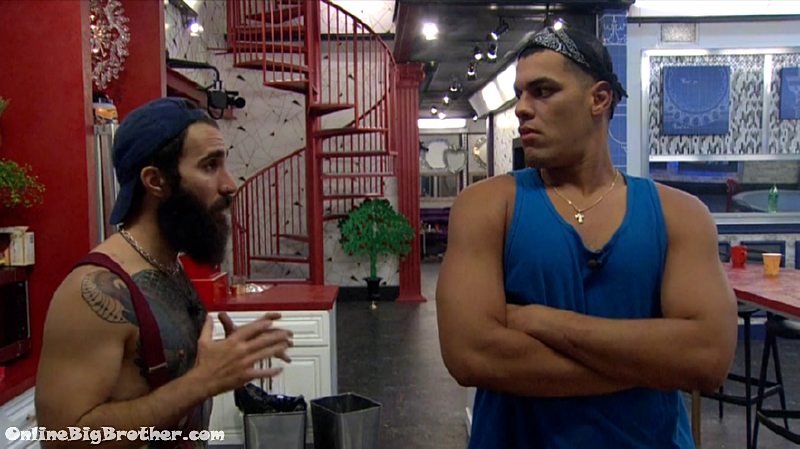 Paul tells Josh if he wins the next HOH he might put up Raven and Kevin .. That's what he's been selling Alex. She won't play hard for the veto so they win it and take her out
Paul – if I put her straight up she'll be like what the f*
Paul says he'll explain to Raven that he's been telling everyone he's putting her up so if he doesn't it'll look weird.
Paul – even in the worst case scenario we're voting out Kevin
Paul says when the vote comes out 2 to 1 against Raven she'll think it was Alex and will go to Jury with that
Paul – you gotta really really focus bro… really focus
JOsh – yeah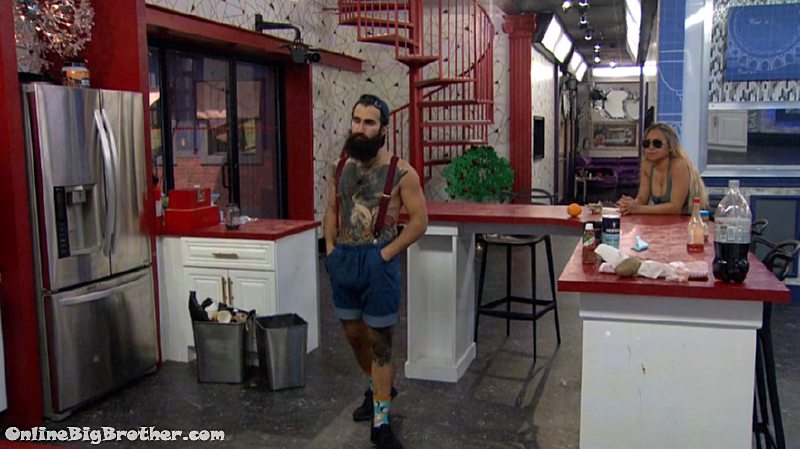 Alex joins them..
1:49 outside..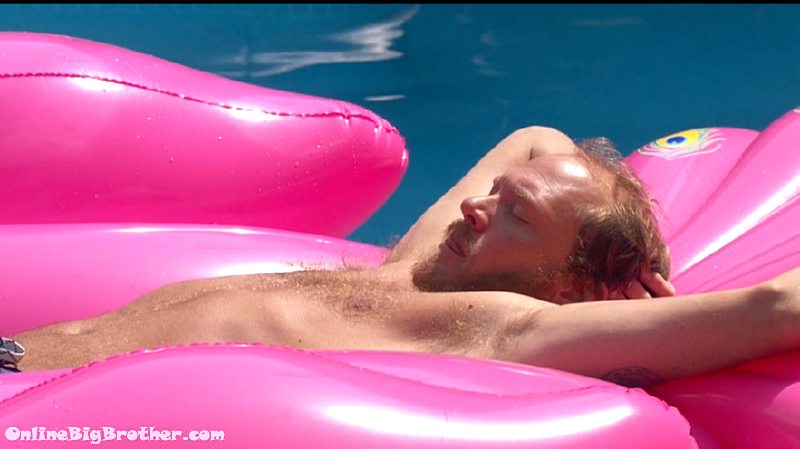 2:47pm Jason and Kevin chit chatting about bulls
on the other cam JOsh and Paul playing chess
If you've enjoyed our live feed updates this season, please consider donating.
Simon and I work 24/7 all season long to keep you updated on everything that happens inside the house. Any amount is greatly appreciated! Your donations go directly to paying the fees required to run this site.
Links to the ranking system
Rank your house guests here
For those of you that like Statistics here are some expanded reports.