Quick Big Brother Spoilers
Head of Household:  Michael
Nominees: Terrance, Monte & Joseph
POV Players: Terrance, Monte, Joe, Brittany, Michael Jasmine and Turner; (Taylor is hosting)
POV Winner: Michael & Brittany
Veto Ceremony:
Havenots:  None so far
Lock your ranks in before midnight
Festie Besties:
Turner & Jasmine
Joe & Monte & Terrance
Daniel & Kyle
Brittany & Michael
Alyssa & Indy & Taylor
The Situation
Michael will be using the veto to nominate Kyle and Daniel. Daniel is the target. The leftovers appear to be solid once again. I wouldn't say Daniel being evicted is set in stone there is always a chance Kyle will spiral out and get himself evicted.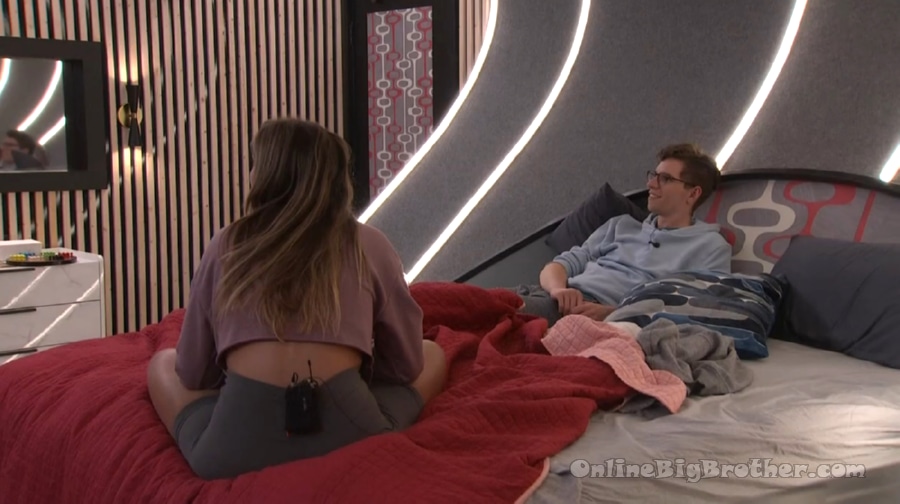 11:55 pm Alyssa and Michael
Alyssa is saying MOnte hasn't said a word to her since AMeerah left. Mentions how she heard he didn't want the veto to be used last week because he wanted her to be evicted.
Alyssa says she would support Michael if he didn't use the veto and she'll support him if he does use the veto and puts Daniel up.
Alyssa about Monte "He's a big threat"
Alyssa says if Monte goes to Jury he would vote for Joe to win because Joe is his "boy" whereas Daniel is more about the game "He's game-oriented… and Nicole was too"
Alyssa – I appreciate people who know the game and want to play it
Michael – Same
Michael – everyone sees how big of a threat Monte is. Things are lined up right now potentially. Do we get a shot like that again?
Alyssa – I don't think so look at the numbers
Michael says his options are to leave the nominations the same or put up Kyle/Monte. He's not putting up Alyssa's group or Jasmine. Says that It's jasmine's father's birthday next week and he wants her in the game.
Michael – if it stays the same we have 8 total people voting we need a minimum of four that's a shot I cannot miss.
Alyssa – Jasmine, Indy, Myself, Kyle, Daniel, Brittany.
Michael – Brittany would be on board if I said I was on board
Michael – if it was Daniel and Kyle where do you think votes will fall then? I don't want to put Kyle in a spot where he goes home on my HOH.
Michael – The votes to get out Monte would also be the votes to keep Kyle?
Alyssa – I would think so, Me, Indy, Jasmine, and hopefully, Brittany.
Michael – I think she would
Alyssa – Taylor wants Daniel out..
Michael says if Monte wants Kyle out Joe will back him on that. "Would Terrance go with that you think?"
Alyssa – probably
Alyssa – whatever you decide I have your back. I'm excited for you you control this week and it's an opportunity to make a big move whether it's Daniel or…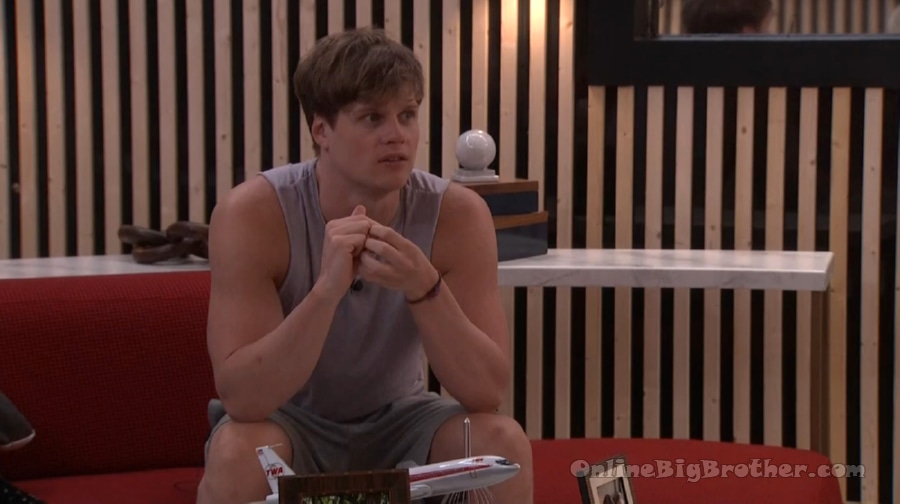 12:10 am Kyle and Michael
Michael says from Alyssa's perspective she has a reason to want Monte out over Daniel "it makes sense why she would pitch that"
Michael laughs that Alyssa kept saying she had Jasmine and INdy's vote "So for not getting along very much they seem awfully certain where they are voting"
Michael laughs again and says INdy told him she'll support his decision as long as it's not Alyssa or jasmine.
Brittany joins them.
Michael – Alyssa does have valid points for saying she wants Monte out, Monte lied to me, didn't fill me in, He put me up, Daniel said in front of the whole house that Monte was trying to get me out and he never came to me and said that's not true after.
Brittany – she's the remnants of the girl's girls.. three in the city
Kyle – That sets my mind at ease I was freaking out about that other alliance that Monte and Joe have with their plan B. I think with this week that's just .. with today that destroyed that whole thing. If we can solidify the trust with you using the veto taking them down that will build trust. If I go up and Daniel goes home that will solidify the trust more it's not Taylor being the pawn it's one of the MAIN Characters being a pawn.
Michael – Terrance tried to throw the veto to get Monte out there goes trust with Monte.
Brittany – next week Michael you can't play and I have 6 stitches in my knee
Brittany says it would suck if Monte and Joe take their shot next week. "We had the chance, we had the whole house on board it would have been the easiest thing ever we didn't take it and Monte/joe decide to switch on us and get us when we were super vulnerable"
Brittnay – the whole house would follow them on getting us out.
Kyle asks if Michael got any indication on who he would like to work with down the road out of the non-leftovers.
Michael – I think they are all together as it crumbles I think I would gravitate towards Alyssa the most. Seeing how Terrance and jasmine completely throw Monte under the bus after the first chance they get.
Kyle – which is crazy monte and Joe were vouching for Terrance HARD.. no we have him he's our guy he's solid with us. NOw for him to flip so quickly and easily especially when he doesn't have the numbers and is in a risky spot.
Kyle – his game right now is to suck up to the alliance stay under the radar let us pick off two threats
They're all supersized Terrance threw Monte under the bus they thought Terrance and Monte were close.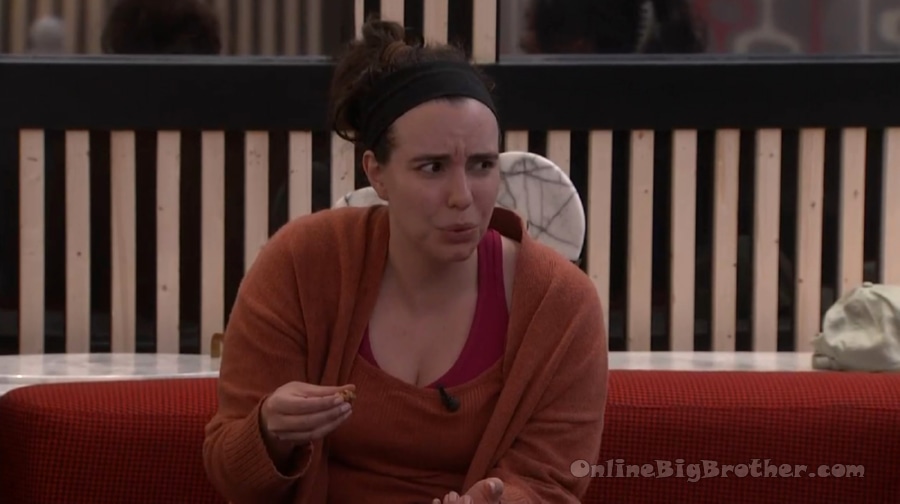 Brittany says if the girls to Terrance try to persuade Alyssa to get Kyle out hopefully that will be the final straw where Alyssa is WTF "She's not going to vote you out.
Brittany – I can see the girls though wanting to convince her she's way more valuable to them without you You have all of us and you have her.
Taylor and Turner join them.
Michel goes over parts of his conversations with Alyssa where she had reasons to want Monte to stay on the block. She kept saying she had "Me, Indy, and jasmine" as votes.
Michael – confirms everything for me.
Brittany – the remnants of the girl's girls. Did you know the original name was six in the city
Michael – that's genius I love it.
Brittnay – INdy came up with it it's pretty good..
Feeds cut when we're back they are downstairs..
1:50 am There's been a lot of chit-chat going on in the backyard.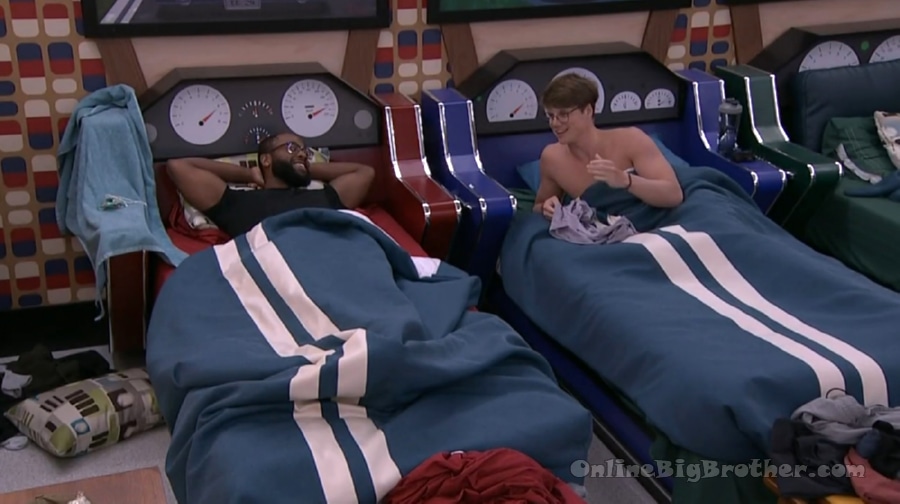 1:42 am Kyle and Monte
Kyle – Terrance threw the veto to keep the noms the same.
Kyle – Alyssa, Terrance, Daniel, Indy, and Jasmine went up there and pitched the same thing. they came to me and said you need to do it to
Kyle – Alyssa was just weird I went to say goodnight.. I wonder if it got back to her that we are all like what the hell is this? it's insane bro. Michael is taking it all in getting as much information as he can. That five is still really tight.
Kyle – they are going so hard to keep the noms the same what will they do when Michael takes you down and puts me up? Are they going to start coming after me to keep Daniel?
Monte – maybe, at this point I wouldn't be surprised there's not a lot to incriminate you on. with me they have everything
Kyle – HOH
Monte – exactly
Monte says the other side doesn't operate on trust they operate on fear, "They fear me, they fear you and Michael"
Kyle – it's so sloppy
Kyle goes on about how solid of a group they have.
Turner joins them.
They talk about the other side still being united. They are glad they snagged Michael up when they did.
Monte about the other side "The way they are playing is so sloppy. Textbook not how to play Big Brother"
Kyle – we have a day and a half before the veto ceremony and they are bugging about it. Don't think this will get back to me and Monte?
Kyle says if this is the "gameplay" the other side has then they made the best play getting out Ameerah and Nicole.
Kyle – I can't believe Indy and Terrance were so quick to turn on you.
Monte – it's a survival tactic too. No offense it's a game. indy loves to play this 'my Loyalty is everything if you and Joe every f** me over my friends are going to come after you … all this bullsht'
monte – low and behold she goes up there and throws my name to the dogs.
turner – Terrance does this whole thing my word is my bond .. Jasmine does the whole I've never lied to you. All three of them play that weird thing whatever that is. it's transparent. Bro..
Kyle mentions how daniel is saying "I really need the money I want to make it to jury"
Monte – isn't that a rule violation?
Turner – that's uncomfortable
Kyle – I told him you can't say that it's like a pity thing.
Monte- he stooped that low.
Kyle – did he tell Michael that?
Turner – yeah
Kyle – even after I told him
Monte – this is the wild wild west gentleman.
Monte points out how big of a target Michael is having won so many competitions.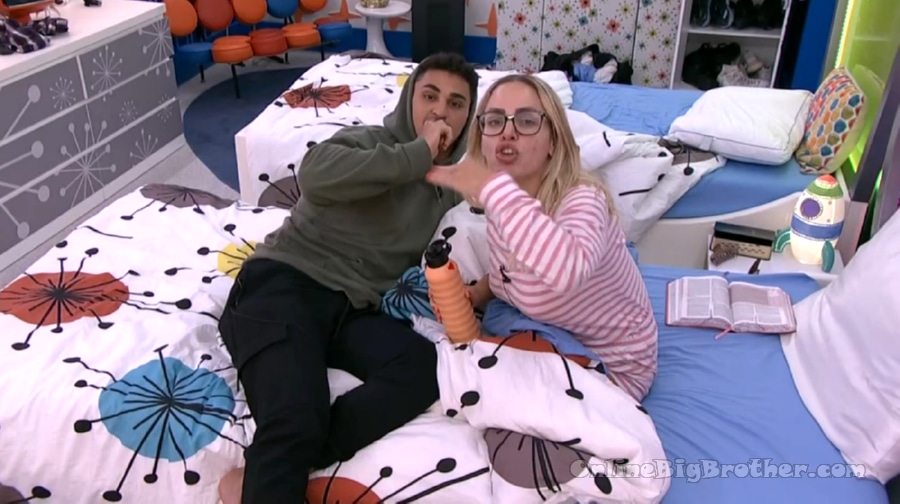 2:30 am Indy and Joe
Talking to the camera.
Joe is going on about running out of "Hoodies, Tank tops, and sweat pants"
Indy wants bikinis because Big Brother took all hers before entering the house.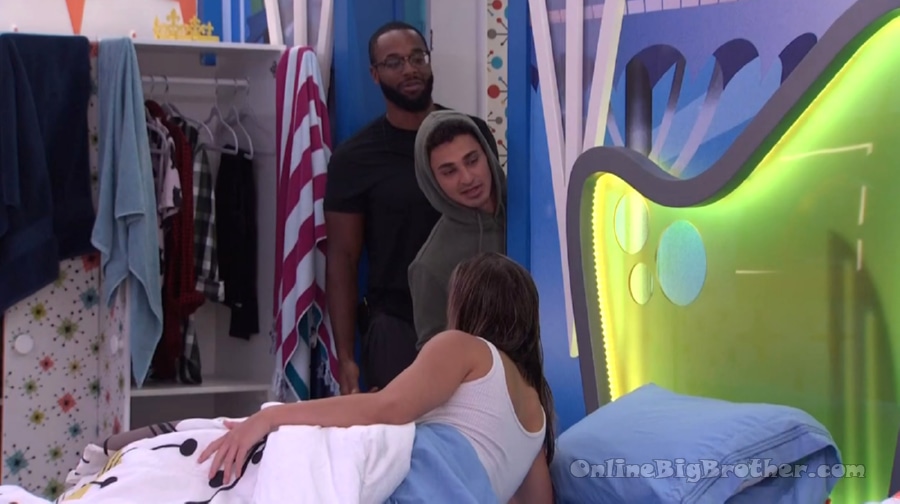 2:46 am the guys can't sleep.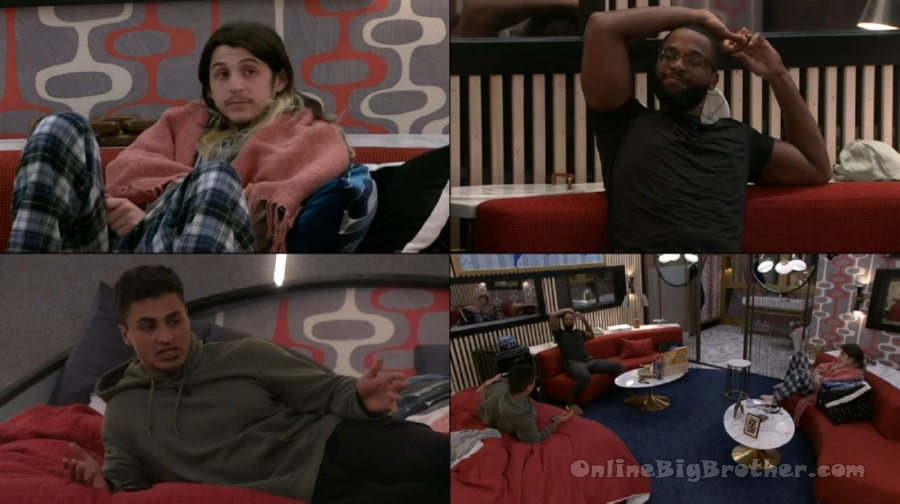 2:47 am Joe, Turner and Monte
Joe – they are coming for you
Monte – that sucks we had hope for Indy.. Terrance too..
Joe – whatever we have left with Indy is through me.
Joe – Jasmine came up with the whole idea. That broke my heart.
Joe – we don't have as much pull as we thought with Indy and Jasmine
JOe – It will probably have to be Daniel this week, and then Alyssa.
Monte- At this point, the order doesn't matter.
They talk about how surprised they are with Terrance Joe points out it was Taylor and Monte that would vouch for Terrance.
Joe – Terrance might have to be next.
Joe – Kyle is going with Alyssa and indy. It equal outs the votes
Joe now says if the festie bestie is still happening it has to be Alyssa next or Indy but Alyssa is the bigger threat.
Joe says Alyssa and Terrance are tied for their threat level, "they will take a FAT hit on us"
Joe – Terrance clearly has no problem taking a hit on you and me like none
Monte – he wasn't even going to let my black ass make it to jury
Joe – he really tried. they regrouped pretty well.. this is a decent move. It would have taken just Taylor or Brittany switching.
They agree if Indy/Jasmine win HOH they would go after Taylor and Brittany.
They go about the next target. If Festie bestie is over nominations would be Terrance/Alyssa if not it would be INdy/Alyssa
Joe called to the Diary room. Michael joins them.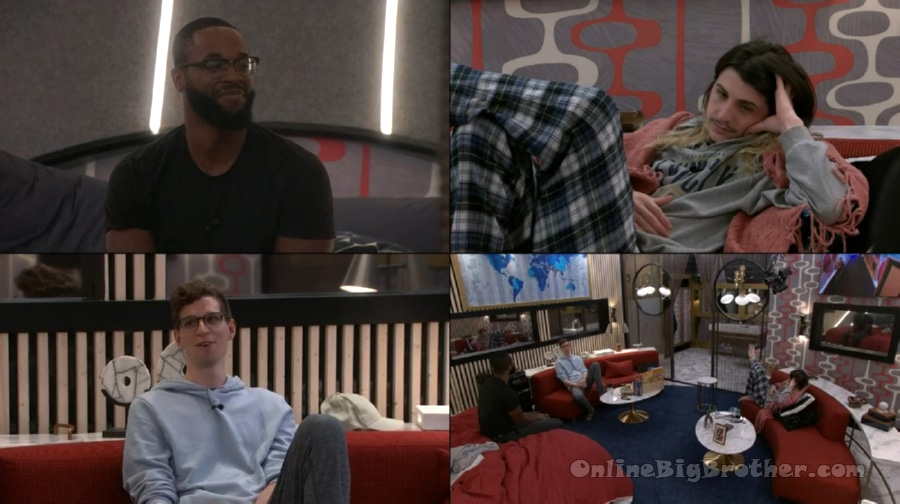 Michael – I guess you've been filled in with everything that happened.
Monte – everyone is on board with keeping the noms the same and me being the main target.
Michael – yes
Monte – Daniel tried to throw out that he needs the money.. which is not legal it's breaking a rule
Michael says Jasmine was the first one that came up and said she had the votes to take a shot at Monte.
Michael – Terrance came up afterward.. same thing he had Indy, jasmine, Alyssa, and Daniel's vote
Michael – funny how you both came up back to back with the same plan.
Michael – indy came up later .. She was hinting around it.
Michael – Alyssa came in she actually had reasons. Saying you lied to her before the Ameerah vote.
Michael – I can't believe how pro-Terrance you have been. Part of me wishes that Terrance was the bigger threat than Daniel..
Monte – the way they play is so bad
Michael says the other side had a bad pitch they wanted him to join their group of 5 so he can take out Monte for them.
Michael – all this is happening to save Daniel of all people
They agree the plan is the same get Daniel out. Monte and Turner head to bed.
3:35 am Zzzzz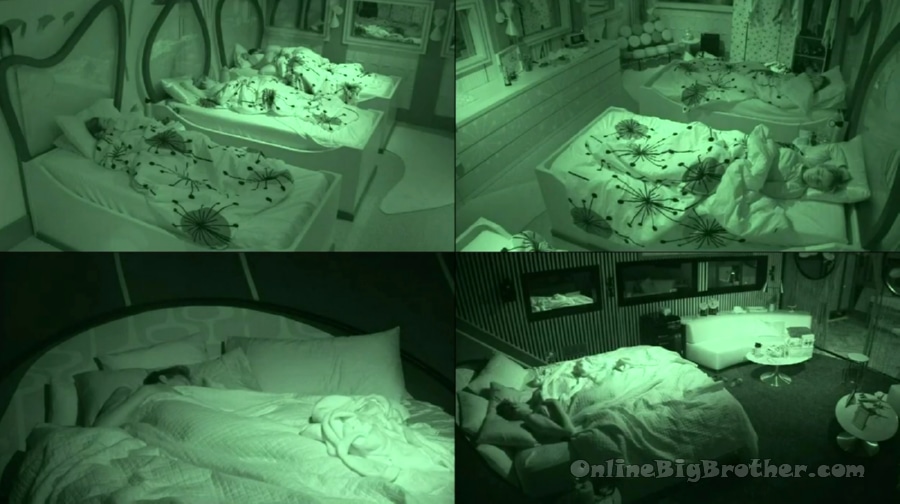 9:09 am zzzzz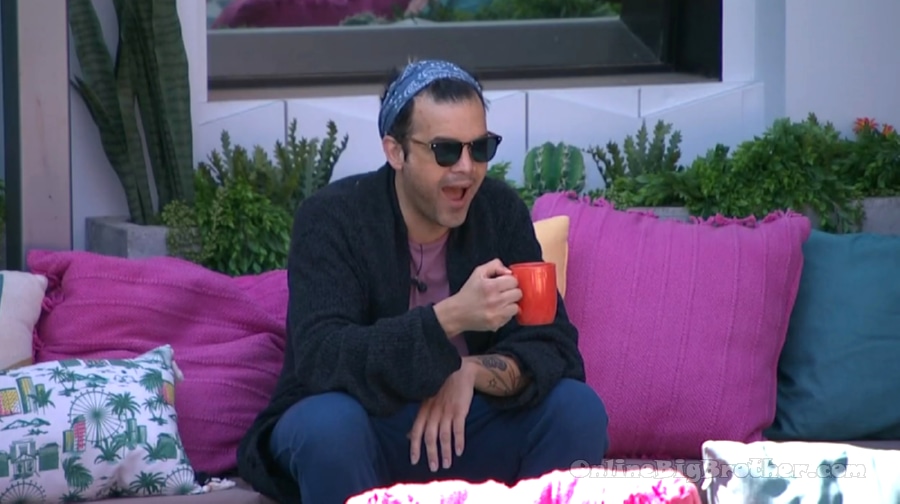 10:22 am houseguests getting up for the day.
Daniel gives a shoutout to his friend who made the game Planet Flipper
Daniel – there's a chance I can stay. Michael is a great player he'll keep his mind open to hear everyone out. There's a possibility tomorrow the nominations stay the same.. so hopefully.. I don't know we'll see.
Daniel is called into the diary room
Taylor enters the backyard. "and the hammock is in the shade WOW"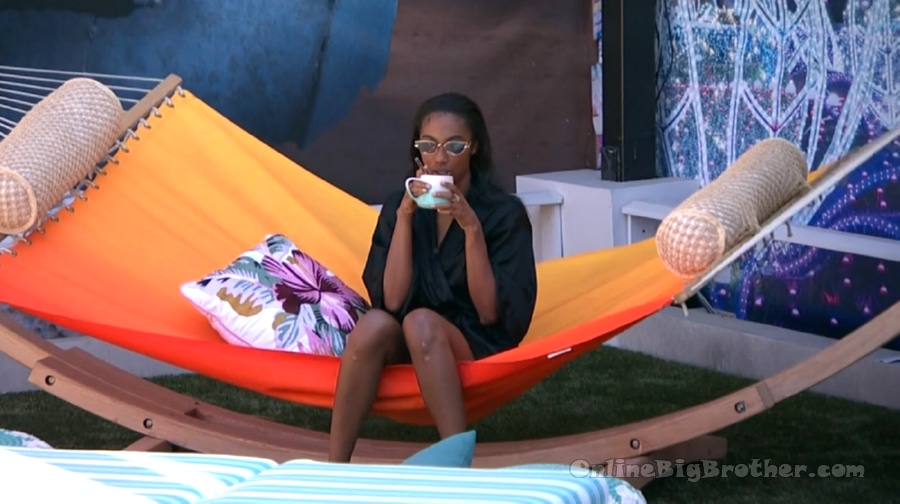 10:30 am Taylor ALone
Taylor – Keep Daniel another week? no there's no way.. We're getting rid of Daniel.
Taylor – the only way I keep him in this house is if I know I will win the next HOH and put him up on the block myself
Taylor – there's no way in HELL NO WAY I keep him
Taylor – I would rather go on the block and preferably send Indy home than keep noms the same and send Terrance home.
Taylor – that sh1t was crazy.. trying to get me to get rid of Monte..
Taylor says she's not going to evict Jasmine "I'm here to reward black women for playing well I can't evict another one I can't do it"
10 49 am Jasmine and Taylor
Jasmine – if noms stay the same how do you feel about that?
Taylor- that would be WILD. Th eonly two upsides I see with that he goes and I have a chance to take out Daniel myself.
Jasmine – and we have another target in this house for you to take out. He's (Daniel) alone who does he have?
Taylor – the house has always wanted MOnte out I wanted Monte out.
Jasmine – when would we have a better time? he might win another HOH.
jasmine I just want whats best for Michael.
Taylor – I need to think about it.. it's very very appealing to me
Jasmine – Monte?
Taylor – mmmhmmmm
Jasmine – I'm so surprised you would be ok with getting Monte out
Taylor says she wanted Monte out since the beginning. "There was never a love connection that the powers that be expected. There was never a real friendship connection from the jump"
Taylor – The second I walked in and saw Monte I thought.. these mother f**8ers I know what you are doing here (He looked like her ex)
Taylor – I'm surprised you don't want Monte in Jury
Jasmine – who me? he's no good for me.
Taylor – I think he's good for everyone in Jury.. He'll be a fair jury he'll be chilling in the house
Jasmine – I don't know..
feeds cut.. when we're back.
Jasmine – from what I can see he's very honest and very.. it is what it is.
Terrance joins them.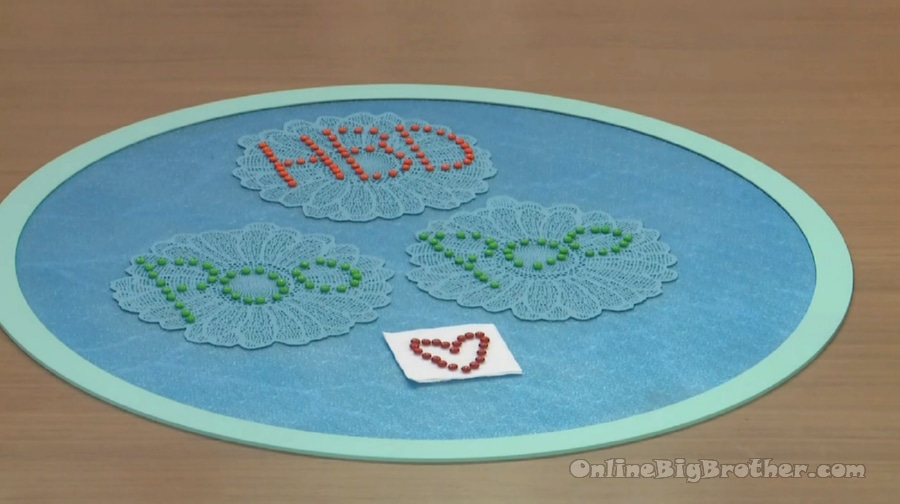 10:52 am
11:03 am They're checking out the trees..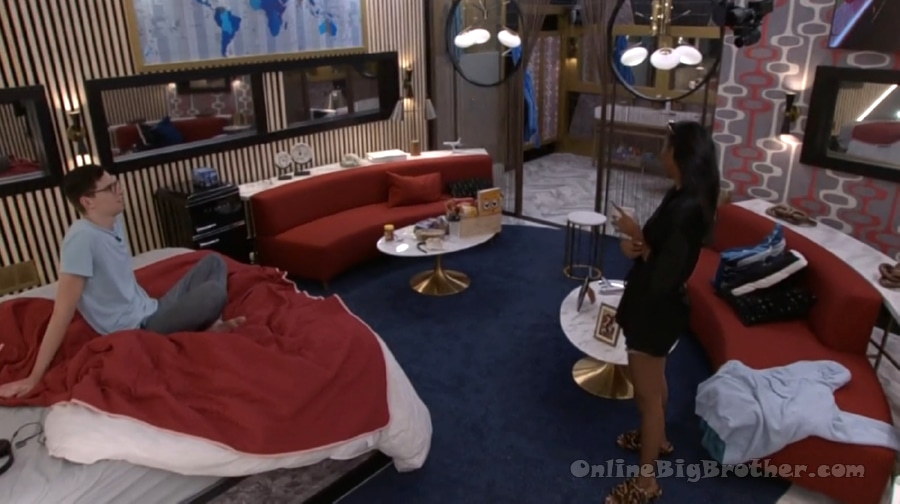 11:24 am Taylor and Michael
Taylor says Jasmine did her pitch again on her. She adds that Daniel still won't give her any names of who he will target if we won HOH.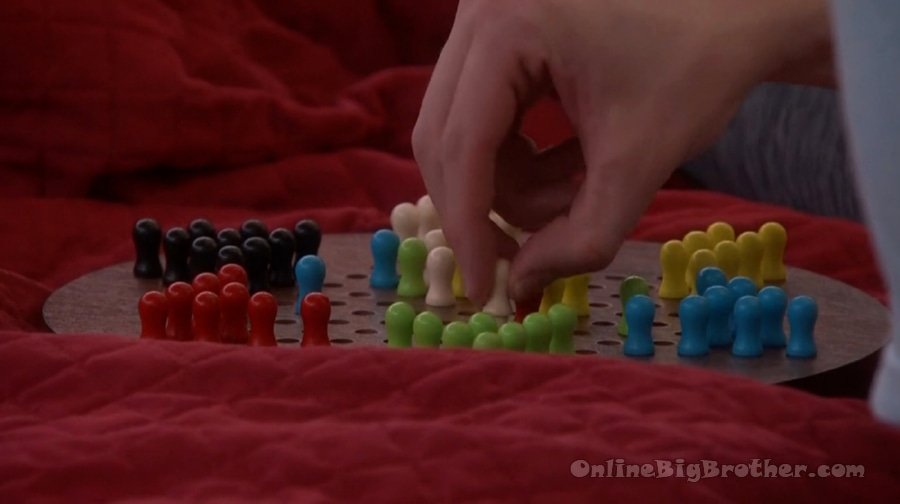 Michael starts running through scnerios Kyle Vs Daniel "Worst case 5 to 4"
He's running through some scenarios next week if Festie bestie's is still around. Says the best case is if the Boys group (Joe, Monte) wins and takes a shot at the girls (indy, Alyssa) or vice versa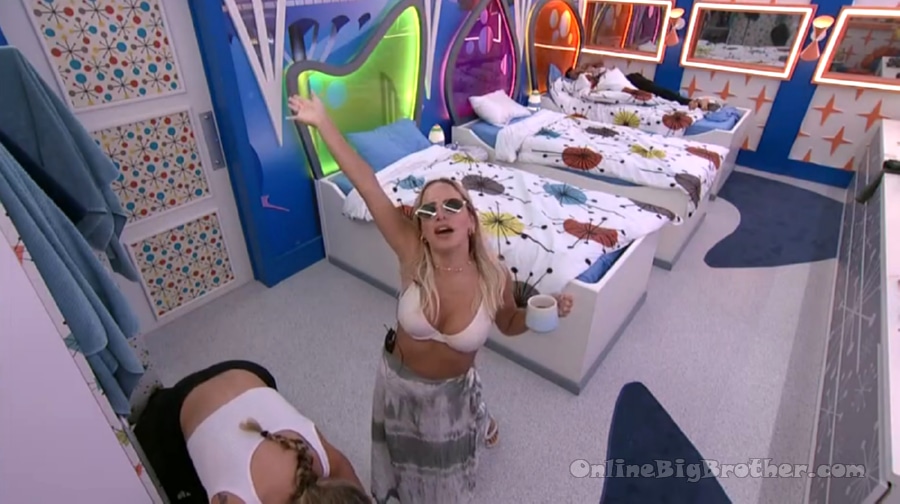 11:40 am Indy "happy SUNDAY everyone"

12:10 pm Flirtmance