POV Holder:
Paulie
POV Competition
July 1st?
POV Used
Yes
POV Ceremony
July 3rd?
HOH
Paulie
Next HOH
July 7th
Roadkill Competition Winner:
Victor
Original Nominations:
Paul, Bronte and Tiffany
After POV Nominations:
Tiffany, Bronte, Victor
Have Nots
Da'Vonne, Paul and Zakiyah
Big Brother 18 Alliances Help Guide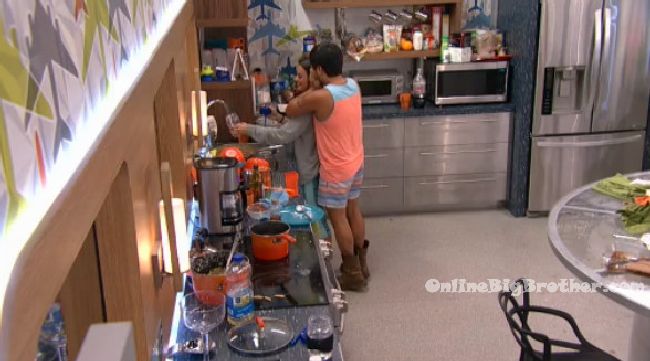 In the kitchen – James whispers to Nat Nat that they (BB) asked him about them in the DR. Nat Nat says they asked so what's really going on? James says I bet you laughed. Natalie asks what did you say? James says wouldn't you like to know? Natalie says I'll find out when we get out of here.
Nicole and DaVonne are talking in the safari room. DaVonne says you're right we have to be extra smart about it because if we miss it will be real bad. Nicole says we shouldn't be seen talking.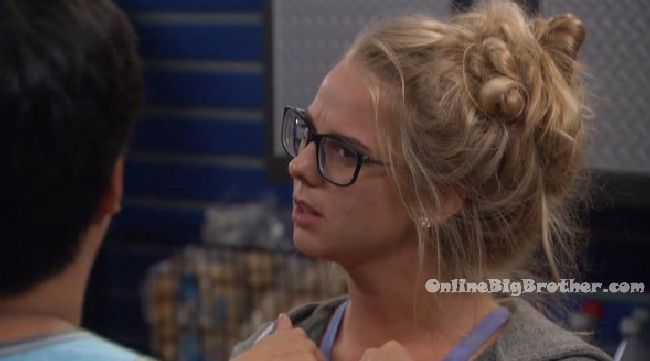 12:10am Storage room – James says that Frank filled him in on a lot of stuff with Corey. Ncole asks about what? James says like they're wanting to do something with him, Paulie, you.. Nicole asks you're kidding me right!? I have not made any deal like that. Nicole says I heard Zakiyah told me that he was trying to get her, Paulie, him, me and Corey in a final 5. I don't know what he was roping around lying about. Nicole says its me, you, DaVonne and Frank as far as I'm concerned. I want to make sure you don't think I'm doing anything behind your game. I want to make sure we're good. I'm not doing anything behind your back. He is trying you to go after Corey. Corey would not say that! Nicole says I swear to god that I wasn't in the room when Frank revealed the eight pack. Big Brother blocks the feeds.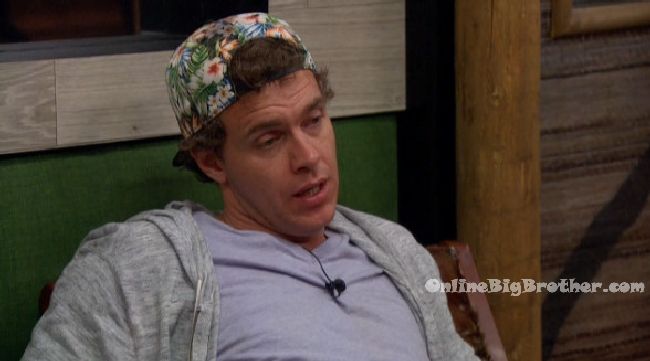 12:30am – 12:40am In the safari room –Frank says Corey wants us to all get to the final 7 or 8. Which might be every reason to snake out Paulie. I just can't be the one that does it. Like keep Corey and then BOOM .. as soon as we get a chance. DaVonne says yeah okay that's later on down the line when we get a chance. Frank talks to Zakiyah and DaVonne. DaVonne asks so I just want to make sure we're all on the same cord. Next week is Bronte? Frank says Bronte and then Tiff. DaVonne says gotcha. Zakiyah asks are you going for the HOH? Frank says yeah I'll try for it and if we get it, I'll give it to Michelle because she'll do what we want.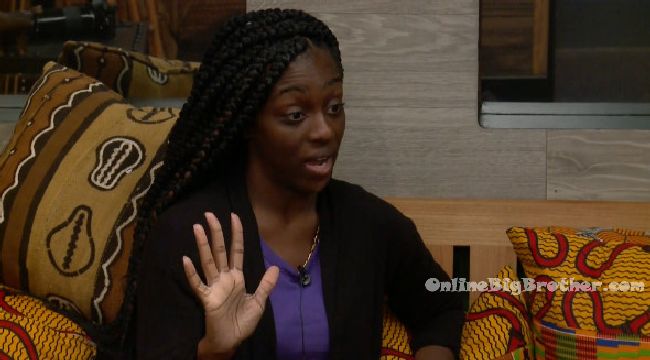 1:30am DaVonne asks did Frank promise you a final four? James says yeah. DaVonne says he promised me one, he promised Nicole one, he promised Zakiyah. One with him, Paulie, Zakiyah, Corey and Nicole ..that's five. He's been promising Bridgette one. He's promised everyone final deals. I want to try and get him out next week. James says WOW! I was actually thinking that last week. He's created too much stuff. DaVonne says and he's rubbing the women the wrong way. He's spanked me on the a$$. He's spanked Zakiyah on the a$$. He's called me and Zakiyah sl*ts. He's rude to Nicole. He's just rude and nasty and the women are tired of it. James says I felt bad because when they asked me who my favourites were I said Derrick and Frank. They asked why Frank.. he just want to work with someone. DaVonne says he's so different than I thought he was. You know he told Paulie about the eight. James asks without us?! Frank wants me to take Nicole and Paulie out. He wants me and Corey to throw the HOH next week. DaVonne says he wants to keep his hands clean. DaVonne says don't get me wrong .. but Bridgette is a vote for him and he is trying to get he to the jury round to be a vote for him. He's got to go and it sucks because I wanted it to be us four. He's playing too hard and he's throwing us under the bus. He is playing very selfish. I don't know if its too soon or not but I want him gone. I'm not afraid to pull the trigger but with him we can't swing and miss. James says its going to rattle the whole game. James says Frank the Tank… Now I see why no one wanted to work with him. He was probably doing the same thing. DaVonne says yup. James says if we're going to do this we need to wait till he takes out his targets and then we take him out. Davonne asks who Tiffany. James says yeah, then we take him out. Nicole joins them. What are we going to do about Frank? James says he wants me to take Corey and Paulie out .. so when he throws it to me .. then biam we take him out.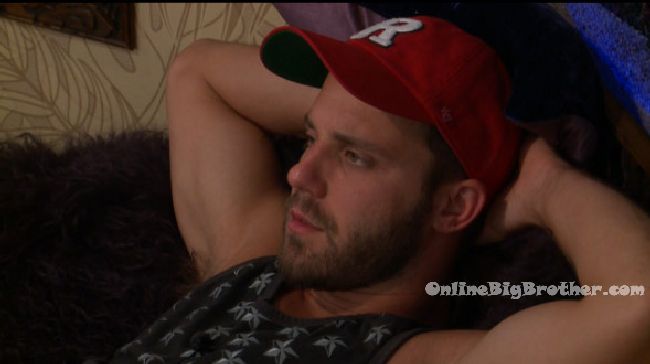 2:50am – 4am HOH room – Zakiyah talks to Paulie about the eight. Zakiyah says that Frank just wanted to come clean about it to save himself. Zakiyah says that DaVonne is a really good person to talk to. I trust her. Paulie asks who was the one to suggest the eight thing? Zakiyah says Frank. Paulie says see Frank said it was Michelle. Paulie says I'm not going to stress about it. For now I'm just going to just chill and win. He says he appreciates her telling him. Paulie says I feel like Nicole and Day Have something to say to me .. all they need to do is pull me aside. Michelle and DaVonne join them. They talk about how Frank came up with the name eight pack because Corey has an eight pack. Paulie says he (Frank) said Michelle came up with it. Michelle asks ME?!?! I'll take it, its a good name. Zakiyah says I don't trust him, he is securing himself from all angles. I can read bullsh*t .. he's a professional bullsh*tter. Paulie says if it came down to it I would be down to ride with a group. I don't want Natalie, Bronte, or Bridgette here just because people want them locked in for votes.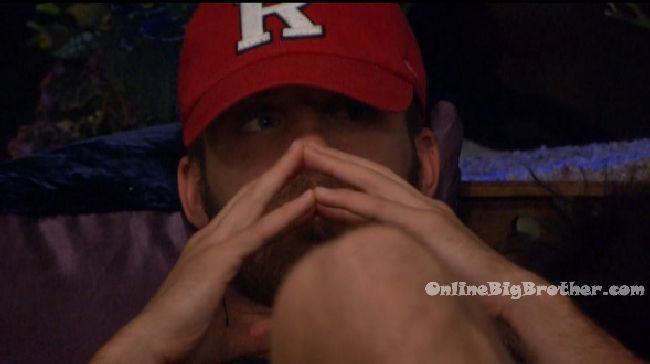 3:20am – 4am Safari room – DaVonne is talking to Michelle. If we need to take him out so that we can get her back with us, I'll do it. Rachel won with Brendon in jury. Jordan won with Jeff in jury. So let that boy go to jury and stay here. He is going to pin it so that you win HOH and make you HOH … and then try and control your HOH to put up Tiffany. Michelle says I wouldn't unless you guys wanted me to. DaVonne says James doesn't trust Bridgette. DaVonne says if this was like what he was in BB14 …then no wonder they wanted him out. Michelle says he's going to be really hard to get out. I think the best time is during the double eviction, right before jury. DaVonne says I almost feel bad .. I want to get rid of Corey and Paulie so we can get our girls back. Davonne says I think he (James) is a little insecure and he doesn't even really see how much Natalie likes him. He was flirting with Nicole and she got up and stormed off.

**** updates are coming another hour and they will be up
FLASHBACK and watch everything you missed: CBS All Access FREE Trial!