Quick Big Brother Spoilers
Head of Household: Monte
Nominees: Indy and Alyssa Taylor and Nicole
POV Players: Alyssa, Indy, Monte, Terrance, Joe, Kyle and Daniel (Michael is the host)
POV Winner: Daniel & Kyle
Veto Ceremony: Daniel used the power of veto. Taylor and Nicole are nominated.
Havenots: Turner & Jasmine
Lock your ranks in before midnight
Festie Besties:
Turner & Jasmine
Joe & Monte & Terrance
Daniel & Kyle
Brittany & Michael
Alyssa & Indy
Nicole & Taylor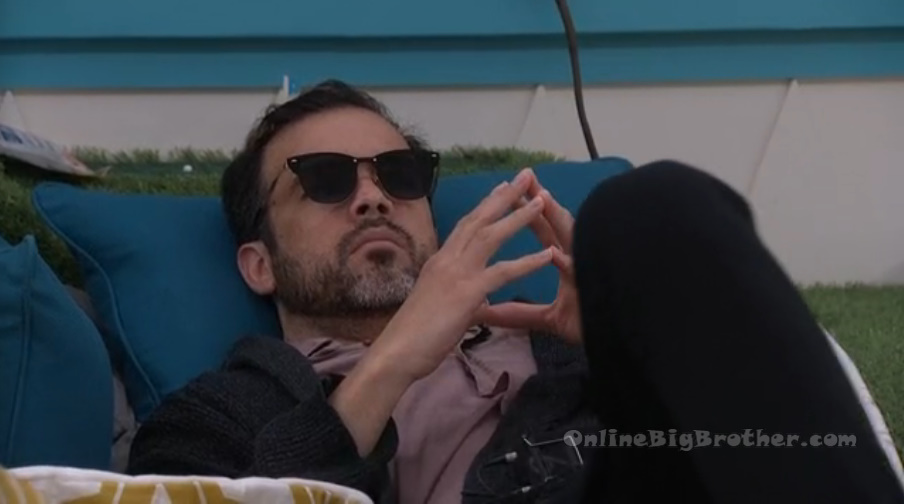 7:15pm Bedroom – Daniel is studying the house counting things as well as studying the days / events of the season.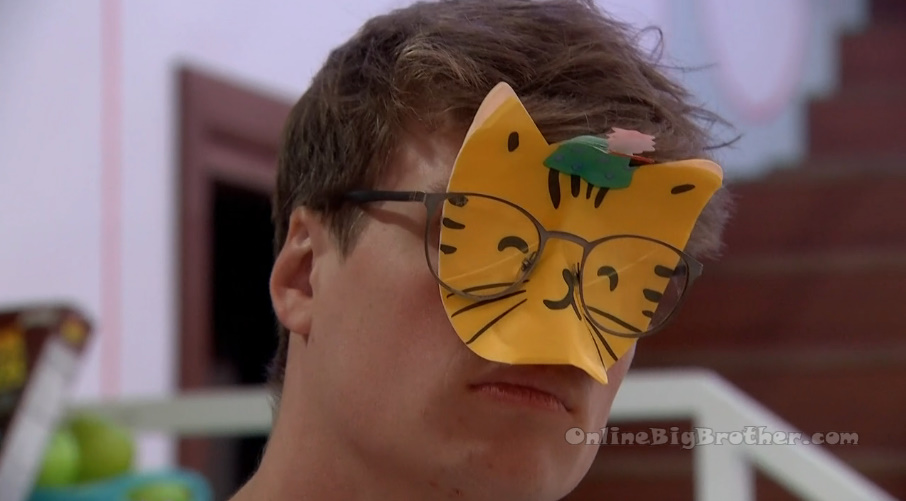 7:21pm Bedroom – Indy and Nicole.
Nicole – If I get HOH, you will never see the block. Jasmine will never see the block. If Kyle and Daniel get HOH, he is going strong after them. If I get HOH, I am going strong after them. Indy – just be careful (she motions that someone might be in the other room and hear her talking). Nicole – I'm done talking. I am done. That's why I am only trying to hang out with Daniel because everyone knows we hangout. For me the best thing about today is that tomorrow is the eviction. So I have now had a conversation with everyone and I don't need to talk to anyone else. I am very happy that we have become closer. They're going to try very hard tomorrow to try and flip the vote. They're going to try to do to me what they did to Ameerah. Indy – I don't think so. Nicole – lets hope that they don't. I'll talk to you later tonight. They hug and Nicole leaves. Indy – as we say in Portuguese "a água batendo no vagabundo" – the water hitting the bum bum. When you think everything is good.. surprise!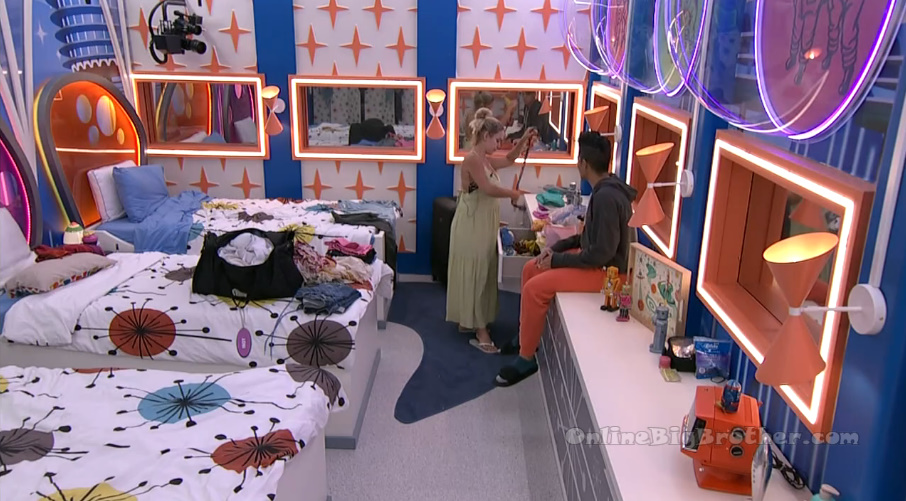 Joseph scares Alyssa @bigbspoilers #BB24 pic.twitter.com/dPZvUFuhNN

— Dawg (@DawgsBigBrother) August 4, 2022
7:52pm Outside the HOH room – Daniel and Nicole.
Nicole – Okay, I am done talking to everybody. I need to figure out a way to talk to Jasmine without anyone seeing her. Daniel – why? Nicole – Because Monte told me that ___ is watching everything I do. Daniel – who cares! Nicole – I know. But I am trying to separate. Daniel – All I am going to do is touch base with Indy, Alyssa.. Nicole – no more Indy. I've over loaded her brain. Daniel – again? She needs a break.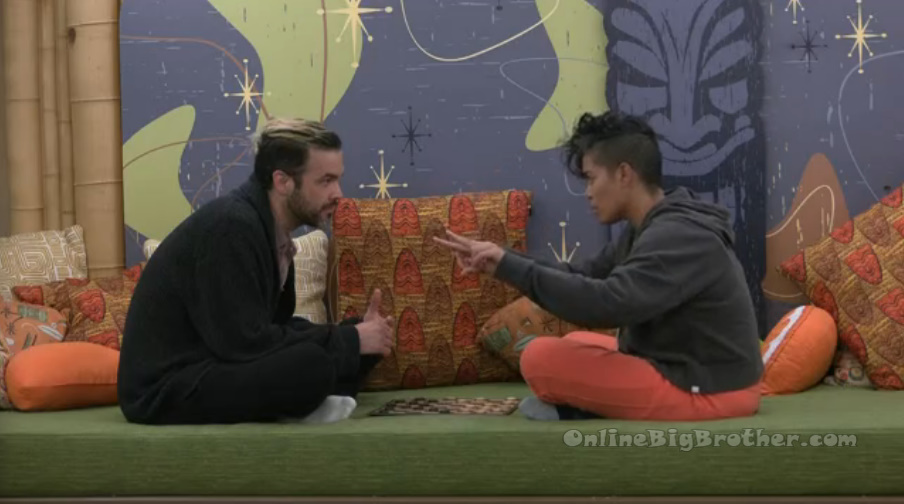 8:55pm Bedroom – Monte and Jasmine.
Jasmine – if it came down to a split how would you feel? Monte – I want her out. Jasmine – no, how would you feel with the people that didn't? Like obviously if you want me to vote her out, I will. But what if some people still vote Taylor out? Because that is going to literally split the house. And then everyone going to start f**king lying! Monte – yeah, then its going to get very ugly. If you can get all three of you (Indy, Jasmine & Alyssa) all comfortable to veto her out.. Jasmine – its not going to be a problem. Monte – then its not going to be a split vote. The only thing that I ask is don't let this get back to Nicole or Daniel. Because the worst thing that will happen is.. Jasmine – so do you think that I should just wait to tell Alyssa? Monte – you can tell her tonight or whatever have you. Jasmine – if this happens obviously you can't play in the next HOH so you wouldn't be able to protect me but do you think If Joseph or Terrance. Monte – they're not coming after you. Jasmine – okay. Monte – 100%! Jasmine – I don't mind doing this but I just want to make sure I'm secure. Monte – next week you are not going home. The only way that would happen is if its out of my hands, if its out of Joe and Terrance's hands. I don't need to see you or Turner on the block. Big Brother switches the feeds.
9:18pm Bedroom – Alyssa, Indy and Jasmine.
Jasmine – they have a goal. They want Nicole out and they want Daniel next. Indy – if Taylor stays she is going to pick us. (Join their Festie Bestie group) Alyssa – I was thinking about that, it means that she can't come for us. And she's a competitor so we're safe. But two we're the easiest f**king target to put on the block now. Jasmine – well I don't know what to tell you. I have no idea what to do. Alyssa – Nicole is telling me that we're seen as a trio and that everyone wants us out. Indy – don't listen to whatever she is telling you. We don't need to think about her now. We need to think about if Taylor stays .. she is going to f**k with this game. Alyssa – well she wants Daniel. Jasmine – I will tell you what Monte told me but you better not say a word when he talks to you. He basically said that the house is voting Nicole out and that if he gets a split vote he is voting Nicole out. And then they're coming for Daniel .. and whoever is on the wrong side of the house is who they're coming for next. That's what he said. Or we could vote for Nicole to stay and if it doesn't work out we could just lie. Alyssa – no we can't, I can't lie. I suck at lying. I literally can't lie. Jasmine – girl you're on big brother. Alyssa – I know. Indy – if she doesn't go home now .. she (Taylor) is going to win this f**king game. She can not stay and come with both of us. That is going to f**k us up. Alyssa – and then if Daniel knows and we went against him .. he is going to put us up. Jasmine – he's going to put everyone on the block, everyone's going on the block! We need to choose what the f**k we're going to do. Brittany joins them. Indy – I am listening to my gut and my intuition is telling me .. if the whole house goes (and votes out Nicole).. I will still keep true to myself (and vote out Taylor) … I can be the next. Brittany – we have each others back but we don't have to vote together. We can vote differently. This week I want to vote where most people are voting because I am conflicted. And I don't hold it against you if you vote a different way. How ever they fall out is how they fall out. Most people in the house seem like they want Nicole out.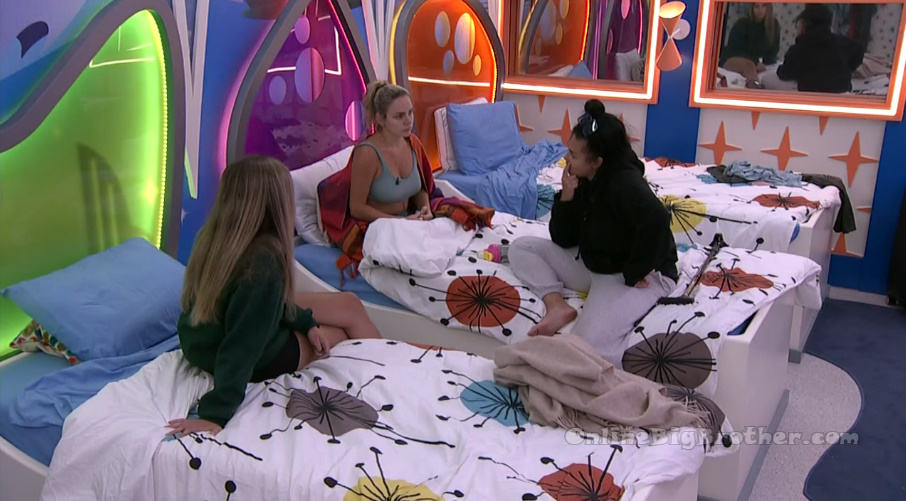 9:48pm Bathroom –
Kyle – should we kiss when we vote to evict and then we're in the hallway .. and then we kiss? Should we or no? Alyssa – yes. Kyle – Is that too much? Alyssa – no. Kyle – I feel like that might be too much. That would be so nerve-racking like our families will be watching. I regret saying that. Alyssa – our families already know.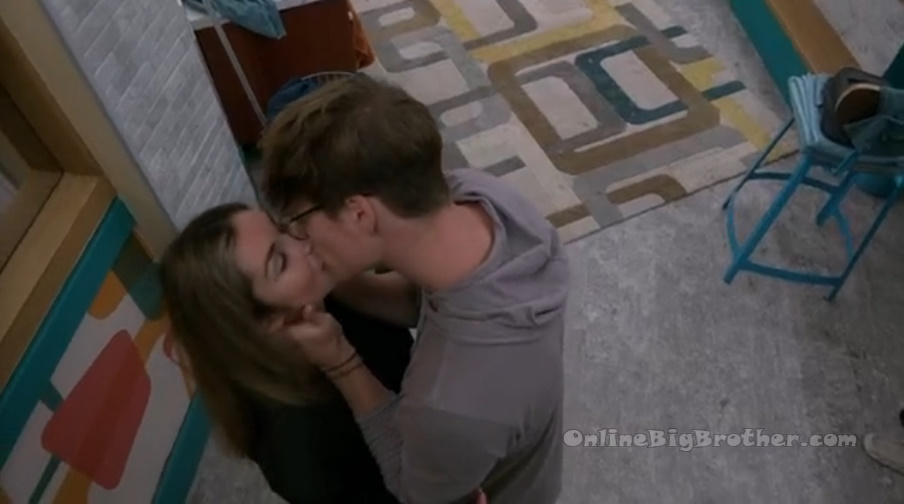 #BB24 Showmancing.. @bigbspoilers pic.twitter.com/PRQfF0e9LP

— Dawg (@DawgsBigBrother) August 4, 2022
10:13pm Bedroom – Indy and Nicole.
Nicole – I want you to know that you are safe in this house and you have to understand that they're paying a game and it is not personal. It is not a personal attack towards you but they know that they can get away with certain things and it is a game and I need you to remember that because if they're going to play.. we have to play harder.. and the only way we're going to win is if we stick together. It sucks and I had to say this to Kyle, I love them. Indy – stop talking to everyone. Nicole – I have to campaign. I am done campaigning. Indy – just talk to your 6 people and that is it. Make sure you only talk to your 6 people because I think people are overwhelmed. Nicole – here is the problem. I've only spoken to them one and the reason why it looks like I'm talking to them more is because she's (Taylor) not speaking to them. She is sending other people to do the talking for her. And one of the things that Monte has been saying all week is that I'm paranoid. So he is trying to put in their head that I'm making all these issues. Indy – I am only giving you my advice.. only talk to your 6 people. Nicole – it is very scary to know that this girl (Taylor) might stay here and that I might go home… but they are trying to flip the house. Indy – even saying that to Turner was a big mistake. Nicole – I had to because I said something to Monte and I wanted it to get back to Jasmine. Indy – I am overwhelmed. Nicole – I know but this is what the game is .. you have to lie and tell them what they want to hear. Indy – you have my vote. You don't need to worry about me. Talk to the 5 again in the morning. Nicole – do you think Kyle is flipping? Indy – I don't know.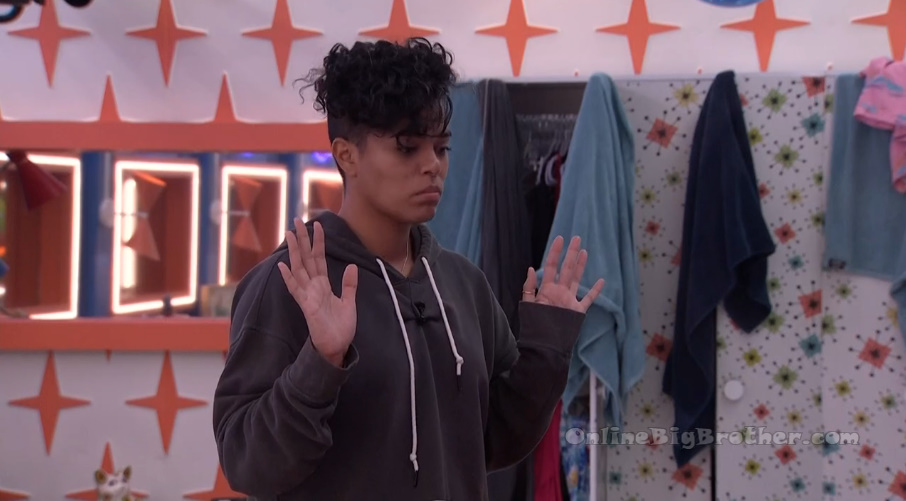 10:38pm Kitchen – Daniel, Terrance and Nicole.
Nicole – so what they're doing to Indy is making her feel very uncomfortable right now. They're making Indy feel super uncomfortable. They have basically told her that I am setting paranoia in the house. And Indy is literally telling me to stop talking to people. Daniel – then stop talking to people. Nicole – I have. And then she is like just make sure you have your people solid that they're going to keep you. She said I am voting to keep you. Don't worry. Daniel – okay leave Kyle alone right now. Let me talk to him. Nicole – well here is the thing I've pretty much told him everything. So I either shot myself in the foot.. or its working. Daniel – same. Nicole – so if there is a mole within the mix .. it is probably Kyle. Daniel – yeah. Nicole – if he has Kyle.. that means Kyle is really good at playing dumb. You (Daniel) just have to get HOH and protect Terrance.. that's all you can do. Daniel – yeah.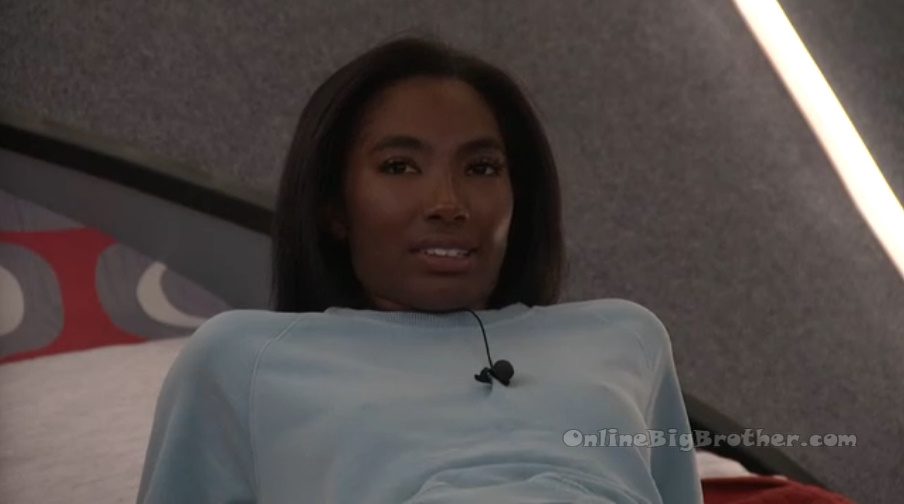 12:03am HOH room – Alyssa and Kyle.
Kyle – Taylor is not a threat at all. She is not a competition threat. Like anyone next to her is going to look like more of a threat than she is. So having Taylor up there too is a good thing. Like I don't know? How do you feel about it? Alyssa – I would be fine with that. I honestly don't trust her (Nicole) or Daniel at all. Well I mean Daniel more but I just think that Nicole is like why would she feel like don't worry. I have your back but I'm going to tell everyone that I am gunning for you but then she is like I wouldn't even put you up as a pawn. I just don't trust her at all. So I am fine with that and I feel like Michael wanted to do that too. Kyle – From my perspective if you can build a good relationship with Michael and Brittany.. I hate to say it but I probably trust them the most in the house. Alyssa – he told me that .. he just trusts me and you. Kyle – as much information as you can give him.. like he is a vault. I've told him things this entire game and its never gotten back to me. He is the one person since day 1 that I trust completely. Moving forward I do want to work with you and I wand to you in this game. You have to trust me on that. Hopefully Daniel blows up and puts a bigger target on his back. I am even willing to go up as a pawn.