Quick Big Brother Spoilers
Head of Household: Monte
Nominees: Indy and Alyssa Taylor and Nicole
POV Players: Alyssa, Indy, Monte, Terrance, Joe, Kyle and Daniel (Michael is the host)
POV Winner: Daniel & Kyle
Veto Ceremony: Daniel used the power of veto. Taylor and Nicole are nominated.
Havenots: Turner & Jasmine
Lock your ranks in before midnight
Festie Besties:
Turner & Jasmine
Joe & Monte & Terrance
Daniel & Kyle
Brittany & Michael
Alyssa & Indy
Nicole & Taylor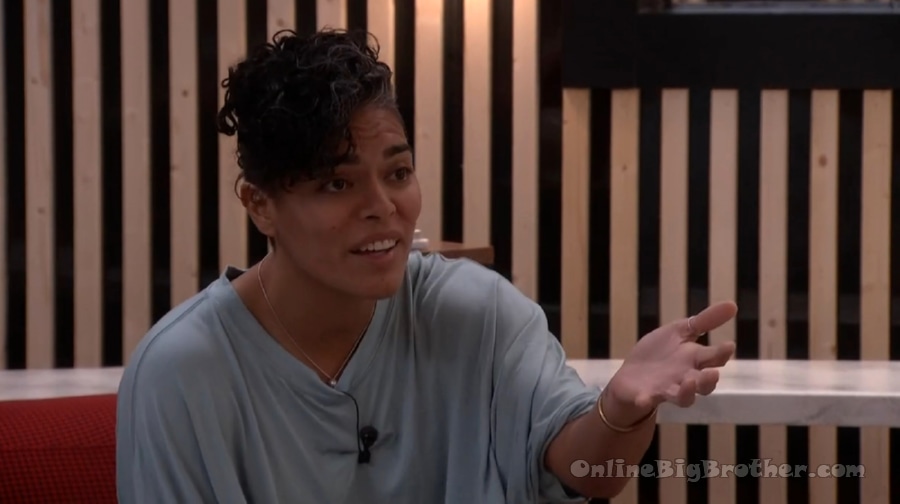 1:30 pm Nicole and Monte
N – the reason why I haven't spoken to you is I felt like I needed to give myself space and I needed to give you space. I think that Daniel is so set on getting her out of this house.
N – I have been walking around here prior to going on the block campaigning. I truly appreciate you coming to me and having that conversation with me.
N – even though we don't know what will happen or at least I don't know what's going to happen tomorrow I'm glad you had my best interest at heart.
N – Daniel and I are not a couple so any decisions he makes he's trying to make for his long game. He has hie heart set on getting him out of this house.
N – I don't know the conversations that happened between Kyle and him I will say that he is dead set on getting her out. The conversations I've been having over the last few days I feel good but at the same time, I still have what you said about the three girls in my head.
N – I'm not a drama-filled person. I don't like confrontations I think I've displayed that very well when with Me and Taylor in the bathroom. I'm not a yeller I'm not a screamer I'm not someone that creates that friction
N – If I go out I'm going out with my head held high.
N – the hope is to stay and to get HOH next week
Monte – year yeah that would be sweet
N – You want Taylor out of this house?
Monte – yeah yeah that is the plan
N – if the vote is split down the middle you are going to keep me?
Monte – you think it will be split?
N – I won't trust Daniel.. you told me I didn't have the votes to stay
Monte – I hope I didn't frame it in a way.
N – I feel like you did
N – we're at 5 to 5
Monte – you are you considering the 5
N – Turner, Michael, Daniel, Terrance, and those are my positive Yes.. and Joe those are my five.
Monte – the other five are shaky
N – yes
Nicole – I'm at a 5 to 5 or a 6 to 4
N – it's a 5 to 5 have you decided?
Monte – The target is Taylor 100%
Monte says he thought the vote was going to be 6-4.
N – I'm not lying I have no secrets. I purposely positioned myself next to Taylor so we can get her out of this house I did this for people. She was never my target I was doing that to make my game better to show people I was aligned with I'm willing to do that for them.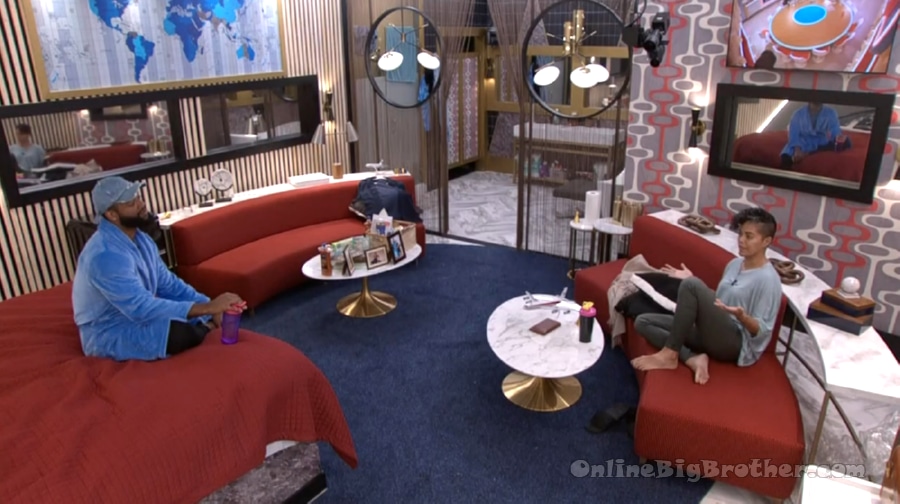 Monte – I'm thinking about the Numbers.. whos left.. pretty much all the females in the house.
Nicole says Ameerah was the first woman she thought was beautiful but not attracted to. "I felt it was a friendship that was solid"
Nicole now says she's glad Ameerah is gone "she is clearly saying things that weren't lining up with what she was telling me. There are clearly things she was doing that I didn't know she was doing"
N – I feel that she POOCHed herself from day one and put us all in a position that can we trust.
N – she was trying to make this whole house her b1tch
Monte – she was doing a good job she had me convinced
Nicole says if she wins HOH she's either putting up the girls or Turner/Jasmine. "I'm trusting your word over there's for sure"
N – if I am here I want to join Brittany and Michael
N – you know I won't throw a comp, you know I'm a fighter and you know I want to win. Let's go.. Why not?
N – I trust Michael 110%. He's so magical to me he's like my little unicorn. The conversations we've had over the last couple of days have been so amazing. I feel super safe with him. I feel like he has my back.
N – I don't like Drama, I don't like Screaming I don't like yelling. It's not who I am. I want to play an honest game. If my loyalty and integrity and grace get me kicked out of this game then I'm not meant for Big Brother (GRACE?)
N – with who I am physically, mentally, and socially we can rock this out.
Nicole says Terrance is her "best friend" and he's on Monte's team.
Monte – joe?
N – you have my son.
they laugh
Nicole – me and Michael we're like BEASTS.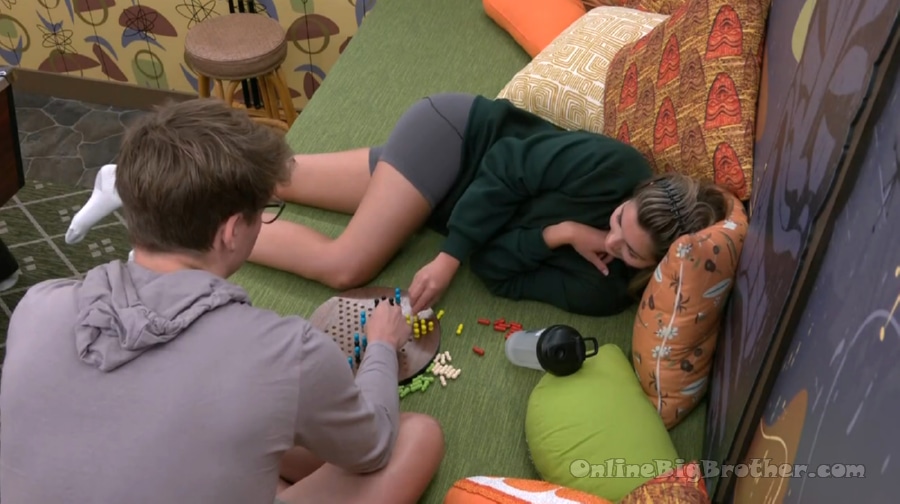 4:24 pm Showmance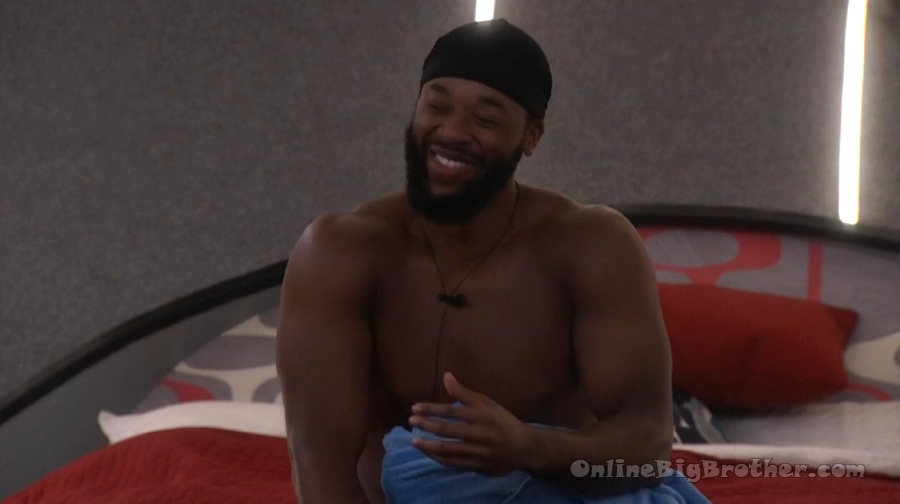 4:26 pm Monte, Joe, Kyle
Talking about crazy Nicole saying her confirmed votes are the guys and she doesn't trust the girls anymore. If Nicole wins HOH she'll put INdy and ALyssa up or backdoor Jasmine.
Kyle – She's lying.. it's us 100%
Joe – unless they truly think I'm a f***ing idiot like I'm just running around here with my tongue dragging on the floor there's no shot she can be that comfortable that she has me (Vote)
Monte says Nicole is trying to blame everything on Ameerah.
Kyle tells them the other side is united and Daniel is expecting a flip to get Nicole out will happen.
Kyle says he will tell Alyssa he's voting out Nicole if that makes it back to Nicole and Daniel he'll know she broke that trust.
kyle – if she keeps it low key then great I can trust her
Kyle says when Nicole talks about Terrance it's ride or die with Terrance and Daniel. "he's (Terrance) sick of you guys (Monte/Joe) trying to play the card hey we saved you last week"
Monte – REALLY
Joe – this is why I always said I don't know about Terrance.
Turner joins them.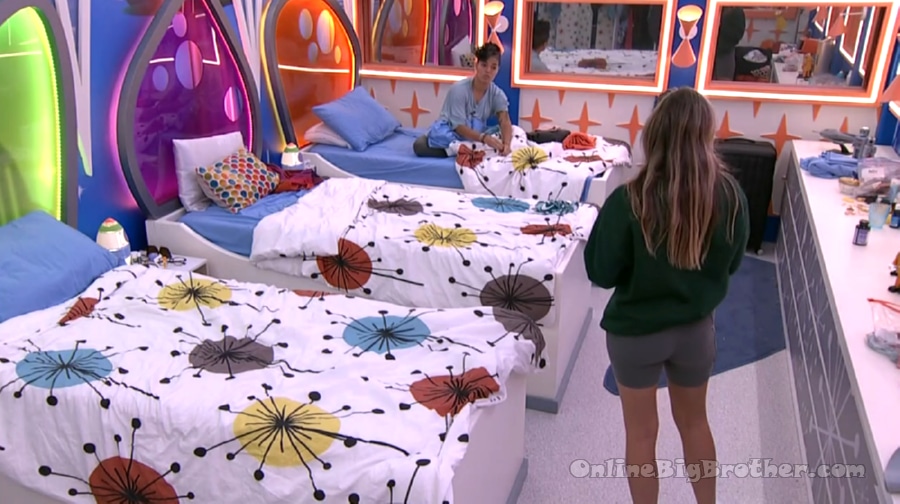 4:40 pm Nicole and Alyssa
N – I told him because I wanted him to believe what I was saying I said going into next week you, Indy and Jasmine would be my possible targets because you guys don't trust me
Alyss a- ok
N – I would never put you up
Alyss a- you promise?
N – I'm telling you I will never put you up as a pawn. I'm telling you everything they are lying about is lining up. I have literally fed Monte, Michael, and Turner the same lines, and Joe.. Basically saying I trust the boys more than the girls.
Alyssa – I believe you and trust you it's just last week was scary
N – it is smart for me to join Brittnay and Michael's team because then if we go up on the block they lose two votes.
A – but if you win (HOH) who are you putting up Jasmine and Turner, Me and Indy, or the boys?
N – the boys are my target PERIOD. think of this if Jasmine and Turner go up we have the numbers to keep Jasmine. You Indy, Terrance, Daniel, Kyle.. five people that's all we need for next week.
N – Daniel needs to get HOH then he'll put up Brittany/Michael or Terrance.
A – Brittany and Micahel would me you
N – if I went up with them they are losing two votes .. do you see where I am going with this?
N – we have the votes to send home who we want to send home. You will not touch the block.
N – who is on your side of the house, You, Kyle, Jasmine, Indy, Me, Terrance, and Daniel that is 7 people. If I don't go home we keep 7 people if Taylor goes home they only have 5 people on their side. I told Monte going into next week my targets would be, you, Indy, or JAsmine because you guys told him you don't trust me.
A – which makes no sense.
N – I have to lie to keep myself safe and I also have to lie to convince them that I'm after you.
N – Alyssa I am swearing on everything
Nicole – the 6 people I saw up there last night are in an alliance. Turner, Brittany, Michael, Taylor, Joe, and Monte.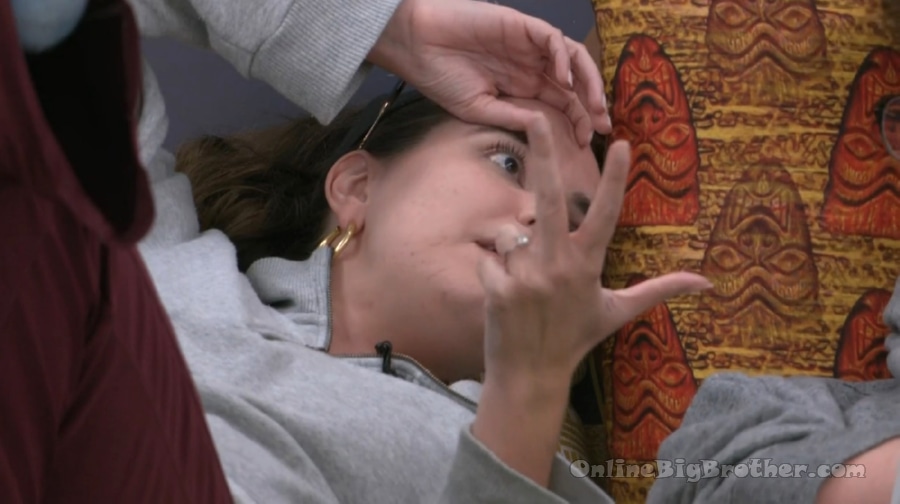 5:12 pm Britt and Michael
They're talking about Nicole where the pitch was she could join Brittany and Michael and the two trios could be an alliance.
Britt – last-ditch attempt
Michael – sorta like what POOCH did make alliances.
Michael – she also told me her target would be Alyssa and Indy.
Britt – she told Turner her target would be him and Jasmine.
Britt says POOCH, Ameerah and now Nicole was so messy. They were scrambling.
Britt – part of this game is not overplaying.
Britt says apparently Terrance is wavering now. "Monte caught wind and is upset"
They agree Indy is a lost cause but they can get jasmine to vote out Nicole.
Britt – Alyssa and Jasmine go whichever way the wind blows. They don't have loyalty to anyone.
Michael – if Nicole did join us then we would.. we would be down to 6. we wouldn't have the votes.
Michael had considered keeping Nicole but when he worked the numbers it didn't make sense.
Michael – we lose the alliance. It's always worth talking through.
Britt says they have to take a shot but not this week.
Michael – I don't want to lose Taylor
Britt agrees "I feel good about her"
Britt – Nicole I don't trust her.
Britt is worried about Daniel winning HOH.
Michael speculates its questions, "I think we can beat him"
Britt – if he does win who does he blame the most?
Britt – I think it'll be Kyle but Kyle is his Bestie. So who is second? You would think Joe and Monte. But Monte warned him.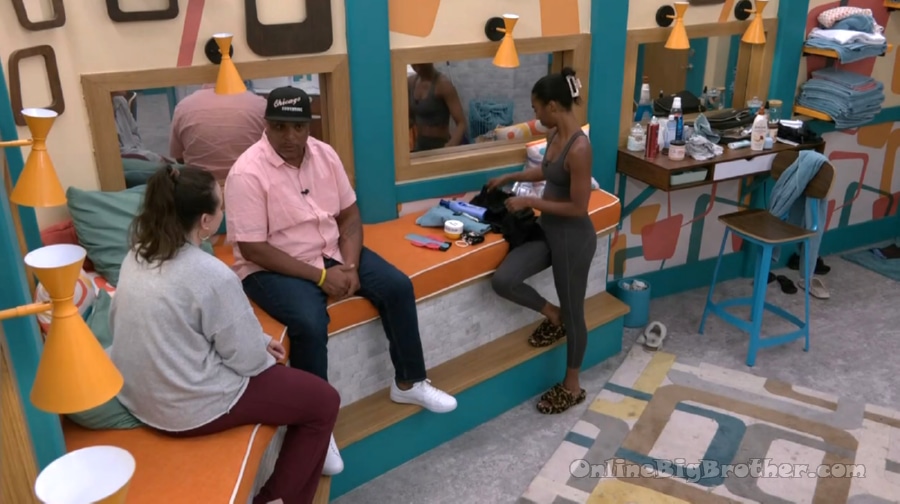 5:34 pm Terrance, Brittany and Taylor
Britt asks if Nicole thinks she's safe.
Terrance laughs and says yes.
Britt – WOW she's really playing hard.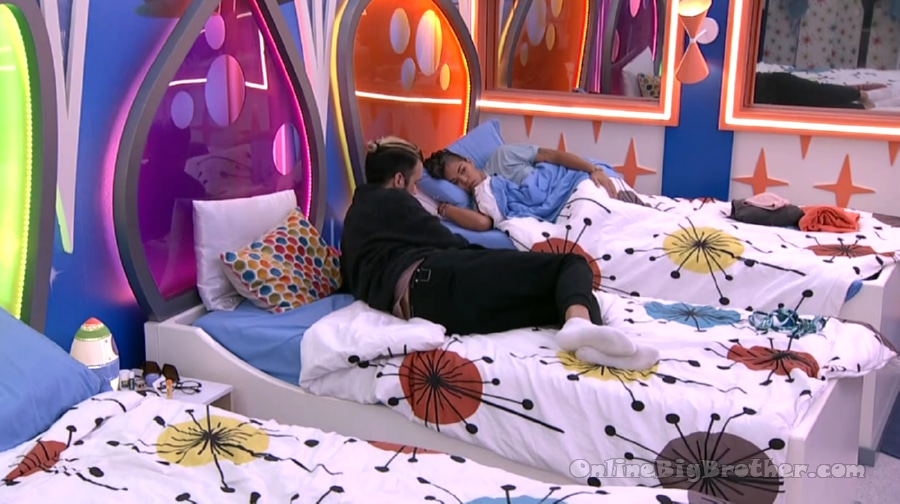 5:40 pm Nicole and Daniel
Daniel – I'm in the BB fun house with a bunch of clowns.
Nicole – I hate that none of these people know how to play this game. I hate that I'm not in a house full of super fans.
Daniel – I want to start asking them who their favorite player is.
Nicole – they all say the same thing. they all have only seen for the most part season 23.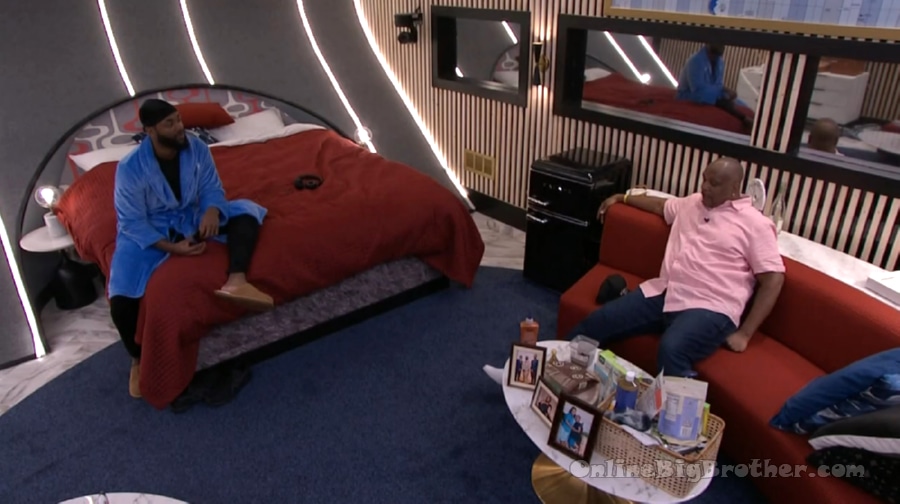 5:46 pm Terrance and Monte
Terrance – my vote is going towards Nicole and I'm being 1000 with you. I'm going to go with how you want to move BRO. ONE you are HOH, TWO I want to establish this relationship between me and you, and THREE you know what I'm saying we are festie besties we have to figure out how it goes and how we going to move forward as this part two. I don't want to be you know on the chopping block, You know for anything else.. you know .. you know those are the three reasons you know.. how you want me to move is how I'm moving you know. That's real
Monte – I'm trying to figure out who is telling me 50/50.. if it comes down to where it actually is 50/50 it'll be up to me. If I decide to keep Taylor what will happen all that attention will be brought on me and I'll be public enemy number one which sucks because it means we may be sitting on the block.
Terrance – real
Monte – if I decide to keep Nicole and evict Taylor. I would have felt good about that this morning but after this morning…
Terrance says Nicole doesn't have the numbers she doesn't have Jasmine, and Indy is iffy. I don't know how Alyssa feels. Kyle hasn't had a good conversation with her so it's like.
Terrance tells him that if Daniel or Nicole win HOH they will backdoor them, "that's me to you"
Monte – you have confirmation
Terrance – MMhmmm it'll be a bullshit person put up there probably Daniel and Kyle secure the veto, you know what I'm saying
Monte – they are willing to risk your game in order to come after me and Joe I am assuming?
Terrance – it's a risk to my game anyways.. why are you gettign rid of my people? these are my festie besties. I'm rocking with them right now.
Monte – recently?
Terrance – recent that's how they are going to move. If Nicole stays it was presented that I do not compete to win the HOH. I'm supposed to throw it. BRO, If you've been in the house BRO, F*** your chance to get a picture of your wive.. and letter.
Terrance says they told him they have the votes to keep him. "did you have the votes last week?"
Monte – if it's a 50/50 vote I'm not Keeping Nicole I'm voting her out
Terrance – it won't be a 50/50 vote. I'm letting you know that.
Monte – if it is it's telling me something that is very interesting. I would like it to be 9-1 or 10-0.
Terrance – this is POOCH number 2
Monte – this morning she POOCHED herself
Terrance – this is pooch number 2 bro. we've literally had a class this is what not to do.
Monte – and she ran the same play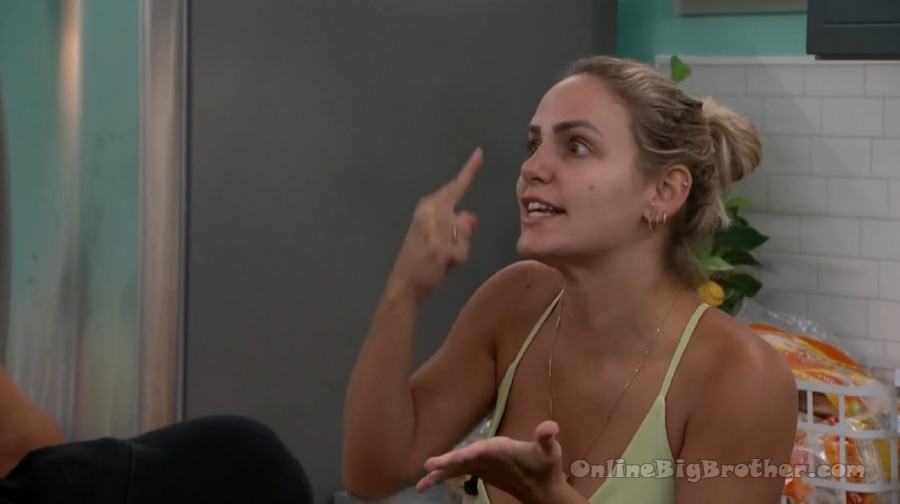 5:50 pm Indy and Joe
Joe – we need to talk to Monte I think she was telling Monte.. Monte was asking her who she's going after next week and I think she said you guys
Indy – I don't give a f***. Even with that, I prefer Taylor to go.
Indy – I am more afraid of Taylor than her
Joe – Yeah me too
Joe – Monte says there was the thing he only told Nicole and Ameerah got it.
Indy – I told Ameerah I didn't trust Nicole. who does Nicole knew?
Joe – he (Monte) says there are things he only tells Nicole and some whoe everyone in the house knows
Joe – he still.. Taylor is still the problem but he's like setting it up because he doesn't know how he feels about Nicole
Indy – I'm voting Taylor out
Joe – he still prefers Taylor
Indy – Nicole only has Daniel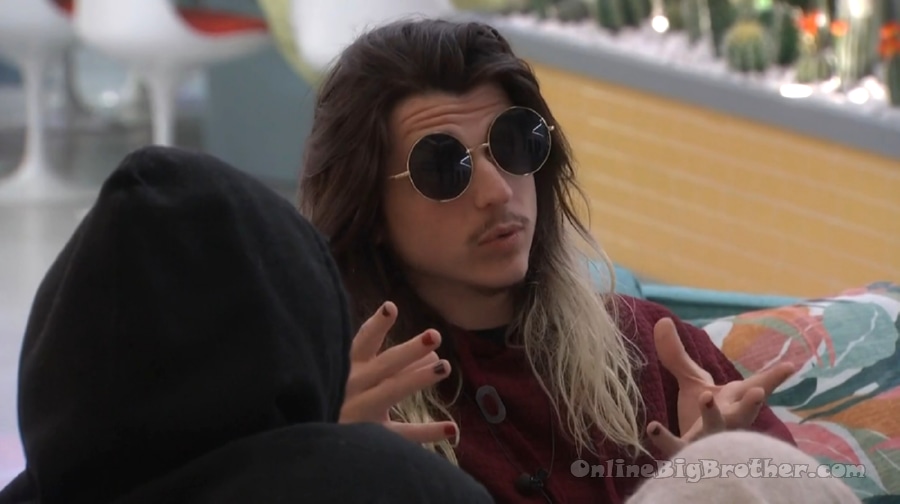 6:26 pm Turner and Jasmine
Jasmine – my plan right now is to vote Taylor out but it could change. I feel like just like last time it changed at the last minute.
Jasmine – I just refuse to be on the wronge side of the f***Ing fence this week.
Turner – if there is word. I don't know if there is or not. If there is word this what I am going to do. My vote is an easy f***ing flip because I heard if she wins HOH it'll either be me or Alyssa.
jasmine wants him to at elast tell her.
Jasmine – I never got along with the females in high school. That is why Alyssa means so much to me because it's very hard for me to connect with females. When I have friends girls those are my riders because it's just not that easy for me.
Turner – for sure.