Quick Big Brother Spoilers
Head of Household:  Michael
Nominees:
POV Players:
POV Winner:
Veto Ceremony:
Havenots: 
Lock your ranks in before midnight
Festie Besties:
Turner & Jasmine
Joe & Monte & Terrance
Daniel & Kyle
Brittany & Michael
Alyssa & Indy & Taylor
11:15pm – 11:40pm Bedroom – Terrance and Daniel.
Daniel – I just want to see… get filed in… you know like I don't want to be in the dark. It obviously doesn't matter, I do think I'm going home. Terrance – I don't think that though bro! Daniel – well I am definitely going to talk to him and do what I can. He seems pretty level headed about the game part. Terrance – everybody was upset in a sense it was kind of like .. they felt like she was moving like POOCH in a sense. Like with the things that were said as far as she said she was going to put Turner on the block, she told Monte she was going to put him on the block. Like as pawns or whatever. Daniel – yeah she didn't run it by me.. not that she had to. But if she had I would have been like hold on. Daniel – I would never just roll over and die. Terrance – Oh I know you're not going to do that. We don't know what the F**k he's going to do. And she (Brittany) is his f**king secretary bro! Daniel – I am so proud of him. Terrance – just talking scenarios.. I know he is going to put up pawns. Daniel – I am definitely going to do my pitch and just hope for the best. Obviously I would rather play than be backdoored. Terrance – and I would pitch that to him too .. like just give me the opportunity to play. Daniel – yeah. Terrance – we just have to do worst case scenarios. He is powerful! Terrance – he is, he definitely has. We just have to get past at least this week. Daniel – that's it we just have to get to jury.. I've got your back. Terrance – I got yours.. Lets get past this week and figure out someone else. There is always somebody bigger. There is always a better option than me and you. I think he will understand your pick of they're going to run away with the game. Lets go! So that's a pitch. You're good I promise bro.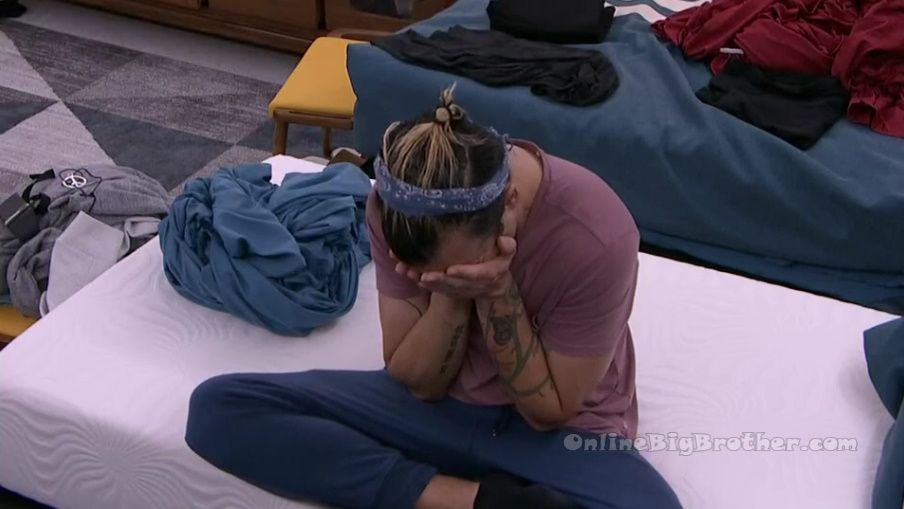 11:57pm Bedroom – Joe, Alyssa, Jasmine and Daniel are chatting about random things.
12:08am Bedroom – Joseph and Daniel.
Daniel – I don't know what will happen this week or whatever it is I just hope you guys don't .. like we can't hang or anything. If this is my last or maybe I have two weeks who knows. I just want to still enjoy the week. Joseph – the game stuff is separate. Daniel – I appreciate it. Joseph – even though there was tension no one was being disrespectful. It was an awkward conversation and it was confrontational but it wasn't disrespectful. Like you were both maintaining your cools. You both just de-escalated it and stayed quiet. Daniel – yeah he did well too with that.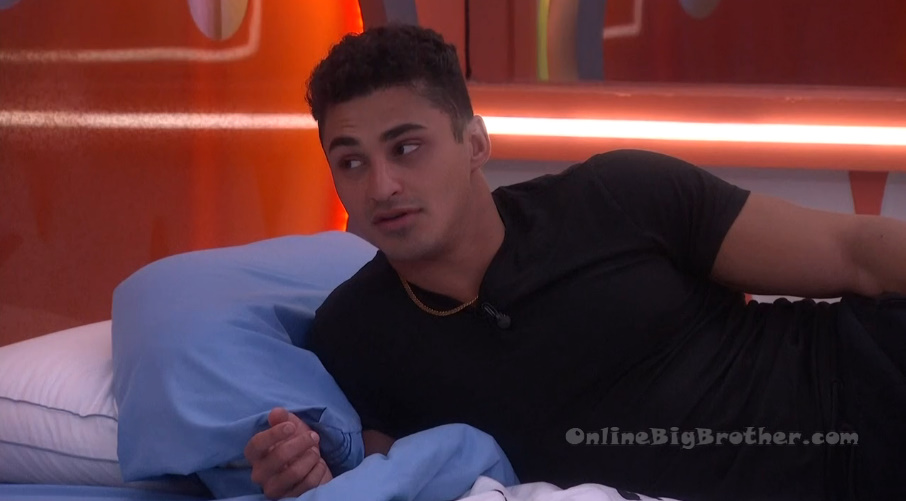 12:14am Bedroom – Monte, Kyle and Taylor.
Taylor – was it you he called a sheep? Kyle – yeah he called everyone a sheep and our shepherd (Monte) over here. Monte – let me manipulate all of you. Taylor – its not me anymore.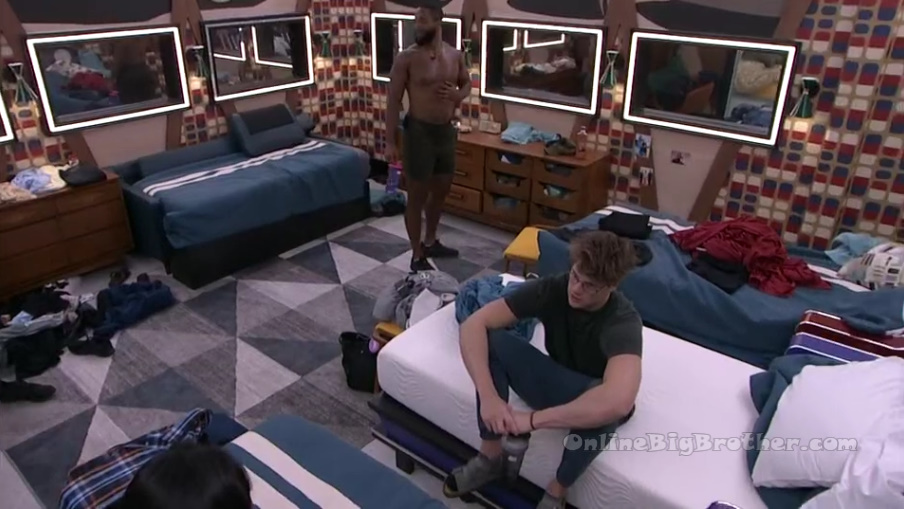 12:22am Bedroom – Indy and Joseph
Indy – Taylor is in that room with Kyle. I DON'T LIKE HER! Joe – stop! She is your festie bestie.. and I was talking to Alyssa .. you need to be happy she joined you because even if people put you on the block .. you don't have skeletons in your closet. So nothing, unlike Nicole you're not going to have all these alliances and promises and sh*t that comes up and makes everyone switch. And I don't know everything about Alyssa.. what she's done and what she does but one thing about Taylor .. whoever goes next to her… her game .. she will always bring out the truth of whoever is put up next to her.. so you if play an honest game and you didn't lie. Indy – so why is she talking with Kyle? Joe – I don't know, I'll ask Kyle. I'll ask her too. But Indy, DO NOT BE HOSTILE WITH HER. Its not going to help your game. One, you have nothing to gain. You're all about love and peace. Two, she's your festie bestie and if you go up on the block… two of you are going to come down. Don't make her team up with Alyssa. Do not cause problems with her. I do not think its smart for your game. Indy – I am not causing any problems. I just don't like her! And I hate that she joined me. Joe laughs – Alyssa doesn't care that she did. The thing about Taylor .. like if I have to go against Taylor, I feel fine because I have not lied or cheated or like if I did have to lie, it was for the house. Anyone that goes against Taylor .. if they have skeletons in the closet it comes out. Because with Taylor .. the one good thing about her, she is not playing the game. She sits in her bed all day and lets everyone lie and cheat and then when they're on the block everyone sees it.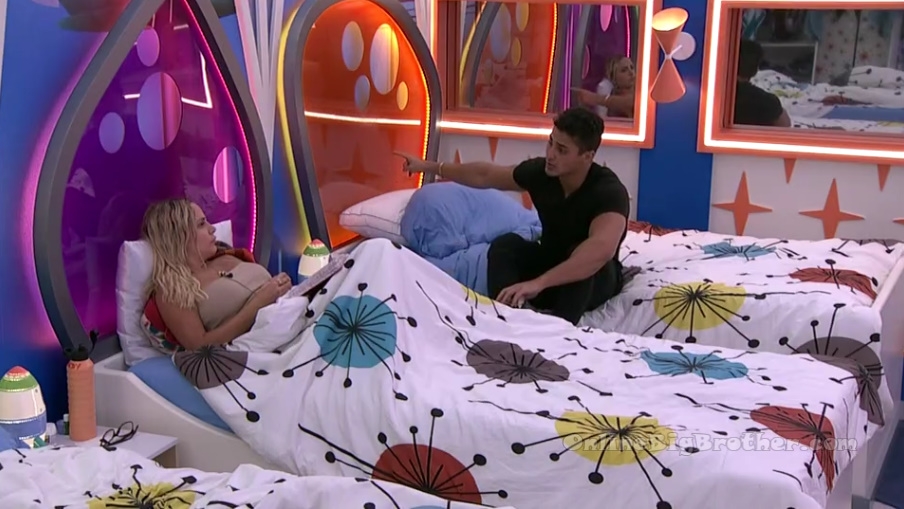 12:56am Havenot room – Joe and Monte.
Joe – I talked to Daniel real fast and I was like YO, I know you and Monte have your difference. Like it sucks, your homie when home. And he plans to come talk to you. I tried to plant the seed for you like its just a game like you don't have the full picture. Kind of like you can't blame it all on Monte. He thinks you're the mastermind on this whole grand scheme .. you swayed it we're all sheep. Whatever Monte says goes. Its because he thinks we're all idiots. Monte – which is really a shame because you guys have been the most input that I have gotten in all of my decisions. Joe – but let him keep thinking that. She (Nicole) said it in her speech .. if you guys keep me I will now play a game of integrity, honestly. Which she is implying she has not been the game… and what was the quote .. "it lit a fire under me".. Indy joins them. Because it was Daniel's homie that went out the door he needs a finger to point at. Monte – oh yeah.