Quick Big Brother Spoilers
Head of Household:  Michael
Nominees:
POV Players:
POV Winner:
Veto Ceremony:
Havenots: 
Lock your ranks in before midnight
Festie Besties:
Turner & Jasmine
Joe & Monte & Terrance
Daniel & Kyle
Brittany & Michael
Alyssa & Indy & Taylor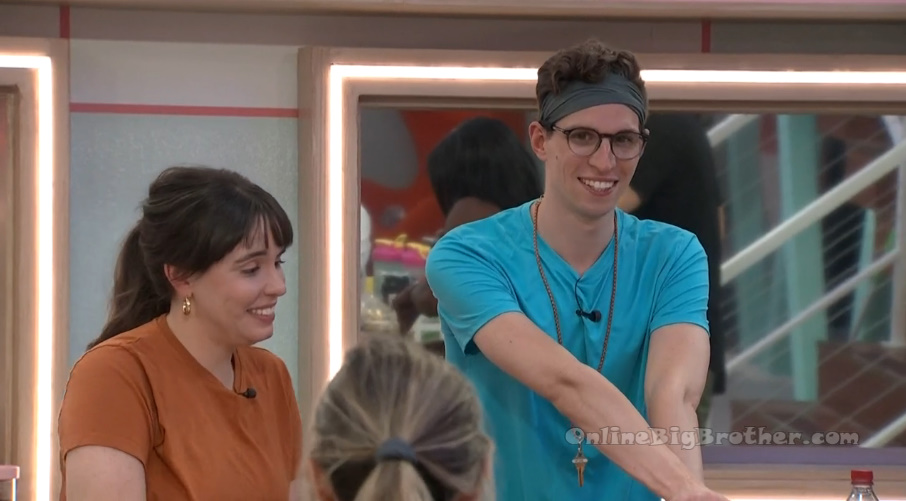 8:58pm The live feeds return from the live eviction / HOH competition.
Kitchen – All the house guests are standing around chatting about the HOH competition.
Michael – I don't know what to do with myself now. Indy – don't worry you're about to get very busy!
Outside the Storage Room – Michael, Joe and Brittany.
Joe congratulates Michael and hugs him. Joe – I love you guys! I am so happy! Now we get to see a picture of Hayden and Steven… then we'll figure this all out. Michael – I heard 16 seconds. Joe – me and you looked at each other and I swear in my heart I was like its up to you Michael. I swear I was saying that. I don't know if you could see my eye's that's why I fist bumped you first and then I fist bumped everyone else. Brittany – I legit started crying when they announced your name. Joe – you guys are amazing. That is so crazy! Enjoy it! I cannot believe what a turn this game has taken. Take it in. Michael – If I hadn't gotten it, Kyle would have had it. Joe – yeah, and Daniel would have been safe. Brittany – yeah! Joe – yeah we all have to meet up again now. Joe – I wish there was more time before noms. Michael – I get why they do it so that the final noms have more time to campaign. Joe – I still kind of feel bad for him (Daniel). The only problem with how he is behaving is he is not attributing any fault. Nicole literally stood there and said I will now play an honest integrity game… meaning I wasn't. Joe leaves. Brittany and Michael head into the other bedroom. Michael and Brittany celebrate. Michael – and you're safe for the week and we don't have to be havenots. Brittany – I know. When I saw this one (HOH comp) I was like Sarah Beth won it last year. Its anybody's! Michael – I thought the exact same thing thinking Sarah Beth won it doing the safe route but Derrek X won it doing it the fast way and he fell two times… If I can just do it the fast way I can get it. Brittany – I can't wait to see it! oh my god Michael you did it! And now we're both safe!! Michael – and I hope this is the last one before Jury. We might be in Jury. Brittany – we might be!! Michael – not that we're going to be in the jury house.
Michael – I want to run it by you real quick! My thoughts are Daniel .. and either put up .. see if the guys (Joe, Monte, Terrance) are okay going up because if Daniel gets picked I want Monte and Joseph competing against him because I know if its anything physical I know they can beat him. Brittany – yeah. Michael – and I think all of us mentally (can beat Daniel) if its a mental comp. Or the alternative would be Turner and Jasmine as pawns because Turner put us up. The pitch to the group would be if Jasmine can't play and Daniel & Kyle get picked it would us versus them. Brittany – I am good with any of those plans. Michael – and if sh*t hits the fan and the three of them stay up… as much as I hate it Terrance would be a vote for Monte, Joseph and Jasmine… moving forward before he would be a vote for us. Brittany – Terrance and Jasmine were trying to get a last minute flip last night. Michael – I wouldn't want to put up Indy and Alyssa because they would have our backs. Brittany – absolutely. Michael – and I am not putting up Taylor for a forth time. Are you okay if I pitch that to the group? Brittany – I am perfectly happy with both of those. Michael – the order that I would want out is Daniel and then Terrance. Brittany – its going to be so good. Its going to be a huge week. Michael – and now Taylor is the only eligible person (to be havenot) and she is with Indy and Alyssa. I don't want Daniel and Kyle to be the havenots because Daniel is upstairs .. I would rather the guys (Terrance, Joe and Monte) take it because Terrance goes to be early. If he (Daniel) is down here he is going to be watching who is up there… it doesn't really matter. Brittany – and he is by himself now.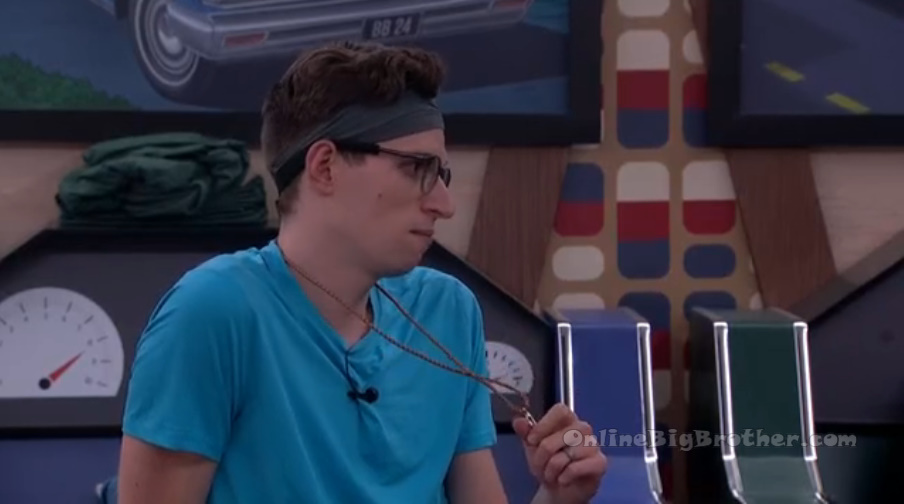 Taylor, Michael and Brittany celebrate Michael's win. They talk about the win. Michael – I wanted to check with you two before the group.. .but obviously we know what is going to happen. Taylor – yes! Michael – I am going to backdoor Daniel so as far as pawns go it would be between Turner/ Jasmine or the three guys. If I put up the three guys, then I only put up guys this week which looks good (to the girls). I don't want to put you up for a fourth time. Taylor – thank you! Michael – and a reason not to put up Turner and Jasmine is if Jasmine can't play and Daniel and Kyle get picked to play ..its us versus them. Whereas if we have the three guys in there .. if its anything physical its over. Taylor – done! Michael – how do you feel about that. Taylor – yes. Michael – yeah I didn't think I needed to sell you on that. Taylor – things are happening the way they were supposed to.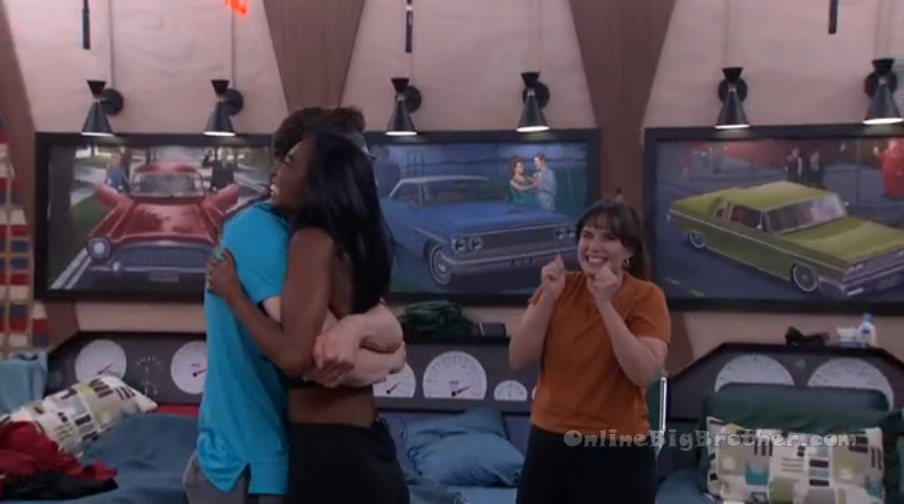 9:30pm Bedroom – Kyle and Monte
Kyle – are we thinking Daniel still? Monte – yeah I think he just made himself an obvious target. Kyle – do you think like a backdoor because me and him in a veto.. I don't know. I guess Michael will have the final call. Monte – I am thinking the ideal pawn… Me and Joseph haven't seen the block and Terrance… Jasmine and Turner haven't seen the block. Kyle – Taylor would not be down. Monte – Taylor would definitely not be down. It all depends on how Michael feels. Kyle – yeah. I am down either way. Monte – I really don't care .. like if he has to put us up on the block that is fine. Its just how would we talk Terrance off of the ledge? Kyle – yeah to make sure he has a right mind in it. We'll chat with Michael. Monte – we just have to make sure you and Michael don't win veto. Kyle – yeah, its just there's so few groups now. Whatever Michael wants to do.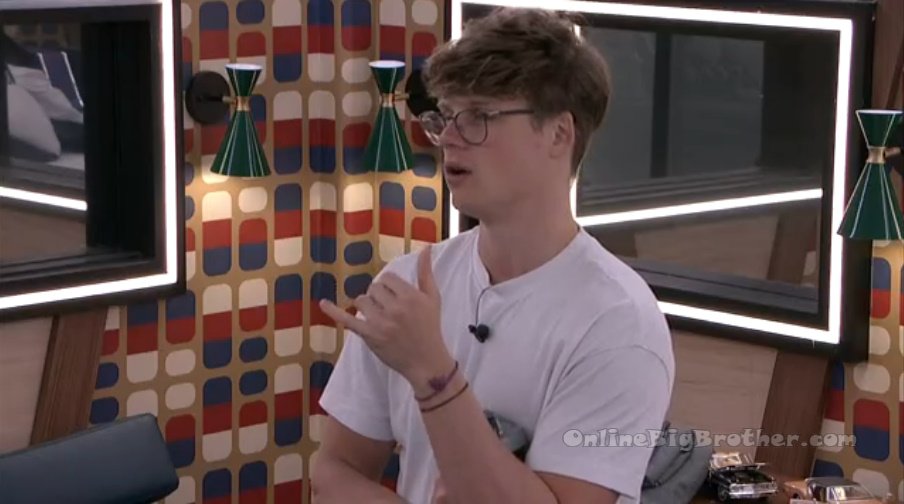 Bedroom – Kyle and Michael
Kyle – how are you feeling, I know its early. Michael – I definitely want to talk to Daniel and see where his head is at because obviously what happened today is a little concerning. If its not our best move I don't want to cut off our options.. but you know with him throwing my name around. I am just interested to see what he is going to say. If that is the plan moving forward, I would want to ask Monte and Joseph how they feel about going up initially. I don't want Turner and Jasmine up if Jasmine can't play. And I think if I put up Indy .. she would murder me in my sleep. Kyle – yeah. We can run through the options. I am cool with whatever. I think Turner and Jasmine and if noms stayed the same just send her a$$ out. We can talk about it. Michael – I'll just see where Daniel's head is at. And I want to see what people say about Daniel. Kyle – I mean he is on an island.. he is alone.. I just wonder if people will view it as he is not a threat anymore. That's why I am like if there's an opportunity to get me out who is well liked and maybe more of a threat at that point. And more people might team up in the alliance to get me out. I don't think it would happen, I just want to think about all possibilities.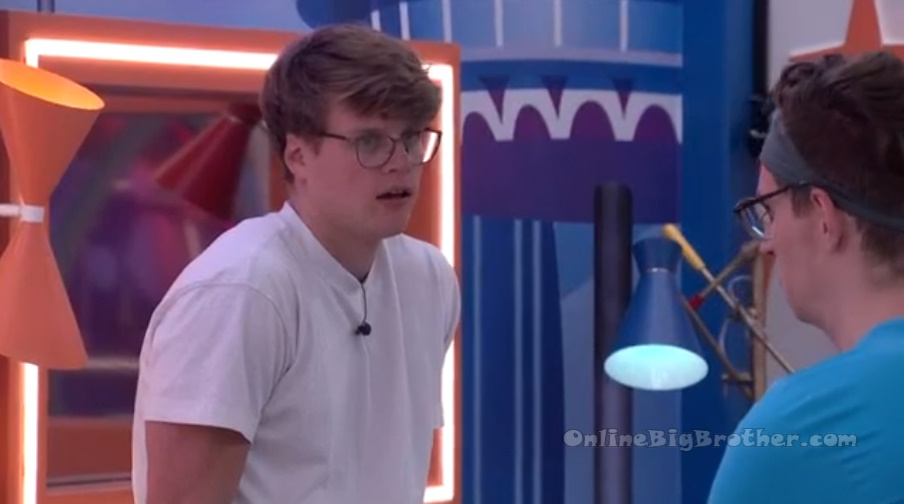 10pm Bedroom – Turner and Michael.
Michael – do you want to talk to Monte and Joseph and see if they will volunteer (to be havenots)? Turner – sure. Michael – but that was the only thing I was thinking would it be a bad idea to put him up there? To be able to walk by (the HOH room). Turner – do you think it would be best to back door (Daniel)? Michael – I think that would be best. Turner – and then we could either put up… I would go up or Taylor .. I feel comfortable whatever we do. I am totally chilling. We could do me or Taylor .. but then I feel bad but I don't really care. Michael – I don't really want to put Taylor up again for a fourth time. Turner – It could be me .. I guess I would be the best option. Michael – I think that would be the best .. the most strategic thing.. We'll talk about it.
10:30pm Bedroom – Indy and Alyssa.
Alyssa – I think we're going to be safe this week. I don't think we're going to go up at all. That's exciting. Indy – he promised me he wouldn't put me up. Alyssa – me too. Indy – we need to be aware of what we say. Alyssa – yeah, say as little as possible is my goal. Survive this week and then win the next HOH… and then make some moves in that direction. My goal is to just say as little as possible to everybody this week. Stay away from Daniel .. and just ride that out. Indy – I will just be mostly in my room, read my bible and meditate. If they (Terrance, Joseph and Monte) are on the block .. I am not voting Joseph out. Alyssa – I wouldn't vote Joseph out ..ever! I love him… BUT Monte ..we'll talk about it when we get there.. And Joseph is going to be our new roomie.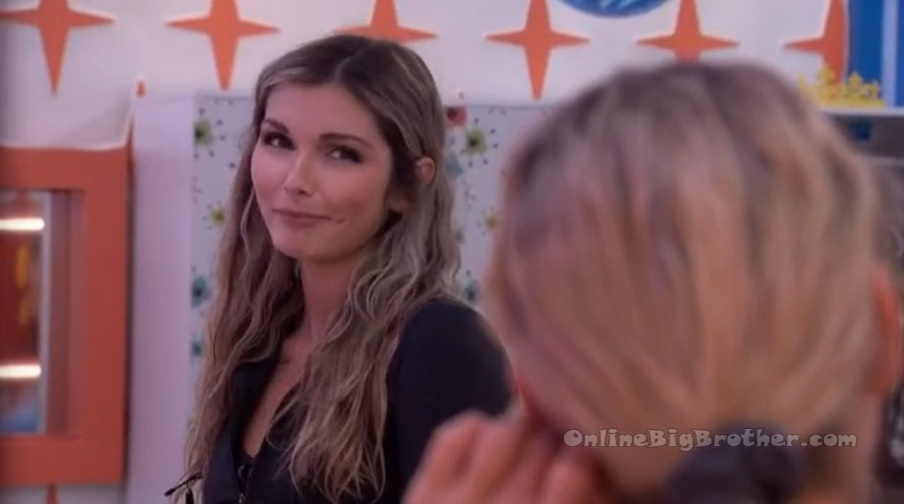 11pm Bedroom – Turner and Monte
Turner – how are you doing after that whole fiasco? Monte – I am fine dude.. and hopefully I didn't put a bigger target on myself. Turner – dude you did perfectly.. you were just like dude! Monte – at this point its like .. why are you (Daniel) doing this?! Turner – it would have better for him to just say nothing. Turner – for example POOCH left and I could have made a big deal about it. Monte – exactly!! And I don't feel like I was in the wrong. Turner – of course bro! It was just such an inappropriate time. Monte – and its like what a child.. like things didn't go the way I thought. .. let me yell out like you and Michael are trying to make it to the end. They talk about havenots. Monte – I think its better to put Daniel & Kyle as havenots. Turner agrees.