Quick Big Brother Spoilers
Head of Household:  Michael
Nominees:
POV Players:
POV Winner:
Veto Ceremony:
Havenots:  None so far
Lock your ranks in before midnight
Festie Besties:
Turner & Jasmine
Joe & Monte & Terrance
Daniel & Kyle
Brittany & Michael
Alyssa & Indy & Taylor
Situation
So far Michael wants to Backdoor to Daniel. He'll likely put up the pawns Joe, Monte, and Terrance. Cracks are forming all over the leftovers.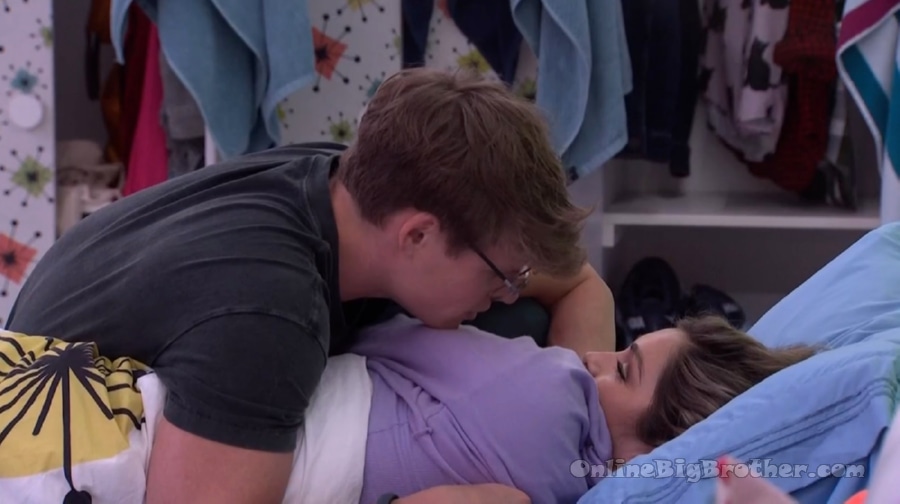 1:11 am Kyle and Alyssa
Kyle – Michael, and Brittany are strong competitors they are very smart they know the game. they don't have a close connection with Taylor, Monte, Joe, and Terrance. They don't have that tight connection and I guarantee they will start realizing that group could be dangerous. That when they will look for people like me, like you, like Turner.
Alyssa thinks it'll be the boys (Joe/Monte) nominated or Jasmine/Turner.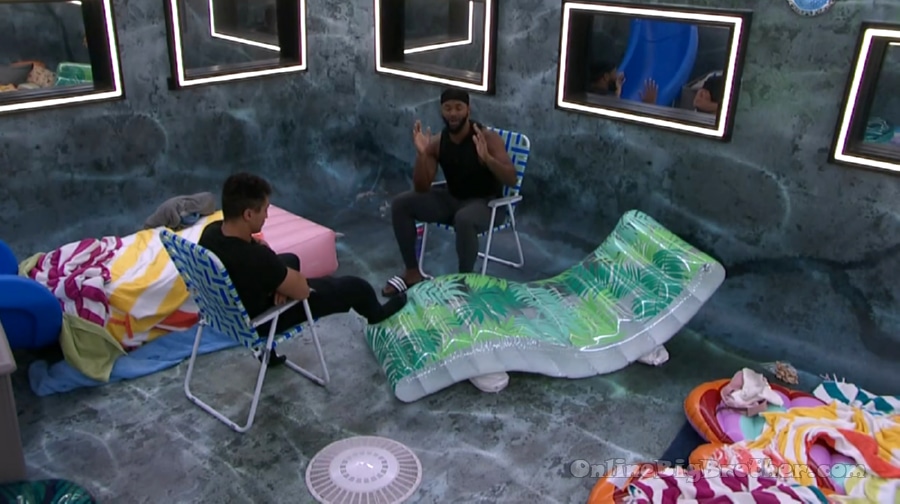 1:40 am Monte and Joe
They agree they can trust Indy.
Monte – as much as I wouldn't want Terrance as a worst-case scenario going
Joe – neither do you
Monte – If you are talking about strictly game strategic?
Joe – Alyssa, Indy, and Taylor go up.
Joe – I just don't want them to think we're running the show scared to go up on the block
Monte – and Taylor this would be her 5th time on the block. She'll probably hate us. Michael and Taylor are very close to Taylor and empathise with her
Monte – if it builds trust we'll do it (go up)
Joe says Taylor told she thought it was best for the two guys to hit the block.
Joe – I told her Yeah.. but dude you never know in this game if the veto changes or they make it a one-person thing. We would be showing our cards so hard because let's say Kyle and Daniel have to play. Let's say they win and it's me, you, and Terrance up there. Daniel says don't use it he knows he would be backdoored. It would mean Kyle overrides it to save me you and Terrance. that screams alliance
Joe – Kyle saving Alyssa screams I'm saving my love
Joe – for us moving forward we need to offer us going up. We'll give them the other option.
Joe – I'm hoping it is so obvious there's another route they pick it
Monte says if Kyle and Daniel win veto and take themselves down the replacements would be Jasmine and Turner.
Monte – I'm not in any rush to get Jasmine out, especially with the trust we've built with Indy and her
Joe – we go up. it'll build trust anyways
Monte – now that Michael came up to me, Taylor came up to me, Brittnay came up to me all three saying how thankful they were I've been very transparent through this whole process we've come together to make decisions.
Joe – say to Michael I didn't put you up I don't want you to feel you owe that to me because we trust you
Monte says people were suspicious of him because he didn't put Michael and Brittany up last week. If Michael puts them up it'll dispel any ideas they are working together.
Monte – it could change that whole narrative of me and Michael working together.. whatever his speech is he could weave something in there, 'Fight for your life whatever he needs to say'
Monte – hopefully we can pull off the veto
Monte says they would have Michael, Brittany, and the 3 of them in the veto even if Danie/Kyle wins the veto Kyle can override Daniel use the veto, and take them down.
Monte – Michael would put up Alyssa, Indy, and Taylor unfortunately.
Monte thinks if it's a team component in veto kyle could try to throw it.
They agree the festie bestie twist will be over this week.
Joe says he talked to Taylor and she would rather lose Alyssa over Terrance.
Joe adds that Taylor told him if the guys go up and kyle/daniel wins the veto then she is fine with going up so they can get Alyssa out.
Taylor – she was like if I have to go up so be it it won't be my first rodeo.
Monte says it's getting tough for the two of them if they win next week "There's no one I feel great about putting up"
Joe – if I had to put up Indy and Jasmine I would kill myself bro. If I put them up I'm not getting their votes.
Joe wishes they could have worked with Jasmine and Indy but Ameerah got to them before they formed the leftovers.
Monte says someone in the alliance might want to offer themselves up as a pawn so they have less blood on their hands.
Monte – Ideally either Kyle wins HOH or Turner, Brittany or Taylor and they take those shots for us.
Joe- then we win HOH when it counts
Monte – how do you feel about the pound.. I still feel solid
Joe is solid he doesn't see Kyle linking up with "those two"
joe – I think Taylor, Brittany, and Michael have a thing going on.
Joe says when that HOH comes and they're down to 7 one of the POUND needs to win "A strong move is one of those three get it and put up me and you"
Monte – Michael.. BRO.. if you saw that kid gliding (During the HOH comp today)
Joe – that kid does something else other than making escape rooms.. he might have played Hockey.
They speculate that Michael might be an ice skater.
Monte – his ankle stability is crazy bro
Joe – they call it The Pound Town in the DR
They laugh..
2:09 am Who wants to see my HOH room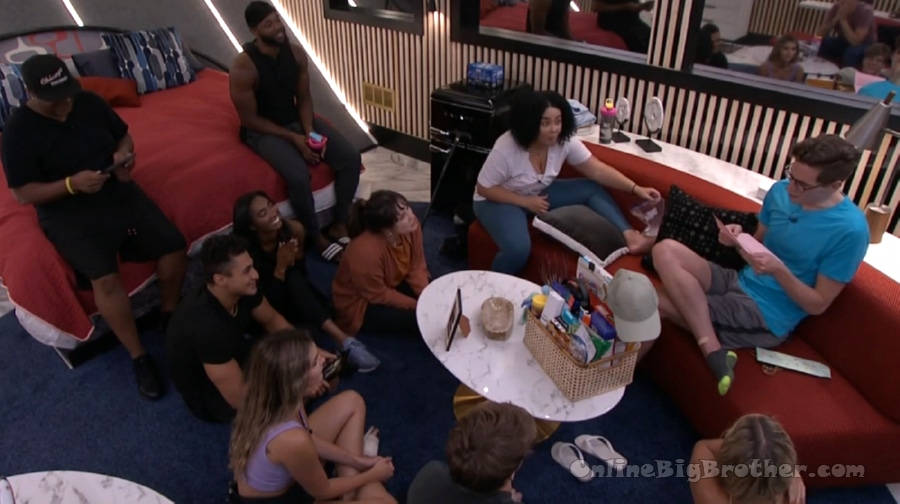 2:15 am HOH room smiles
Michael shares a story about meeting his husband online and on their first date he found out he had cats "What a green flag"
They laugh.
3:05 am
Jasmine and Michael
They're laughing at Kyle screwing around on the HOH Kitchen Camera.
Michael – anyone in particular that you want to see go up?
Jasmine says, Daniel.
Jasmine – I would never put you on the block
Michael – I'm going to ask everyone this. If I were to go after this specific person I think a backdoor would be the best option so I will need to put a beastie group up as a pawn where would your comfortability level be
Jasmine – nobody wants to be on the block, to be honest. You know I'm a Big Brother fan.. Pawns go home you know what I mean.
Jasmine suggests he put up someone that has gone up already "then there won't be more blood"
Michael – my initial thought is whoever I don't put up there's a 1 in 3 chance of playing in Veto so there's a good chance the people I don't want could be picked I would like a strong Veto not that I don't think you are a strong competitor but there might be competitions you aren't medically cleared for.
Michael tells her he's not thinking the best idea is to use Jasmine as a pawn.
Jasmine – the way Daniel reacted today I don't think I would. it's just a game, not life or death. I don't know maybe he felt really close and she was the only person he had. I'm not faulting him for that.
Michael – He could have saved her and kept things the same.
Jasmine – because he saved Indy and Alyssa he kind of thought they would vote the way he wanted to vote.
Jasmine – am I somebody you want to see in Jury
Michael – yes
Jasmine says she's not "100%" with Turner
Jasmine – I'm not close to him that's just what it is no offense to him we just don't talk game. I'm cool with him but I don't talk game with him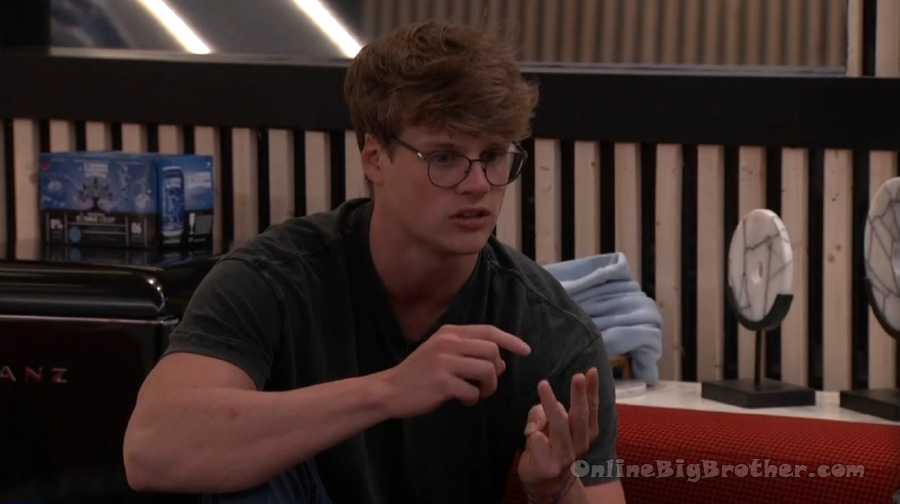 3:35 am Michael and Kyle
Kyle – Joe, Monte, and Taylor have extremely strong connections with Indy, Terrance and Jasmine
Kyle – we have 7 they have 5 we take out Daniel this week that will likely be what everyone pitchs then we are left with Alyssa who is closest to you, Me, and Turner. We also have Jasmine who is close to Monte, and Joe and we have Terrance VERY close with Taylor, Monte, and Joe. They had the conversation to have Terrance join their threesome early on
Kyle – Indy Very strong with Monte and Joe
Kyle – Best case scenario Daniel goes home they have 4 people on their side 7 on our .
Kyle – our alliance was formed based on necessity. Our backs were against the wall there was not a common purpose like the cookout. (after daniel leaves) We don't have the common threat against us so these four I'm thinking are looking for like opportunities.
Kyle – Monte, Joe, Taylor see Terrance, Indy, Jasmine. Three easy people say one of them win HOH I guarantee those three get brought into the same room they share very common purposes for being in this game. That's where I'm like Maybe.. I'm a little worried they pieced that together seeing how Taylor plays Chinese checkers. every move is thought through and methodical.
Kyle – If I am on the block with Daniel, Taylor will go through all the options until 5 am with Joe if we keep Daniel what are the numbers if we get rid of Kyle what are our numbers?
Kyle – Say they keep me and Daniel goes home. Then we're left in a scenario where it's 7 to 4. It is not needed to keep our 7 they see those 6 and it's me, you, Alyssa, Turner, and Brittany are left with 5 against their 6. That is what keeps me up a little bit.
Kyle – those 6 look very much like the cookout.. (Terrance, Monte, Joe, Indy, Taylor, Jasmine)
Kyle suggests Jasmine to go out.
Michael – where do you see Taylor being super close with them what am I missing
Kyle – I just see her and Terance are tight and within our alliance, she's gravitating towards Monte and Joe more than others. Joe is sleeping next to her staying up until 5 am every morning
Michael – Joe wants to have the best relationship with every single person outside the alliance saying I'm doing to help us
Michael – maybe but it's also really helping you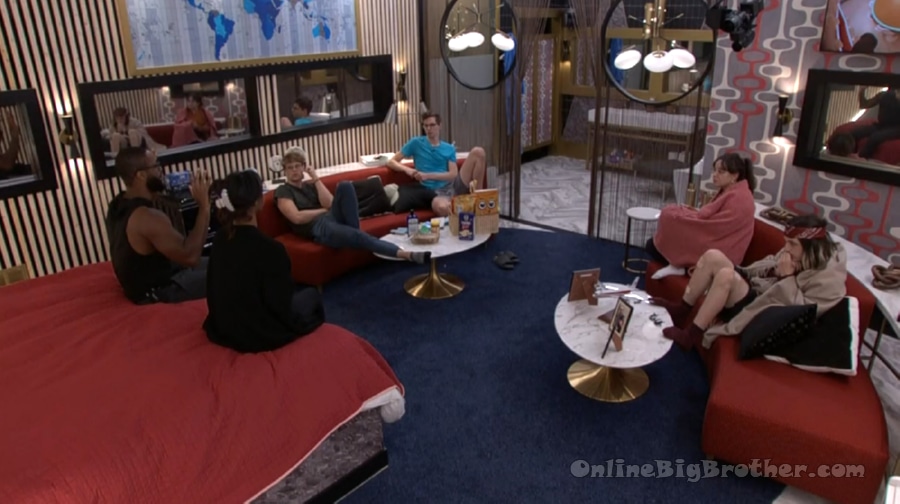 3:50 am The leftovers meet. They go over scenarios to take Daniel out this week.
Monte – Joe and myself had a conversation with indy she's trying to get something started with me, her, Jasmine, and Terrance. Not Alyssa she doesn't trust Alyssa apparently. (Yikes Cookout 2)
Monte suggests Joe, Monte, and Terrance go up as the pawns this week.
They talk about Daniel losing his cool today after Nicole left.
Monte stresses he doesn't want outside influence to affect their group.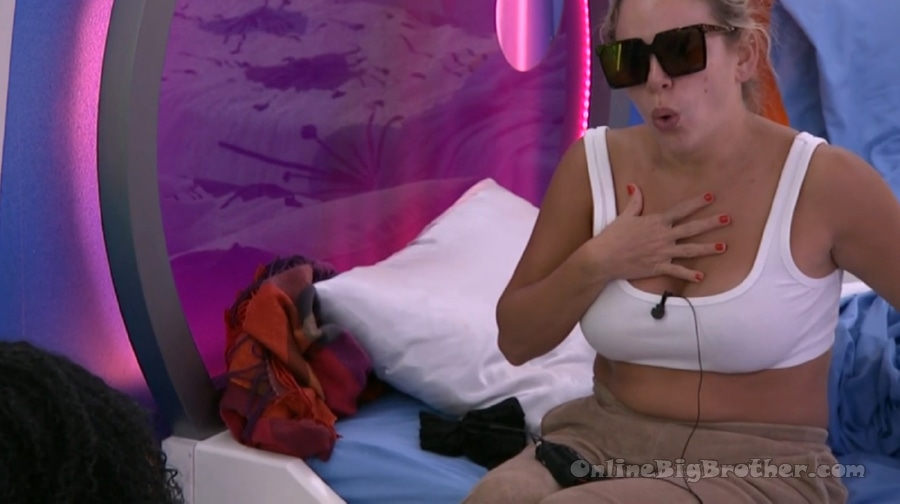 3:51 am Jasmine, Indy and Alyssa
Jasmine says that the target is Daniel but doesn't know who the pawn will be.
Alyssa – when Daniel was yelling at me he said you couldn't even give her a vote.. I said I'm sorry. She said NO YOU'RE not don't even say that to me right now
Alyssa – he screamed at me after the vote. You're a liar, get out of my face, you're playing this game for other people, not yourself.
Alyssa – I started getting emotional.. then he blew up on Monte
Indy – if he screams at me I'm going to make sure he hits me and I'm going to make sure he's going to go home with you (Yikes)
Indy – the favela is going to come out my friend
Jasmine – we have to win the next HOH there's only been one girl HOH this entire season.
They talk about how close the head of household competition was today.
Jasmine says Michael will ask them who they want out.
Indy – I don't care about Taylor.
Jasmine – he's the best option to get out he's alone (Daniel)
Jasmine – some people might like that ohh come join us
Alyssa – he'll go after Monte which is an option.
Jasmine – there was a 5-second difference.. he almost won tonight.
Jasmine – Taylor, Monte, Brittany, Turner, and Kyle were waiting for me to leave the room then Kyle went in. So I think they will be the crew for tonight.
4:08 am Showmance
Kyle – you never look bad it's unfair

4:30 am houseguests heading to bed..
4:37 am Michael alone in the HOH watching Turner take Jasmine's cookie/muffin and put it in the freezer. He then pours water into the bag.
4:48 am All feeds on sleeping houseguests.
8:16 am Zzzzzzz
9:25 am waking up