Head of Household Winner – Tommy
Have note are: No Have nots this week, Jack, Tommy, and Jackson were given punishments as part of the veto.
Nominations are: Cliff, Kat & Christie
Power of Veto Players are – Christie, Cliff, Kat, Tommy, Nick, Michie
Power of Veto holder – Tommy
Power of Veto Ceremony – Tommy used the Power Of Veto on Christie the season continues to rule
Grab your live feeds —-> BB21 Live Feeds Subscription Link
Rank your houseguests —-> Big Brother 21 Ranking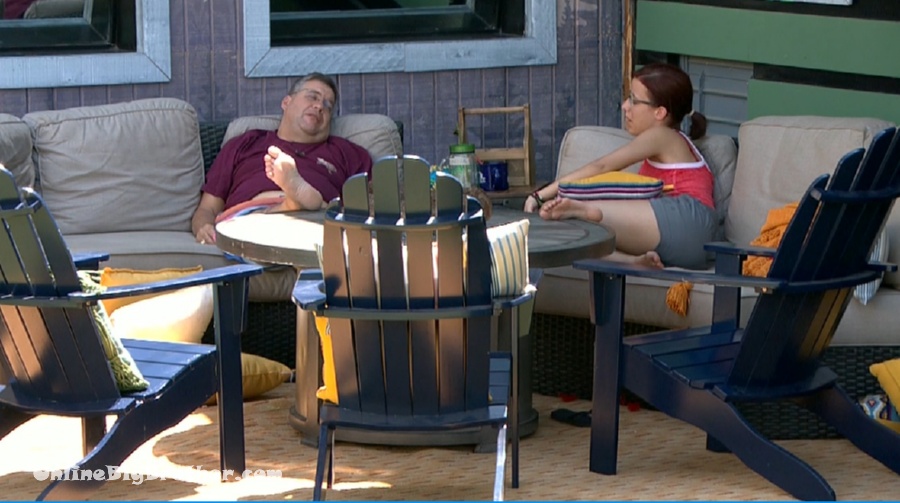 1:53 pm Cliff and Nicole
Talking about how they're not feeling close to Michie/Holly anymore it's more Tommy/Christie. Cliff marvels at how it changes week to week.
Nicole retells how Kat told Tommy that Nicke told Nicole Kat was the nominee this week.
Cliff – You can't tell her anything you can't trust her to keep her mouth closed.
Cliff – the main thing is you and me. That doesn't include kat anymore. I would like to keep Jess in the loop but at the end of the day, it's you who I got their back.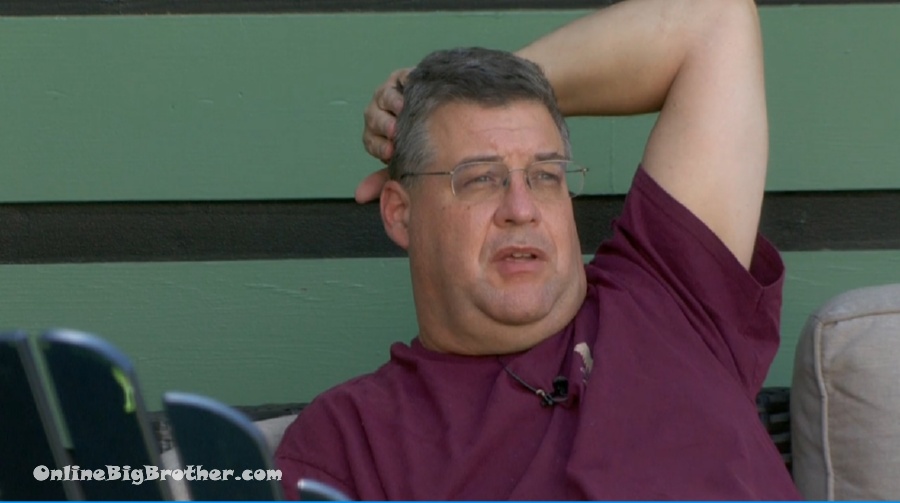 1:58 pm Nick and Cliff
Cliff – how tight is Kat, Michie, and Holly
Nick – they're really tight. There's multiple reasons I want to keep you and I'm leaning heavily to keep you
Nick – I trust you in this game, I don't want it to be 6-3 girls I have a feeling someone really wants guys out and the third reason is Michie, Holly, and KAt are together and that scared me
Cliff – I agree
Nick – I've been talking to people and I think you have a good chance
Nick – the new deal is a six between you me, Tommy, Nicole, Sis and Christie (barf)
Cliff – I would do that in a heartbeat
Nick – we would need to get out Michie, Holly, and Jess
Cliff – I would do that in a heartbeat and I would give my word to all five
Cliff – I've never had a tight thing with Michie and Holly as I see Kat gravitating to them.
Nick says kat is closer to Michie/Holy than Jess
Nick – a lot of people are scared about it
Nick – going into this me you Christie, Sis Nicole there would be five of us
Cliff says Jess has picked Kat over him.
Nick speaking nonsense.. tells Cliff if Michie and Holly win the two of them would go up.
Nick says if he won the veto he would have taken Cliff off the block. He already talked to Tommy about it.
Cliff says Michie didn't go 100% in OTEV
Nick agrees
Nick – are you down with that.. it would be 3 free weeks. (Down with the new shit shooters)
Cliff – I would love that
Nick – it gives us a fair chance without Jack
Cliff – If I make it to six and get beat by any of you guys I would be happy.
Cliff says he's been playing up his injuries as much as he can. (WTF)
Cliff – you can turn Jess against Michie and Holly
Nick – once she sees where the votes are going I think she'll vote out Kat to be honest with you
2:20 pm Christie, Nick and Sis
Nick going over his conversation with Cliff.
Nick – He said I would do it in a heartbeat
Christie – because his odds he feels more comfortable now.. I don't blame him
Nick – we got the 6 now
Christie – who will Nicole put up now
Nick – Michie, and Holly
Nick brings up Cliff saying even if he goes 6th he would be happy to see any of them win.
Sis says how sweet Cliff is
Christie squeals that they have a 6!
They agree it should be Michie, Holly then Jess.
Christie – Michie has to has to has to go
They go over scenarios on getting Michie out during the double
Sis in a winning voice "we have to win this double"
Christie and Sis are going to make Michie and Holly think they are keeping kat.
Nick goes to leave they all say "LOVE YOU" to each other
They talk about how happy Jack is going to be seeing Kat walk through the doors. They want Jess to be number 7 on they're new 6 alliance. (man these people and their 6 person alliances)
Christie – Michie is a bullshit artist
Christie – our odds are better with Cliff if this next one is a mental
Sis – he's a man of his word but I also feel.. I don't know if he wants to win
Christie – She's onto Michie and Holly we've had a couple conversations
Sis mentions how awkward it was sleeping with Michie and Holly in the room last night. (they were having s$x)
Christie says Michie and Holly have been isolating themselves they've been sleeping for hours
Sis – how can they get away with that
Christie starts complaining that she's never allowed to sleep.
3:36 pm Christie, Sis and Nicole
Christie goes on about wanting to have her mind made up by Wednesday
Christie – this is a game-changing week.
Christie says she's leaning to keeping Cliff.
Sis and Christie go on listing things they don't like about Kat's game.
Sis, Tommy, and Christie later have a meeting in the Head of Household where they compare notes about the new shitshooters alliance and getting Nicole to vote out Kat.
5:10 pm Jess and Nicole
Nicole says she doesn't know who she will vote to keep.
Nicole – To be honest with you I know which way I'm leaning
Jess – you're leaning to Cliff… I don't blame you
Nicole – it bothers me to even say it
Nicole says Cliff is better at keeping secrete than Kat.
Nicole adds that she feels Kat "reports" to people.
They start talking about Kat already coming to them asking them where their heads are at. Jess told her she needs to stop and let the dust settle. People already are saying she' campaigning. Kat wanted Jess to tell her who was saying she's campaigning already. Jess wouldn't.
Nicole agrees because next thing you know she's talking to that person asking them why they think She's campaigning.
Nicole says she's trying to bring Nicole and her closer.
Jess says she can't trust Nick after he did that to Nicole
Jess asks her if she can see herself working with Nick long term.
Nicole hasn't heard of anything coming back to her about Nick.
Jess – Me not voting for Kat to stay would look very suspicious .. I don't know where her head is at.
Jess – Cliff has never done anything that has been in my worst interest
Nicole – Same
Jess – a part of me wants Cliff to stay. I understand that is best for this (the two of them)
Jess says if she knows her vote doesn't matter either way she'll throw that vote to Kat.
Jess – Tommy, and Christie have both of our best interests
Nicole says she thinks Tommy/Christie are the better couple to work with.
Nicole says Christie is leaning to keep CLiff because she's concerned about the Michie, Kat, Holly trio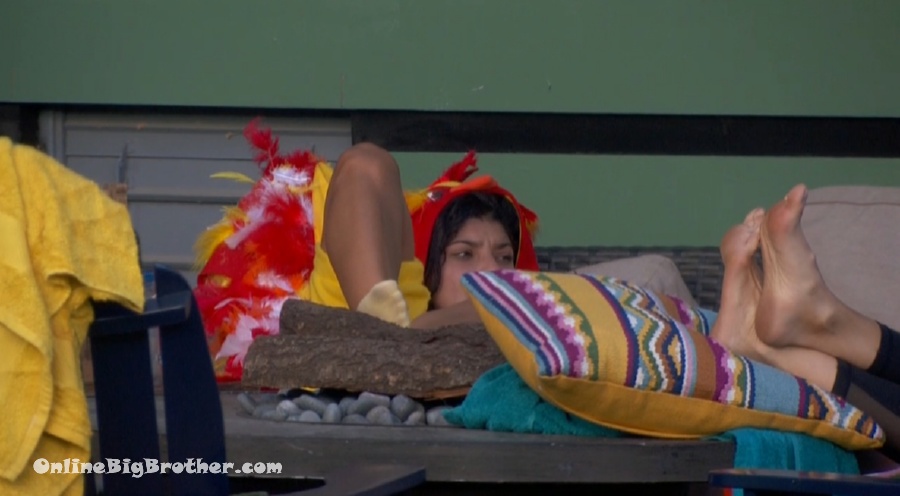 5:41 pm Sis and Holly
Sis says she has no idea who Kat will put up
Holly – Hopefully not me and Jackson
Sis – well taht would be really shitty
Holly – I don't think she would do that because it would look petty I still do think she will put Jackson up. She might put Nicole up
Sis – but they're friends they seem close
Holly – they're close because of Jess.. or Kat might put up Nick. She thinks he's so degrading and disrespectful because he always talks about her b**bs and says inappropriate stuff
Sis – he does say inappropriate stuff
Holly – another time he was talking about her vag1n@. You know how he talks
Sis – I know
Holly – it's disgusting. it's really bad it's really crude. he was talking about eating somebody
SIS gasps
Holly – zombies.. something like…
feeds flip when they come back Tommy is with them. Sis has to make poached ages.
6:02 pm Kat, Jess, Nick and Christie
Christie going on how There are no groups in the game anymore because of Jess' HOH.
Christie – everyone is flying solo now
JEss – yeah
Christie – I don't see an alliance I don't see a group
Nick at one point smells Christie's armpit.
Kat gets called into the Diary room. Christie makes it sound like this week is a toss-up.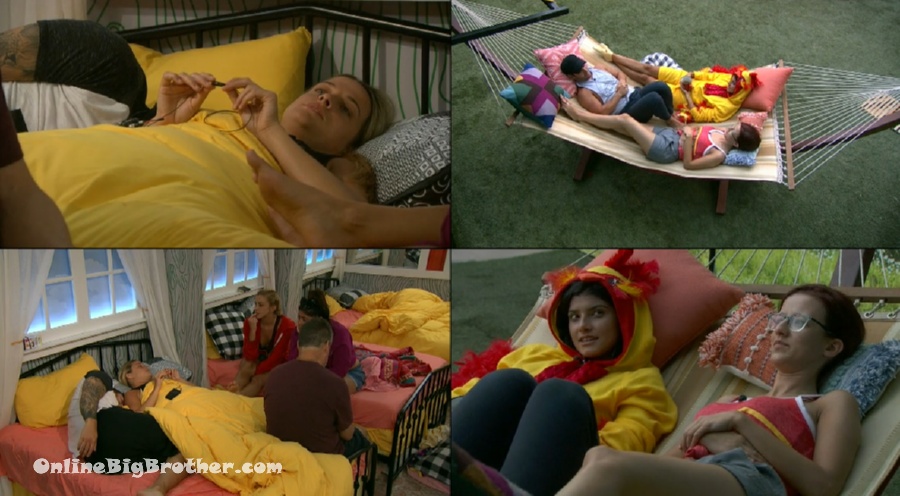 6:41 pm Chit chat …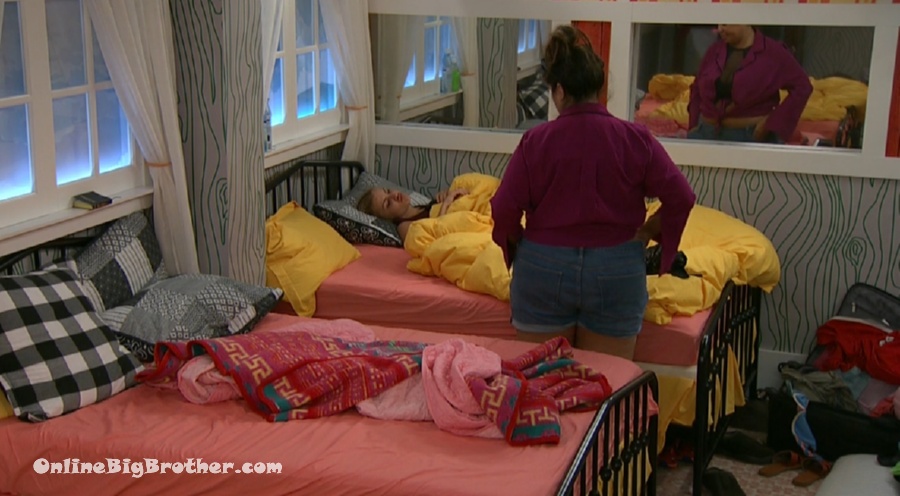 7:00 pm Kat and Jess
Kat says she's been having red flags about Holly recently that's why they don't talk
Kat says Jackson will come after her if not now later, "Why wouldn't I want to break up that relationship when I know it's a race against time"
Kat – they weren't my immediate targets but if that's who it's shaping up if that saves my game than yeah they are because I don't have any agreement with them.
Kat points out how Cliff has been talking to people and meanwhile, Nick corners her on a game conversation
Kat – I hate Nick for that
Kat says it'll be interesting if Nick goes to Jackson and tells them what she was talking about.
Kat mentions that Nick told her he wasn't going to put up Holly and Jackson and apparently he wasn't going to put up her, "but he had two targets in mind"
Kat – So who was he putting up
Jess – me
Kat – no that would be weird
Kat – I'm so sick of it at this point
Kat – I'm super f*ing anxious
Jess – it's part of the game you have to relax and not think too much about it
Jess – there's only so much in your control that you can do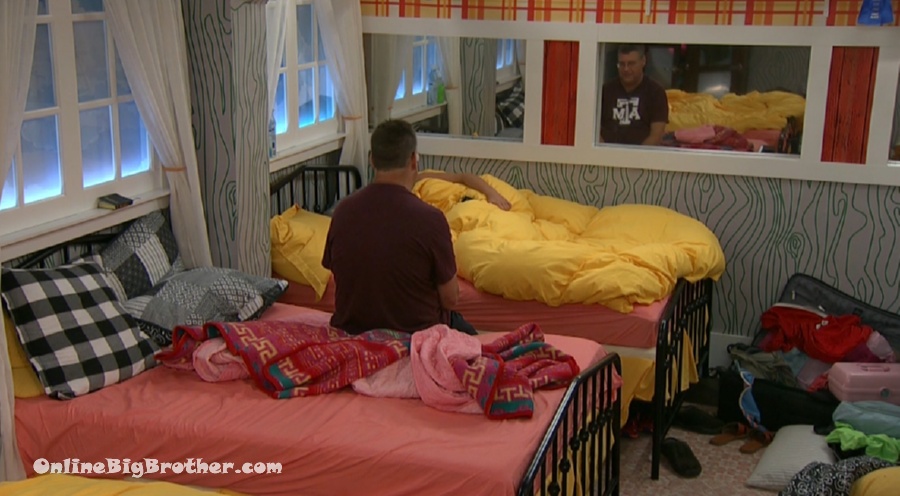 7:11 pm Cliff and Kat (Feeds are showing ~30 minutes behind this conversation showed 7:46 my time.)
Cliff says he wasn't surprised Tommy used the veto
Kat says what she's heard is no one has made their decision yet.

7:31 pm the 6-shooters ][
Christie, Tommy, Nicole, Sis, Cliff, Nick